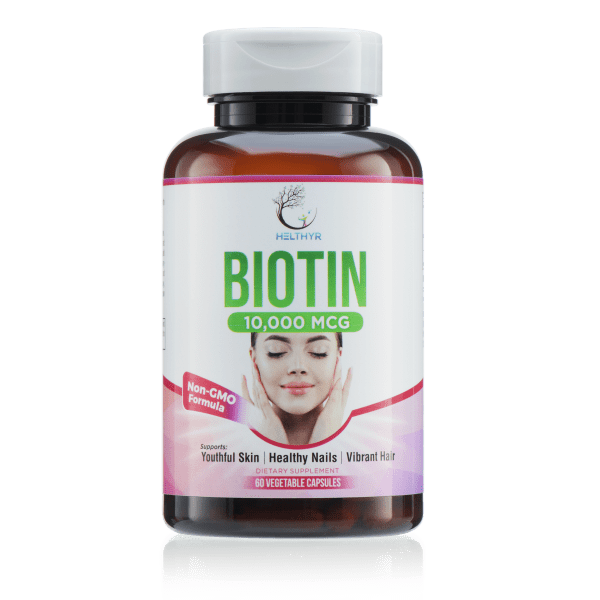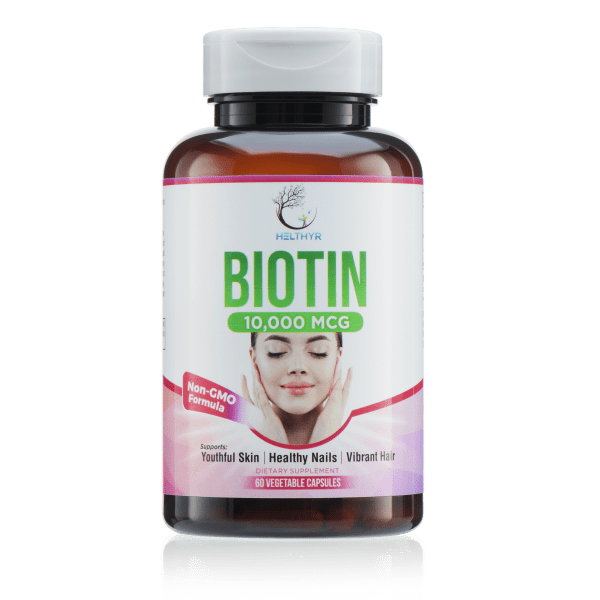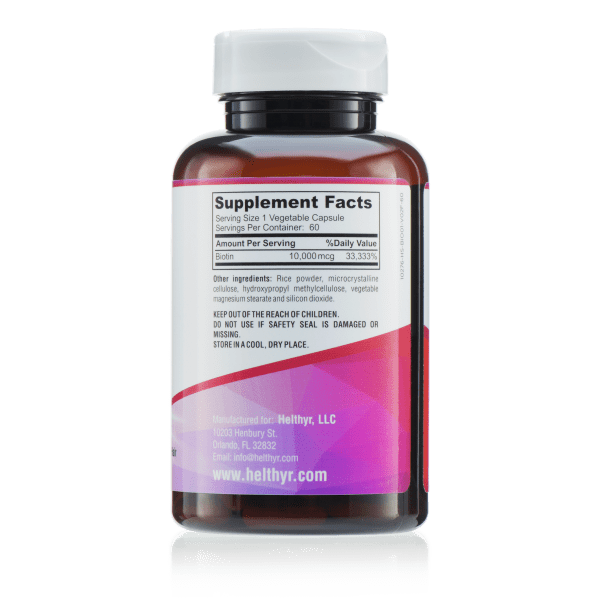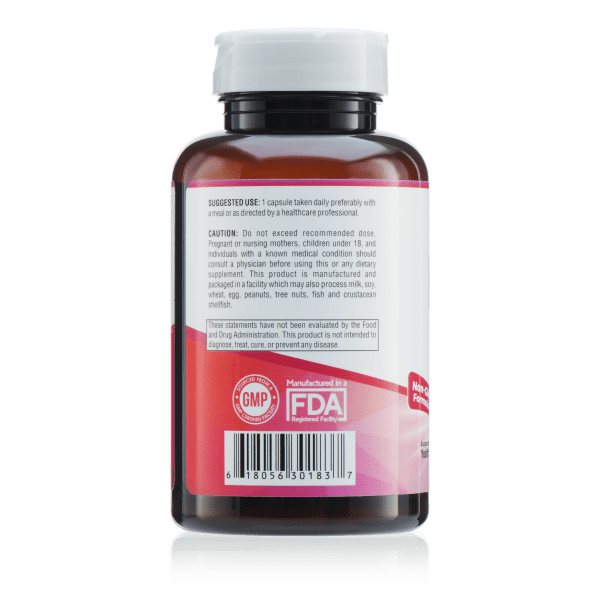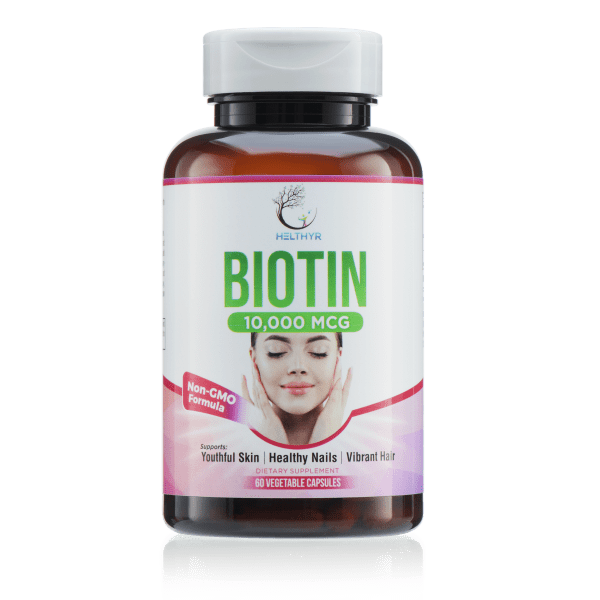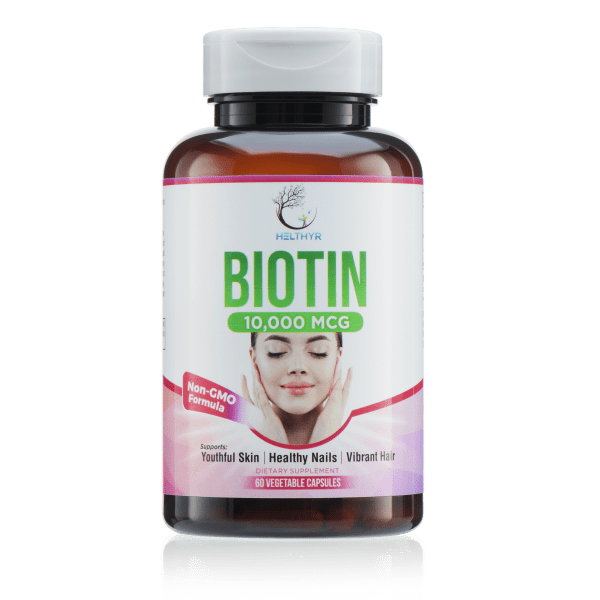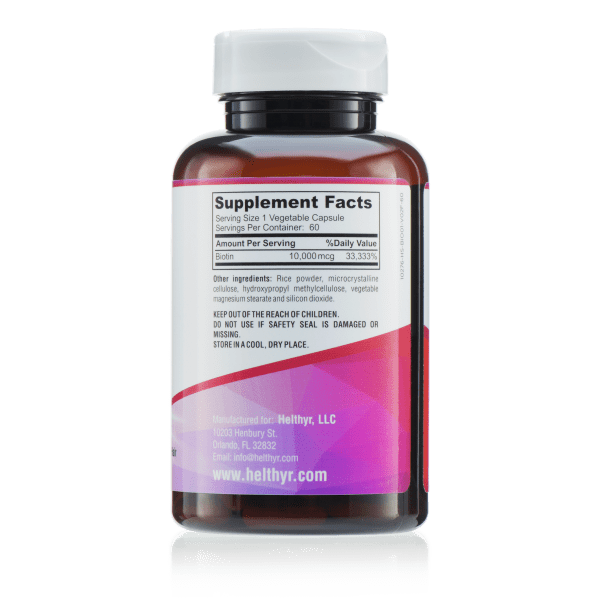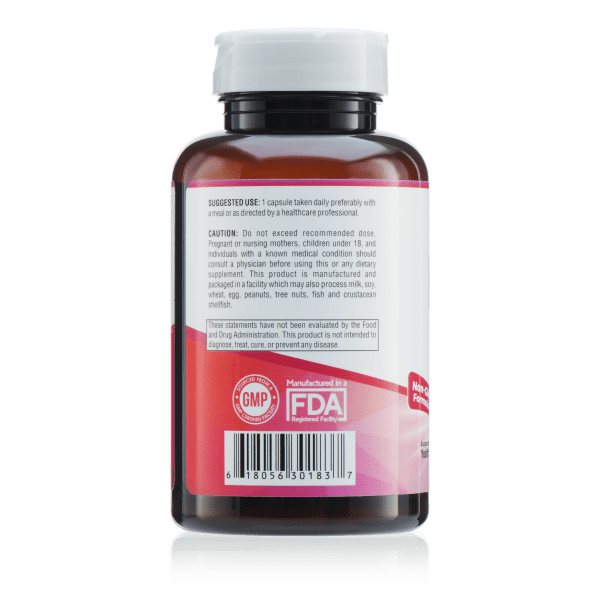 Biotin
100% Vegan Capsules Help You to Create Vibrant and Strong Hair, Skin, and Nails -- And That's Just the Beginning...
1 Bottle Contains 60 Vegetable Capsules
Serving Size: 1 Capsule
Servings Per Container: 60

Promotes healthy skin and strengthens hair and nails
Helps support better sleep, boost energy and elevate mood
"I Used To Cry In The Shower Because Of How Much Hair I Was Losing. I Was Even Ready To Buy A Wig … But Thank Goodness I Found These First!"
If you've ever looked in horror as a huge clump of hair comes off in your hand during a shower ... then you know how important it is to have vibrant hair that is strong down to the very root.
Thankfully, modern researchers have discovered that there is a simple and easy way to strengthen hair and even help it to grow faster and fuller from the inside out.
And not just hair … if you experience weak, brittle nails that easily break or crack, or skin that is dry or flaky, then you'll want to continue reading as well.
The solution scientists have discovered is simple -- one of the lesser-known B-Vitamins known as B7 or, more commonly, Biotin. This is how it works...
An All Natural Glow-Up In a Bottle?
This may be difficult to believe, but both your hair and nails are actually made up of the same substance -- a tough protein known as "keratin."
When your hair gets thin or your nails get weak, it's a sign that your body is not making enough of this keratin to keep up with what's needed.
Some people believe that you can just take keratin directly to meet the body's needs. But the truth is that it is more difficult for your body to use keratin taken as a supplement. So the body is still forced to rely on the keratin it can produce on its own.
That's where biotin comes in. Biotin helps signal the body to create more of these keratin "building blocks" that strengthen the actual structure of your hair and nails.
And the more keratin the body produces, the stronger and faster your hair and nails grow. Even your skin benefits from this process as it loses its dry flakiness and becomes more moisturized and supple.
What's The Best Way To Get Biotin?
For many years, women have been relying on the government's recommended daily amount of biotin. And as a result, more women than ever are experiencing thinner hair, brittle and easily-breakable nails, and dry flaky skin.
That's because the government isn't interested in preserving your beautiful hair and strong nails -- only in recommending the absolute minimum.
In fact, independent scientists have discovered that you actually need up to 10 TIMES this "daily recommended amount" to have the fullest, thickest hair and nails possible.
So how do you get it?
You'll sometimes hear about so-called 'biotin-rich' foods like salmon or sweet potatoes. And while those can be delicious, they only contain a fraction of even the extremely low recommended DV. A normal dinner portion of salmon contains only 10mcg of biotin, and sweet potatoes only 2.4mcg -- barely a drop in the bucket of what is needed.
That's why we set out to create a simple, easy-to-use, but highly effective way to provide your body with nearly 1,000x more biotin than you can get from your diet alone...
Clinically-Proven to Strengthen Hair, Skin And Nails …
But That's Just The Beginning!
Easy-To-Use: Our Biotin is designed to be as simple and painless to use as possible. Just one small dose once a day is enough to provide your body with 10,000mcg of biotin. That's nearly 1,000 times more than you can get from your diet alone!
Supports Pregnancy and Breastfeeding. Research has shown biotin is very important for any woman who is pregnant or breastfeeding. In fact, studies show that nearly 50% of pregnant women have at least some level of biotin deficiency due to the body breaking it down faster. That makes the time during and immediately after pregnancy one of the most important times to get as much biotin as you are able -- your body will use it!
May Reduce Blood Sugar: In recent clinical studies, doctors have found that not having enough biotin can disrupt the body's ability to regulate blood sugar levels, sending them spiking and crashing much more easily. In fact, doctors have also found that many people with diabetes also have lower-than-usual biotin levels.
May Improve Immune System Function: A healthy immune system plays a critical role in health (hair, skin, and nails). And one of biotin's main functions is to help convert nutrients into energy, strengthening and fortifying your immune system all day long.
Perfect For Whole Body Wellness: Besides simply unlocking youthful hair, skin, and nail appearance, research shows biotin may also help support better sleep, energy, mood, and skin health.
Doesn't Your Body Deserve the Best?
Science-Based Nutrients. Our Biotin is scientifically-proven to unlock youthful appearance by strengthening hair, skin, and nails as well as promoting whole body wellness through improved sleep, energy, and mood.
Made in the USA in an FDA-Inspected Facility. We're sticklers for quality, so our Biotin is made in a GMP-compliant, US facility, and every batch is lab-tested to ensure it contains exactly what the bottle says.
No Fillers, No Junk, No Inflammatory Ingredients. We care about what you put in your body, so our Biotin contains no fillers, no additives, no inflammatory ingredients, and are gluten-free, soy-free, and dairy-free.
Lab Tested for Quality. In addition, after every batch, our Biotin is lab-tested to ensure that it contains exactly what it says on the bottle (and nothing else).
Common Questions
Our Biotin strengthens and preserves the deep structure of your hair and nails, while also helping to moisturize skin, regulate blood sugar levels, boost energy, and even improve sleep and mood.

Our Biotin has the potential to work on anyone, whether 25 or 75, as research has shown the clinically-proven ingredients to be effective among a wide variety of people. As with any supplement, if you have specific medical conditions or concerns, please check first with your doctor or other licensed health professional.

Since everyone is different, it's tough to give an exact answer to this. Some people notice a dramatic improvement in the first week, while for others it takes a few weeks or even up to a month to feel the benefits. Remember, each body is different.

The amount of biotin in even the most biotin-rich foods is still nearly 1,000 times less than is found in our Biotin. While it won't do any harm to continue to eat foods with biotin in them, it would be nearly impossible to get as much biotin as you need through diet alone.

There are 60 servings in every bottle of our Biotin. For most people, this means 1 bottle will last for 2 months.

At CoBionic, we value 2 things.

First, we are obsessed with making products that TASTE amazing, because if you don't enjoy our products, then you'll stop using them, and they can't help you.

Second, all of our products contain only the simplest, most natural ingredients - NO JUNK - because we're very careful ourselves about what we put in our body.

Yes - all of our products are manufactured in and shipped from the USA.

Yes - our manufacturing facility thoroughly tests both ingredients and also the finished product.

This means that the product contains exactly what it says on the label and that we also test for traces of toxins like heavy metals.

Absolutely. We have a 180-day, 100% Satisfaction Guarantee.

So if you're not satisfied for ANY reason, just let us know within 180 days of ordering, and we'll refund 100% of your purchase.

We LOVE being helpful, but please understand that we can't answer medical questions. We're not doctors, and even if we were, we don't know your particular situation and history.

In general, before using any supplements, you should check with your doctor or other health professional.

Awesome. Just shoot us an email to support@cobionic.com, and we'll get back to you as quickly as possible.

Just remember - we're a small, family-run company, so it might take us 24 hours to get back to you, although we try to reply much more quickly.
CoBionic is a family-owned and operated business, so we stand 100% behind every one of our products.
Most of our customers are blown away when they first try any of our products...
However, if you don't absolutely love your purchase, then just let us know within 180 days, and we'll refund it -- no questions asked.
It's that simple and easy.
3 Reasons You'll Love CoBionic
At CoBionic, there are 3 big reasons that people love our products...

Taste & Flavor. This is our #1 focus for every food and food supplement we produce. In the end, nothing else matters if you don't like something enough to keep taking it. Also, we just think life should be fun and have a little more flavor.

Simple, Quality Ingredients. Every company says that their ingredients are the best, so it can be hard to tell the difference sometimes. That's why we limit all of our products to just the simplest, most natural ingredients - things you can understand and believe in.

Family-Owned and Operated. We view you as part of our family, and we don't want you eating anything that we wouldn't put into our own bodies. So we focus on both incredible quality and incredible customer service.