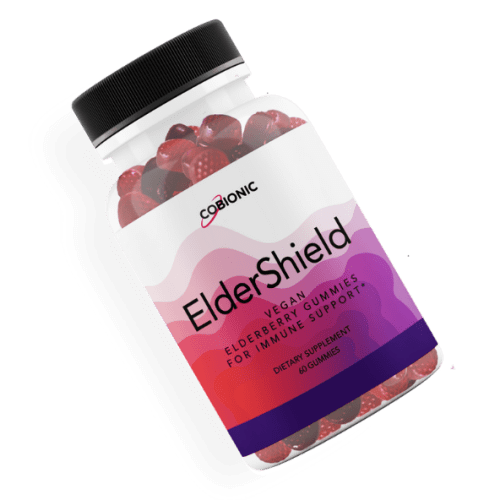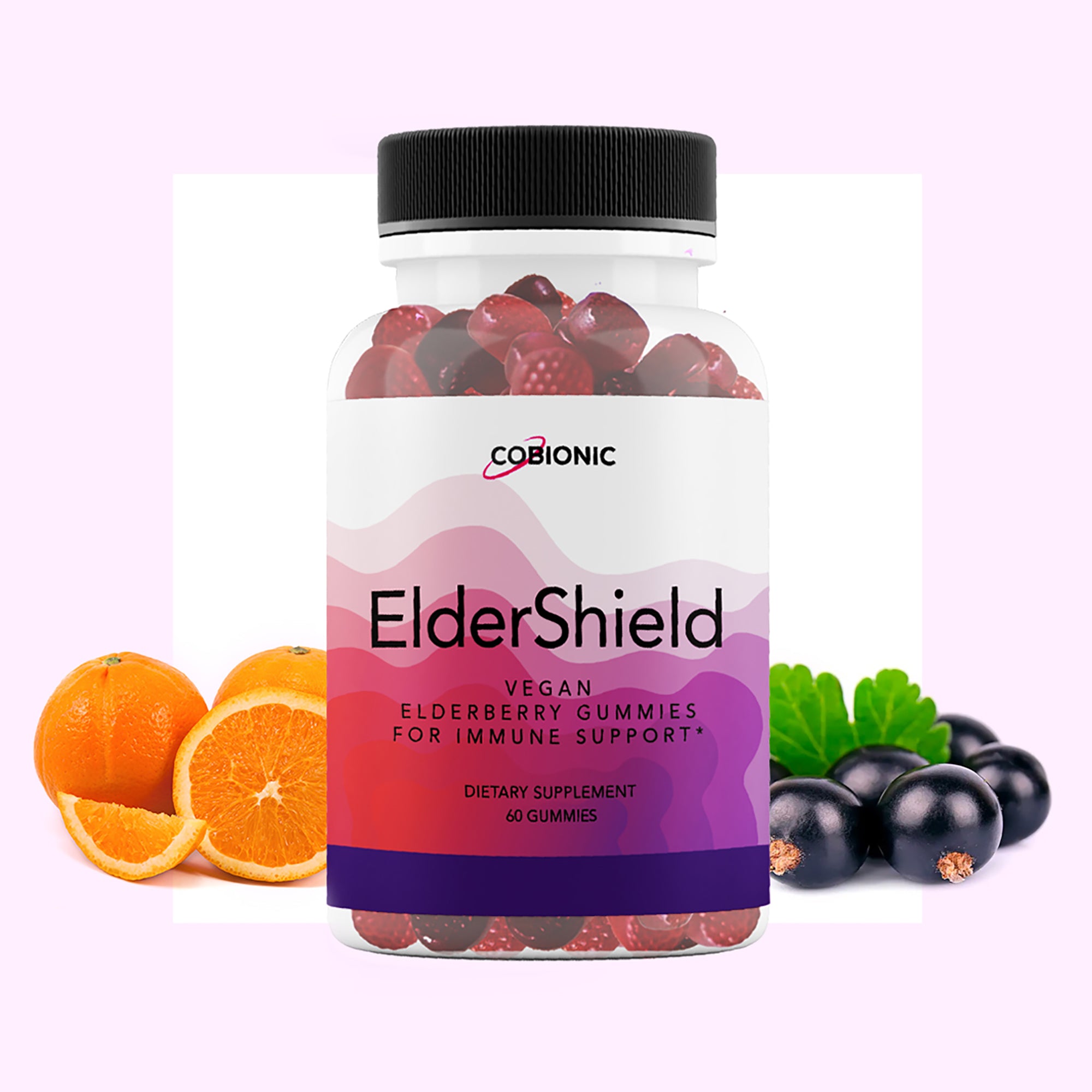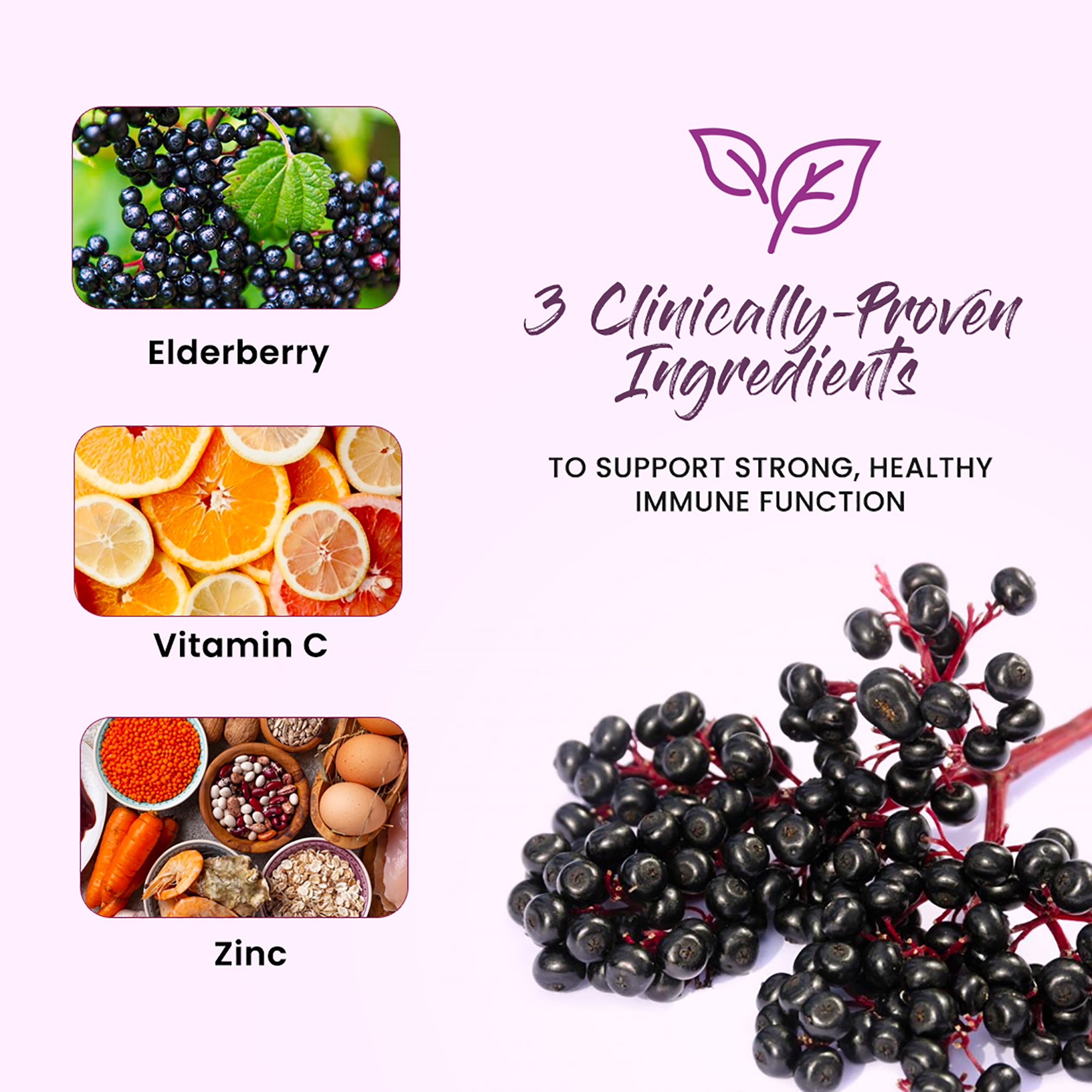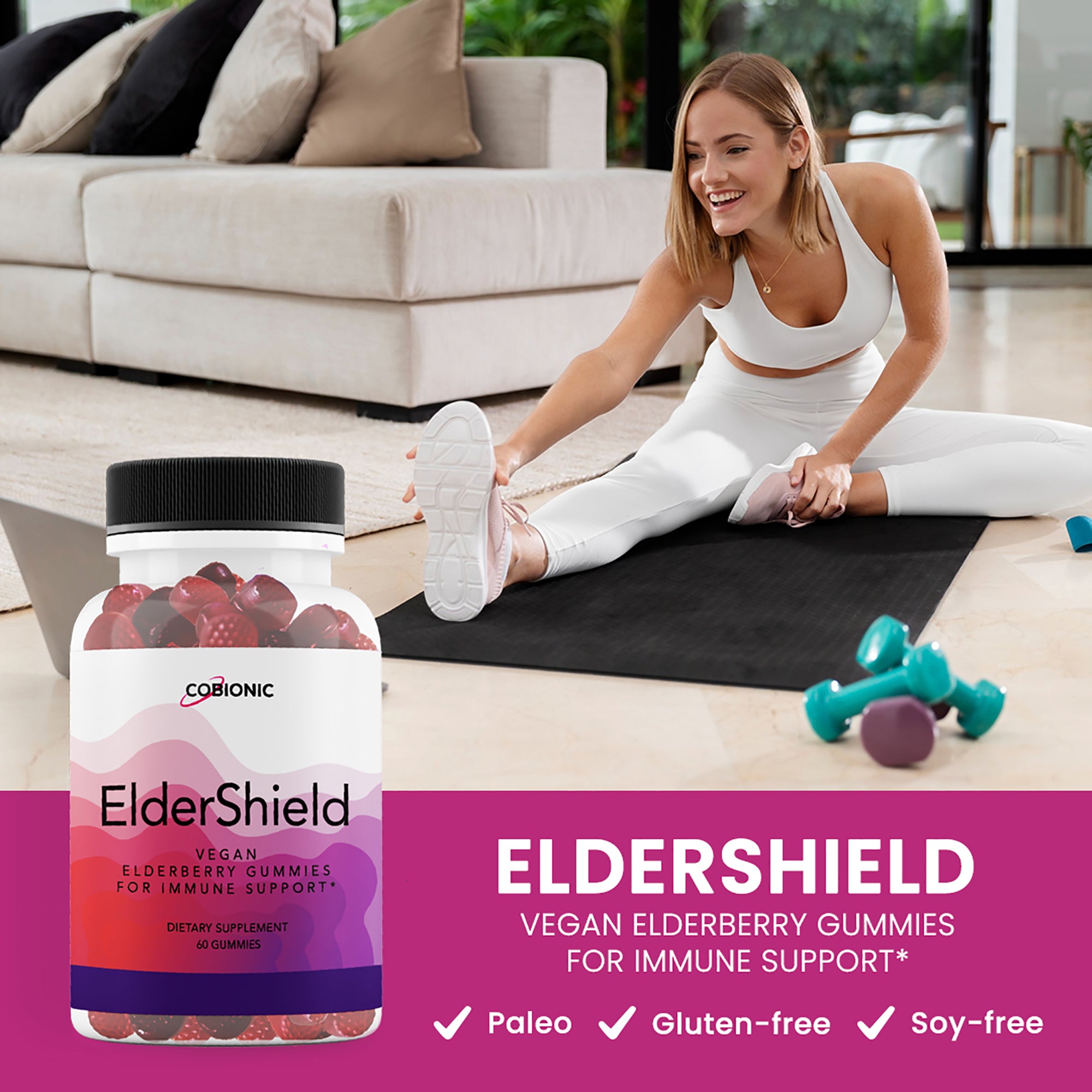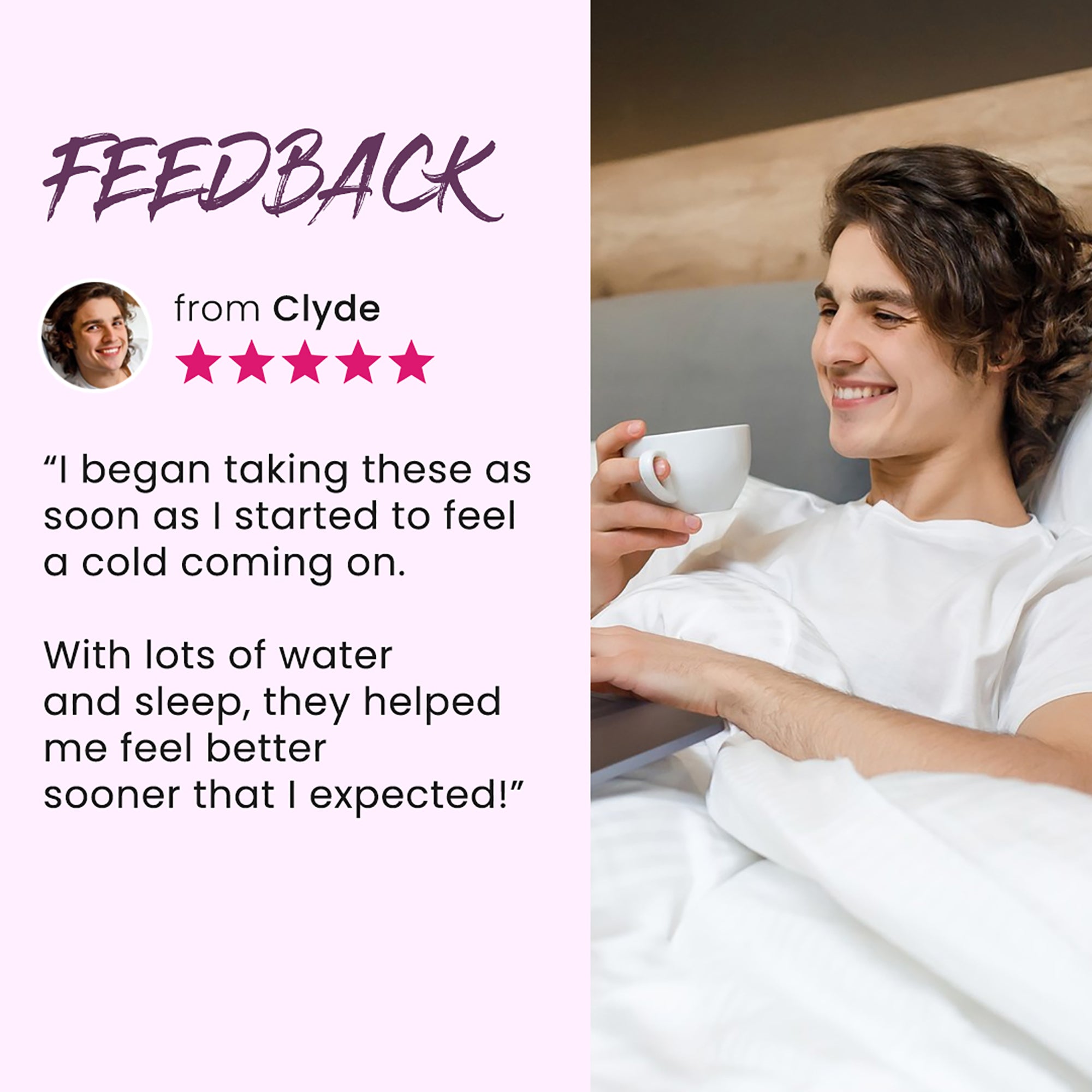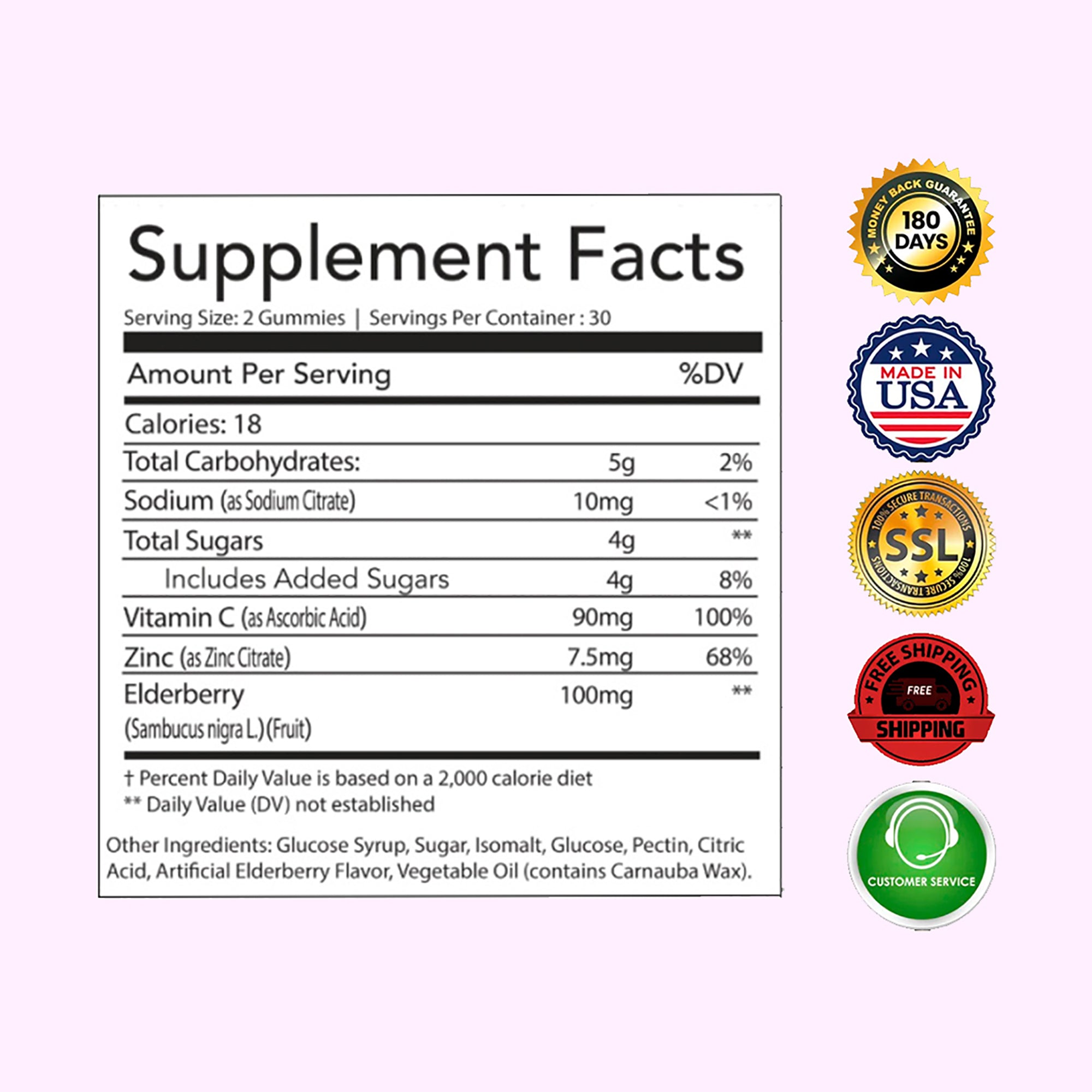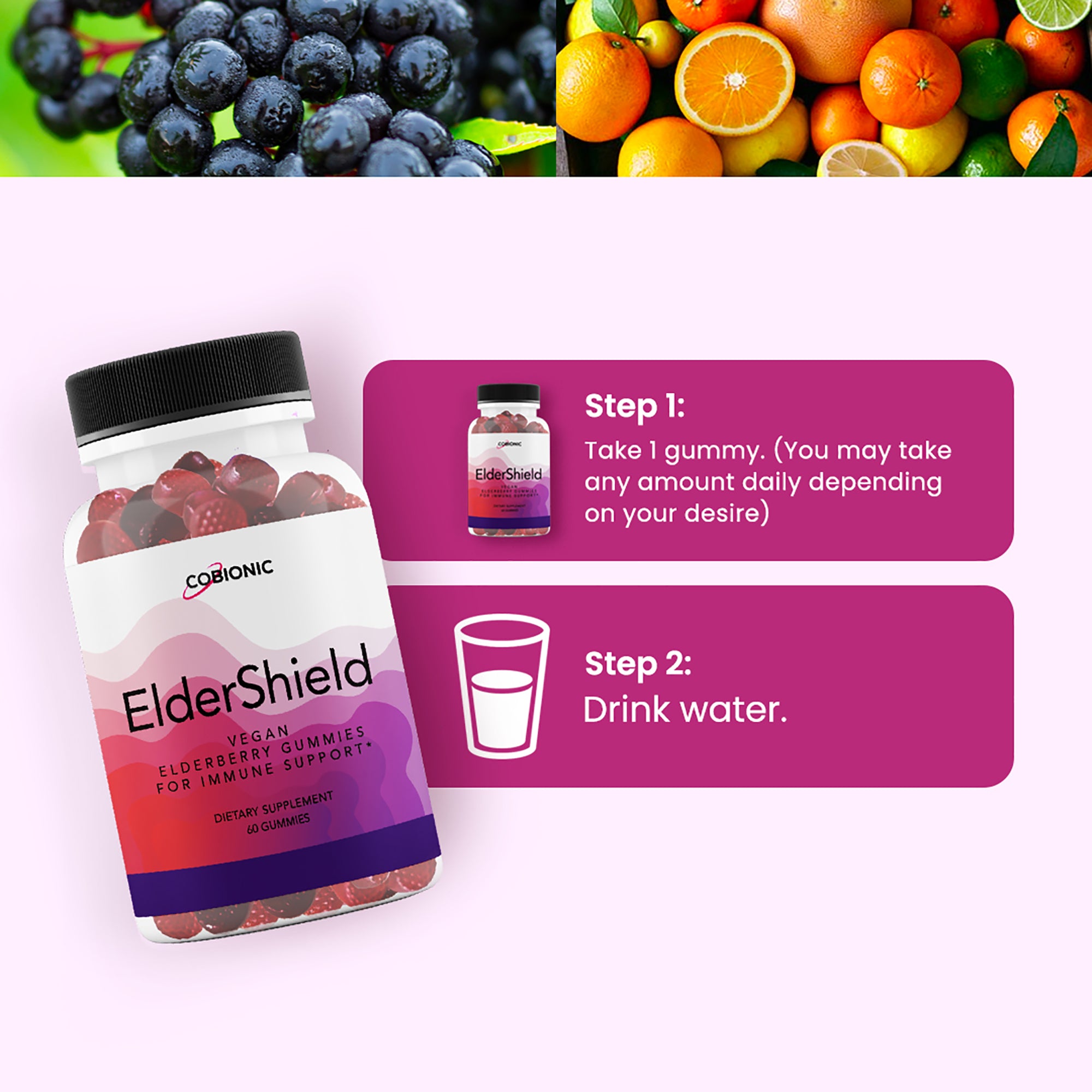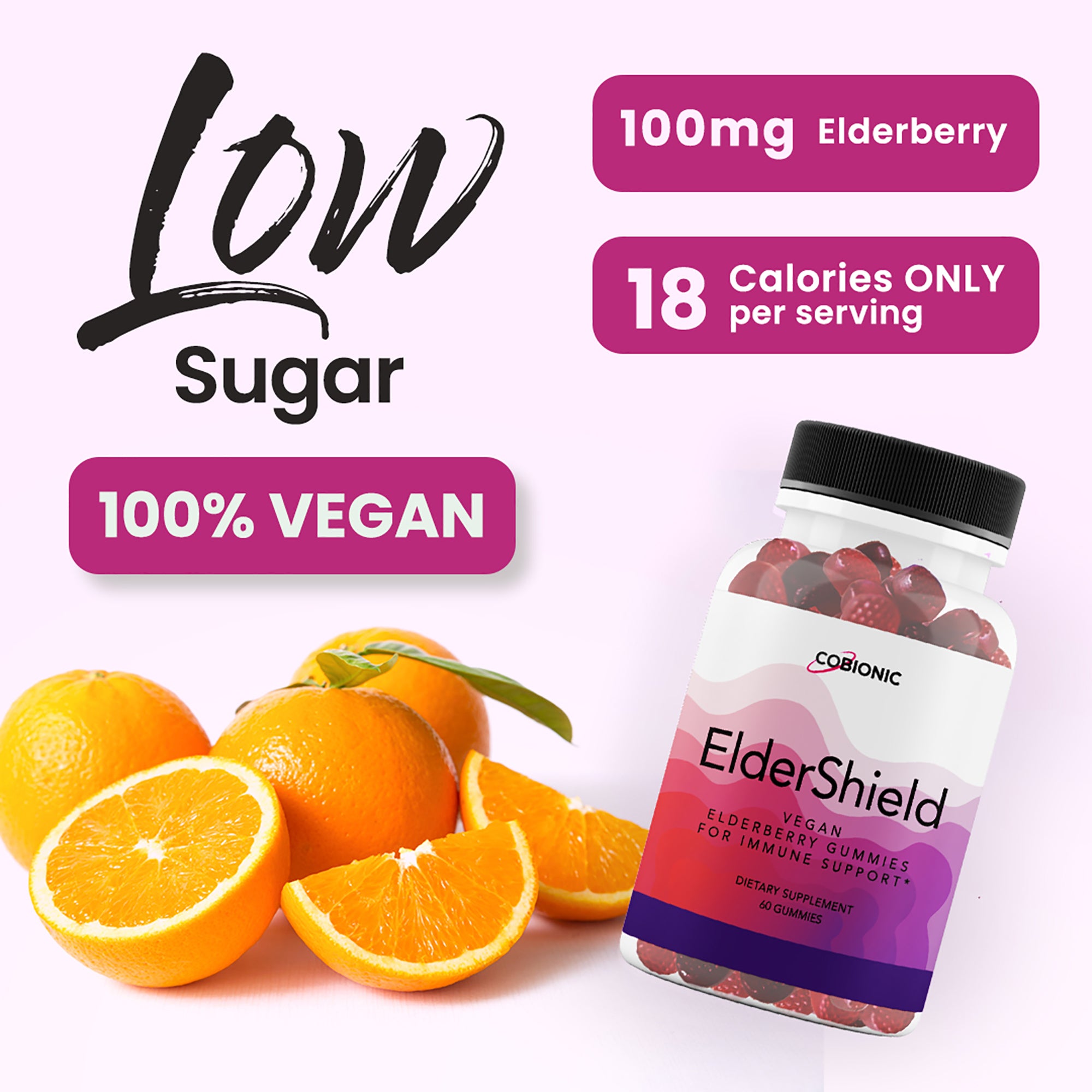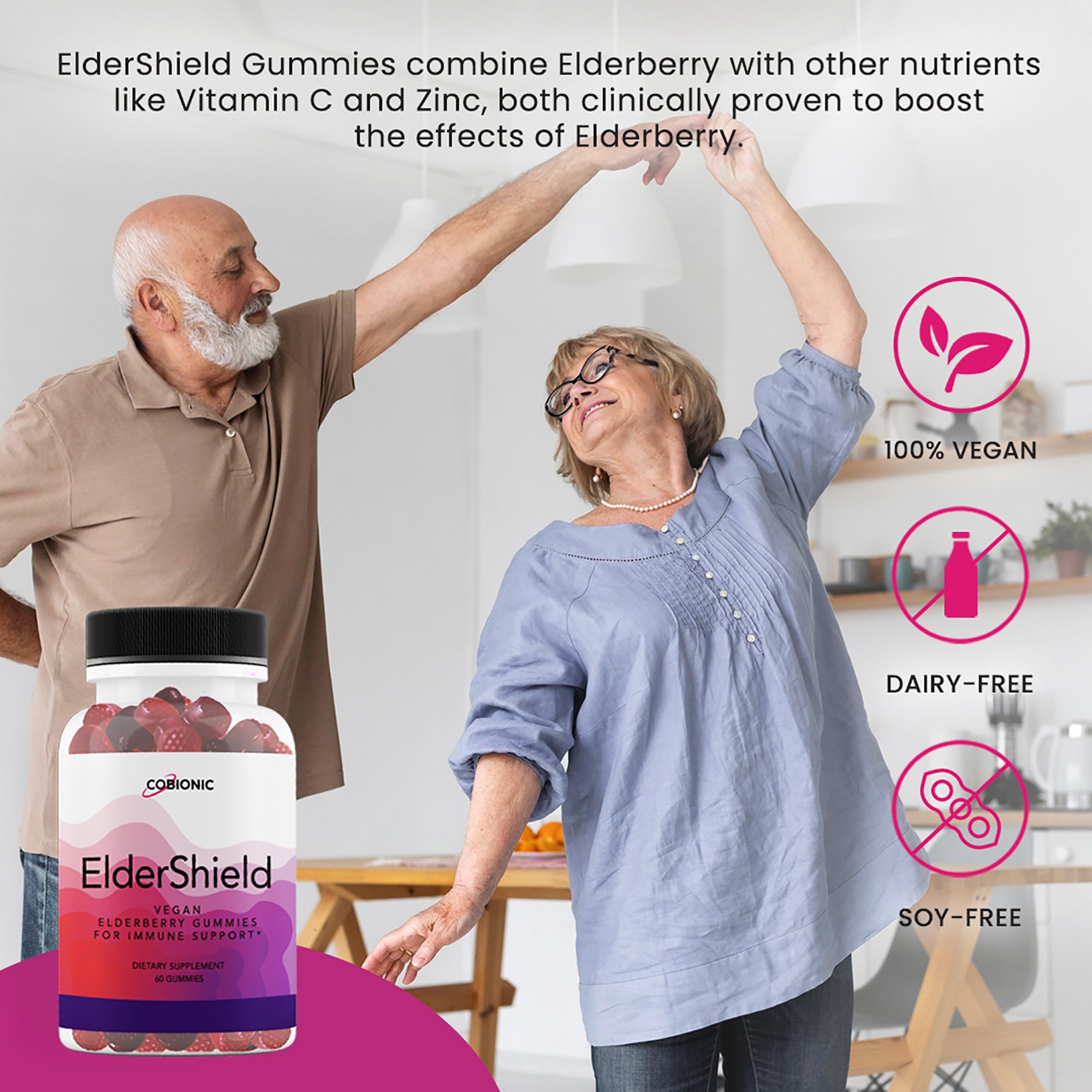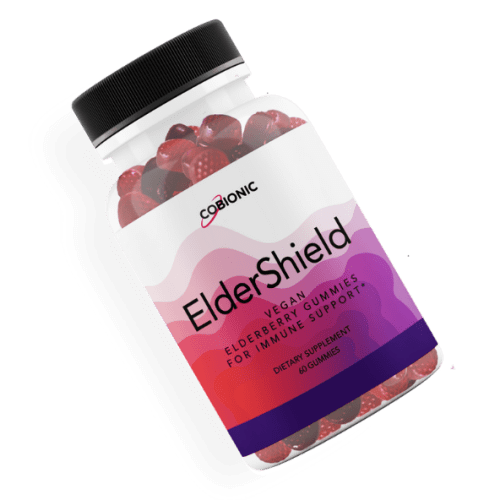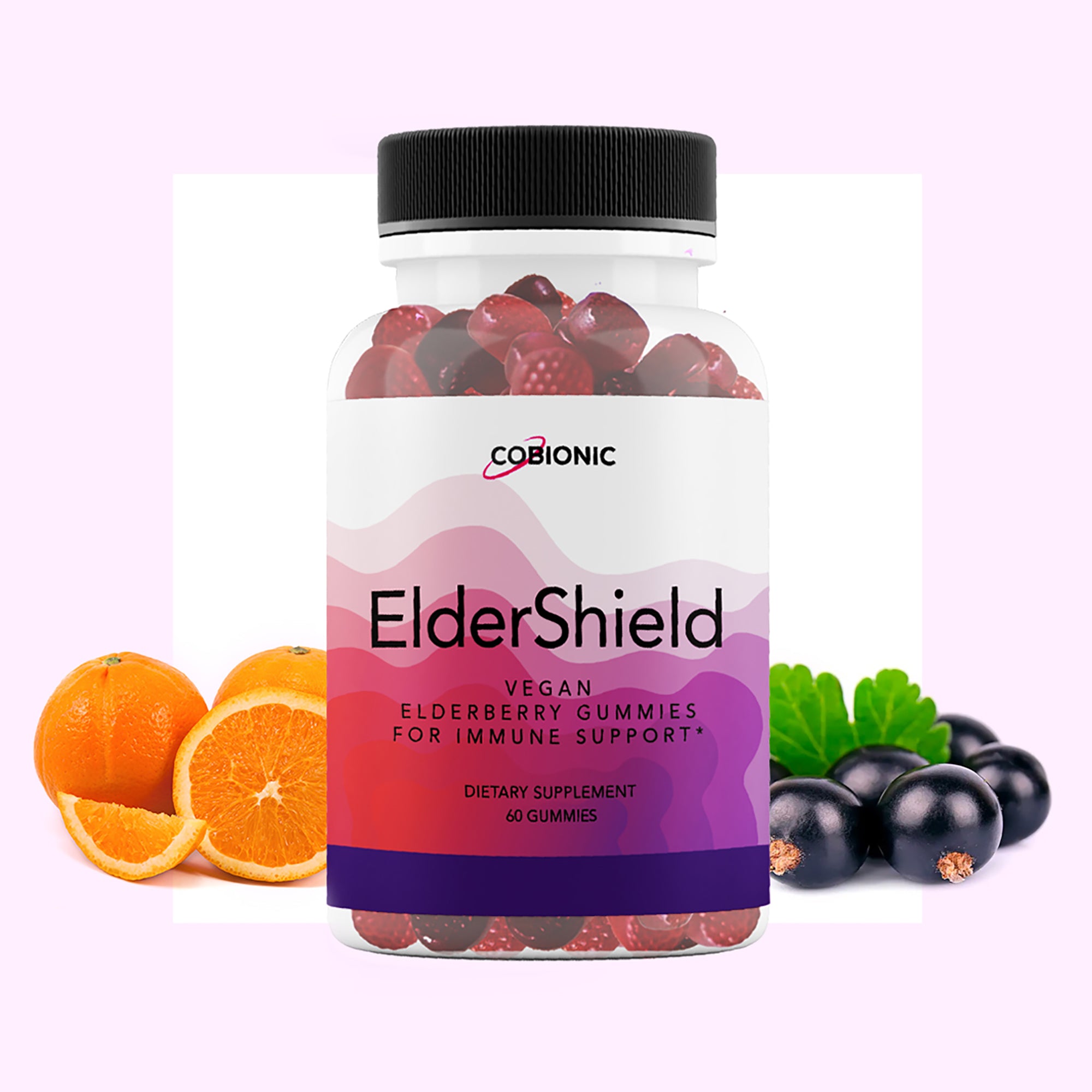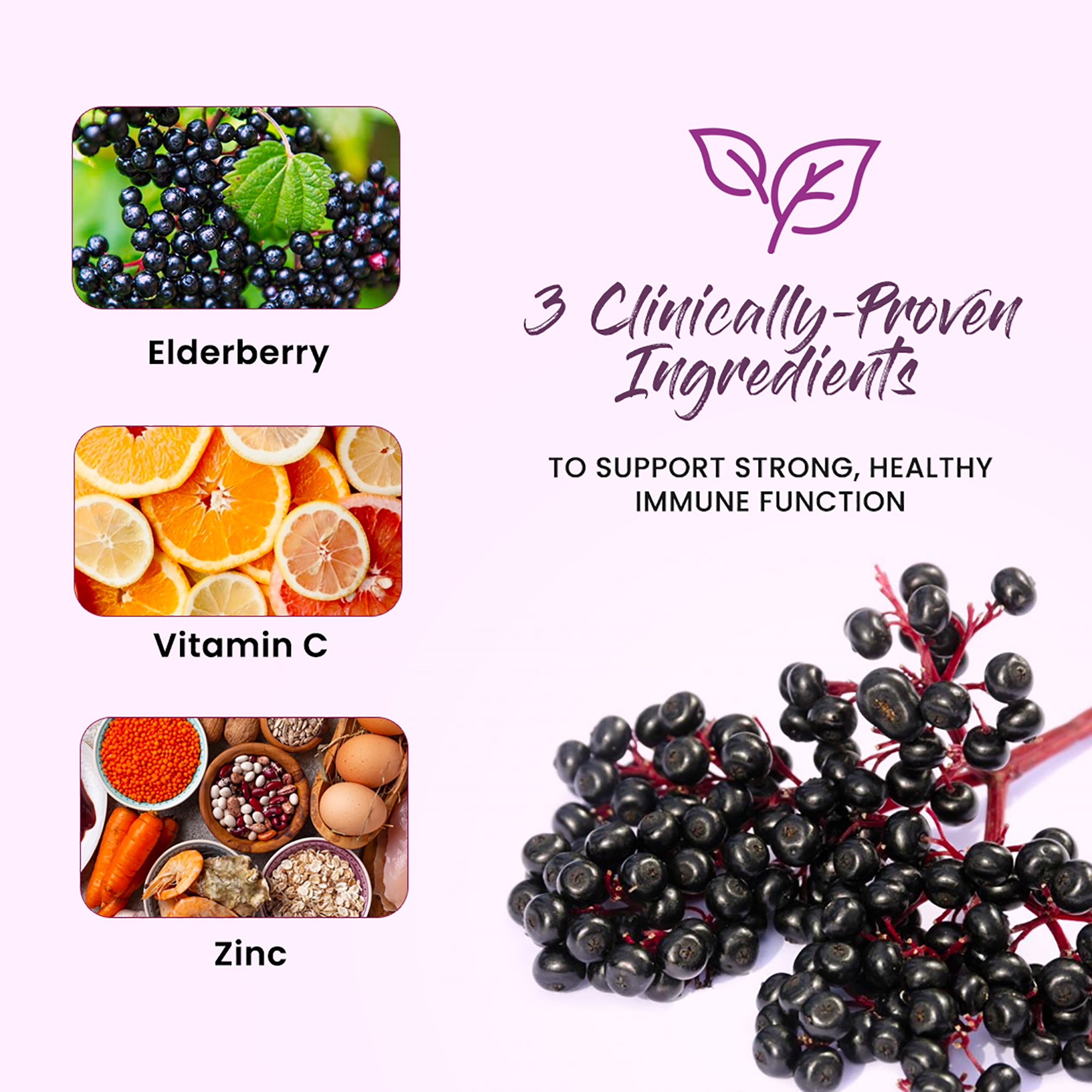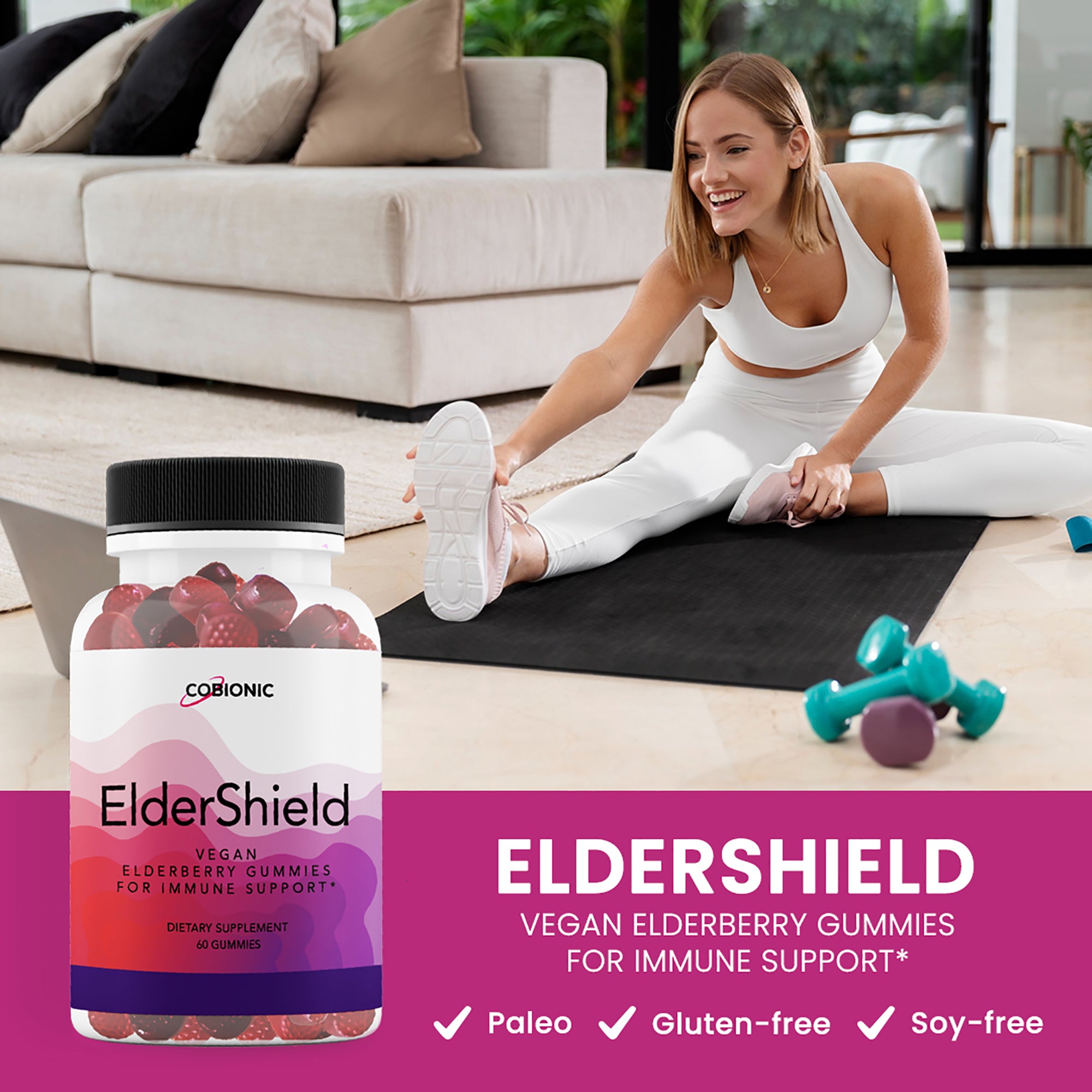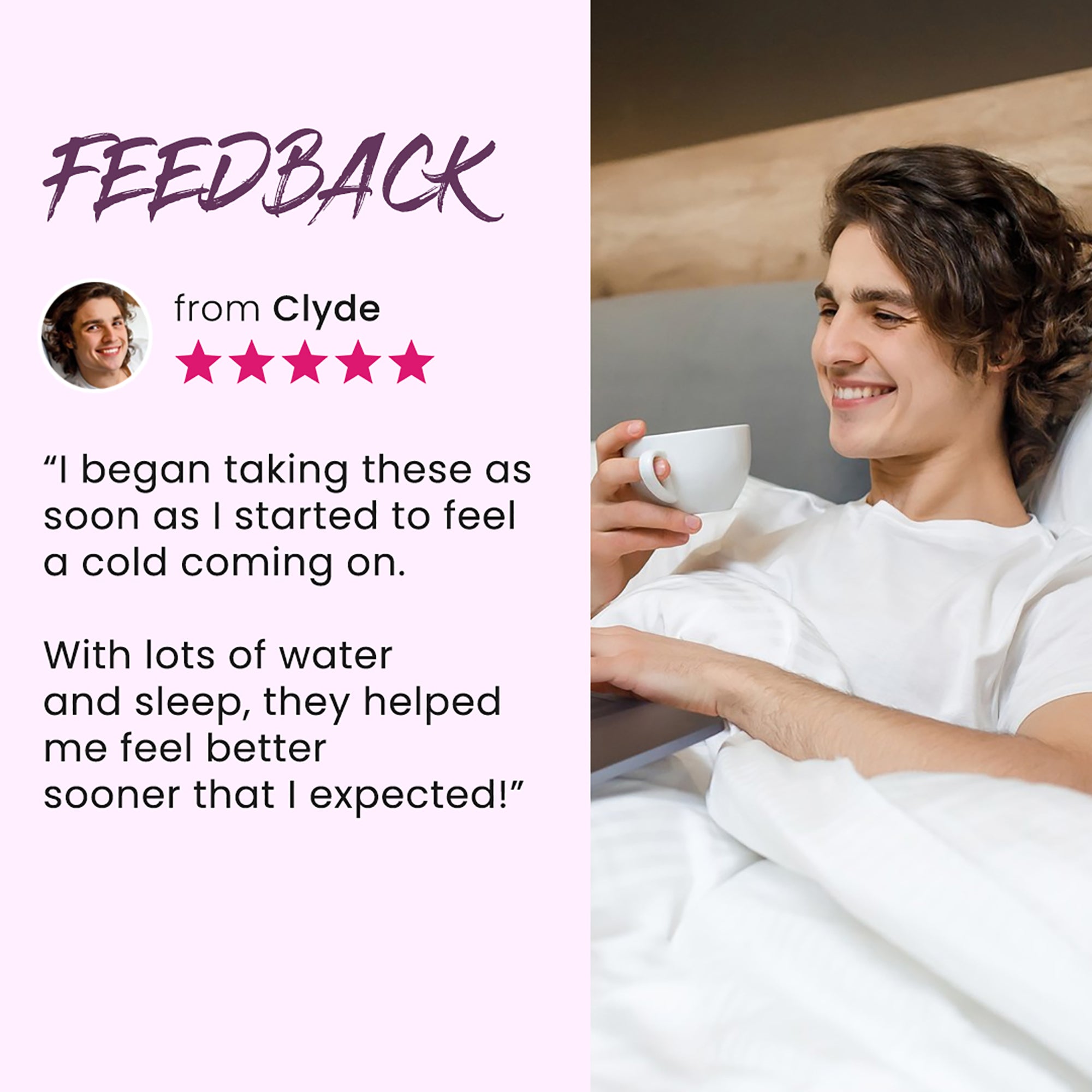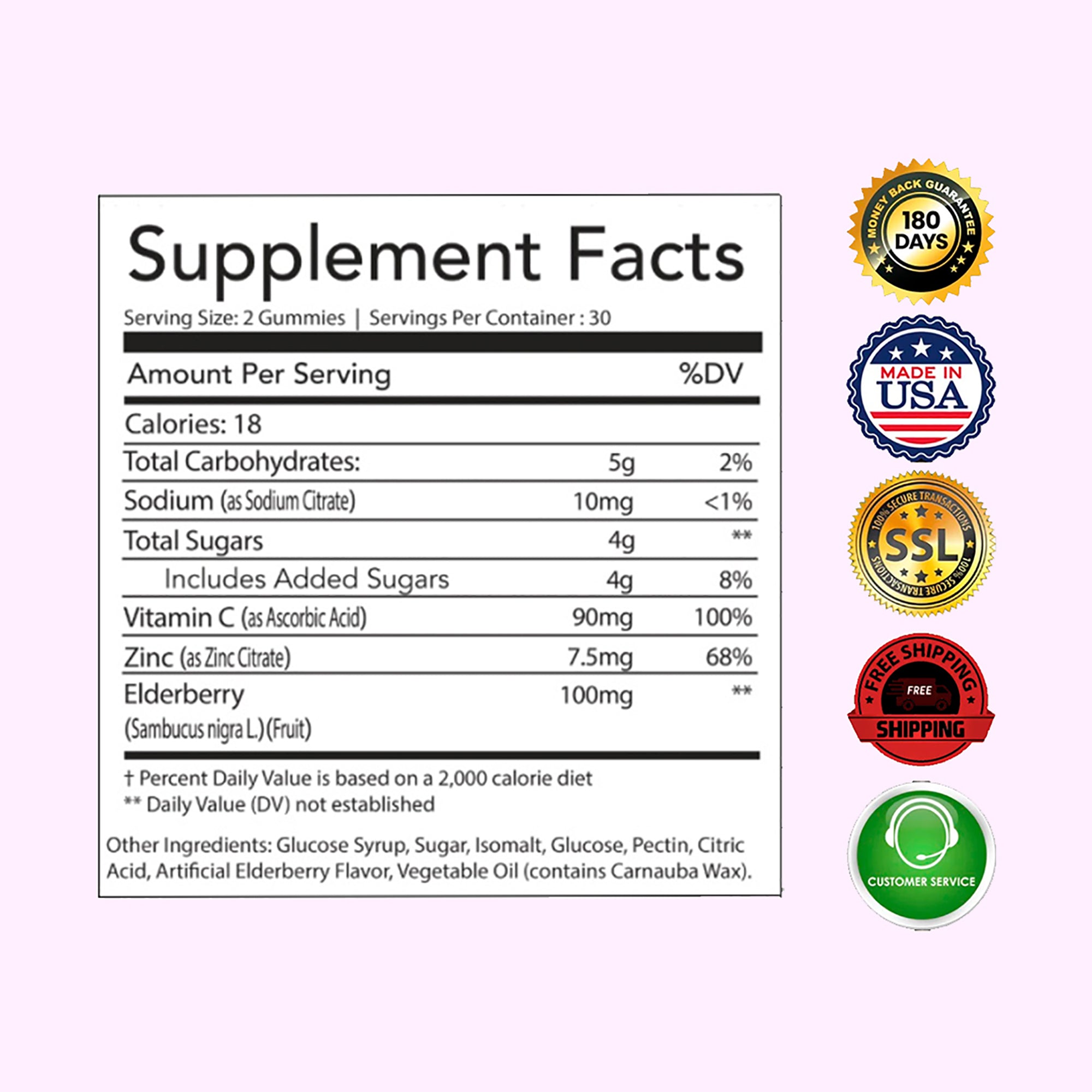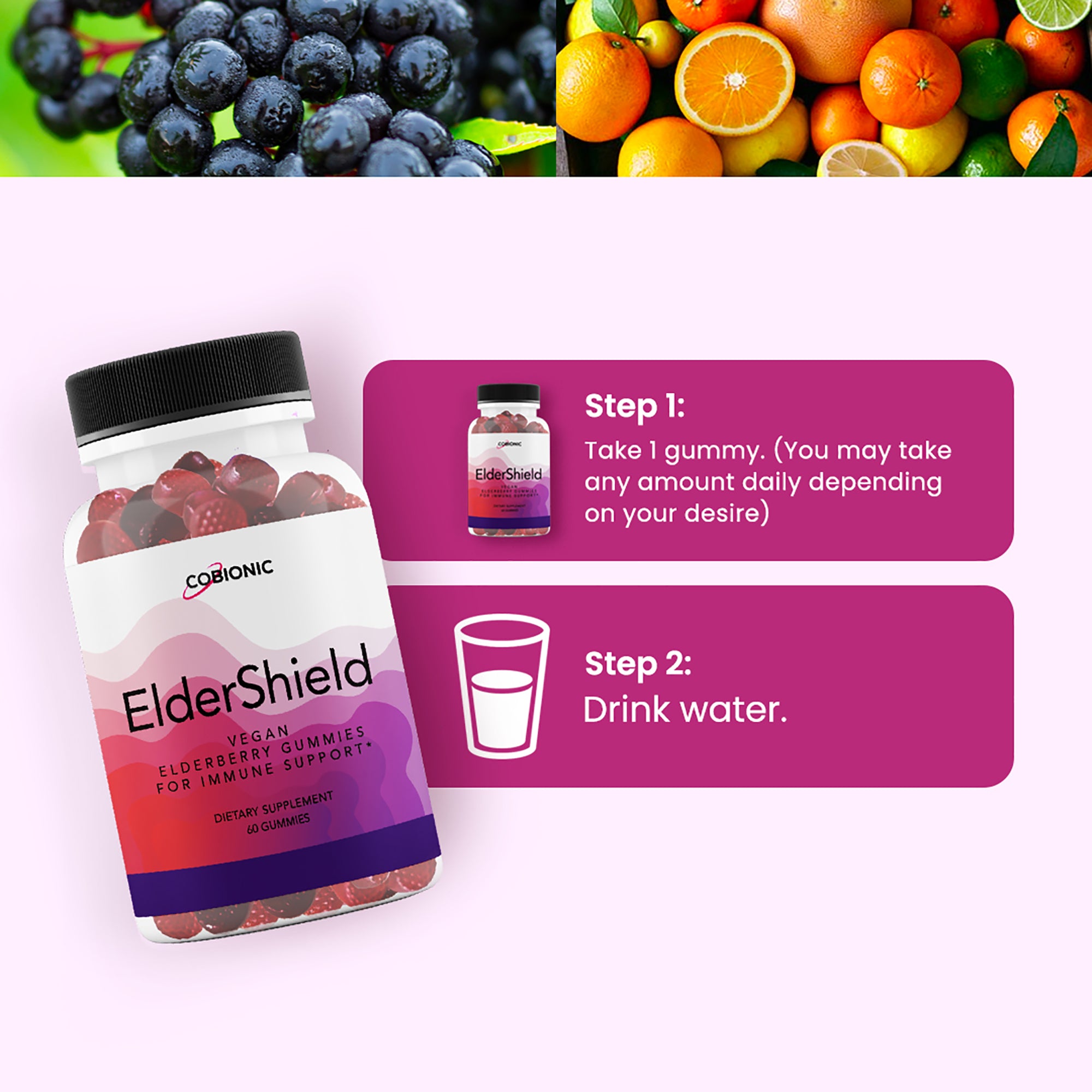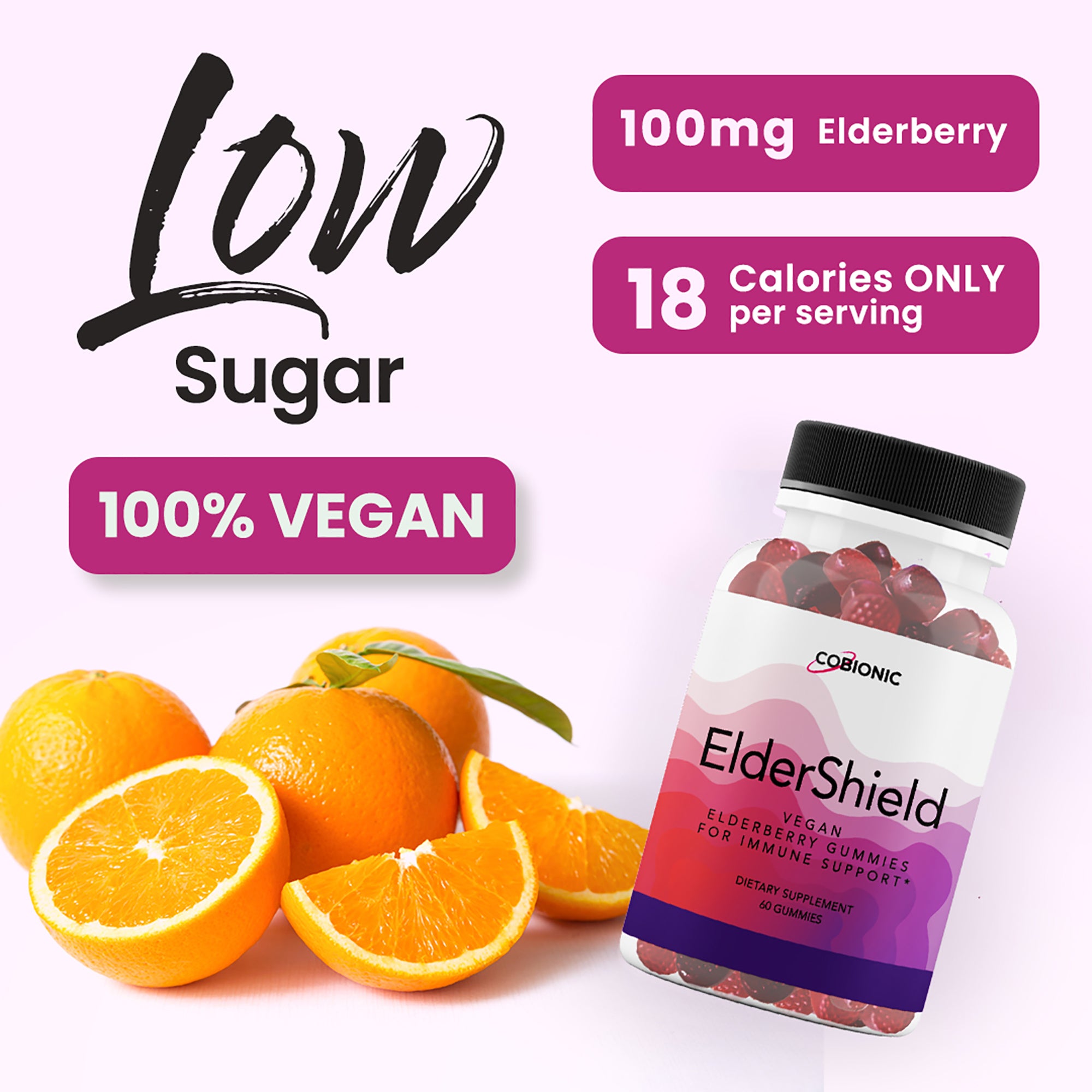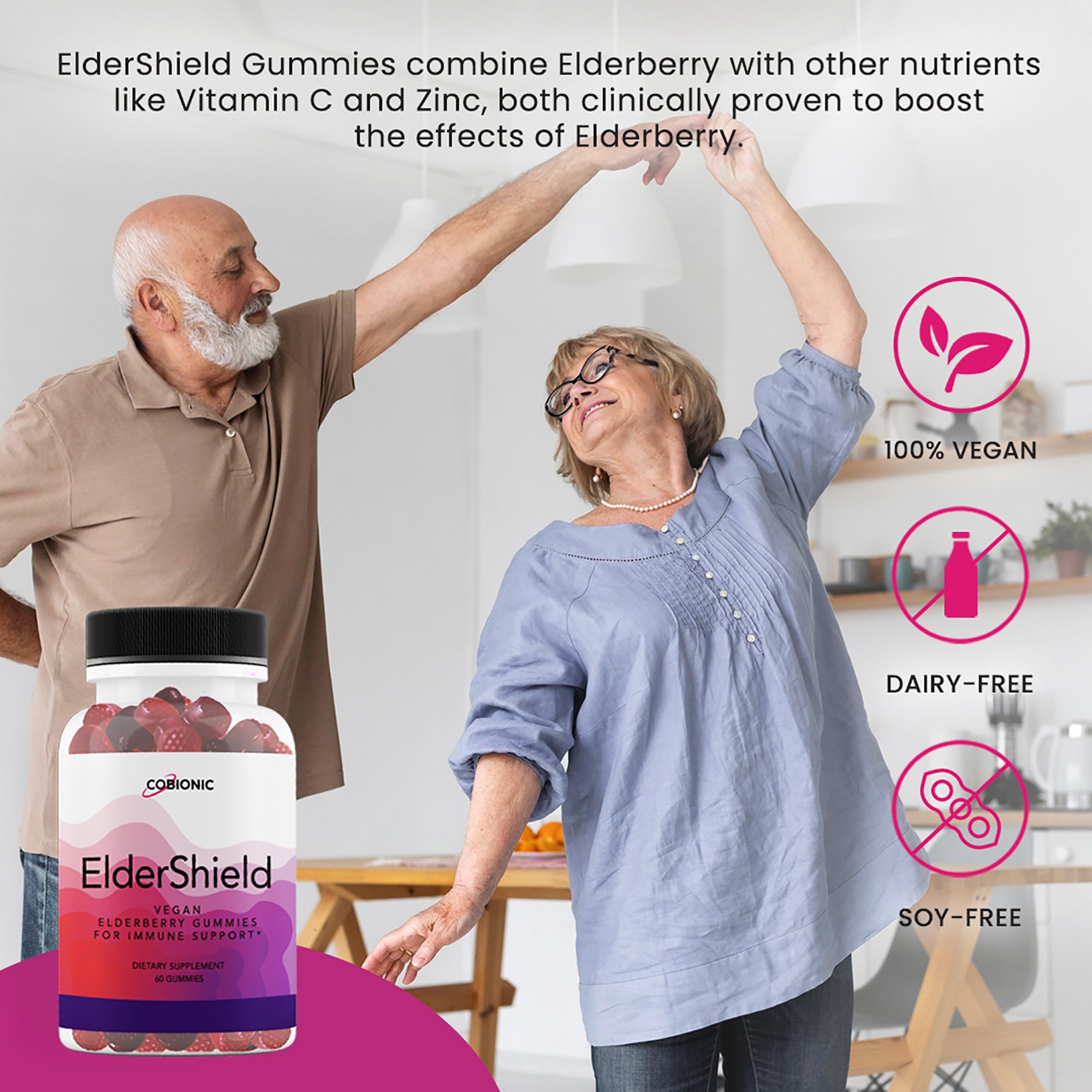 ElderShield Gummies
100% Vegan Gummies with a Blend of Elderberry, Vitamin C, and Zinc --- Ingredients Clinically Proven to Support Strong, Healthy Immune Function
1 Bottle Contains 60 ElderShield Gummies
Serving Size: 2 Gummies
Servings Per Container: 30
Supports strong, healthy immune function
Helps fight inflammation and elevate mood
Increases energy, fights fatigue and promotes body wellness
Raises antioxidant levels and improves heart health
A Beautiful Berry - Used for Centuries to Bolster the Immune System, Fight Inflammation, and So Much More...
Elderberries have been used for thousands of years, but many Americans have only recently heard of this amazing berry.
Native Americans used Elderberries to treat infections2, while ancient Egyptians used the berry to improve their complexion and heal burns.2
And now, modern researchers have begun to scientifically prove that Elderberries are useful for more than we ever realized before - reducing cold and flu symptoms3, raising antioxidant levels4, improving heart health5and even relieving the symptoms of depression.6
As powerful as the Elderberry is, scientists have recently discovered that it can be made even more effective by combining it with Vitamin C and Zinc.
Not only are Vitamin C and Zinc two of nature's most effective immune-supporting nutrients...7,8
They've also been clinically-proven to do so much more -- including improve your mood9, increase your energy levels10, reduce anxiety and even boost mental performance.11
And Here's the Best Part… You Can Get All of This in a Deliciously Sweet, Vegan Gummy...
Most people don't want to choke down multiple supplements every morning and night.
But the research is clear: our bodies get the biggest benefit when we get a regular, daily does of these nutrients.
That's why we set out to create a vegan gummy that is as delicious as it is powerful.
...One that combines all the nutrients that researchers have found to amplify the effects of Elderberry - but in an easy-to-use gummy that you'll actually enjoy taking every day.
In fact, our new gummies have made it so easy and delicious to tap into the health-boosting benefits of Elderberry, many people often report snacking on them throughout the whole day!
It's Never Been Easier To Boost Immunity, Improve Your Mood, and More… All With The Power Of Elderberry
Delicious and easy-to-use: It's important to protect and heal your body daily, which is why we put ElderShield in a delicious gummy form -- so you can actually look forward to eating one every morning.
Boosts Immune Function: Research has shown Elderberry to be one of the most effective natural immune boosters in existence12. And when combined with Vitamin C and Zinc, your immune system can be fully protected and supported all day long.13,14,15
Shown to Elevate Mood: In a 2014 study, researchers discovered that an elevated mood was directly linked to increased Elderberry intake.16 This is made even more powerful when combined with Vitamin C, which has also been scientifically proven to improve mood on its own.17
Increases Energy and Fights Fatigue: A study of over 400 participants from the University of Alabama discovered the symptoms of fatigue were cut in half for those who took the nutrients in ElderShield daily.18
Promotes Total Body Wellness: This special combination of nutrients are necessary for the growth, development and repair of all body tissues. They are involved in many body functions, including formation of collagen, absorption of iron, the proper functioning of the immune system, wound healing, and the maintenance of cartilage, bones, and teeth.19,20
Doesn't Your Body Deserve the

Best

?
Science Based Nutrients: ElderShield Gummies combine Elderberry with other nutrients like Vitamin C and Zinc, both clinically proven to boost the effects of Elderberry.21,22
A Perfect Combo for Healthy Immune Function: The power of Elderberry to assist with immune function is both proven and being more fully-discovered every day. And when combined with the key nutrients in our ElderShield Gummies, you won't find a better combination to protect and boost your immune system.23,24,25
Made in the USA in an FDA-Inspected Facility: We're sticklers for quality, so our ElderShield Gummies are made in a GMP-compliant, US facility, and every batch is lab-tested to ensure it contains exactly what the bottle says.
No Fillers, No Junk, No Inflammatory Ingredients: We care about what you put in your body, so our ElderShield Gummies contain no fillers, no additives, no inflammatory ingredients, and are gluten-free, soy-free, and dairy-free.
Lab Tested for Quality. In addition, after every batch, our ElderShield Gummies are lab-tested to ensure that they contain exactly what it says on the bottle (and nothing else).
Clinically-Proven Ingredients
Zinc
Zinc is a major player in supporting over 100 different chemical reactions in the body.37 Many of these chemical reactions are essential to maintaining your health.
These include the creation of DNA, growth of cells, building proteins, healing damaged tissue, and supporting a healthy immune system.38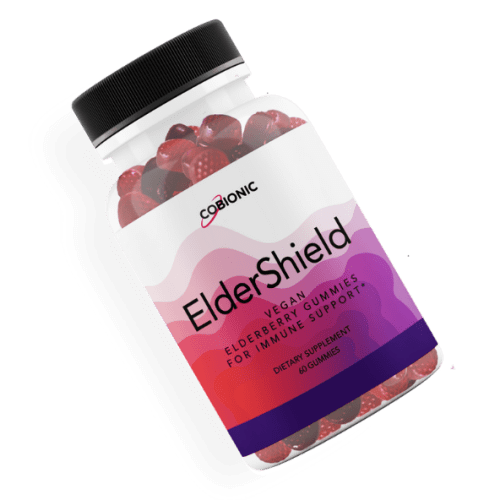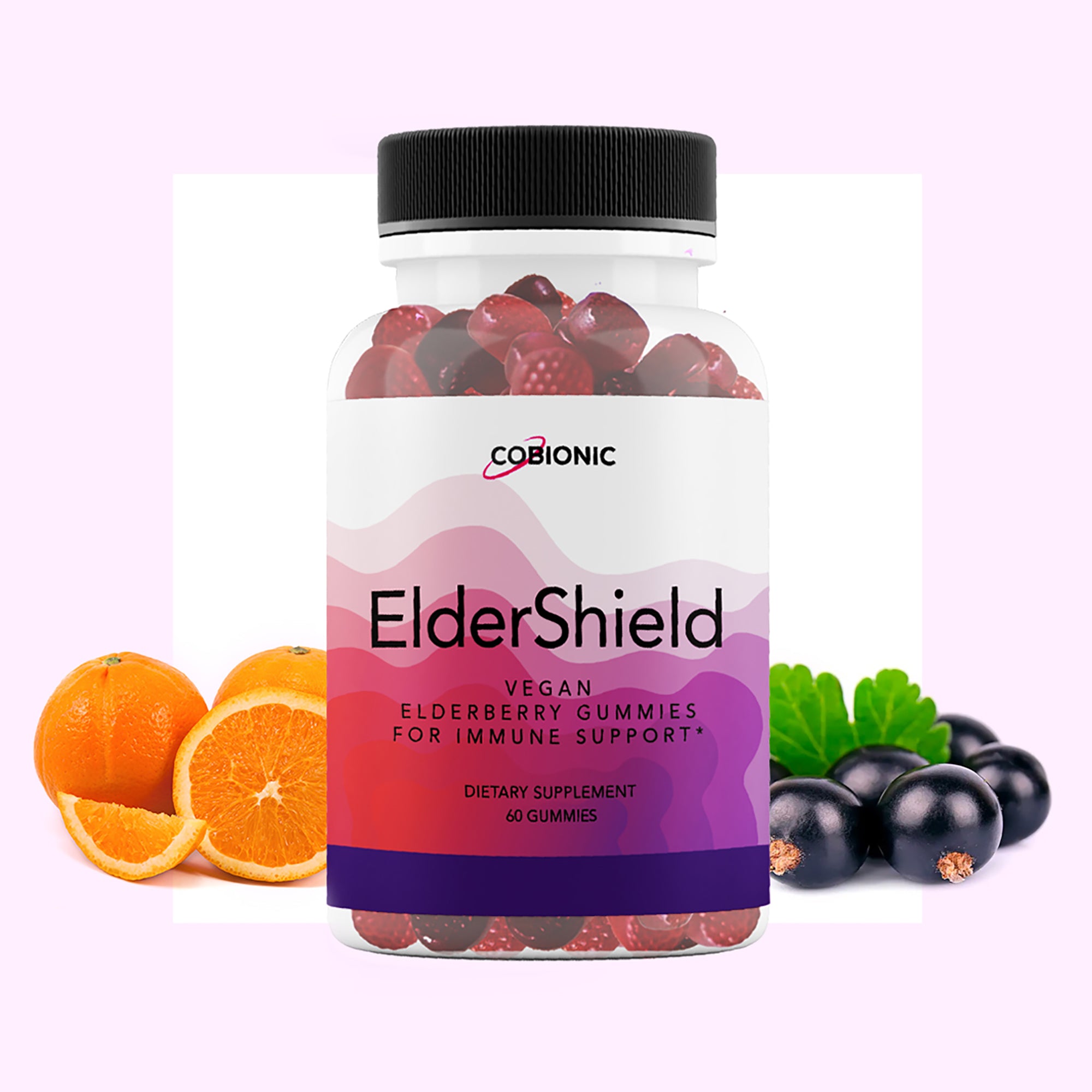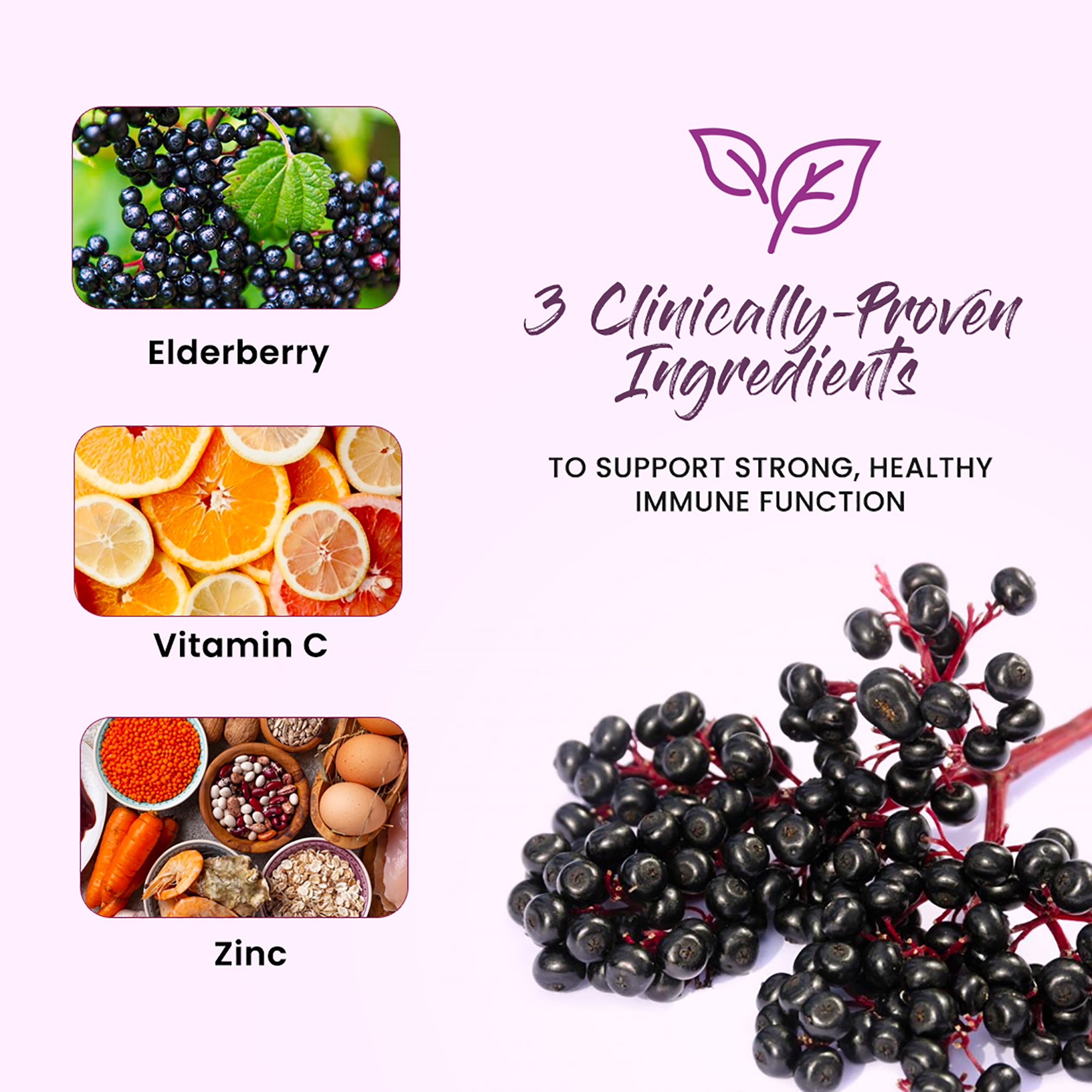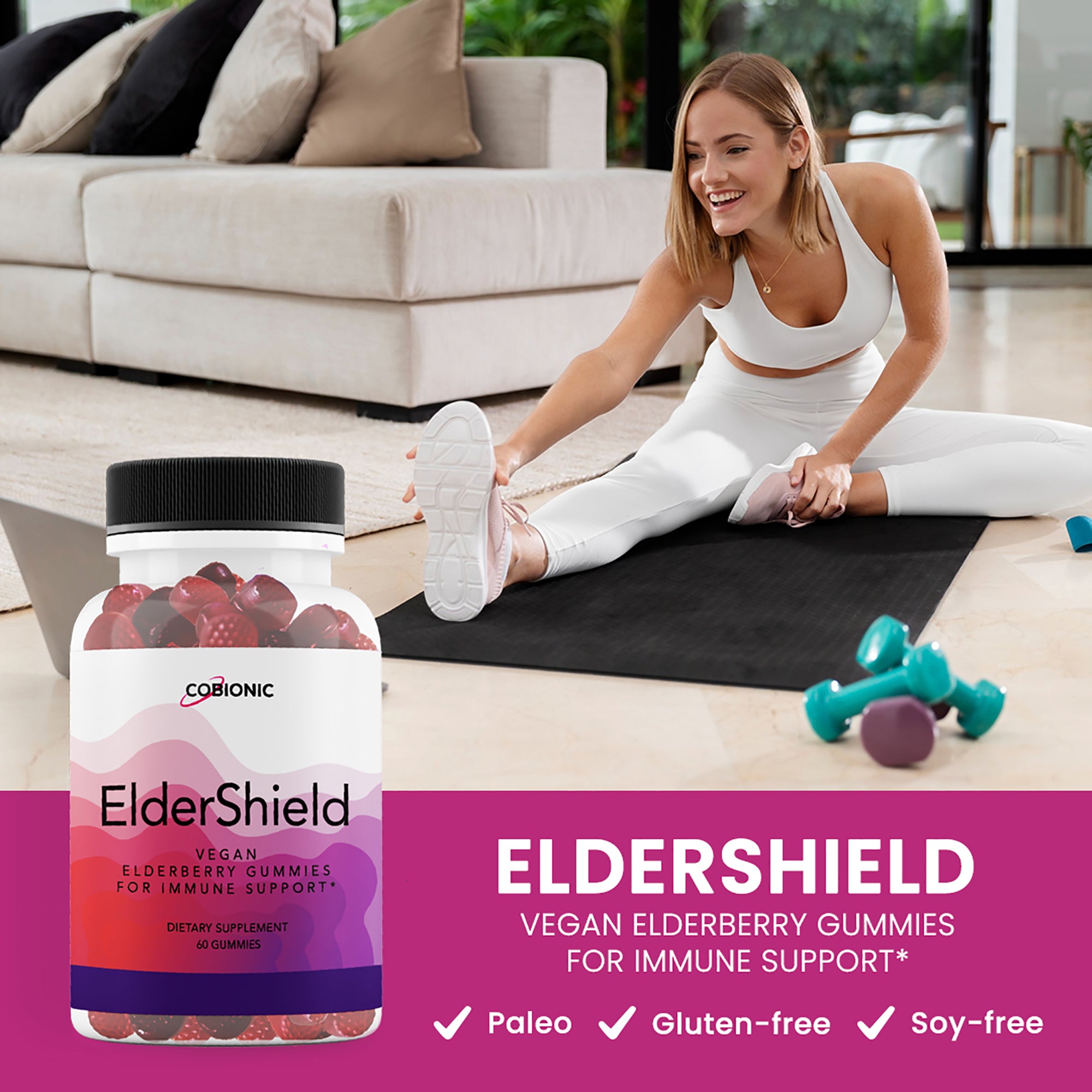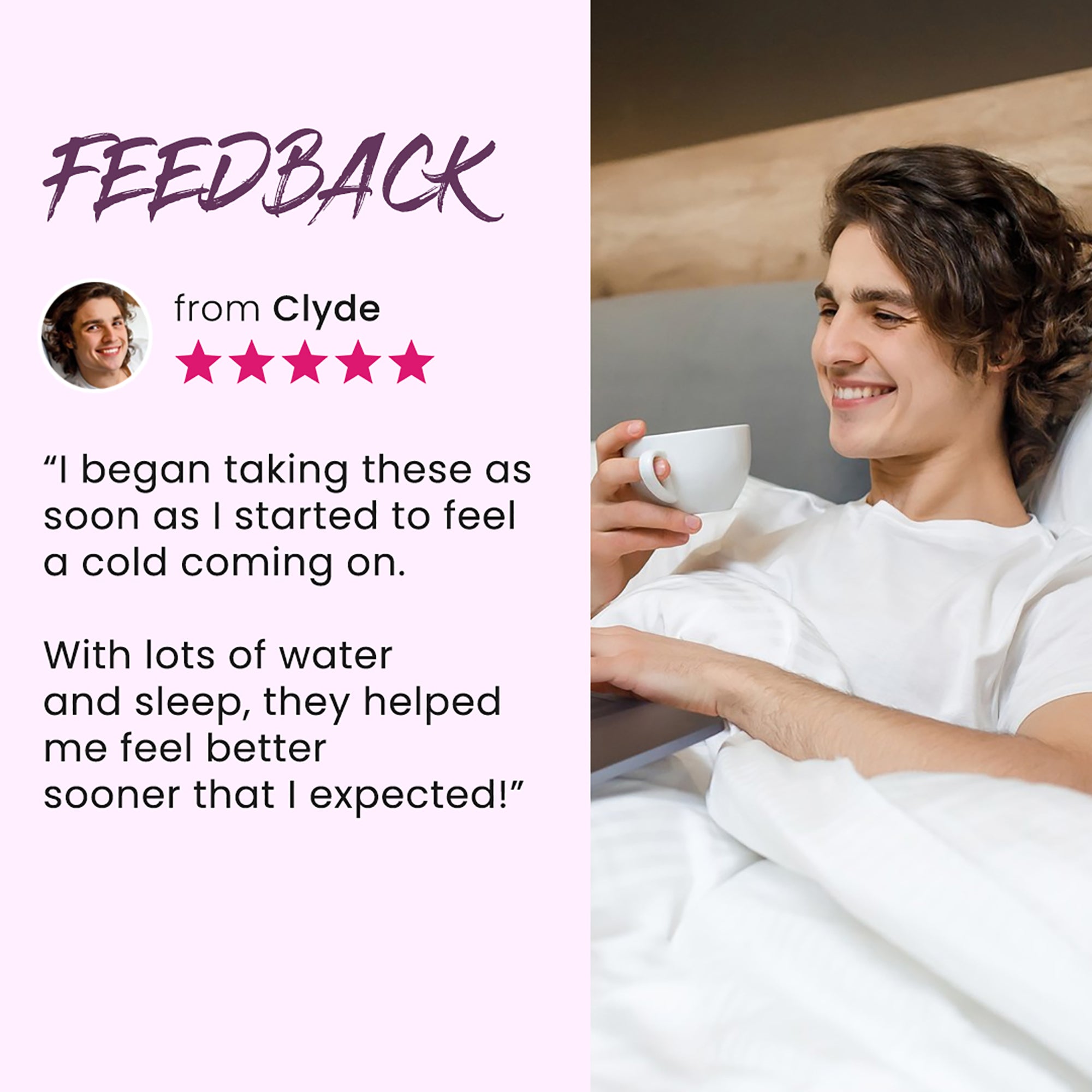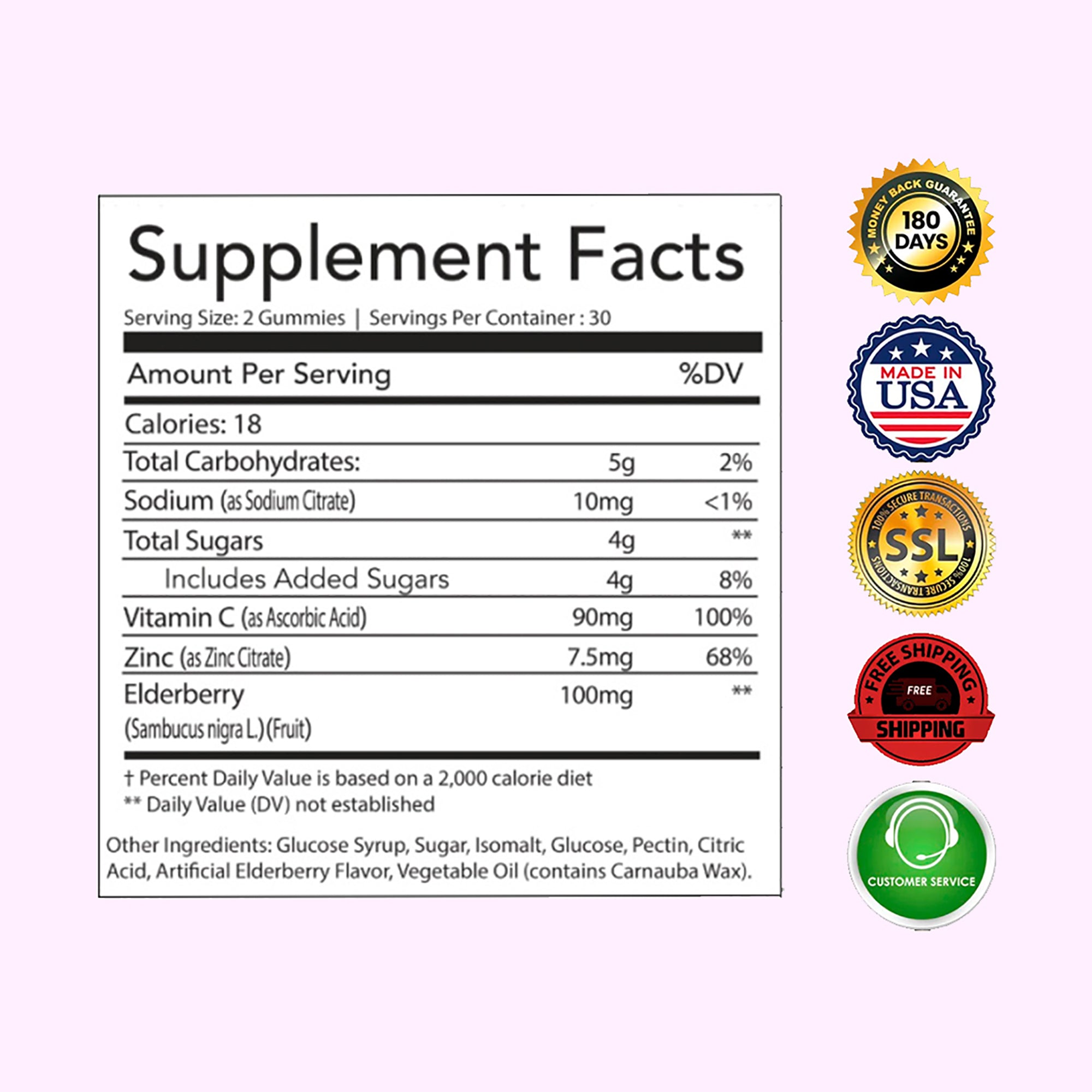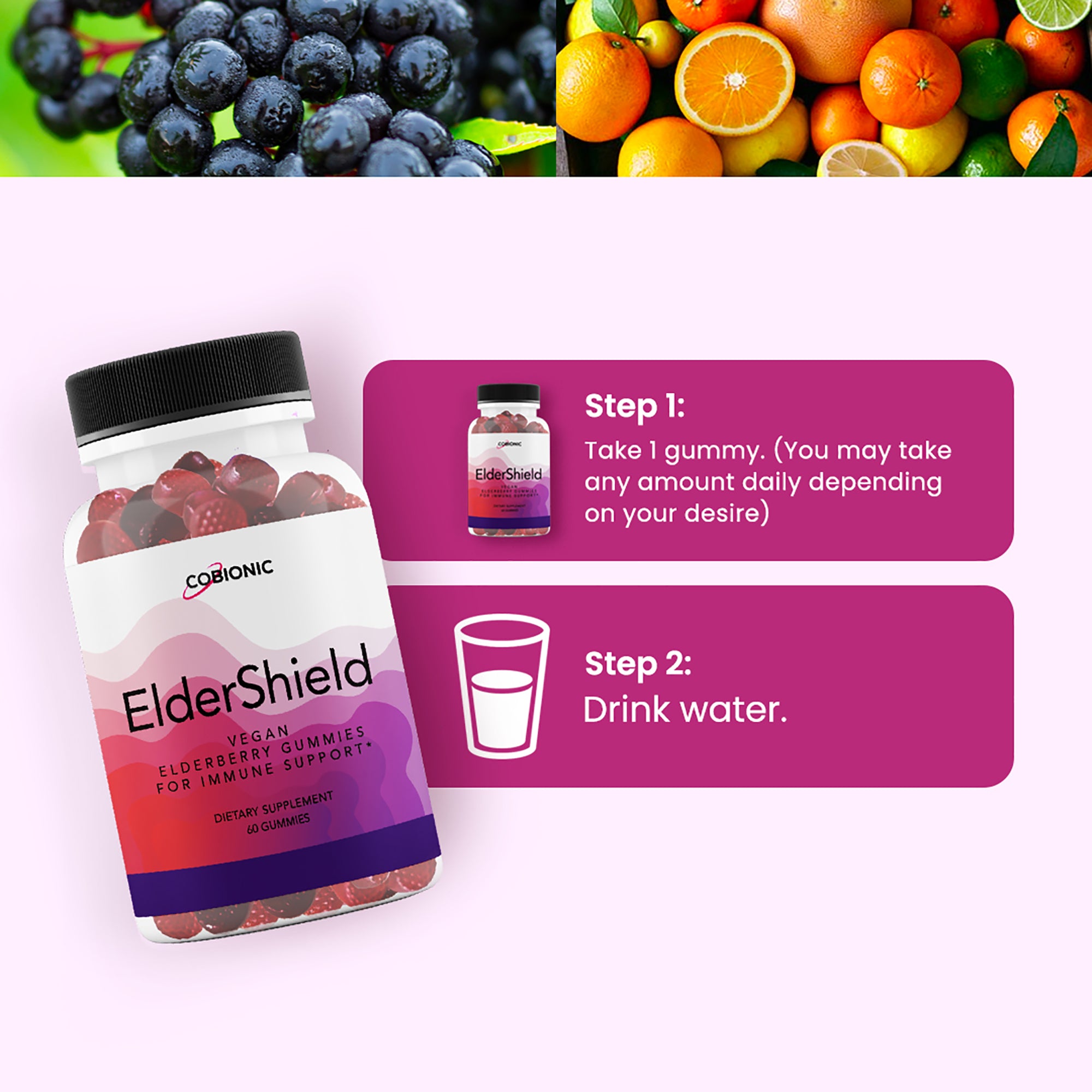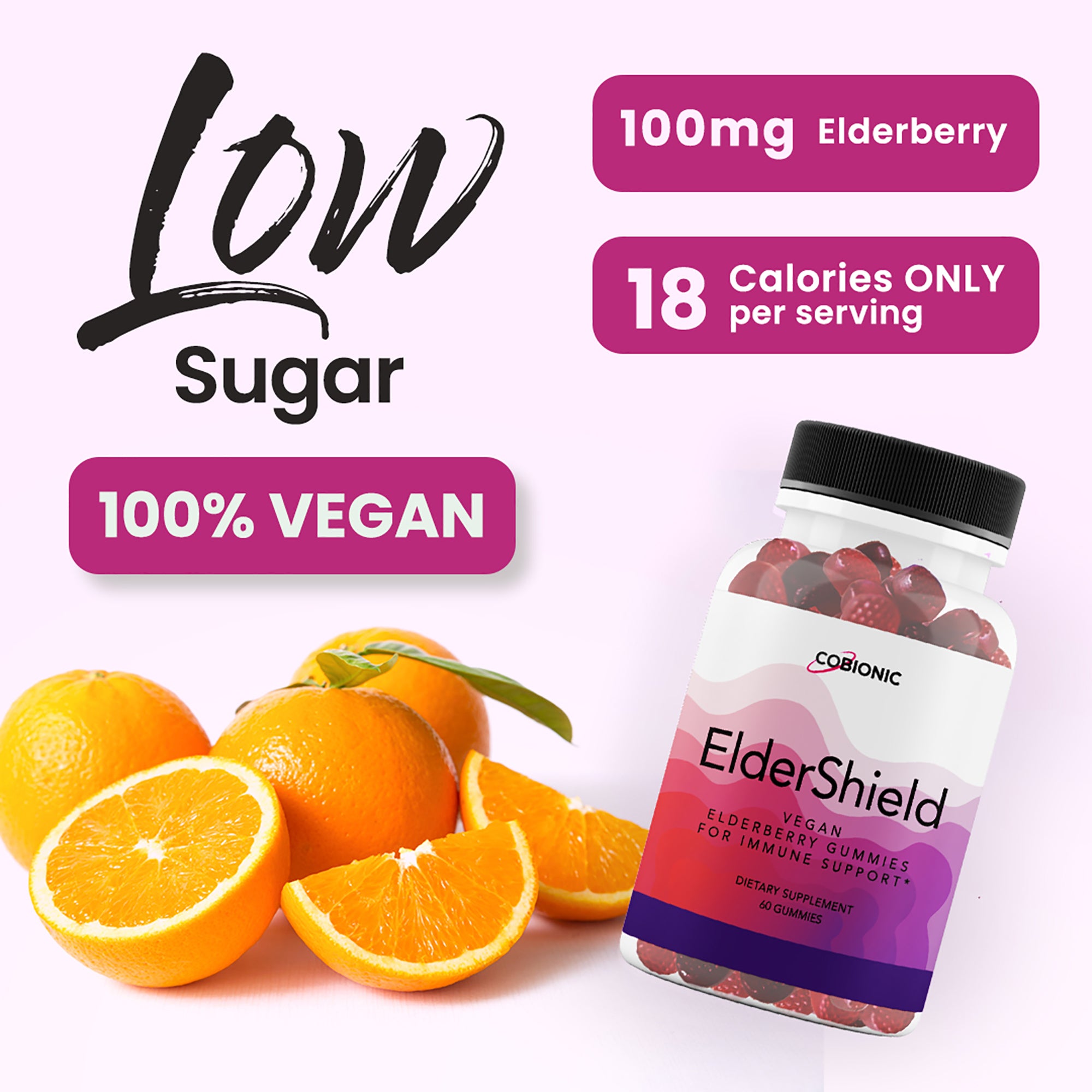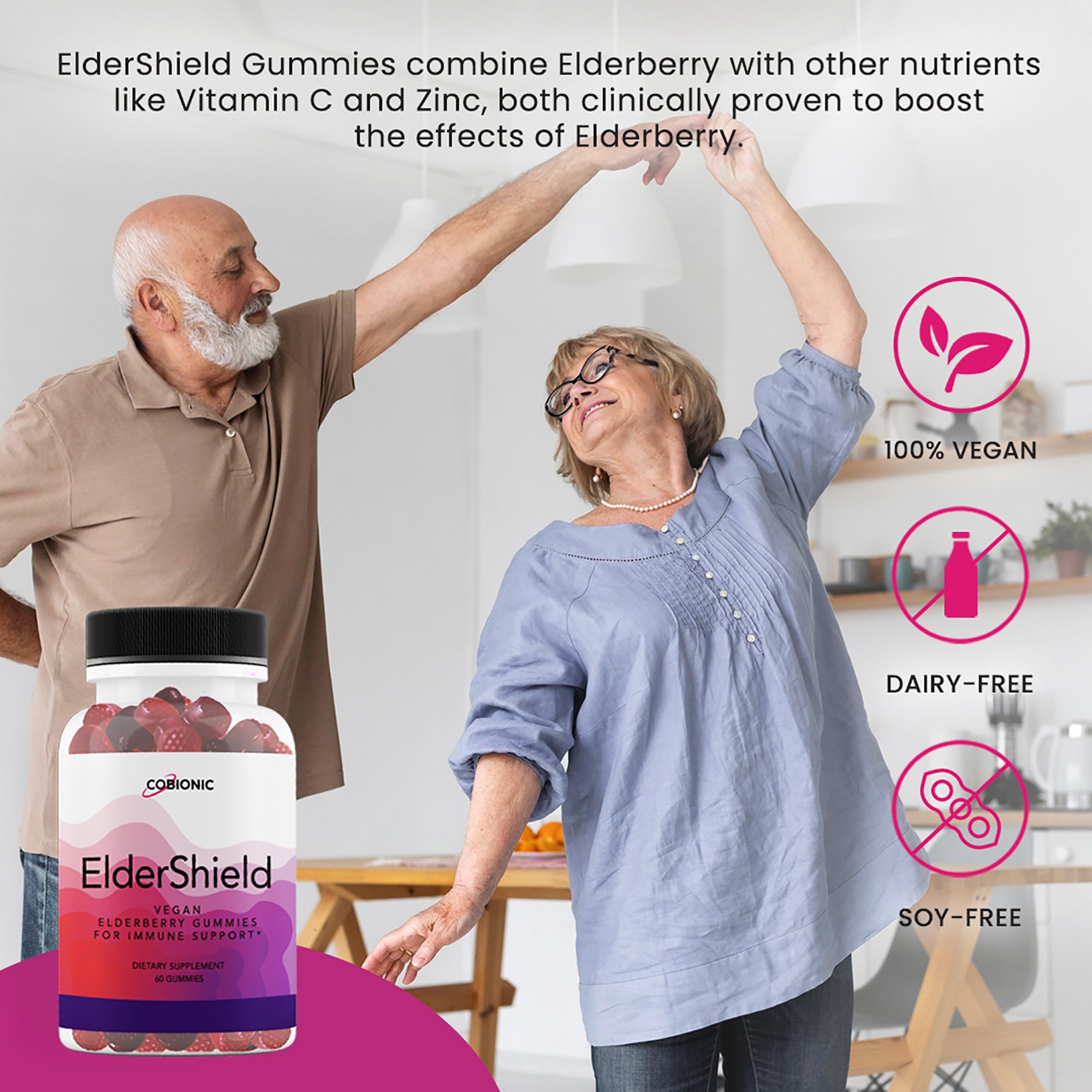 Free Shipping within the US
100% Vegan Gummies with a Blend of Elderberry, Vitamin C, and Zinc -- Clinically-Proven to Support Strong, Healthy Immune Function and More39
1 Bottle Contains 60 ElderShield Gummies
Serving Size: 2 Gummies
Servings Per Container: 30
Common Questions
Our ElderShield Gummies are a unique blend of the most effective nutrients for getting the numerous powerful health benefits of Elderberry and more in a delicious, easy-to-use gummy form. Tap or Click Here for Full Nutrition Panel

Our ElderShield Gummies have the potential to work on anyone, whether 25 or 75, as research has shown the clinically-proven ingredients to be effective among a wide variety of people. As with any supplement, if you have specific medical conditions or concerns, please check first with your doctor or other licensed health professional.

Since everybody is different, it's tough to give an exact answer to this. Some people notice a dramatic improvement in the first week, while for others it takes a few weeks or even up to a month to feel the benefits. Remember, each body is different.

There are 30 servings in every bottle of our ElderShield Gummies. One bottle contains 60 ElderShield Gummies and we recommend taking 2 Gummies daily. For most people, this means 1 bottle will last for a month.

Yes to all of the above, and it's 100% natural and 100% vegan.

At CoBionic, we value 2 things.

First, we are obsessed with making products that TASTE amazing, because if you don't enjoy our products, then you'll stop using them, and they can't help you.

Second, all of our products contain only the simplest, most natural ingredients - NO JUNK - because we're very careful ourselves about what we put in our body.

Yes - all of our products are manufactured in and shipped from the USA.

Yes - our manufacturing facility thoroughly tests both ingredients and also the finished product.

This means that the product contains exactly what it says on the label and that we also test for traces of toxins like heavy metals.

Absolutely. We have a 180-day, 100% Satisfaction Guarantee.

So if you're not satisfied for ANY reason, just let us know within 180 days of ordering, and we'll refund 100% of your purchase.

We LOVE being helpful, but please understand that we can't answer medical questions. We're not doctors, and even if we were, we don't know your particular situation and history.

In general, before using any supplements, you should check with your doctor or other health professional.

Awesome. Just shoot us an email to support@cobionic.com, and we'll get back to you as quickly as possible.

Just remember - we're a small, family-run company, so it might take us 24 hours to get back to you, although we try to reply much more quickly.
CoBionic is a family-owned and operated business, so we stand 100% behind every one of our products.
Most of our customers are blown away when they first try any of our products...
However, if you don't absolutely love your purchase, then just let us know within 180 days, and we'll refund it -- no questions asked.
It's that simple and easy.
3 Reasons You'll Love CoBionic
At CoBionic, there are 3 big reasons that people love our products...

Taste & Flavor. This is our #1 focus for every food and food supplement we produce. In the end, nothing else matters if you don't like something enough to keep taking it. Also, we just think life should be fun and have a little more flavor.

Simple, Quality Ingredients. Every company says that their ingredients are the best, so it can be hard to tell the difference sometimes. That's why we limit all of our products to just the simplest, most natural ingredients - things you can understand and believe in.

Family-Owned and Operated. We view you as part of our family, and we don't want you eating anything that we wouldn't put into our own bodies. So we focus on both incredible quality and incredible customer service.