Reducing Inflammation Can Benefit Almost
Every
Part of Your Life… From Heart Health to Mental Focus to Joint Health…
You probably remember a time in your life when you'd never heard of inflammation.
But modern science has shown us that inflammation is at the root of so many chronic health conditions…
...from arthritis and joint pain, to heart problems, to neuro-degenerative diseases.
Fortunately, we also now know several ways to help prevent or alleviate chronic inflammation...
In particular, long-chain Omega-3 fatty acids - like DHA and EPA - have been shown by many studies to play a crucial role in fighting chronic inflammation.
The problem is that only a few foods have an abundance of these particular Omega-3s…
...things like Oysters and fatty fish liver.
And most of us don't get anywhere near enough of these foods to constantly fuel our bodies with Omega-3s.
So over time - especially as we get older - various signs of chronic inflammation start to show up.
We feel stiff and achy in the morning. We can't focus as well during the day. And our blood tests don't look as good as they used to.
There are no magic solutions, but here is some very good news for anyone suffering from the effects of chronic inflammation...
Even if you don't eat a perfect diet, you can still give your body the nutrients it needs to fend off chronic inflammation.
In particular, one tiny creature from deep in the sea has been shown to be an incredible source of Omega-3s.
In fact, some studies show that this small creature - the Krill - can help boost your Omega-3 and improve inflammation better than pretty much any fish oil.
Obviously, things like a good diet, exercise, and good sleep are always going to matter. We're big fans of an all-around healthy life.
But we also know that it's hard to get everything right. That's why we created this...
In Just 30 Seconds Each Morning… Get a Powerful & Natural Source of Omega-3's for Improving Heart Health, Brain Health, and Fighting Chronic Inflammation
Reduce Chronic Inflammation. Due to its better absorbability of Omega-3s and anti-oxidants (like astaxanthin), Krill Oil generally reduces inflammation in the entire body better than other forms of Omega-3s. [2, 3]
May Improve Blood and Heart Health. Most studies indicate that Krill oil has a significantly positive effect on lowering LDL and triglycerides, raising HDL, and even lowering insulin resistance. [4, 5, 6, 7]
Reduce Arthritis and Joint Pain. Because of its anti-inflammatory effects, studies have found that krill oil generally reduces stiffness and pain in joints. [8, 9]
Support Better Brain Health. Supplementation with the Omega-3s in Krill Oil has been shown to improve various aspects of brain health, from memory to focus -- even overall mood. [10, 11, 12]
Highly Absorbable Omega-3s. Research has shown that the Omega-3s in Krill Oil are typically absorbed better than those in other oils, thereby boosting cellular levels of Omega-3 and other positive effects. [1]
An Easy, Tasteless, Natural Way to Ensure that Your Body and Brain are Getting Plenty of Long-Chain Omega-3s
No Fillers & No Junk. We're very careful about what we put in our bodies, and we think you should be, too. For that reason, Krill Force contains no fillers and no additives - just high-quality krill oil in a protective coating made of gelatin and glycerin.
Tasteless & No Burping or After-Taste. Many people stop taking supplements like fish oil and krill oil because they taste bad or cause them to burp afterwards. We've put Krill Force in a safe capsule form so that your body breaks it down only after it's entered your digestive tract.
Science-Based Benefits. Krill Oil is very well-researched, and all the benefits above are supported by multiple peer-reviewed studies. We don't make crazy claims, and we can't guarantee any results, but don't just trust us - click through and peruse the studies we've linked to above to see for yourself.
Made in the USA in an FDA-Inspected Facility. We're sticklers for quality, and Krill Force is no exception - made in a GMP-compliant, US-based facility.
Lab Tested for Quality. In addition, after every batch, Krill Force capsules are lab-tested to ensure that they contain exactly what it says on the bottle (and nothing else).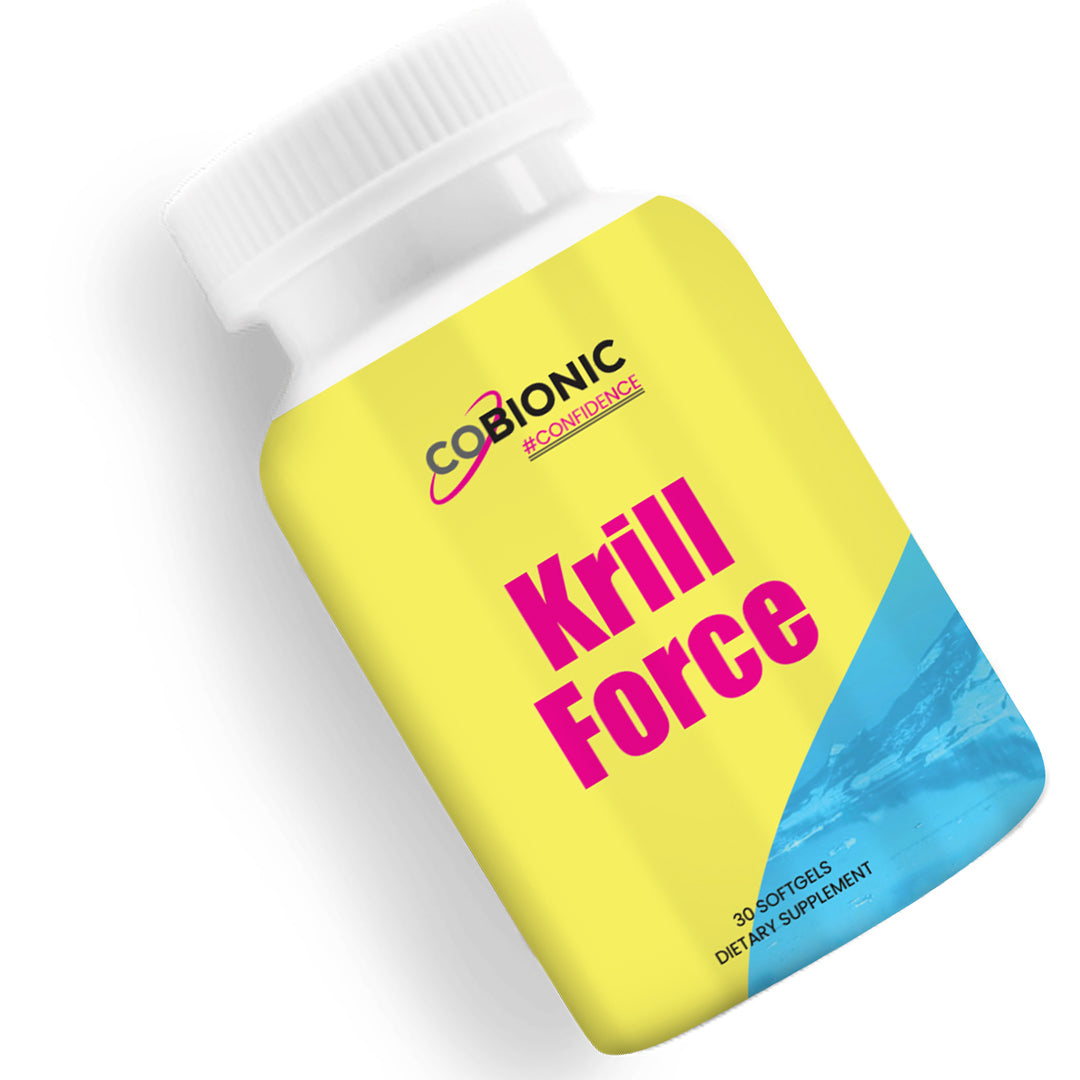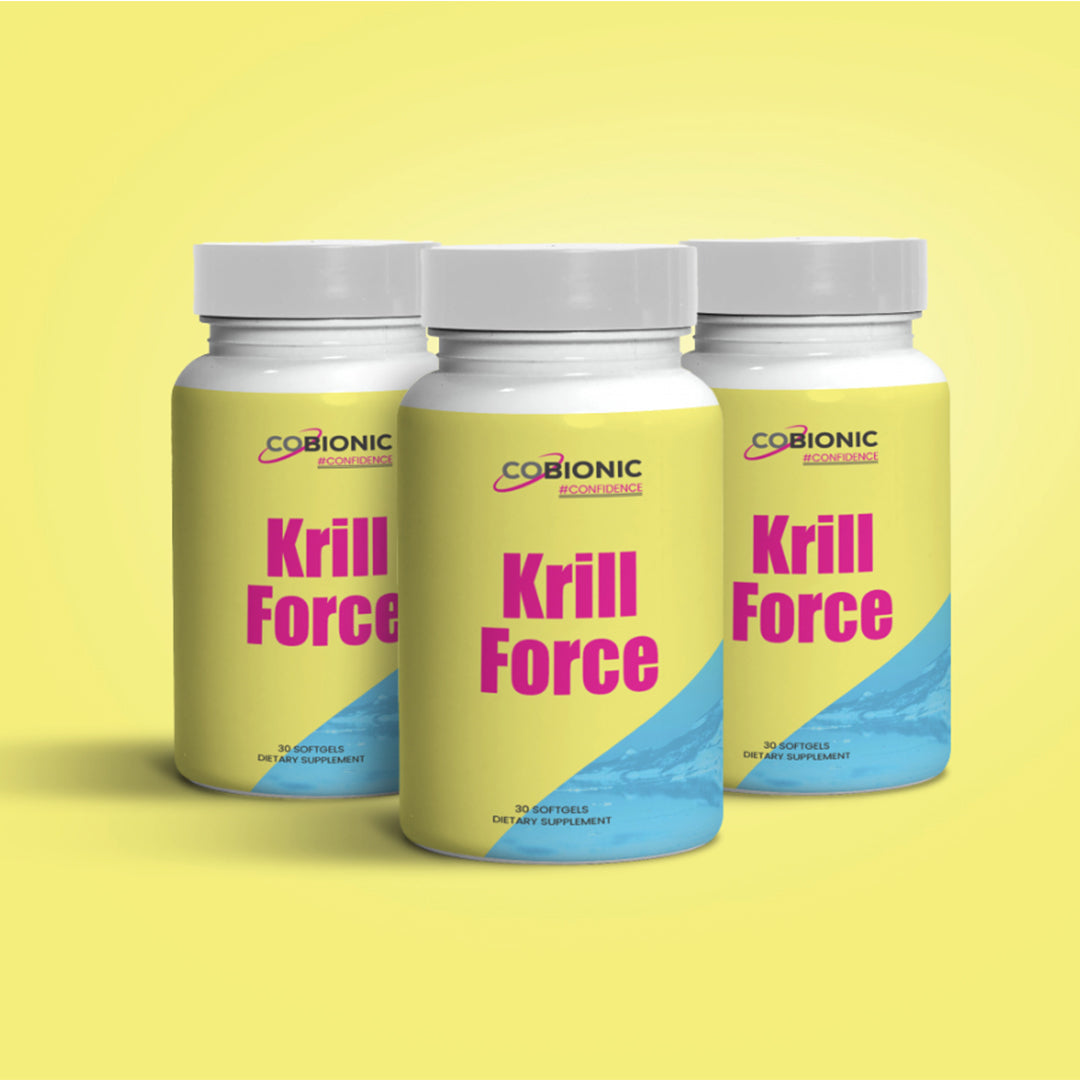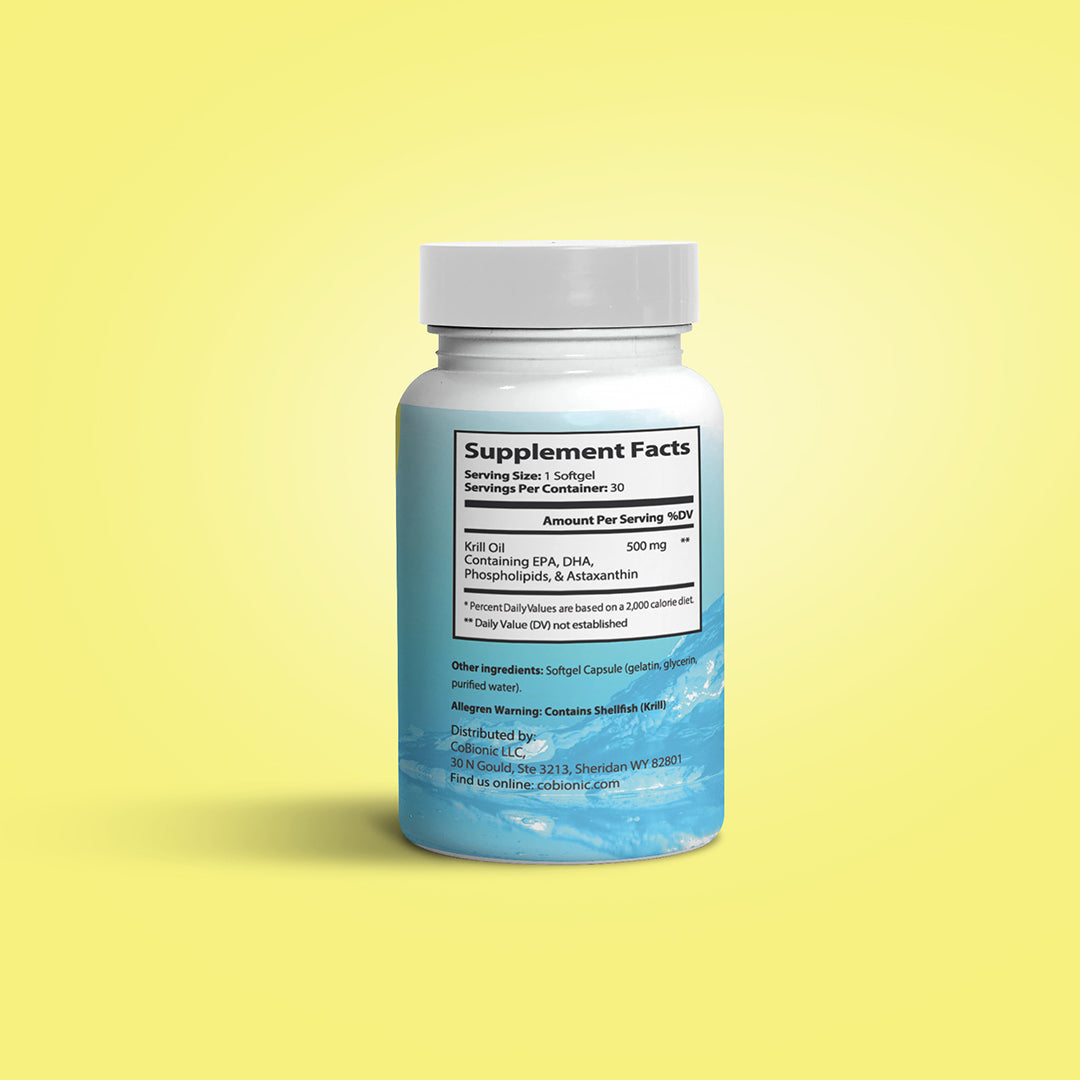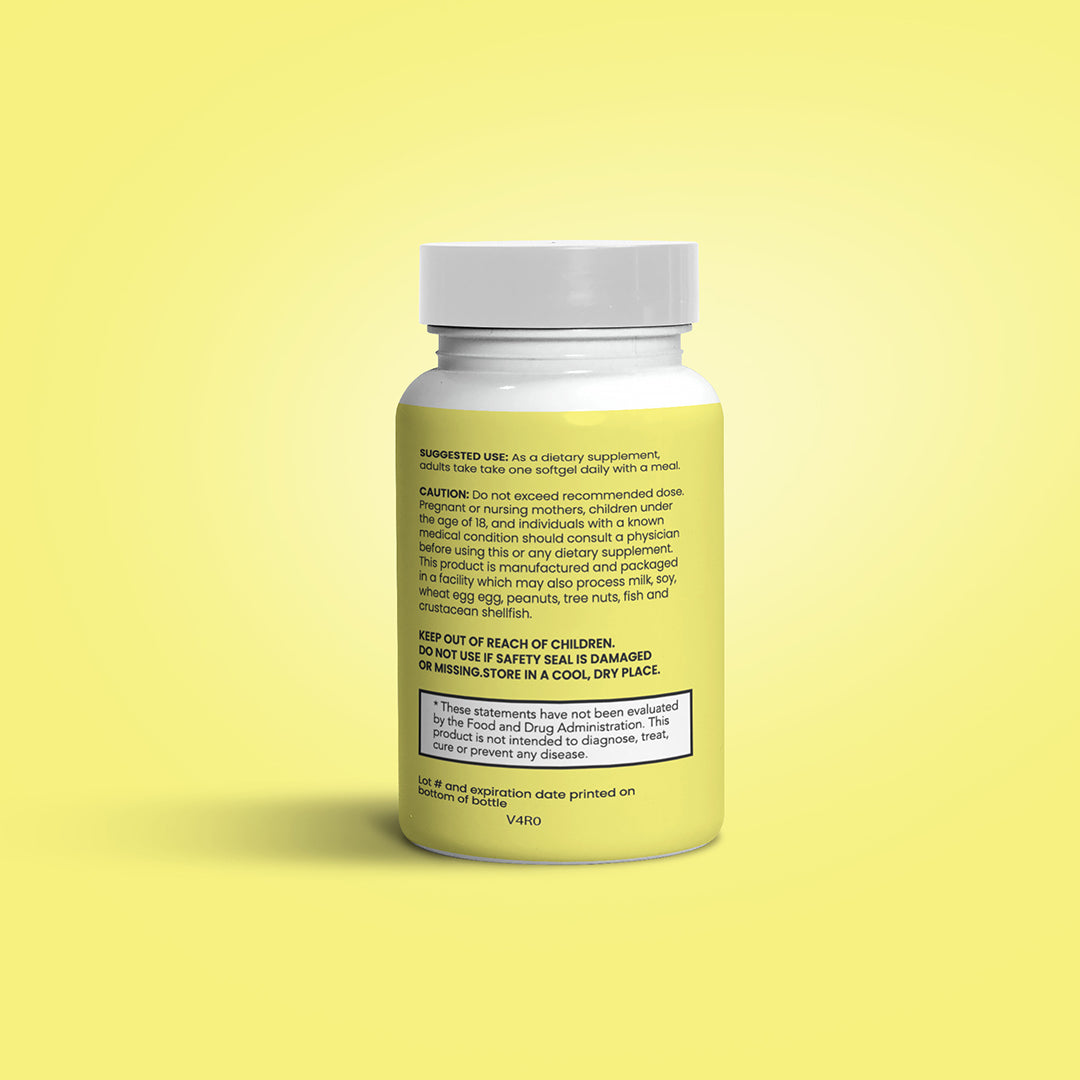 Free Shipping within the US
Help reduce inflammation and improve brain and blood health with highly absorbable, tasteless Krill Oil… loaded with Omega-3s and antioxidants...
1 Bottle Contains 30 Softgels
Serving Size: 1 Softgel
Servings Per Container: 30
Common Questions
If you want to help your body reduce chronic inflammation, then you'll likely love Krill Force. Most customers take Krill Force for a few reasons: to improve joint pain and stiffness, to improve cholesterol levels, or to improve brain health. * Note: We can't guarantee any results, and you should always consult your doctor or other medical professional for any of these conditions and prior to taking any supplements.

Just the highest quality krill oil in a protective capsule made of gelatin and glycerin. No junk. No fillers. No additives. Krill oil is extracted from krill - small creatures that live in the ocean and feed on algae and plankton. Krill oil is full of Omega-3 fatty acids and antioxidants, both of which help your body stay healthy and and also help to reduce chronic inflammation. Tap or Click Here for full Nutrition Panel.

Yes, and we're big fans of using food as your primary source of nutrients. But we also know that your body sometimes needs a little extra help, since it's really hard to eat perfectly and get enough essential Omega-3's.

We recommend 1 capsule per day, with a meal.

Each bottle contains 30 krill oil capsules.

Most Omega-3 supplements are made from fish oil. Clinical studies have generally shown that krill oil is better absorbed by your body and is also more effective at lowering inflammation and improving other health markers. Krill Force is also in capsule form so that you won't experience the poor flavor or "fish oil burps" common to many Omega-3 supplements. Krill oil also contains a powerful antioxidant called astaxanthin that may provide a number of important health benefits.

Yes - all of our products are manufactured in and shipped from the USA.

Yes - our manufacturing facility thoroughly tests both ingredients and also the finished product.

This means that the product contains exactly what it says on the label and that we also test for traces of toxins like heavy metals.

Absolutely. We have a 180-day, 100% Satisfaction Guarantee.

So if you're not satisfied for ANY reason, just let us know within 180 days of ordering, and we'll refund 100% of your purchase.

We LOVE being helpful, but please understand that we can't answer medical questions. We're not doctors, and even if we were, we don't know your particular situation and history.

In general, before using any supplements, you should check with your doctor or other health professional.

Awesome. Just shoot us an email to support@cobionic.com, and we'll get back to you as quickly as possible.

Just remember - we're a small, family-run company, so it might take us 24 hours to get back to you, although we try to reply much more quickly.
CoBionic is a family-owned and operated business, so we stand 100% behind every one of our products.
Most of our customers are blown away when they first try any of our products...
However, if you don't absolutely love your purchase, then just let us know within 180 days, and we'll refund it -- no questions asked.
It's that simple and easy.
3 Reasons You'll Love CoBionic
At CoBionic, there are 3 big reasons that people love our products...

Taste & Flavor. This is our #1 focus for every food and food supplement we produce. In the end, nothing else matters if you don't like something enough to keep taking it. Also, we just think life should be fun and have a little more flavor.

Simple, Quality Ingredients. Every company says that their ingredients are the best, so it can be hard to tell the difference sometimes. That's why we limit all of our products to just the simplest, most natural ingredients - things you can understand and believe in.

Family-Owned and Operated. We view you as part of our family, and we don't want you eating anything that we wouldn't put into our own bodies. So we focus on both incredible quality and incredible customer service.