Niacinimide The Miracle Vitamin
By reading this, we can only conclude that you're familiar with the term, or probably even using it, this ingredient has been hyped so much lately, that it's been called a skyrocketing trend on many occasions, even though it's not newly invented, since it is a form of the famous Vitamin B3, and a close relative to niacin. As all-natural skincare ingredients, of course, Niacinimide contributes to several roles within the body, according to NIH, it has an increasing effect on keratin and ceramide synthesis, the two most important repair systems for the skin.
With this in mind, no wonder everyone is going crazy about it, Niacinimide sounds like a beam of light persisting in the midst of dark ages. Fighting the destruction that our skins and bodies face on a daily basis.
Dry, ashy, acne, large pores, dark spots, hyperpigmentation, wrinkles, fine lines, and sensitivity to UV rays. Do you know what these have in common? They can be exhausting to deal with, yes that's true. But they are also issues that Niacinimide has been proven to overcome for most skin types constantly.
If this is you, and the journey to find the right implication for this vitamin, started to seem a bit daunting, we are happy to announce that you are in the right place, whether you suffer from the issues mentioned above or you're just looking for a good and healthy serum to apply after toning, or maybe you want to reduce inflammation and ease redness.
Doesn't matter because we brought you the answer. Our Niacinamide B3 serum with Aloe leaf juice and avocado fruit juice gotta be a life savior, considering what it can do…
Introducing
Niacinamide B3 Serum
Renew and Restore Your Skin
Against Moisture Loss and Dehydration
8 benefits of Niacinimide B3 serum
Reduces fine lines and wrinkles.

Maintain healthy skin and a youthful glow.

Retains moisture by increasing ceramide synthesis.

Minimizes the appearance of enlarged pores.

Reduces hyperpigmentation and evens skin tone.

Protection against UV rays.

Reduces inflammation and soothes the skin.

Soft on the skin yet powerful against acne.
Niacinimide B3 serum contains 3 fine ingredients
Niacinamide
Minimizes the appearance of the enlarged pores, in addition to improving skin tone, and diminishing dullness.
Avocado Oil
Heals cracked skin, replenishes dryness, and shields against ultraviolet radiation.
Hyaluronic Acid
Hydration Booster, Preserves moisture 10 times longer, in addition to promoting suppleness and elasticity.
How to use it?
Step 1: Thoroughly clean the skin using face wash or cleanser
Step 2: Balancing the skin's ph with toner is also preferable
Step 3: Apply the serum to the targeted areas
Step 4: Add a moisturizer layer to act as a shield
Step 5: Add sunscreen on if you're planning to greet the sun afterward
Step 6: Repeat 3-4 times a week preferably, but you can test what works best for you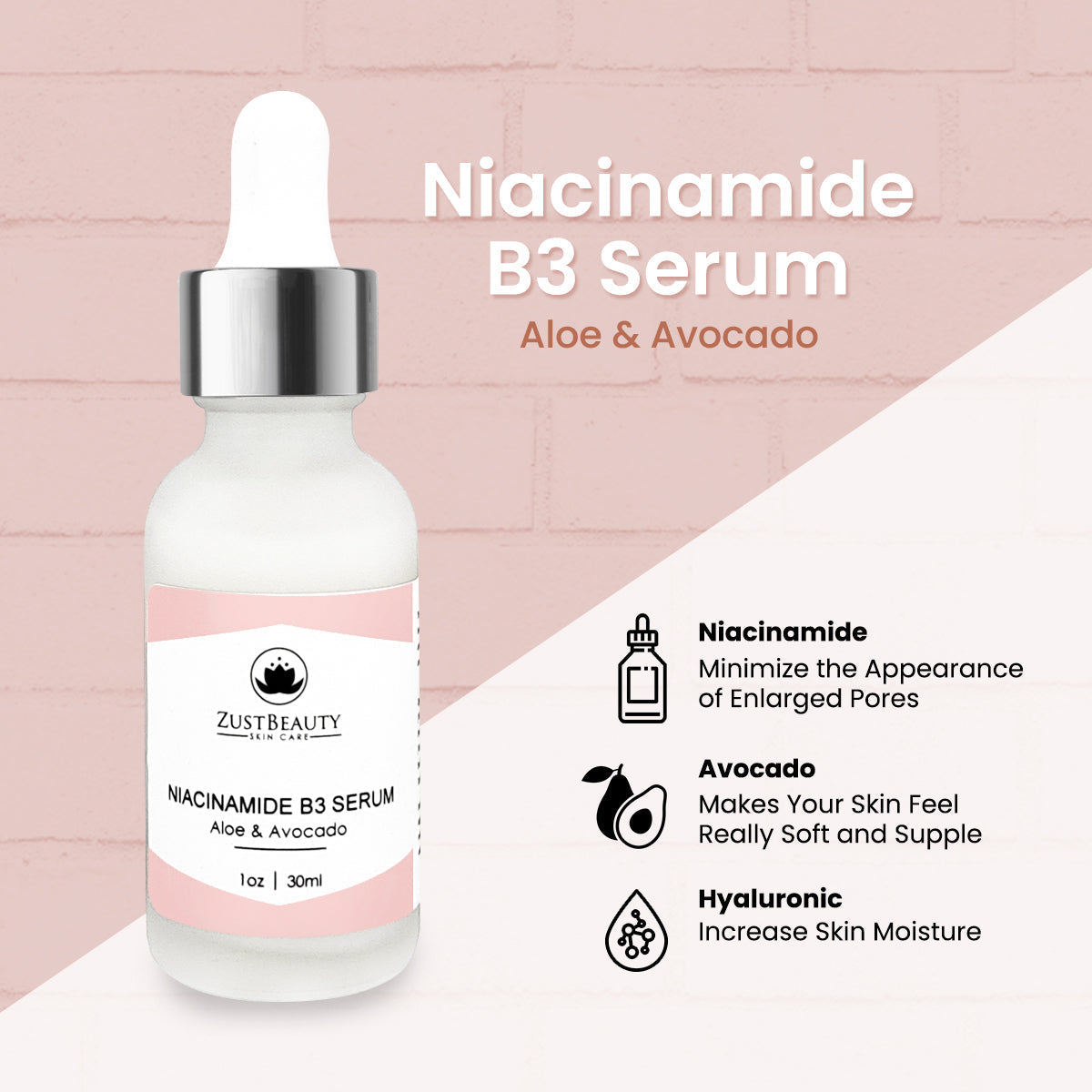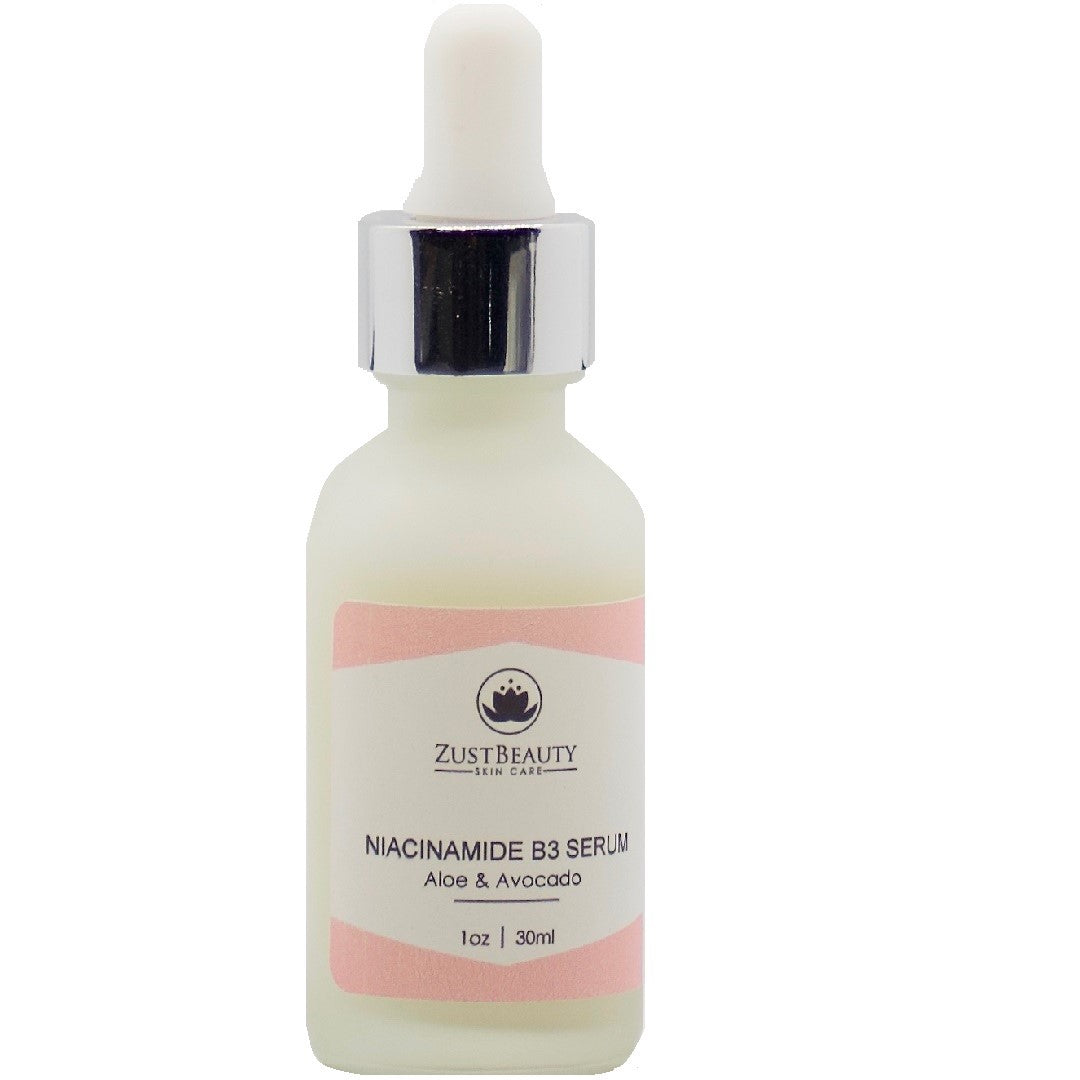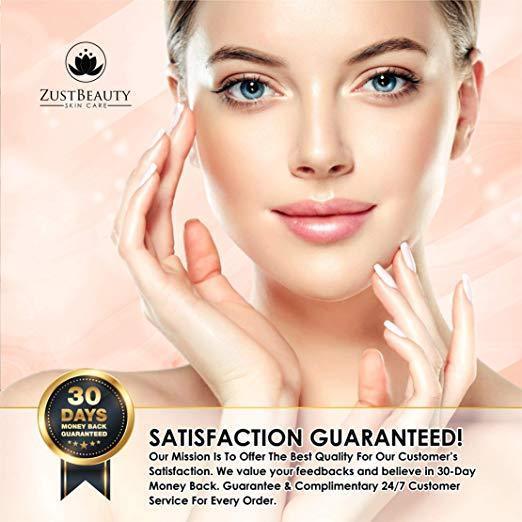 Niacinamide B3 Serum with Aloe Leaf Juice and Avocado Fruit Juice
Free Shipping within the US
Nourish your skin while calming redness and inflammation.
Smaller pores
Soft skin
Boost skin glow
Minimize Clogged pores and dark spots
Boost skin moisture
Reduces wrinkles and fine lines
$50.00
Common Questions
It is highly recommended to use it after your derma rolling session, as it will maximaze absorption and deliver Niacinamide and other components right to the epidermis and dermis layers of the skin, where you can benefit from them the most.

We recommend that you use your serum three to four times a week for optimal results. This, highly depends on what works for your skin type. However, if your skin is highly allergic, and has shown signs to react aggressively toward new substances, we advise against using the serum before consulting your dermatologist.

It is preferable that you apply the serum after your favorite toner, and before your moisturizer, since molecules of Vitamin B3, are generally smaller than those of the moisturizer and sunscreen, meaning the serum is absorbed and much more tolerated by the skin. Then a moisturizer will play the role of shield around the serum, allowing it to maximize absorption.

In a few skin types, it might cause itching and redness, that's why we suggest limiting the frequency, until you figure out what works for you best. Also if your skin is very sensitive and easily damaged, we advise against using the serum before consulting your dermatologist.

We offer trackable free shipping for orders above $50, all the states in the US are supported, once the order is placed, it will take 1 business day to ship it, and a tracking number will be sent to your inbox as soon as possible, the goods will arrive 2-3 days later.

For orders less than $50 these will be our shipping rate:

- Standard shipping for $4.99 with the same timing schedule

Please, don't hesitate to click on the blue thingy, at the lower corner of the screen, it says "Chat with us". We love to chat with our customers and geek about skincare. Otherwise, if you are not able to, you can easily click on the link that says "Contact", at the very bottom of this page, it will help you send us an email, you will usually receive a reply within 1 to 2 business days.
3 Reasons You'll Love CoBionic
At CoBionic, there are 3 big reasons that people love our products...

Taste & Flavor. This is our #1 focus for every food and food supplement we produce. In the end, nothing else matters if you don't like something enough to keep taking it. Also, we just think life should be fun and have a little more flavor.

Simple, Quality Ingredients. Every company says that their ingredients are the best, so it can be hard to tell the difference sometimes. That's why we limit all of our products to just the simplest, most natural ingredients - things you can understand and believe in.

Family-Owned and Operated. We view you as part of our family, and we don't want you eating anything that we wouldn't put into our own bodies. So we focus on both incredible quality and incredible customer service.