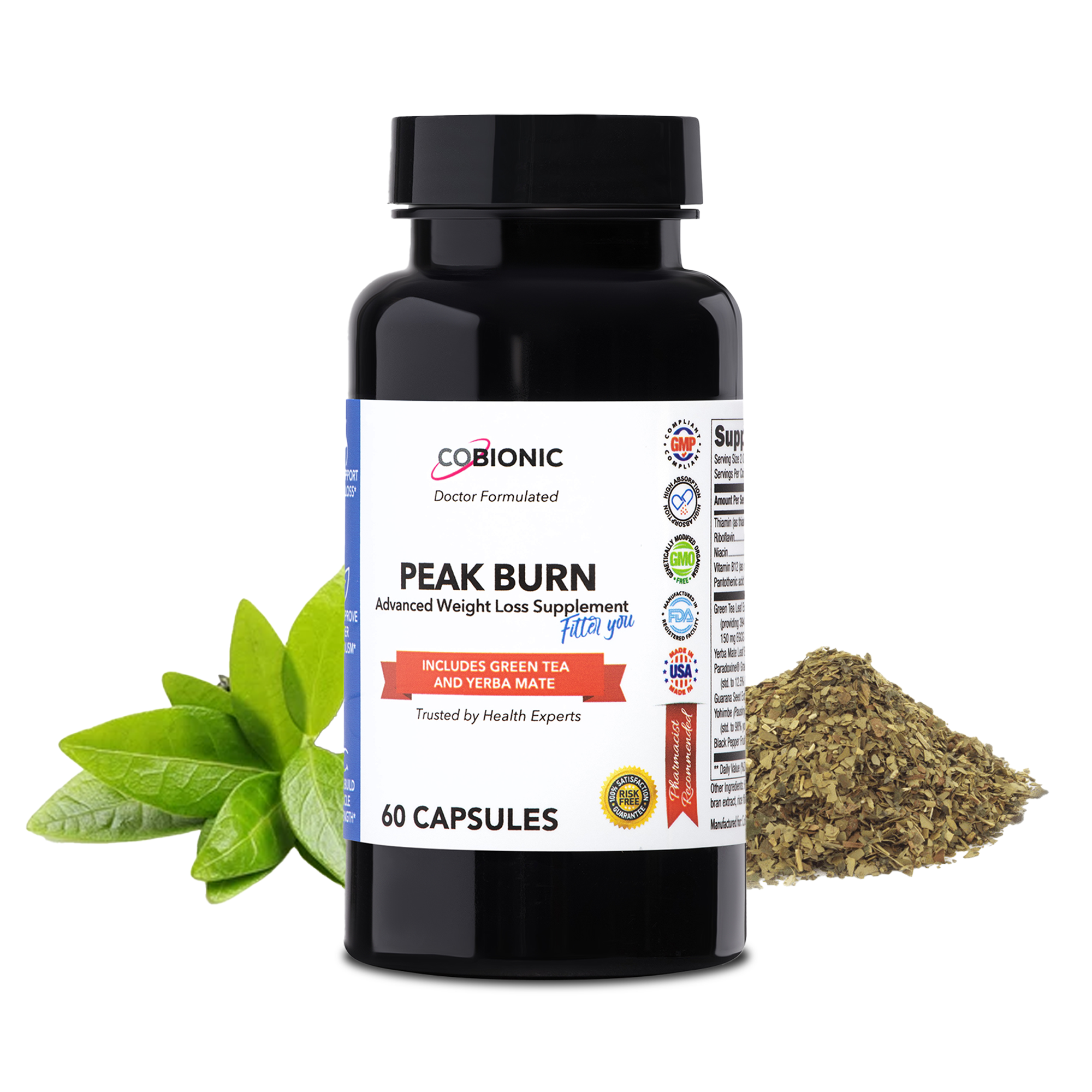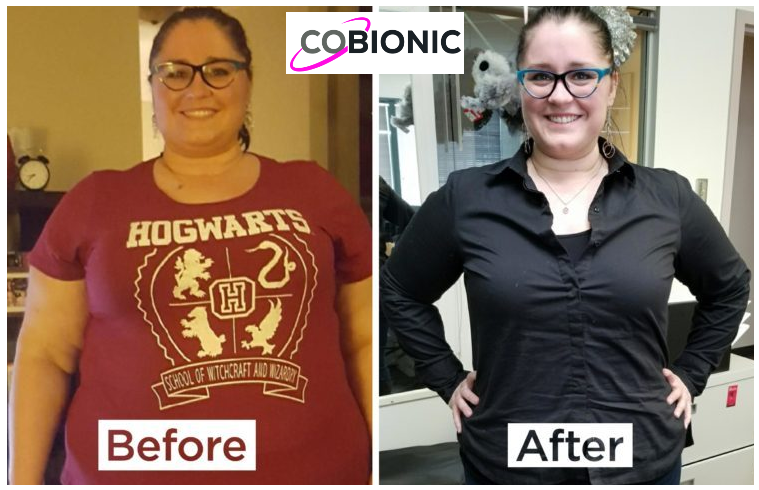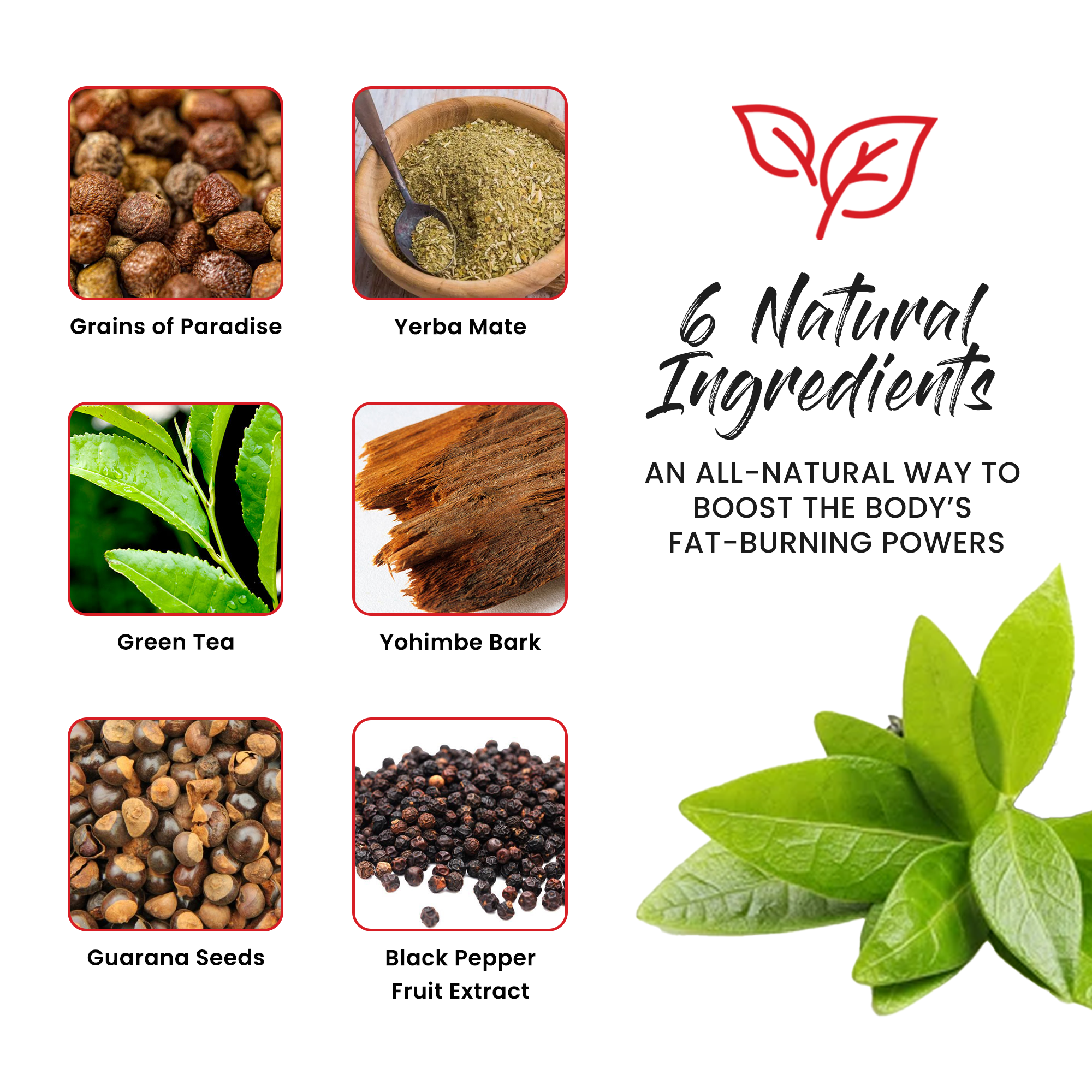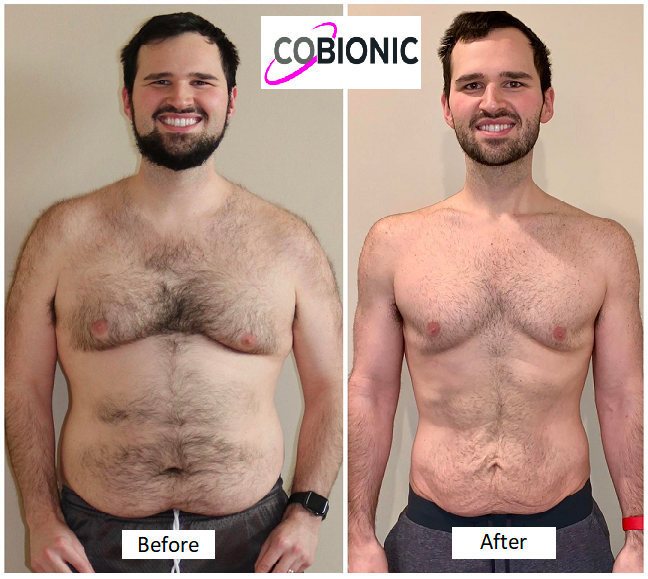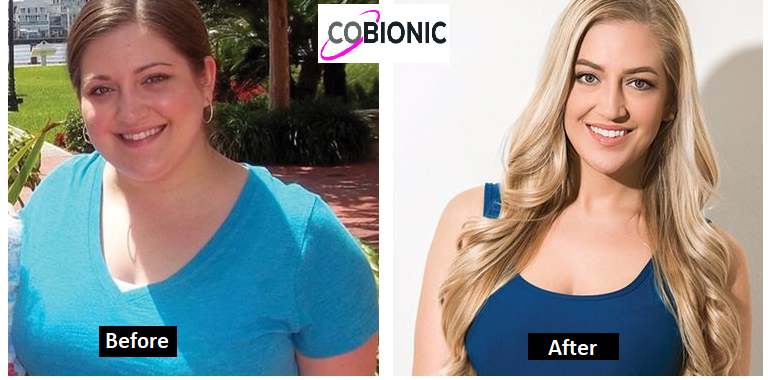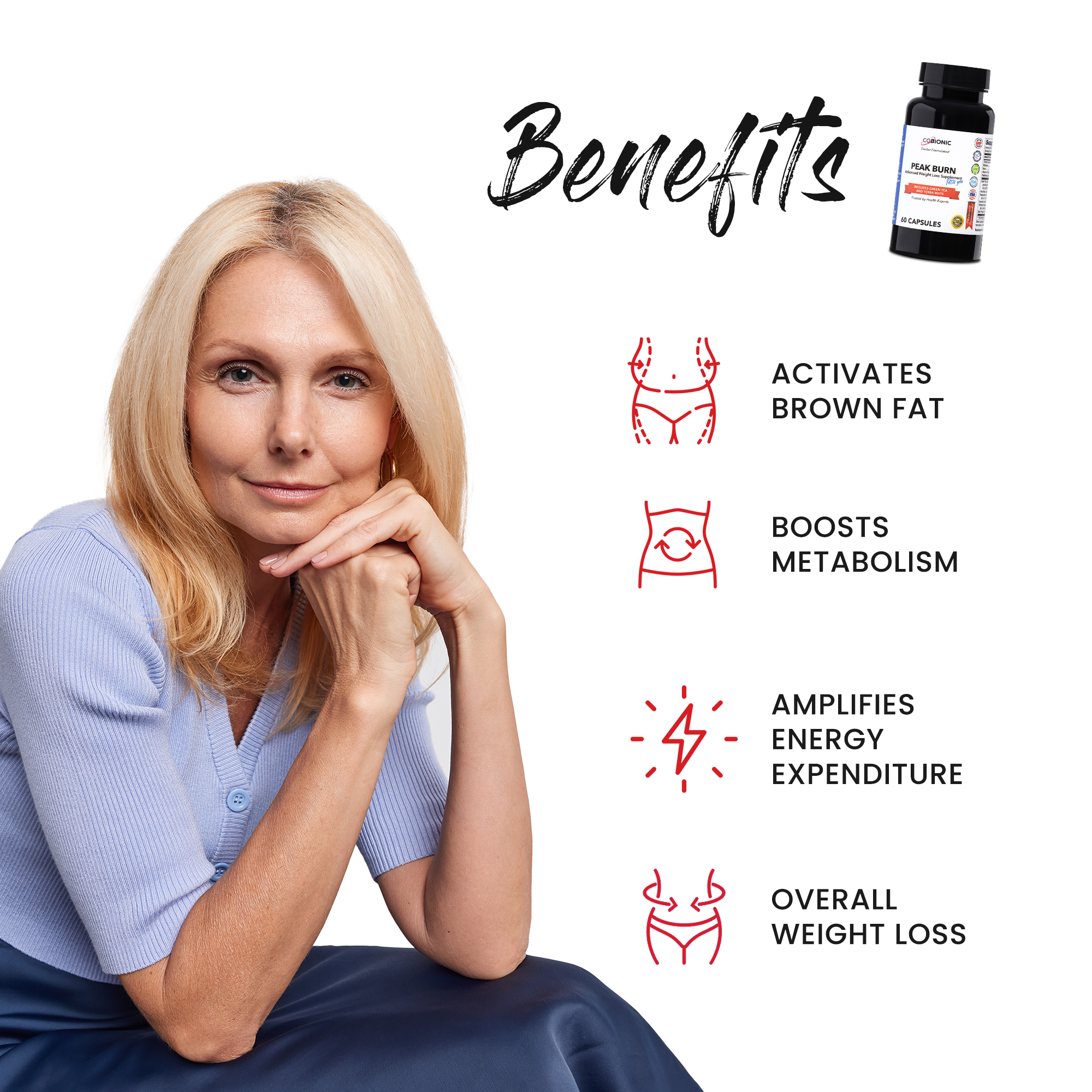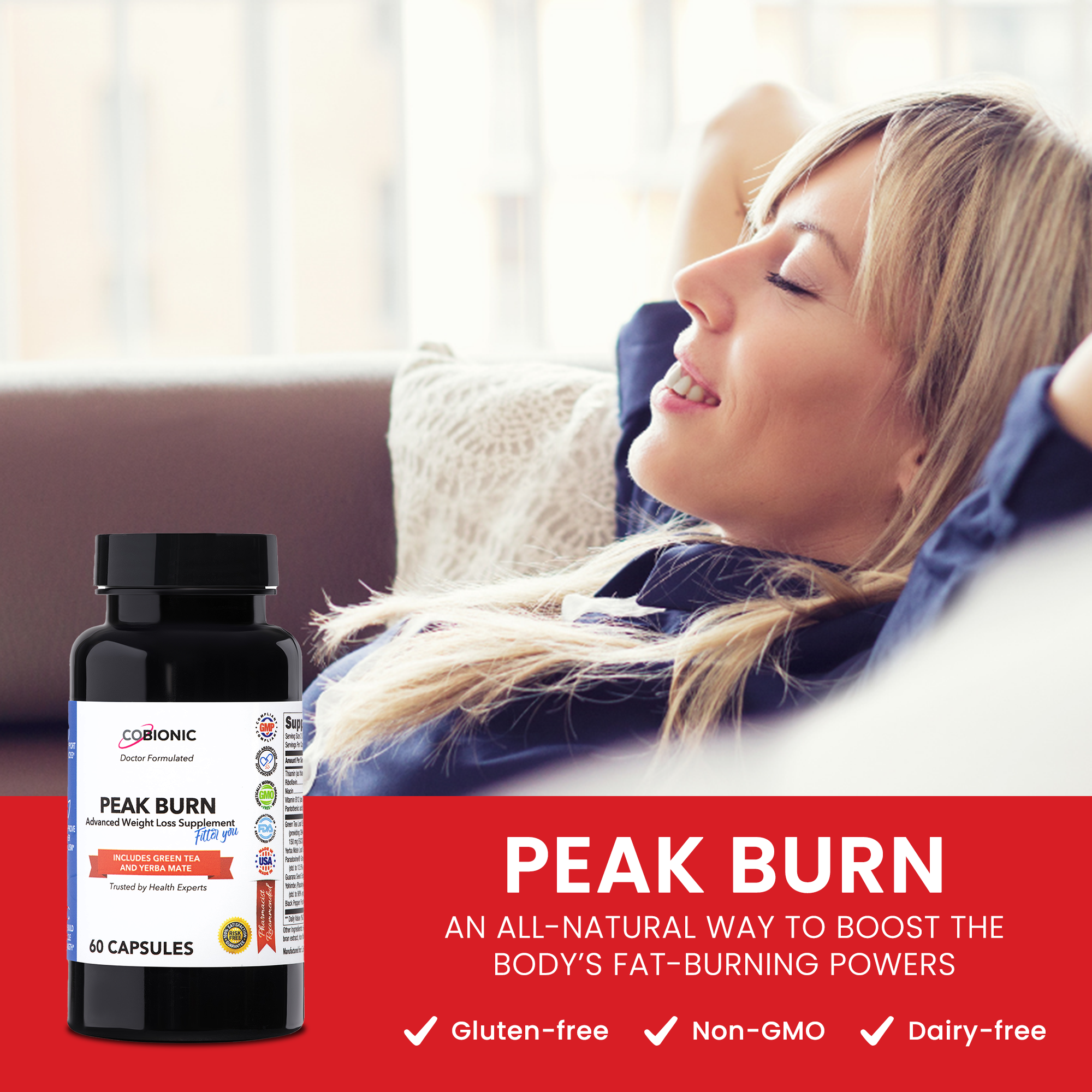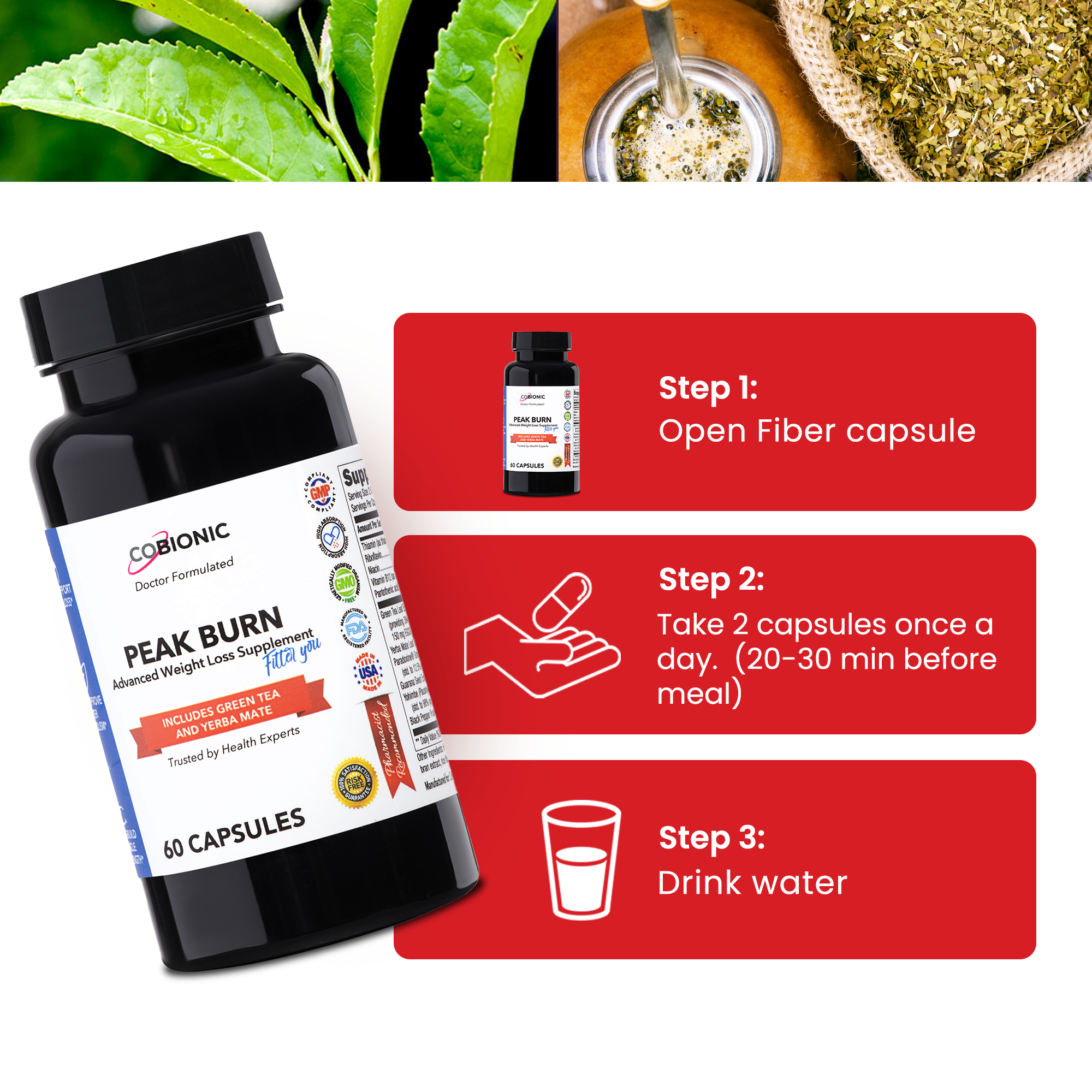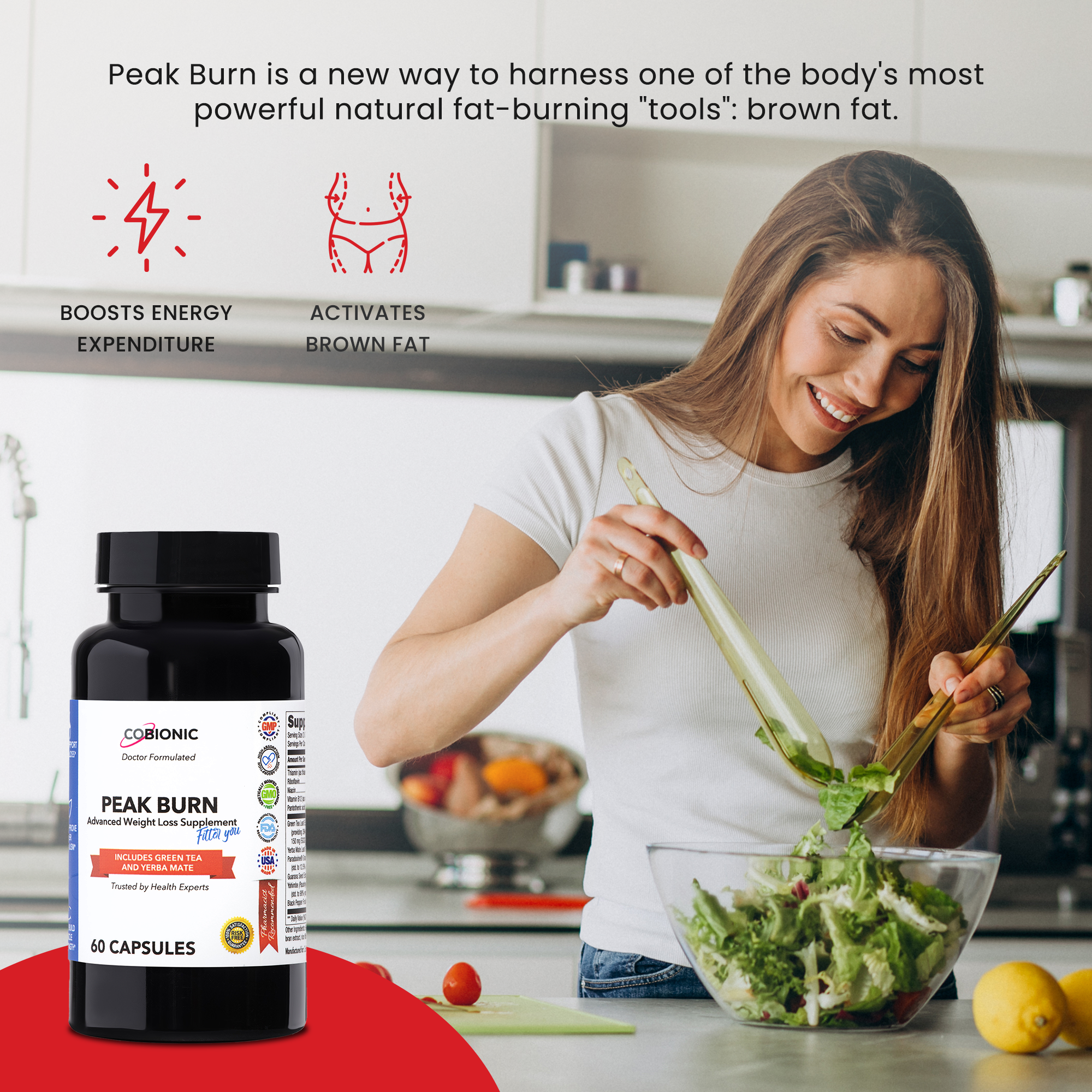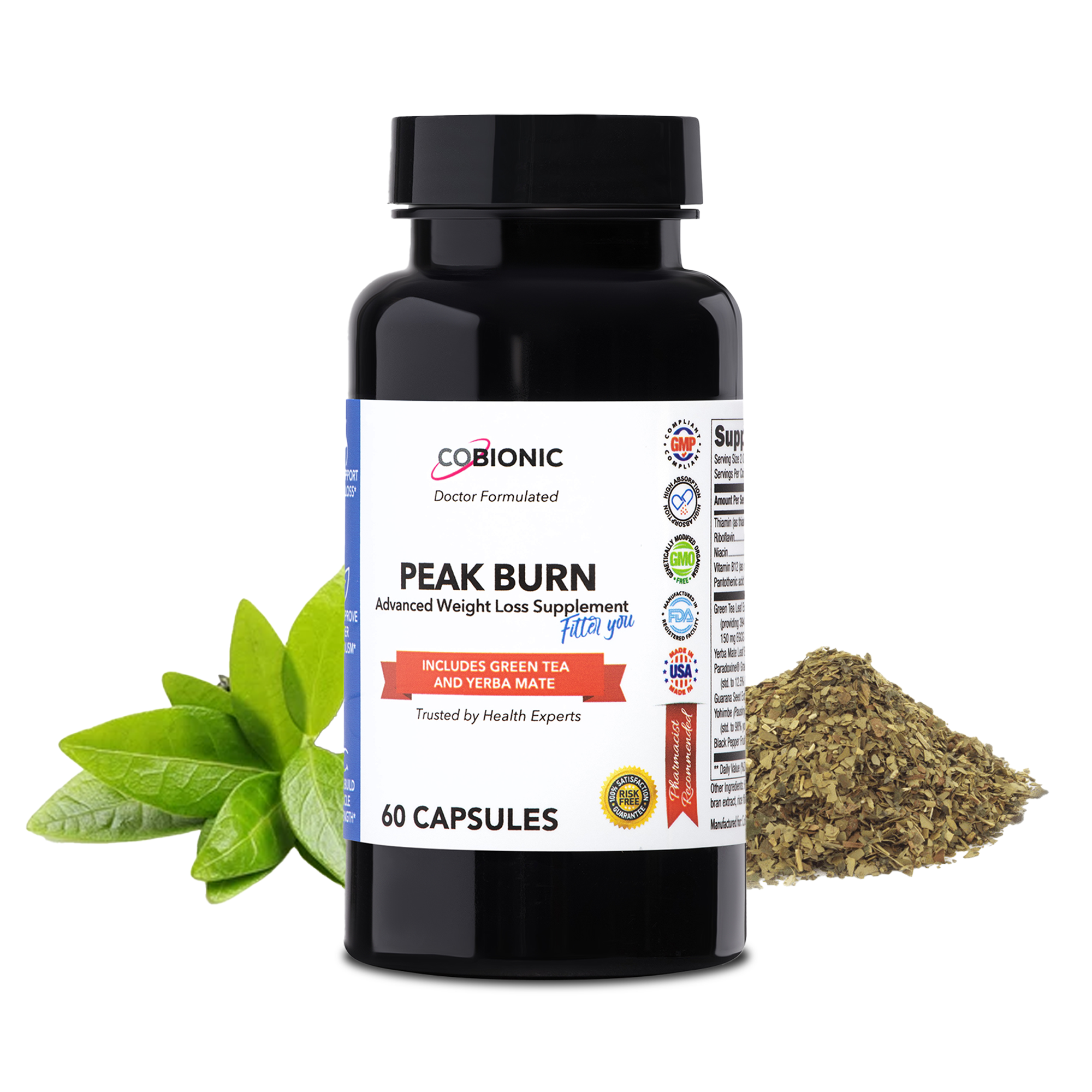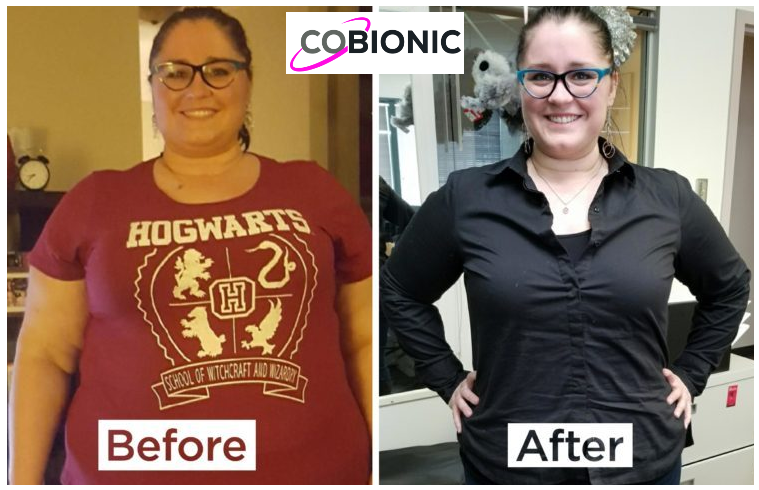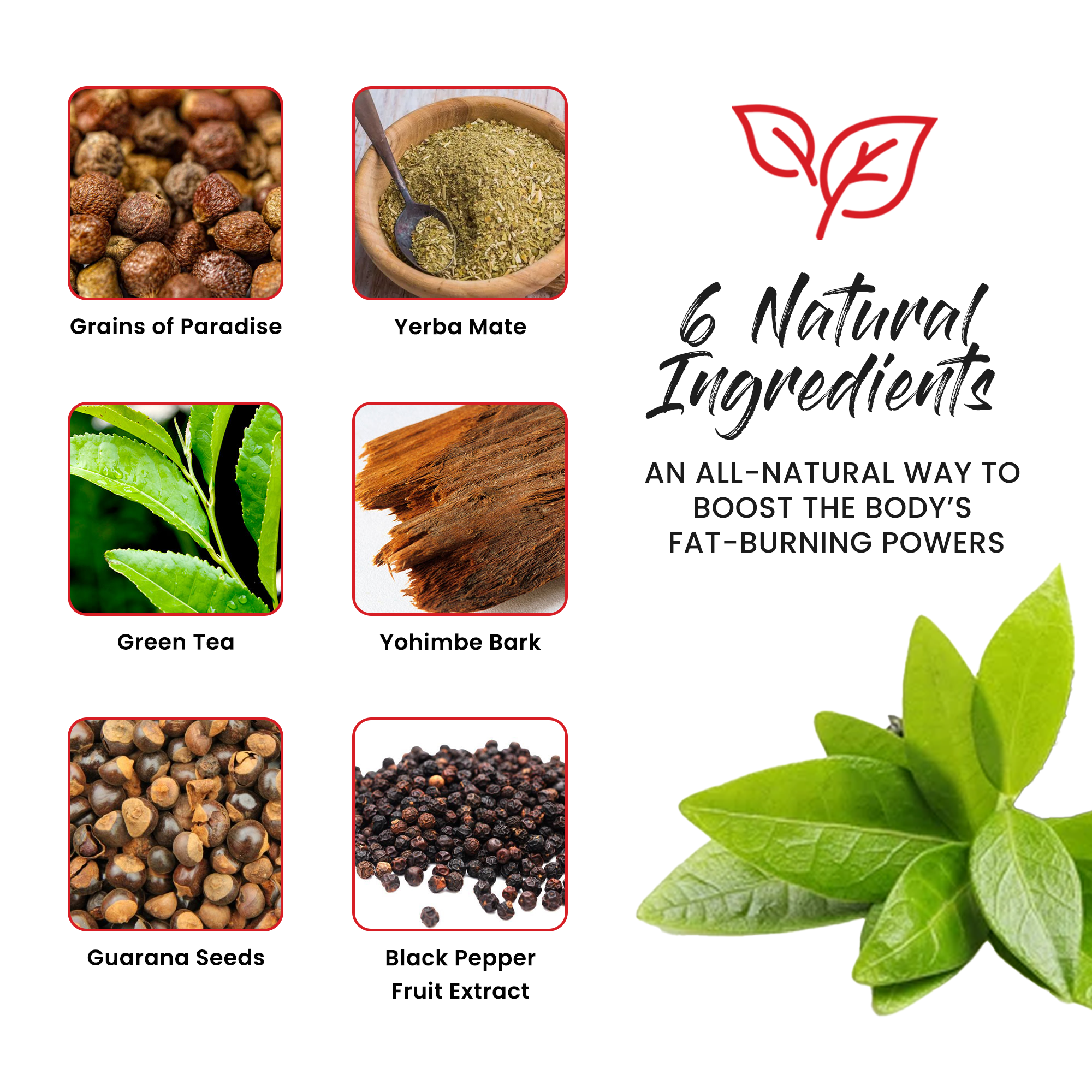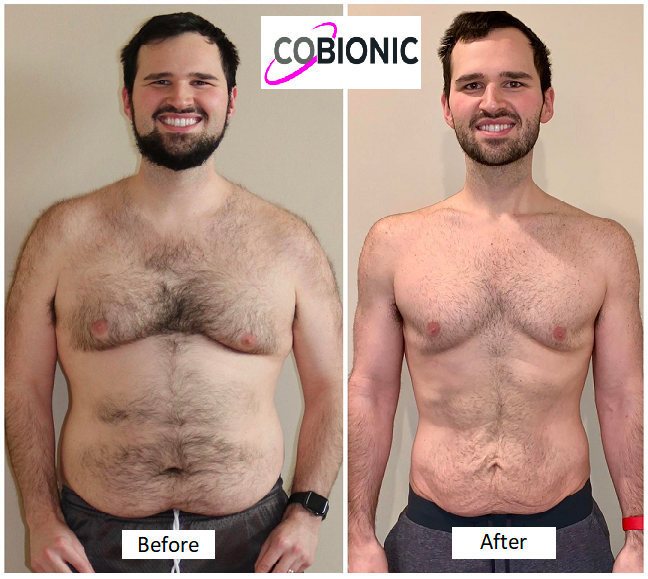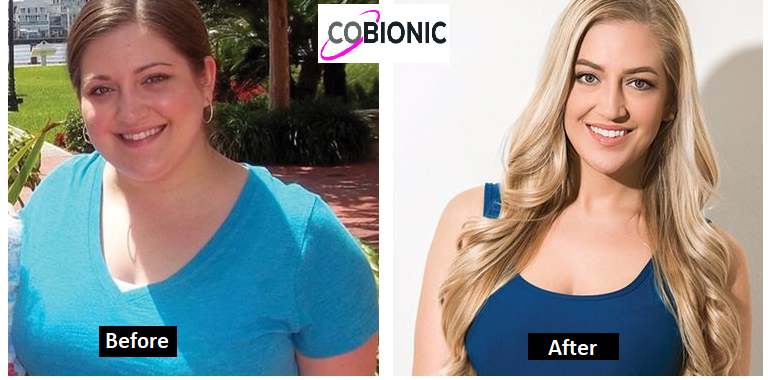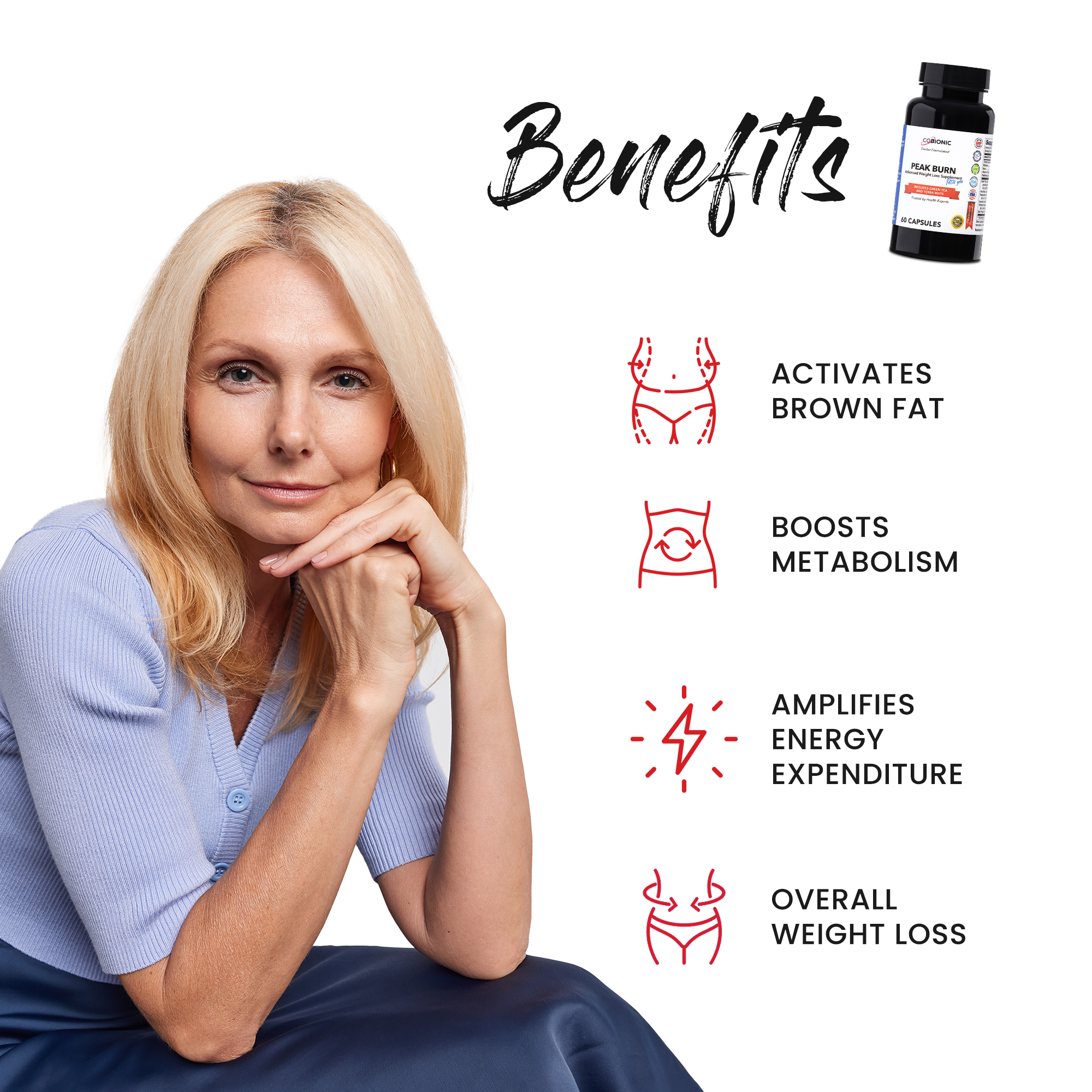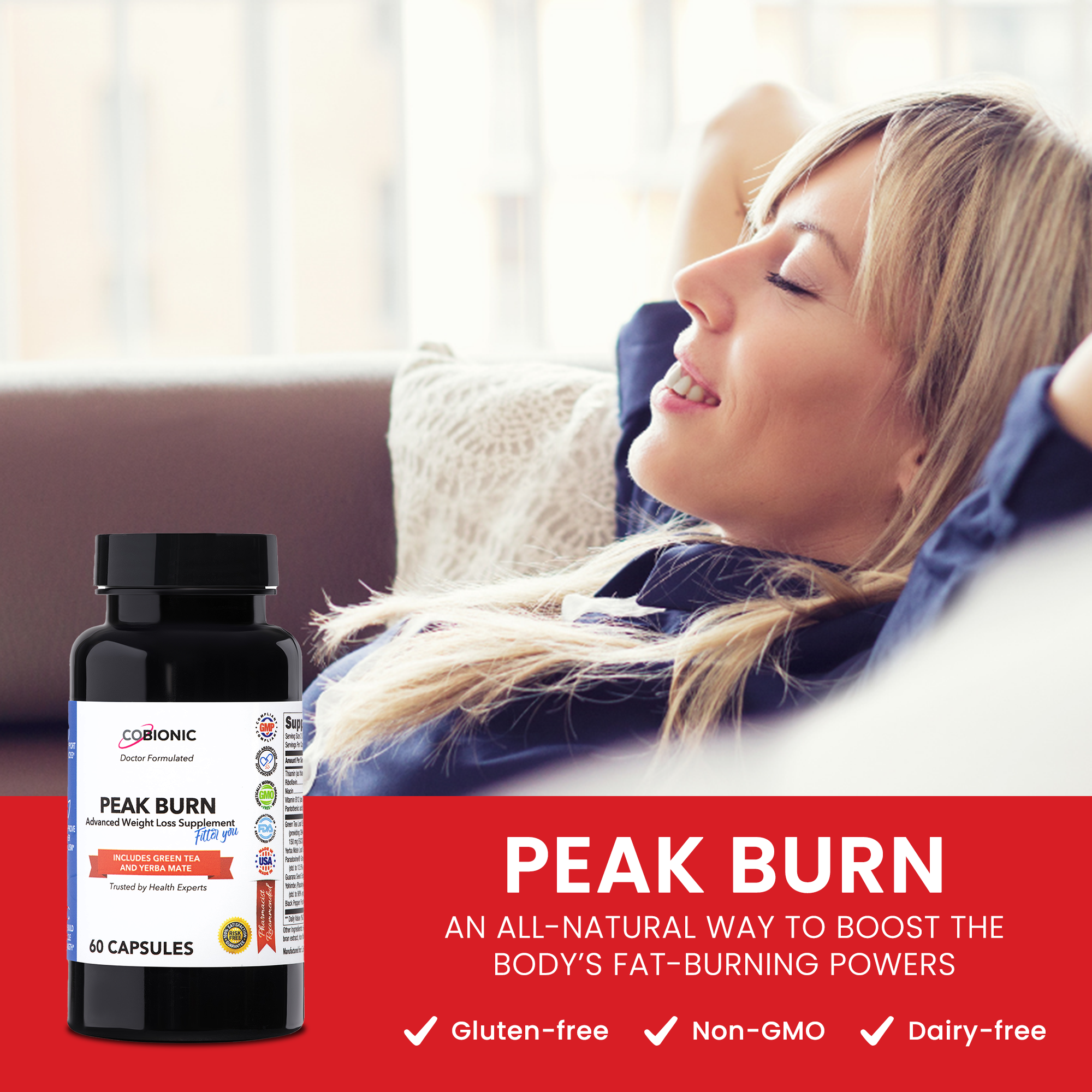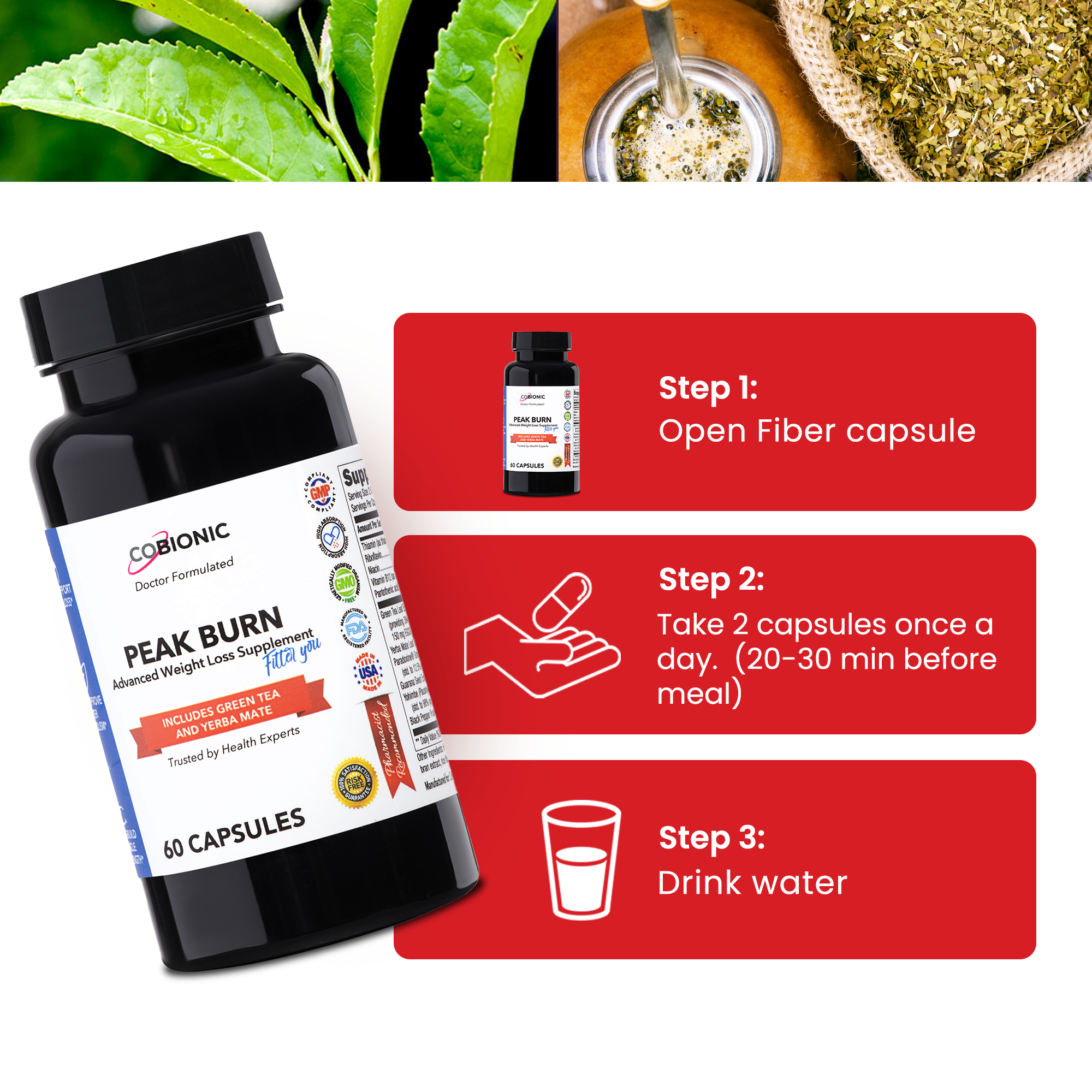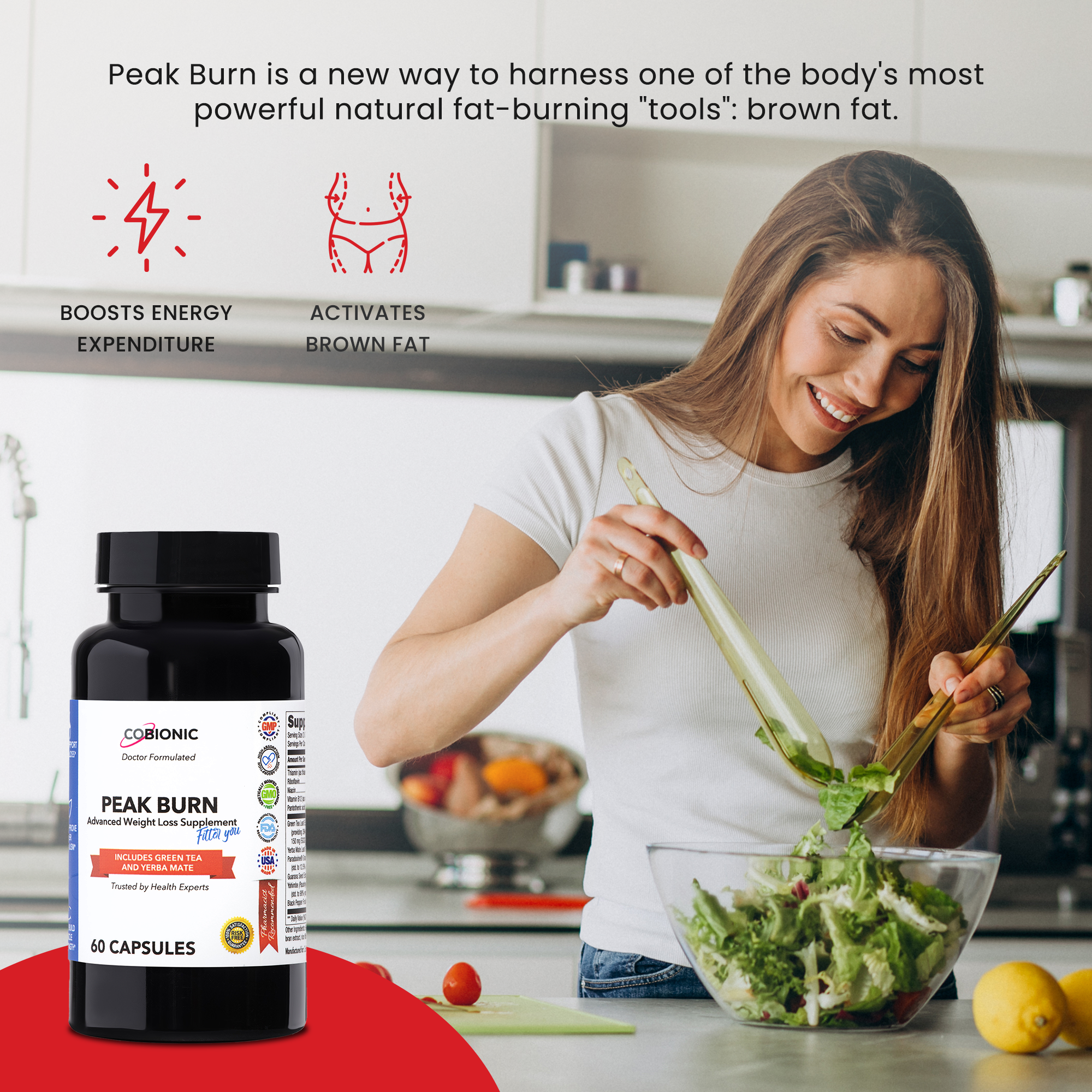 Peak Burn
Superfood based, Fat-Burner that Activates Your Body's Natural Fat-Burning Powers To Regain A Happy, Healthy Weight!

Activate your internal fat-burning machine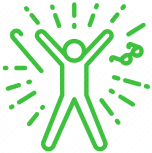 Improve anti-aging properties to help resist cell damage

Reduce cholesterol and improve heart health

Immediate blast of energy increasing the physical activity performance
Burn Fat With A Natural, Powerful Weight Loss
Ability Hidden Inside The Body…
Too many of us push our energy and health to the brink just to lose a little excess weight.
Maybe we follow restrictive diets or spend hour upon hour in the gym each week.
Yet hidden inside of our bodies is a natural way to get rid of weight - without doing any of those things!
It's actually something we have as babies to help us stay warm by burning more energy and fat. However, as we get older, we lose this "ability".
What is it?
"Good Fat"... But Not As You Know It!
Most of us know about white fat - that's the stuff we try so hard to get rid of. But not many know about brown fat.
This type of fat doesn't build up the other way other fat does. More importantly, brown fat boosts the body's natural ability to burn off energy and white fat.
The problem is that once most of us grow up, we don't have enough brown fat to make a difference to our weight loss.
But research has found an exotic herb that not only builds up brown fat in adults, but "activates" it for a powerful fat-burning effect.
It doesn't need exercise or unusual diets to work. It's completely safe to use. You simply take it every day and let the body do the rest.
We call it…
4 Ways Peak Burn Builds Up The
Body's Natural Fat-Burning Abilities
Boosts brown fat. Many adults don't have enough brown fat to make any real impact on their weight. Peak Burn helps boost the body's levels of brown fat so it burns more energy (and fat) without having to go to any extra effort.1

Activates brown fat. Brown fat can only burn off white fat once it's "activated". Peak Burn works so that brown fat not only increases, but is activated, so you start getting rid of excess weight sooner.2

Amplifies energy expenditure. When the body has activated brown fat, it generates more heat and energy… which means more fat gets burnt. So in a way, fat can burn off fat! Plus, Peak Burn comes with other ingredients to rev up the metabolism and accelerate results even faster.3

Transforms white fat. One of the incredible benefits of Peak Burn is that some white fat can be transformed into brown fat. In other words, that excess weight can go from being a "bad" fat to "good" fat!4
Reclaim Your Waistline With A
Formula Made To Do Just That
A Perfect Grains of Paradise Extract For Your Figure. Most Grains of Paradise are great for cooking, but not-so-great for getting rid of excess weight. Peak Burn uses Paradoxine, an extract formulated with the right bioactive components to make losing and managing weight that much easier.

A Science-Based Formula For Slimming Down. With a carefully-developed formula using ingredients clinically shown to burn more calories, Peak Burn is proven to help almost anyone reclaim their weight and waistline.

Made In The USA, In An FDA-Compliant Facility. Thousands trust CoBionic because they know each product is of the highest quality possible. Peak Burn is no exception: it's made in a GMP-compliant, US facility, and every batch is lab-tested to ensure it contains exactly what the bottle says.

No Fillers, No Junk, No Inflammatory Ingredients. We watch what we put in our bodies and do the same for you too. That's why Peak Burn comes with no fillers, no additives, and no inflammatory ingredients. It's also 100% GMO-free, gluten-free, soy-free, and dairy-free.
Grains of Paradise: The Key To Unlocking
Your Body's Fat-Burning Powers
This exotic herb from West Africa makes for a fantastic cooking companion. But in the right form and concentration, Grains of Paradise (or GP for short) are a powerful way to build up and switch on the body's natural stores of brown fat.
However, it's not as easy as just buying any GP. Paradoxine® is a special extract of Grains of Paradise that contains the bioactive compounds shown to boost brown fat, increase energy expenditure, and get rid of excess white fat.5
Grains of Paradise helps the body get rid of excess weight in 3 different ways:
#1: Boosts Energy Expenditure (and Fat Loss)
Because brown fat burns more energy and white fat is how the body stores energy, it actually helps your body burn off white fat. In a way, fat is burning fat!
The research backs this up. A 2013 study found a group of men taking a GP extract burned significantly more energy (and as a result, fat) compared to a group taking a placebo.6
#2: "Activates" Brown Fat
5 For brown fat to really work, it must be activated. Otherwise, it won't have the same fat-burning effect that it otherwise would.
Researchers discovered that a group who took Grains of Paradise for several weeks had activated brown fat in their bodies as well as lower white fat, even for people who had low brown fat previously.7
#3: Transforms White Fat Into Brown Fat
That's right - Grains of Paradise can actually change energy-laden white fat into energy-burning brown fat.8
Plus, a Harvard Medical School study stated that by "browning" white fat, overall brown fat activity (and its calorie and fat-burning abilities) could actually increase even further.9
Peak Burn contains 4 More Burn-Boosting Ingredients that firm up figures, push the scales down,
and leave you feeling healthier and looking younger than ever…
Yerba Maté
A popular herbal tea, Yerba Maté has been shown by studies to have an "anti-obesity" effect when taken on a regular basis.10
This herb also contains polyphenols, which are antioxidants that deliver healthy benefits such as reduced cholesterol or protection against heart disease.
Yohimbe Bark
Yohimbe is most commonly used as a way to deal with sexual health problems, but has been found to also support weight loss.11
This tree bark is found in western Africa - the same place Grains of Paradise comes from - and helps block certain receptors which may make burning off fat easier.12
Green Tea Leaf
Some claim green tea to be one of the healthiest drinks on the planet, with everything from improving brain health to skin health as potential benefits.
Studies show catechins found in green tea can boost "fat oxidation" - the process where more fat gets broken down and used as energy.13
Guarana Seed
Native to the Amazon, guarana seed can have a natural fat-burning effect on the body.14
Beyond this, guarana has also been touted to have anti-aging properties, such as resistance to cell damage and potential for an extended lifespan.15
Try Peak Burn Yourself
For 180 Days Risk Free
CoBionic is a family-owned and operated business, so we stand 100% behind every one of our products.
We also understand that you need time to try these products so you can see the difference they make to your weight, health, and life.
That's why when you grab Peak Burn, you have 180 days to try it with absolutely no risk.
If you're not happy with the results in any way, just let us know within those 180 days and you'll get a full refund - no questions asked.
That's our "Peak Burn Promise" to you.
Common Questions
Peak Burn is a new way to harness one of the body's most powerful natural fat-burning "tools": brown fat. By using a special extract of Grains of Paradise, Peak Burn builds and "reactivates" stores of brown fat. This brown fat - which is different from the usual white fat most of us deal with - helps the body burn more energy (and more white fat) than it otherwise would!

Plus, Peak Burn's formula contains several other ingredients specifically chosen to boost the metabolism and get great results even faster.

Whether you have a lot to lose, just a little, or want an easier way to maintain your weight, Peak Burn can work for anyone. However, a study published in Nature showed that the "beneficial effects of BAT (brown fat) were more pronounced in individuals with overweight or obesity".16

In other words, this may work even better for people who have more weight to get rid off!

In putting this formula together, we've sourced natural, safe ingredients from some of the best sources around the world. Plus, every bottle of Peak Burn is produced in an FDA-registered facility here in the US to ensure you get the highest quality every time.

Peak Burn is a deceptively simple formula designed to maximize its potency.

Along with Paradoxine® - a special Grains of Paradise extract - other ingredients include Yerba Mate, Green Tea, Yohimbe Bark, and Guarana Seeds. Plus, Peak Burn also includes Black Pepper Fruit Extract, which is known to help the body better absorb nutrients, vitamins, and minerals.

All it takes is 5 seconds to take two capsules once daily. Each bottle has 30 serves, so will last one month.

Each bottle of Peak Burn comes with 30 servings, which are 2 capsules.

You sure can. Peak Burn comes with a 180 day guarantee so you have plenty of time to try it for yourself. If Peak Burn doesn't work the way you wanted or you're unhappy for any reason, simply contact us at (888) 365-5099 or at support@cobionic.com to get a full refund.

It sure is. In fact, all of our products are made and shipped from the USA.

Peak Burn generally ships within 48 hours of placing an order. You should get your order within 3-5 business days if you live in the USA. Naturally, overseas orders can be difficult to predict, but please allow 2-4 weeks.

Great to hear! Shoot an email at support@cobionic.com and we'll get back to you as soon as we can.

Just remember - we're a small, family-run company, so it might take 24 hours to get back to you, although we try to reply as quickly as possible.
3 Reasons You'll Love CoBionic
At CoBionic, there are 3 big reasons that people love our products...

Taste & Flavor. This is our #1 focus for every food and food supplement we produce. In the end, nothing else matters if you don't like something enough to keep taking it. Also, we just think life should be fun and have a little more flavor.

Simple, Quality Ingredients. Every company says that their ingredients are the best, so it can be hard to tell the difference sometimes. That's why we limit all of our products to just the simplest, most natural ingredients - things you can understand and believe in.

Family-Owned and Operated. We view you as part of our family, and we don't want you eating anything that we wouldn't put into our own bodies. So we focus on both incredible quality and incredible customer service.