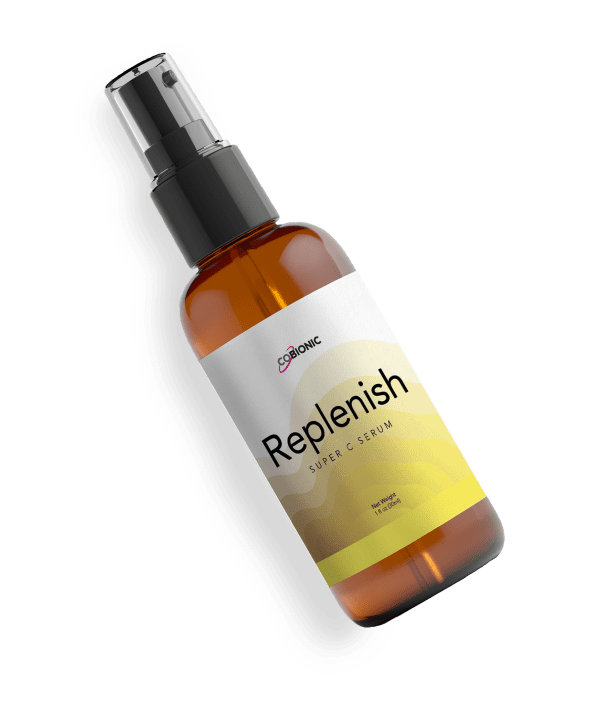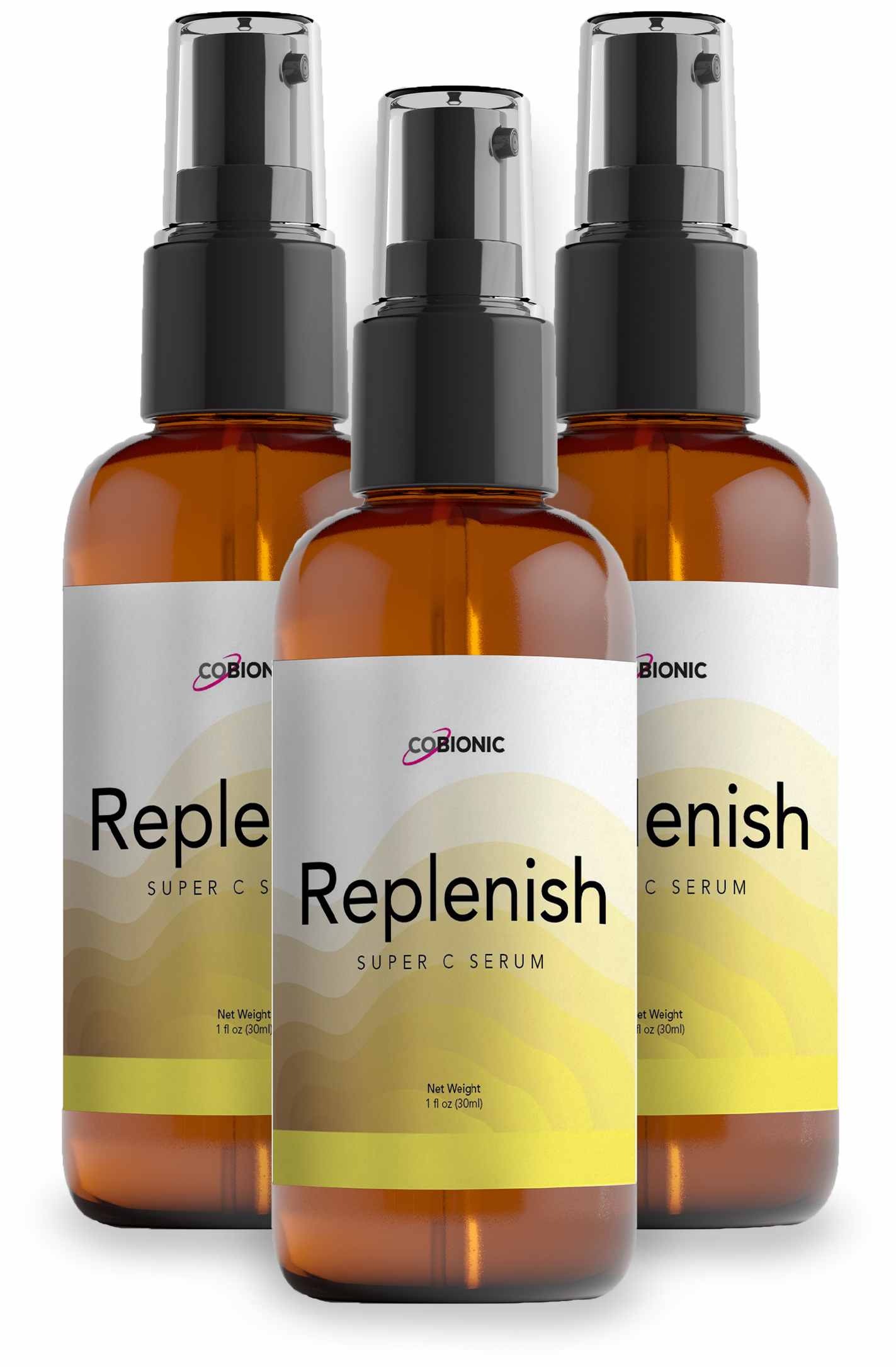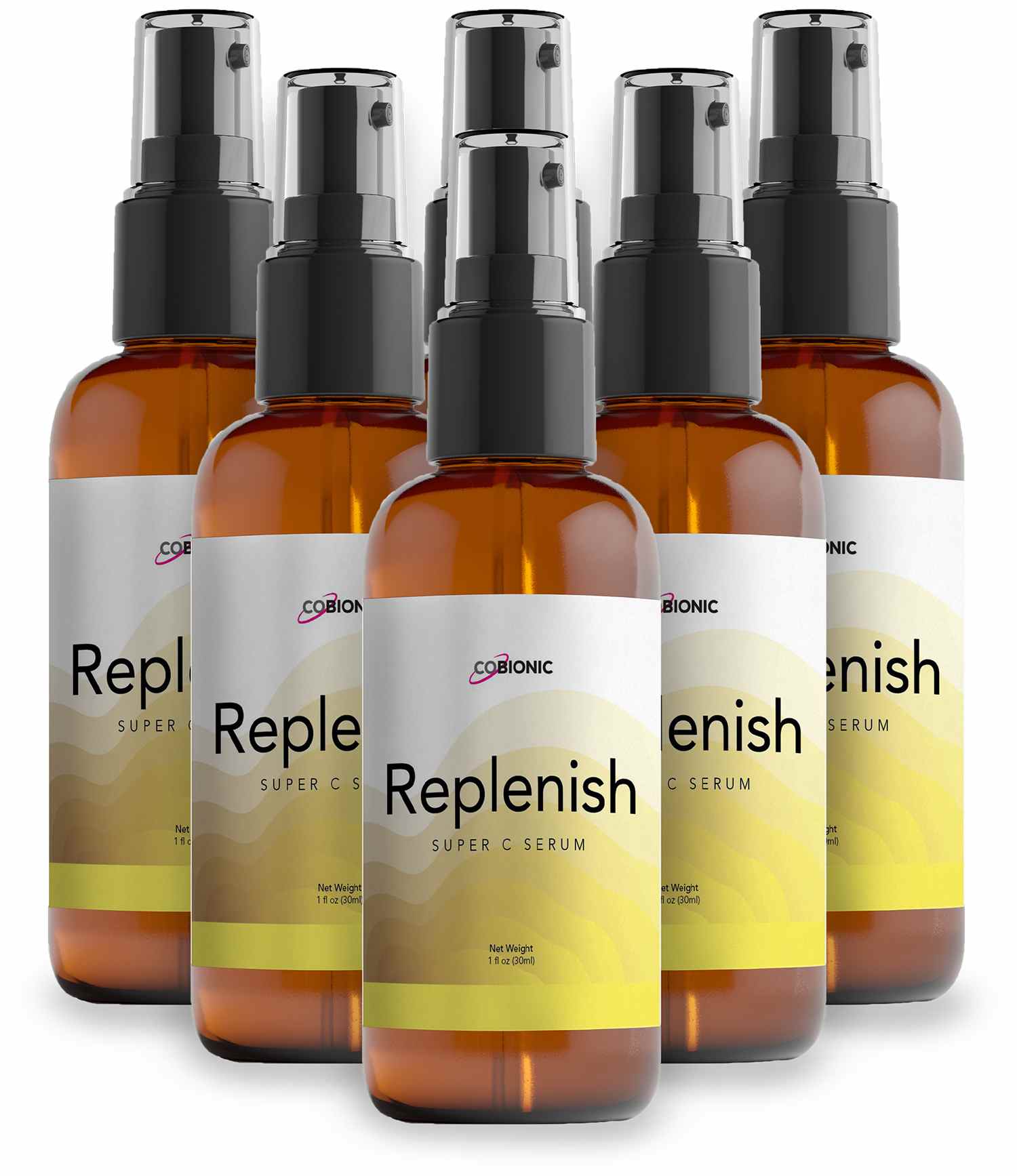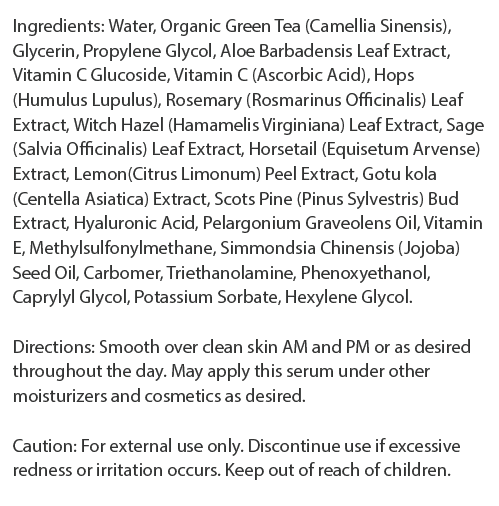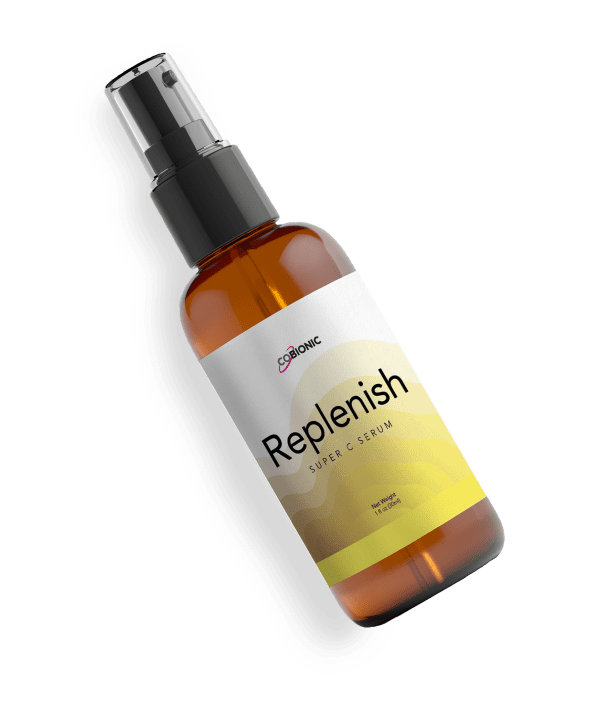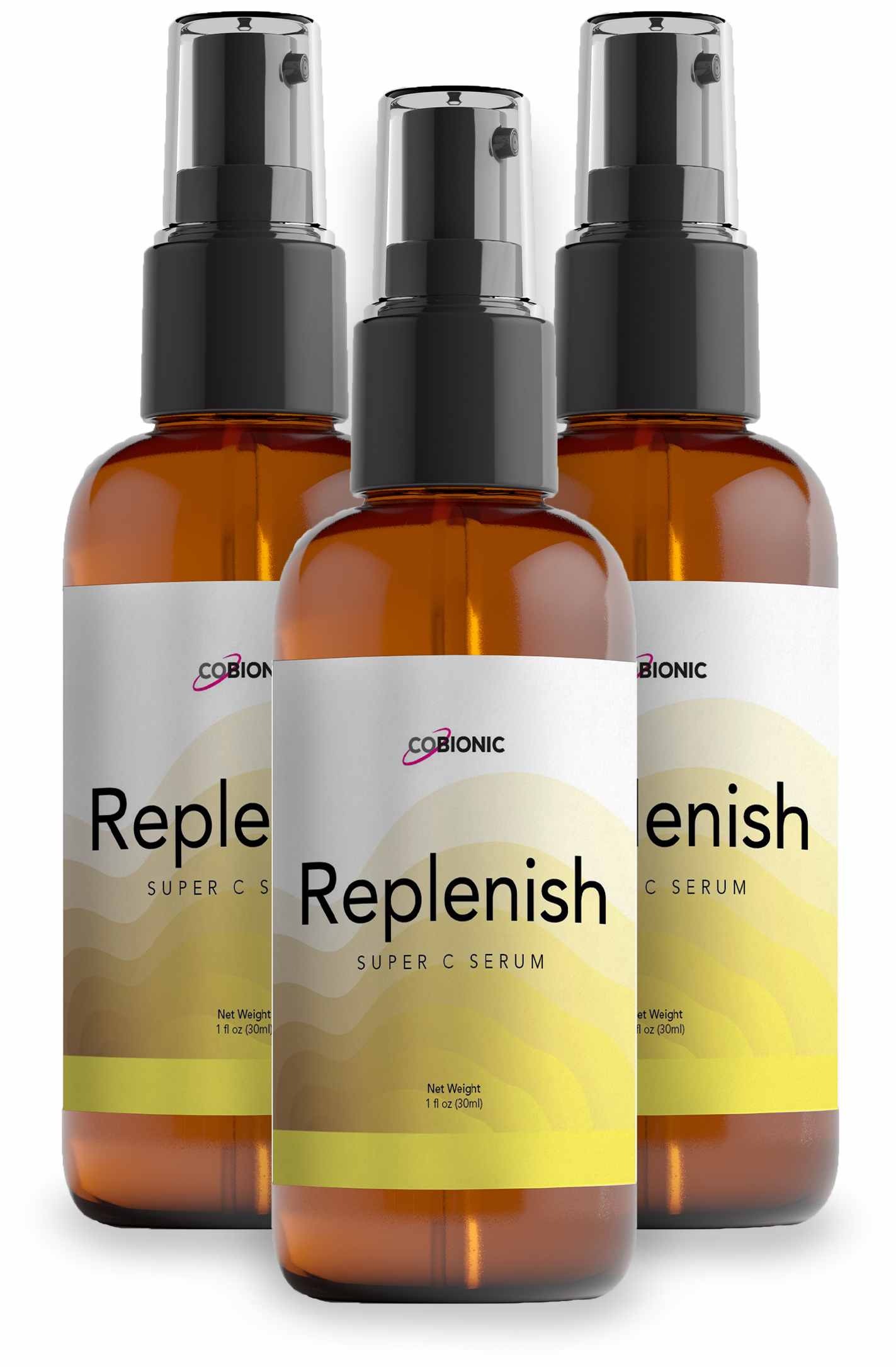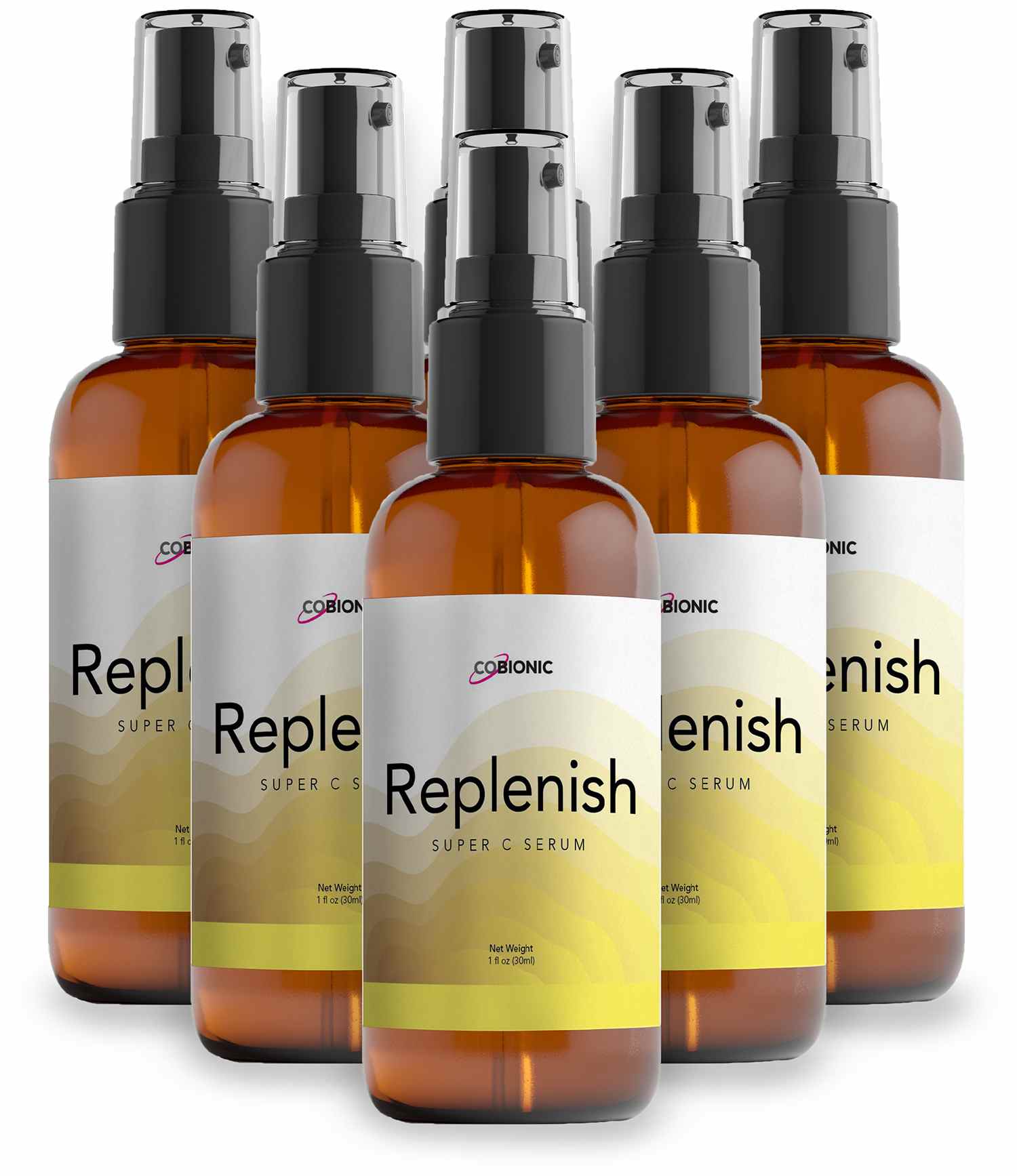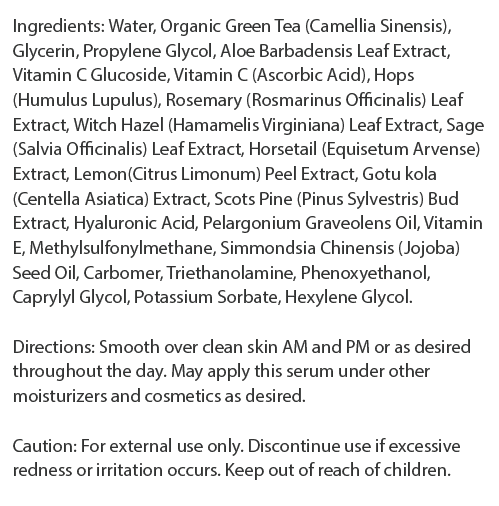 Replenish Super-C Serum
Bring your skin back to life with this uniquely powerful blend of herbs, antioxidants, and Vitamin C...
Replenish Super C Serum comes in a 1fl oz (30ml) bottle.

Smoothens complexion, hydrates skin and evens skin tone
Helps fight premature aging and sagging skin
Provides protection from sun damage and other stressful factors
Say Goodbye to Dull, Sagging Skin, as well as Redness and Age Spots…
Many of us - when we look in the mirror - wonder "When did this happen?" or even "Who is that person?"
It happens to all of us.
Even after a good night's sleep, our skin will often look tired, dull, and grey.
In one sense, signs of aging like crow's feet and age spots can tell a story of life well-lived.
But nobody wants their skin to feel vulnerable and weak.
Luckily, those changes are NOT an inevitable result of aging.
If you give your skin the right nutrients, your skin has an amazing ability to repair itself…
See - your skin is constantly damaged in tiny ways by things like sun and even oxygen.
When we're young our bodies have plenty of nutrients to repair our skin every day.
But as we age, we often don't replenish those nutrients, so our skin can't repair itself.
The result is that we look older than we should.
Luckily, it's easier than ever before to reduce signs of aging - like dullness, redness, sun spots, and more...
Thanks to a TON of research over the last 20 years, we now know exactly what our skin needs to stay looking young and beautiful.
Your skin needs a daily combination of certain nutrients - like Vitamin C and antioxidants - that allow it to both protect and repair itself.
Obviously, it still makes sense to moisturize and protect your skin from things like the sun.
But now - in just 30 seconds a day - you can support youthful, glowing skin, even if you haven't taken perfect care of your skin in the past.
Using only the purest natural ingredients - no junk and no chemicals...
Give Your Skin More 'Vibrance' and 'Glow' While Smoothing Complexion and Firming Skin...
More Even Skin Tone & Complexion. In studies, Vitamin C serum has reduced redness & inflammation, while supporting a brighter overall complexion. [1]
Hydrates Your Skin. Research has shown that regular application of Vitamin C serum can help your skin better retain moisture, leading to fewer fine lines. [2]
Fight Premature Aging & Sagging Skin. Rich in antioxidants, Vitamin C protects healthy skin cells and boosts collagen production, resulting in stronger and firmer skin. [3]
Support Brighter Skin With Fewer Spots. Research has shown that Vitamin C impedes melanin production, which is responsible for both dullness and also age spots and sun spots. [4]
Provides Protection & Generally Safe for All Skin Types. Vitamin C in serum form is generally very safe for all skin types. (Very sensitive skin may experience mild side effects like minor irritation.) [5]
Treat Your Skin with the
Love
and
Care
that Will Allow it to Thrive...
No Fillers, No Junk. We're very careful about the ingredients we're using, and we think you should be, too. Replenish Super C Serum does not contain any junk or chemicals, just high-quality natural ingredients.
Easy To Use. Just add a few drops on your face, hands, or anywhere you think your skin could use some extra care.
No greasy feeling. Replenish Super C Serum is great for all skin types - it doesn't leave your skin feeling oily, and you can use it before applying moisturizer and makeup.
Made in the USA in an FDA-Inspected Facility. We're sticklers for quality, and Replenish is no exception - made in a GMP-compliant, US-based facility.
Lab Tested for Quality. In addition, after every batch, Replenish Super C Serum is lab-tested to ensure that it contains exactly what it says on the bottle (and nothing else).
Common Questions
If you want to help prevent premature aging (sagging skin, dark spots, etc.), even out your skin tone, and protect your skin from sun damage and other stressful factors, Replenish can help you do that.

These things are definitely important - we're big fans. But we also know that your skin needs a little extra help, since it's really hard to always perfectly protect your skin. Also, most of us don't replenish the nutrients our skin needs every day to protect and repair itself. That's why we love Replenish Super-C Serum.

Just apply a few drops and smooth over clean skin in the morning and evening, or throughout the day whenever you feel like your skin needs it.

Replenish Super C Serum comes in a 1fl oz (30ml) bottle.

Replenish Super C Serum contains Vitamin C and natural herbs to give your skin the antioxidants it needs to protect and repair itself. There are no chemicals or junk in Replenish.

Yes - all of our products are manufactured in and shipped from the USA.

Yes - our manufacturing facility thoroughly tests both ingredients and also the finished product.

This means that the product contains exactly what it says on the label and that we also test for traces of toxins like heavy metals.

Absolutely. We have a 180-day, 100% Satisfaction Guarantee.

So if you're not satisfied for ANY reason, just let us know within 180 days of ordering, and we'll refund 100% of your purchase.

We LOVE being helpful, but please understand that we can't answer medical questions. We're not doctors, and even if we were, we don't know your particular situation and history.

In general, before using any supplements, you should check with your doctor or other health professional.

Awesome. Just shoot us an email to support@cobionic.com, and we'll get back to you as quickly as possible.

Just remember - we're a small, family-run company, so it might take us 24 hours to get back to you, although we try to reply much more quickly.
CoBionic is a family-owned and operated business, so we stand 100% behind every one of our products.
Most of our customers are blown away when they first try any of our products...
However, if you don't absolutely love your purchase, then just let us know within 180 days, and we'll refund it -- no questions asked.
It's that simple and easy.
3 Reasons You'll Love CoBionic
At CoBionic, there are 3 big reasons that people love our products...

Taste & Flavor. This is our #1 focus for every food and food supplement we produce. In the end, nothing else matters if you don't like something enough to keep taking it. Also, we just think life should be fun and have a little more flavor.

Simple, Quality Ingredients. Every company says that their ingredients are the best, so it can be hard to tell the difference sometimes. That's why we limit all of our products to just the simplest, most natural ingredients - things you can understand and believe in.

Family-Owned and Operated. We view you as part of our family, and we don't want you eating anything that we wouldn't put into our own bodies. So we focus on both incredible quality and incredible customer service.