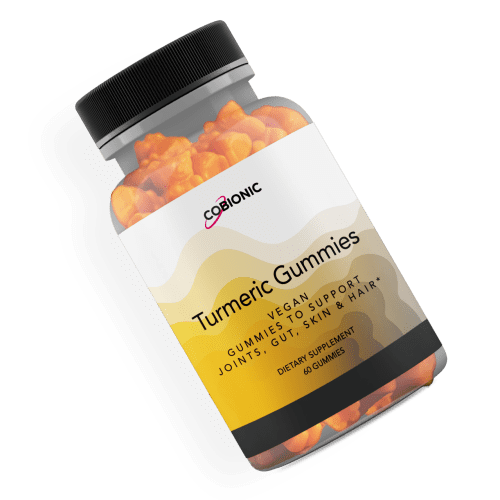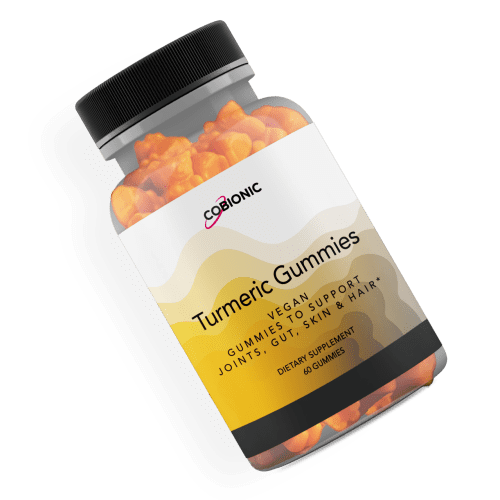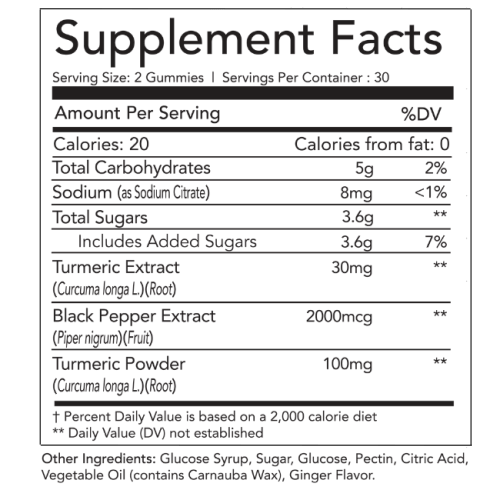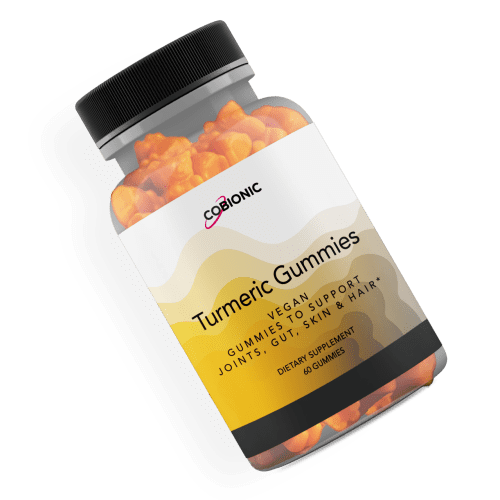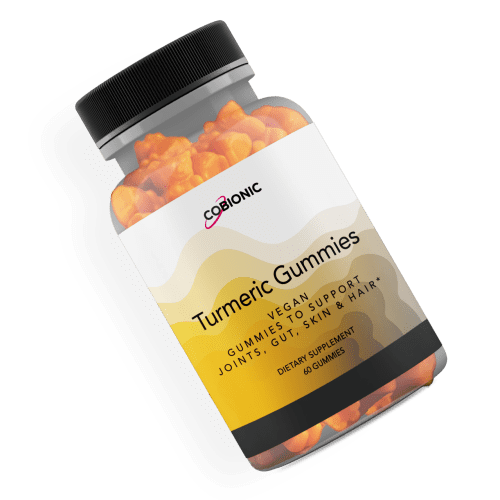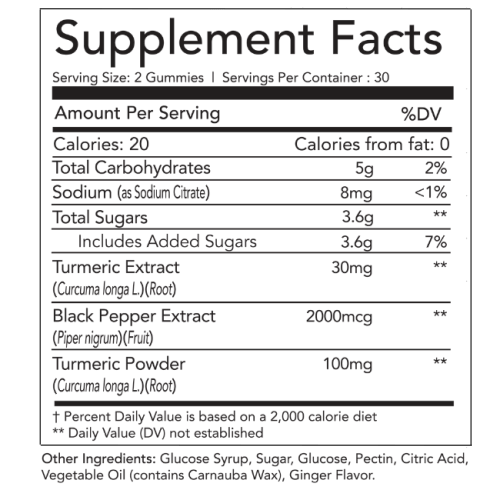 Turmeric Gummies
Delicious, 100% Vegan Gummies… Loaded with Turmeric and Black Pepper -- Clinically-Proven To Reduce Inflammation
1 Bottle Contains 60 Turmeric Gummies
Serving Size: 2 Gummies
Servings Per Container: 30

Alleviates chronic inflammation and reduces joint pain
Helps fight free radicals and boost immune system
Supports healthy skin and hair
Naturally calms and soothes various digestive issues
From Joint Stiffness in the Morning to Fear of the Stairs… There's a Better, Yummier Way to Alleviate Chronic Inflammation and Pain...
For over 4,000 years, Turmeric has been used as an all-natural health remedy.
In ancient Indian Ayurvedic medicine, healers often turned to Turmeric to ease pain, improve digestion, and even boost energy.1,2
And modern research has shown that Turmeric can also improve chronic inflammatory conditions, reduce anxiety, boost immune function, and even improve cholesterol and triglyceride levels.3,4,5
It's easy to see why one Australian researcher called Turmeric the "Spice of Life."6
Plus, scientists have found how to make turmeric up to 2,000% more effective.7
First, the active ingredients in turmeric are extracted, creating a fine powder that is much more concentrated and powerful than the plant alone.
But that's not all. Based on research in 1998 and 2017, this concentrated turmeric can be combined with black pepper extract to dramatically increase both the absorption and bio-availability of turmeric.8
This means that the body is not only able to absorb and use the turmeric better, it's also able to more quickly and effectively get this spice of life to the parts of the body that are chronically inflamed and in pain.
The end result is a better and more powerful relief from chronic inflammation.
And Here's the Best Part… You Will LOVE the Flavor of These 100% Vegan Gummies...
Turmeric can be great as a spice for food, but it's nearly impossible to get enough of it in plant form.
But extracting and concentrating turmeric is only the first step…
You also need something that you'll WANT to eat every morning and evening.
That's why we decided to create a Turmeric-packed gummy that is just as delicious as it is powerful.
It combines the nutrients that researchers have found to amplify the effects of turmeric - but it comes in a gummy form that you'll look forward to eating every day.
In fact, our new gummies have made it so easy and delicious to tap into the health-boosting benefits of turmeric, many people often report snacking on them throughout the whole day!
Tastes Like Candy…

But Full of Nutrients Clinically-Proven to Reduce Pain, Increase Mobility, and Alleviate Chronic Inflammation...
Tastes Like Candy: The #1 downside of Turmeric is that many people don't enjoy the bitter flavor. But our Turmeric Gummies get rid of that problem by making turmeric so delicious you'll actually look forward to it each morning!
Eases Joint Pain and Stiffness: Research has shown turmeric to be one of the most effective natural remedies for chronic joint pain and stiffness caused by inflammation9 - without the digestive and cardio-vascular side effects of NSAIDs and other OTC medications.
Improves Digestion and Eases Stomach Discomfort: In recent clinical studies, doctors have found that turmeric reduces inflammation along the gastrointestinal tract -- thereby easing stomach pain and improving digestion.10,11
May Improve Heart Health: A 2019 study revealed turmeric's effectiveness in reducing bad cholesterol and triglycerides, as well as increasing levels of good cholesterol.12
Doesn't Your Body Deserve The Best?
Science-Based Nutrients: Turmeric Gummies combine a potent form of extracted turmeric - which has been used for centuries as a health tonic - with a form of black pepper extract clinically proven to boost the effects of turmeric.
A Perfect Combo for Pain Relief and Energy: The power of turmeric to assist with inflammatory pain and boosting energy is well-known. And when combined with black pepper extract, you won't find a better combination to ease joint pain and increase your energy.16,17,18
Made in the USA in an FDA-Inspected Facility: We're sticklers for quality, so our Turmeric Gummies are made in a GMP-compliant, US facility, and every batch is lab-tested to ensure it contains exactly what the bottle says.
No Fillers, No Junk, No Inflammatory Ingredients: We care about what you put in your body, so our Turmeric Gummies contain no fillers, no additives, no inflammatory ingredients, and are gluten-free, soy-free, and dairy-free.
Lab Tested for Quality. In addition, after every batch, our Turmeric Gummies are lab-tested to ensure that they contain exactly what it says on the bottle (and nothing else).
Clinically-Proven Ingredients
Curcumin (Turmeric)
We start with the purest, freshest Turmeric root, proven in countless scientific studies to ease pain, boost energy, improve immune function and more.19,20,21,22,23
We've also specifically extracted only the most effective form of curumin to bring you these amazing benefits as fast as possible.
Common Questions
Our Turmeric Gummies are a unique blend of the most effective nutrients for getting the pain relief, boosted energy, and improved immune function of turmeric in a delicious, easy-to-use gummy form.Tap or Click Here for Full Nutrition Panel

Our Turmeric Gummies have the potential to work on anyone, whether 25 or 75, as research has shown the clinically-proven ingredients to be effective among a wide variety of people. As with any supplement, if you have specific medical conditions or concerns, please check first with your doctor or other licensed health professional.

Since everyone is different, it's tough to give an exact answer to this. Some people notice a dramatic improvement in the first week, while for others it takes a few weeks or even up to a month to feel the benefits. Remember, each body is different.

Several clinical studies have shown normal "spice cabinet" turmeric to be as much as 2,000% LESS effective as our Turmeric Gummies. Plus, our gummies are more delicious than turmeric alone, and are fortified with black pepper extract to make them as effective as possible.

There are 30 servings in every bottle of our Turmeric Gummies. One bottle contains 60 Turmeric Gummies and we recommend taking 2 Gummies per day. For most people, this means 1 bottle will last for a month.

Yes to all of the above, and they're also 100% natural and 100% vegan.

At CoBionic, we value 2 things.

First, we are obsessed with making products that TASTE amazing, because if you don't enjoy our products, then you'll stop using them, and they can't help you.

Second, all of our products contain only the simplest, most natural ingredients - NO JUNK - because we're very careful ourselves about what we put in our body.

Yes - all of our products are manufactured in and shipped from the USA.

Yes - our manufacturing facility thoroughly tests both ingredients and also the finished product.

This means that the product contains exactly what it says on the label and that we also test for traces of toxins like heavy metals.

Absolutely. We have a 180-day, 100% Satisfaction Guarantee.

So if you're not satisfied for ANY reason, just let us know within 180 days of ordering, and we'll refund 100% of your purchase.

We LOVE being helpful, but please understand that we can't answer medical questions. We're not doctors, and even if we were, we don't know your particular situation and history.

In general, before using any supplements, you should check with your doctor or other health professional.

Awesome. Just shoot us an email to support@cobionic.com, and we'll get back to you as quickly as possible.

Just remember - we're a small, family-run company, so it might take us 24 hours to get back to you, although we try to reply much more quickly.
CoBionic is a family-owned and operated business, so we stand 100% behind every one of our products.
Most of our customers are blown away when they first try any of our products...
However, if you don't absolutely love your purchase, then just let us know within 180 days, and we'll refund it -- no questions asked.
It's that simple and easy.
3 Reasons You'll Love CoBionic
At CoBionic, there are 3 big reasons that people love our products...

Taste & Flavor. This is our #1 focus for every food and food supplement we produce. In the end, nothing else matters if you don't like something enough to keep taking it. Also, we just think life should be fun and have a little more flavor.

Simple, Quality Ingredients. Every company says that their ingredients are the best, so it can be hard to tell the difference sometimes. That's why we limit all of our products to just the simplest, most natural ingredients - things you can understand and believe in.

Family-Owned and Operated. We view you as part of our family, and we don't want you eating anything that we wouldn't put into our own bodies. So we focus on both incredible quality and incredible customer service.