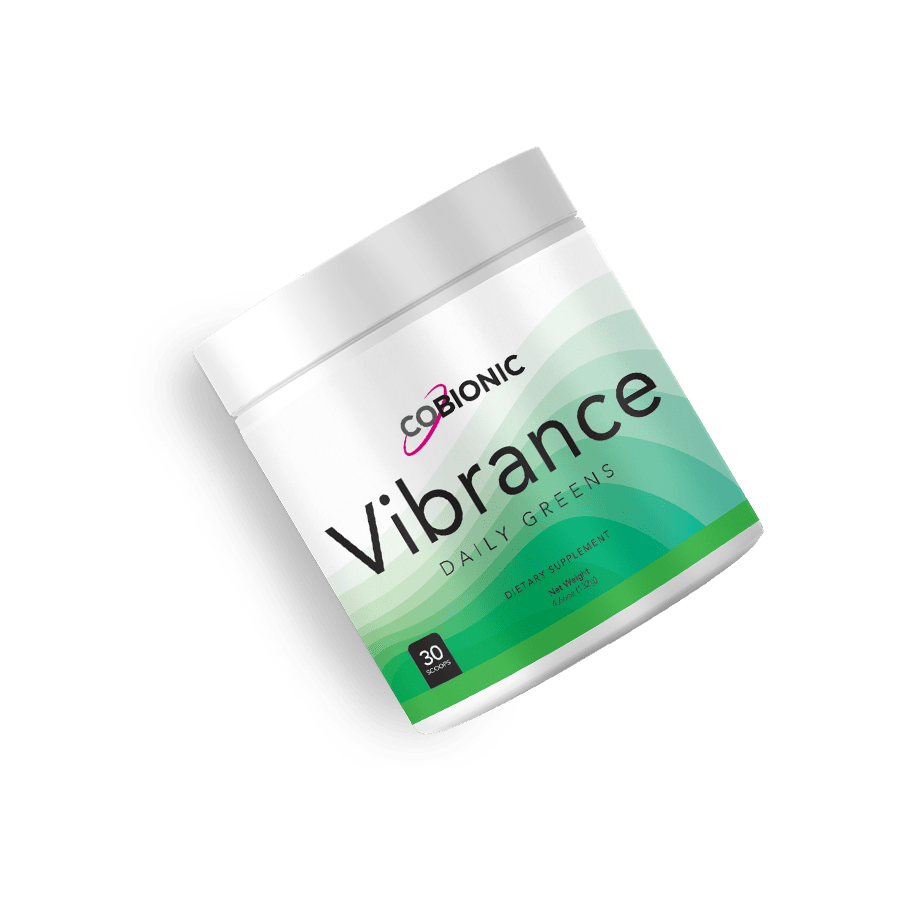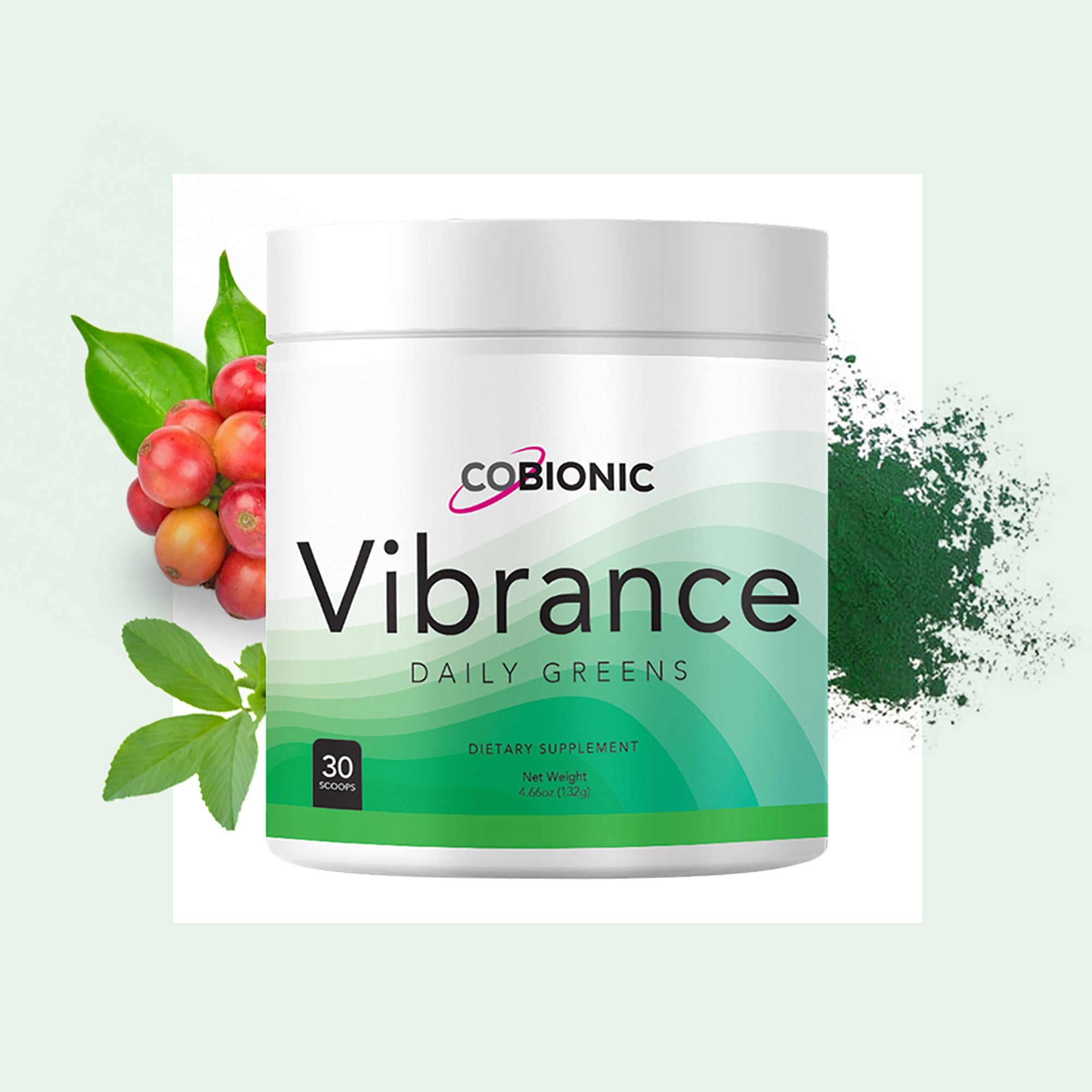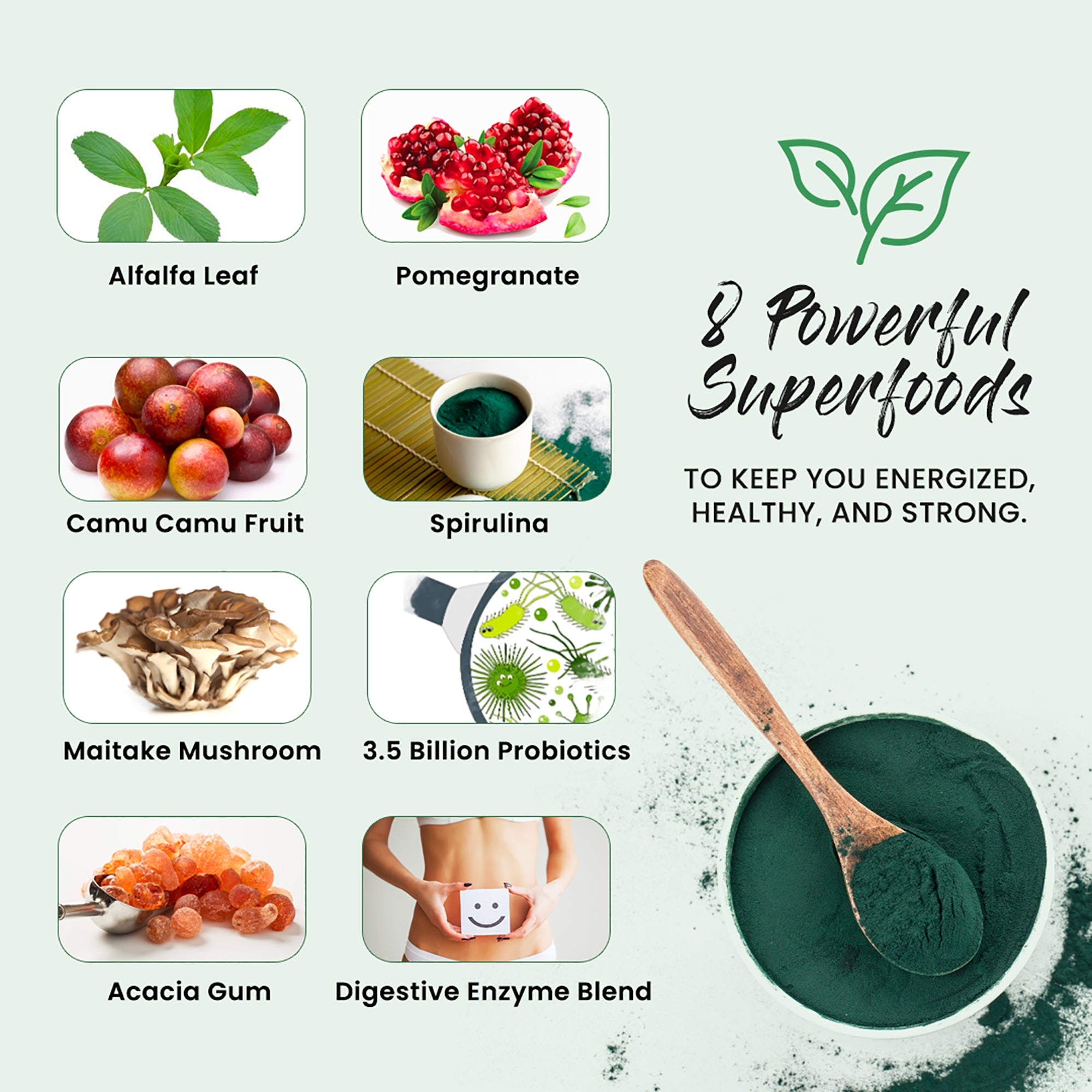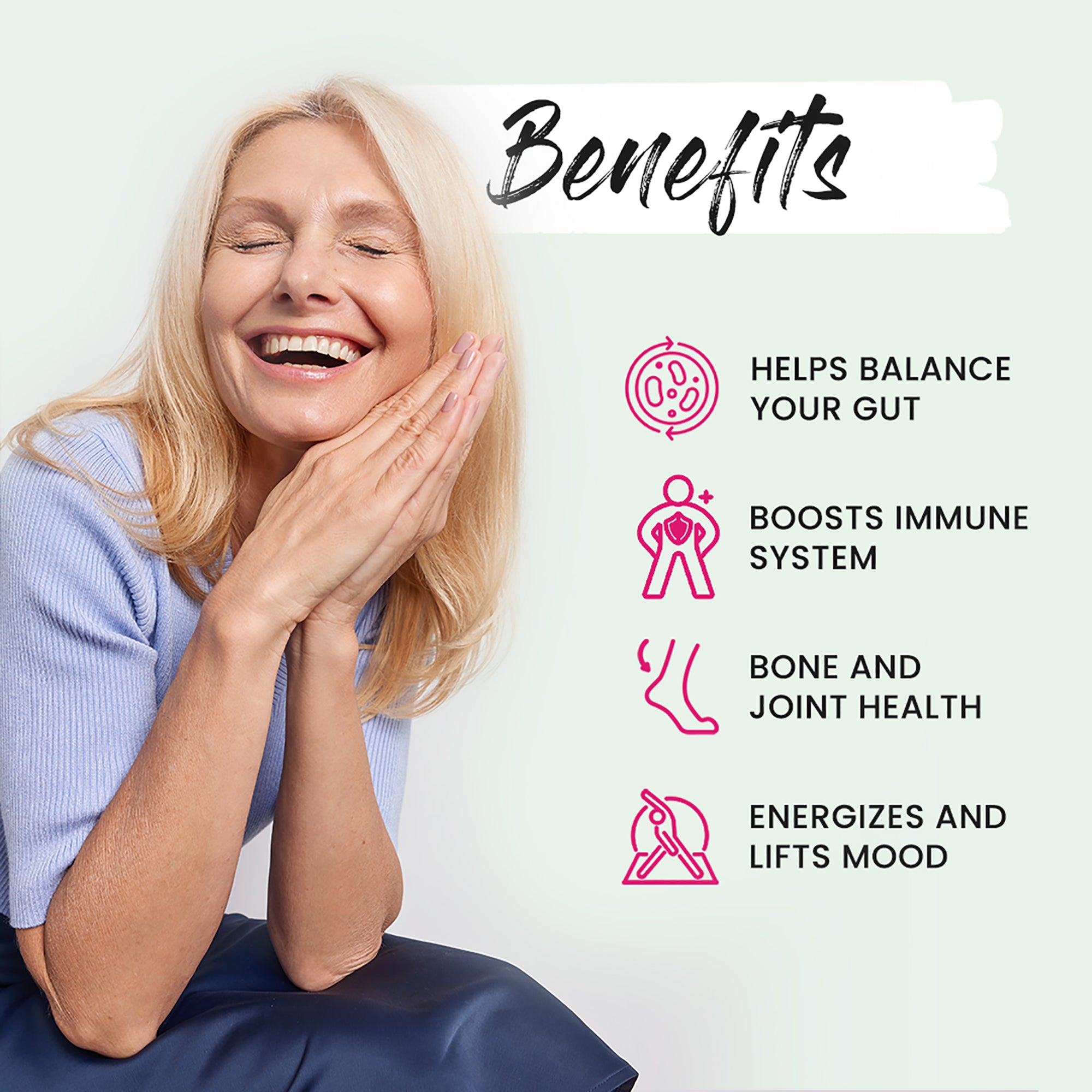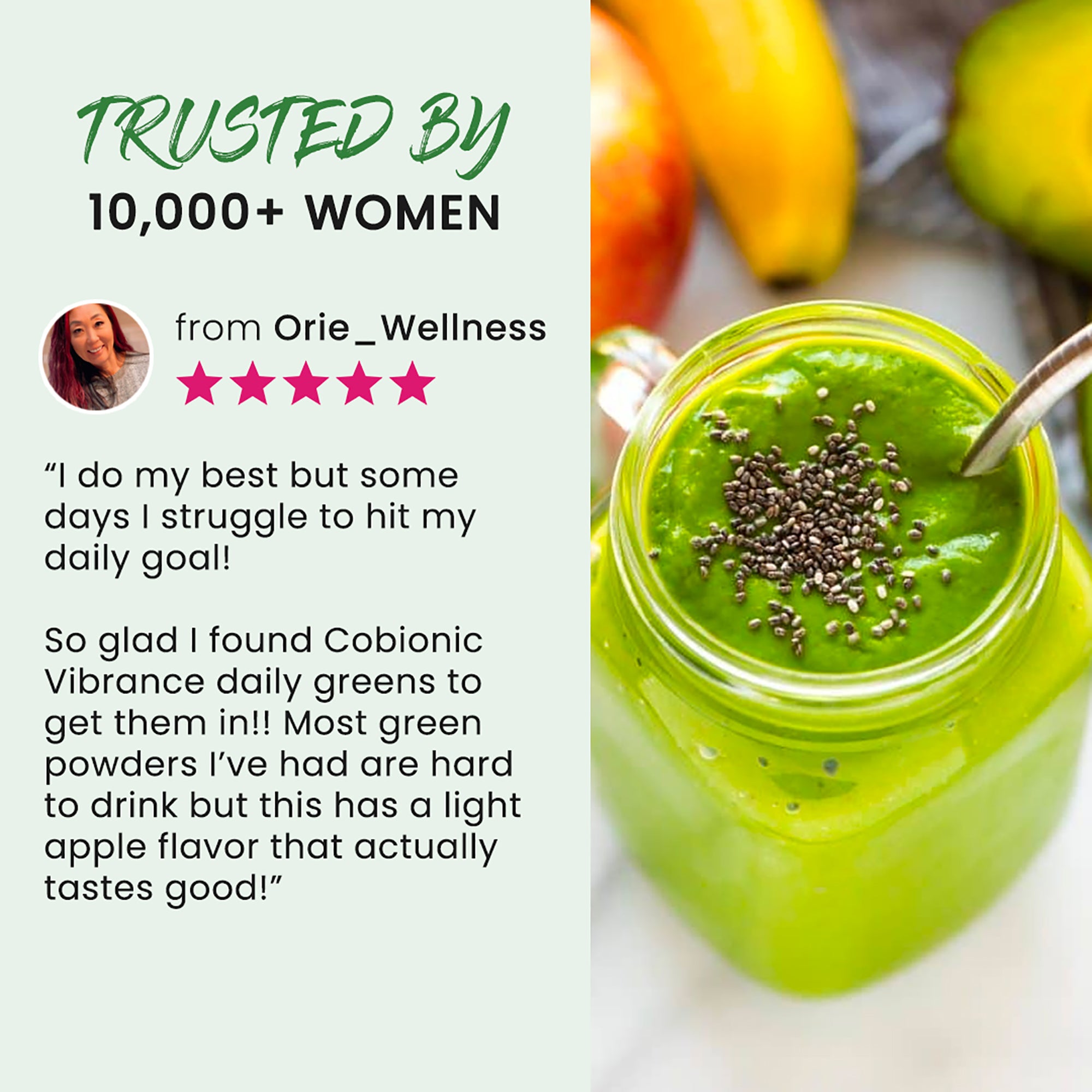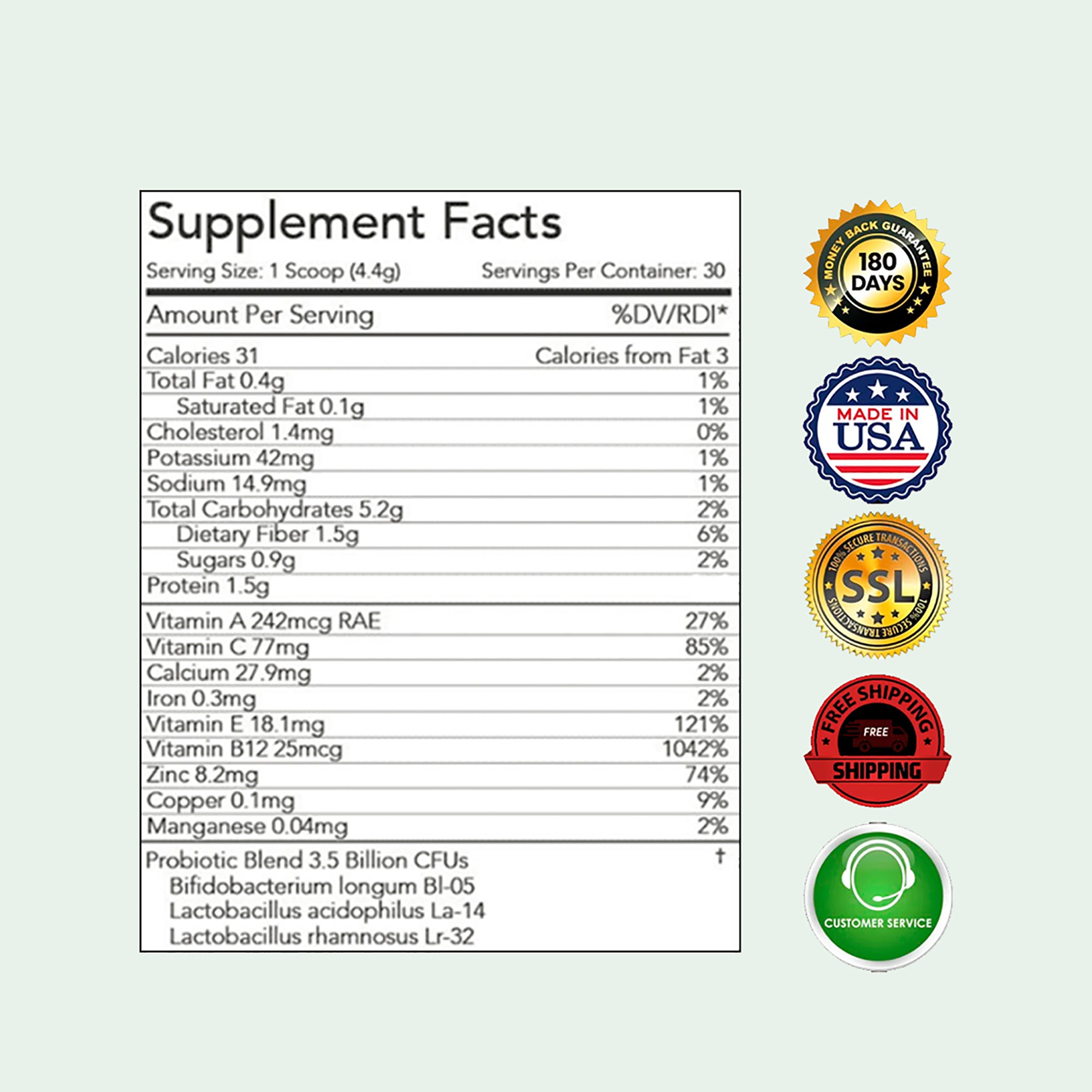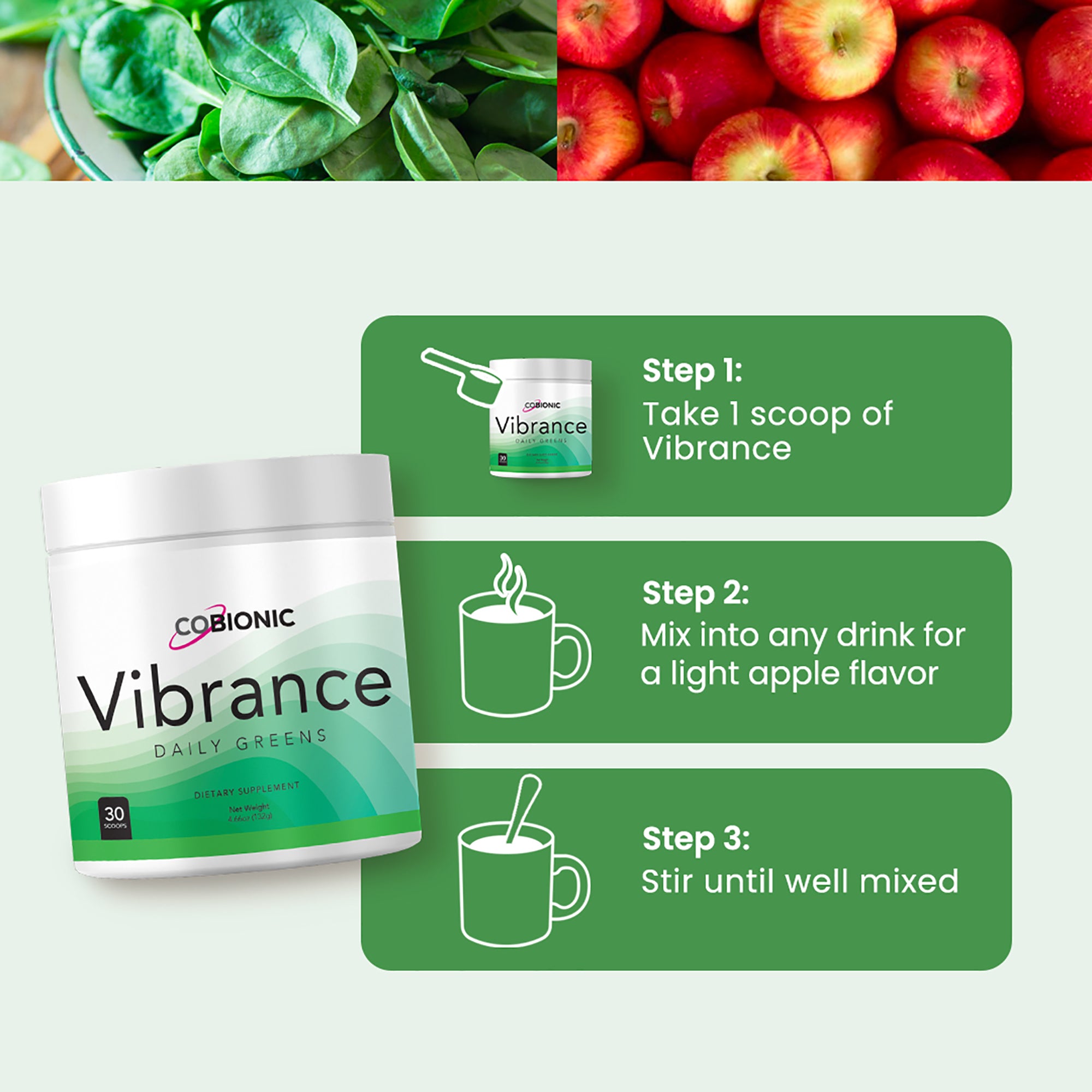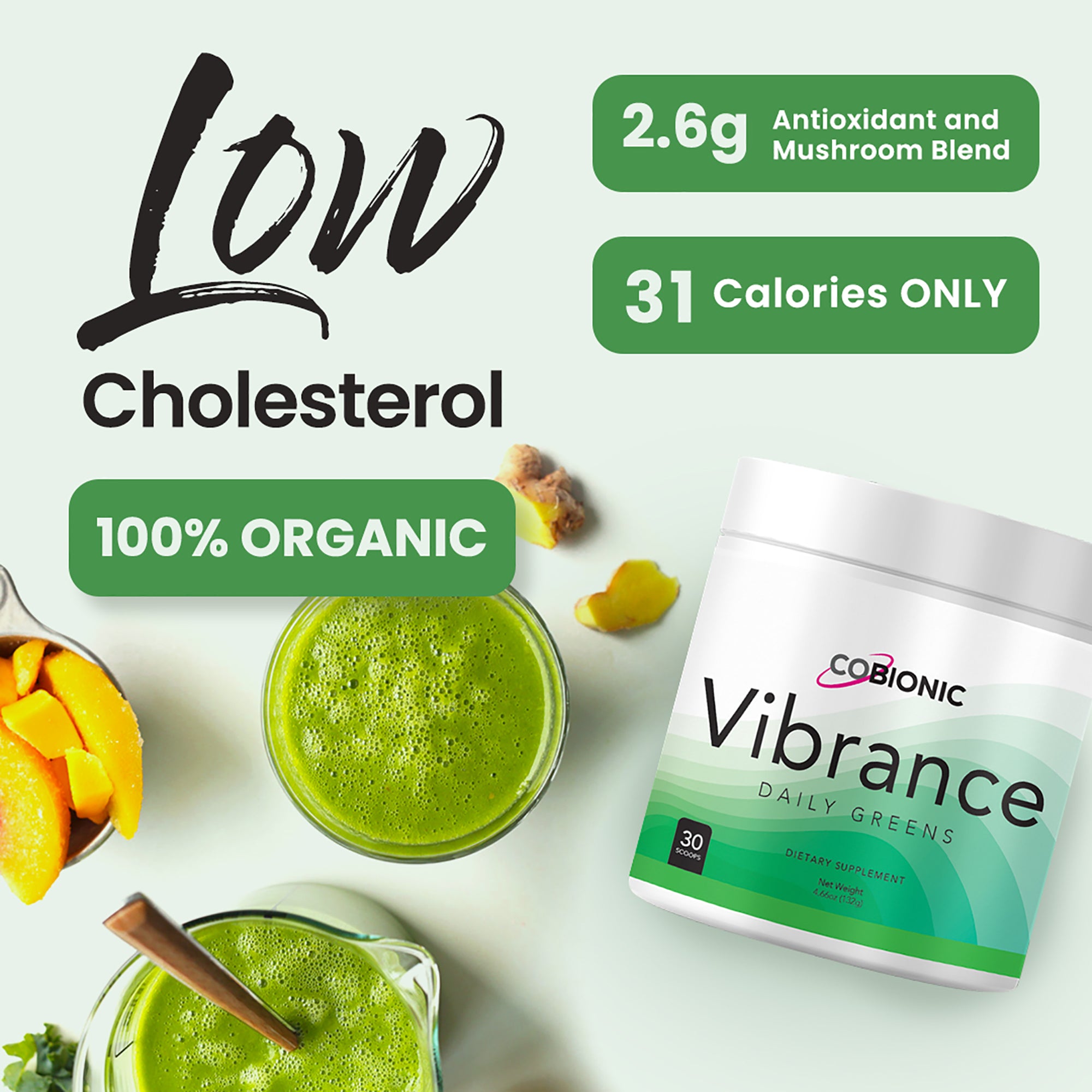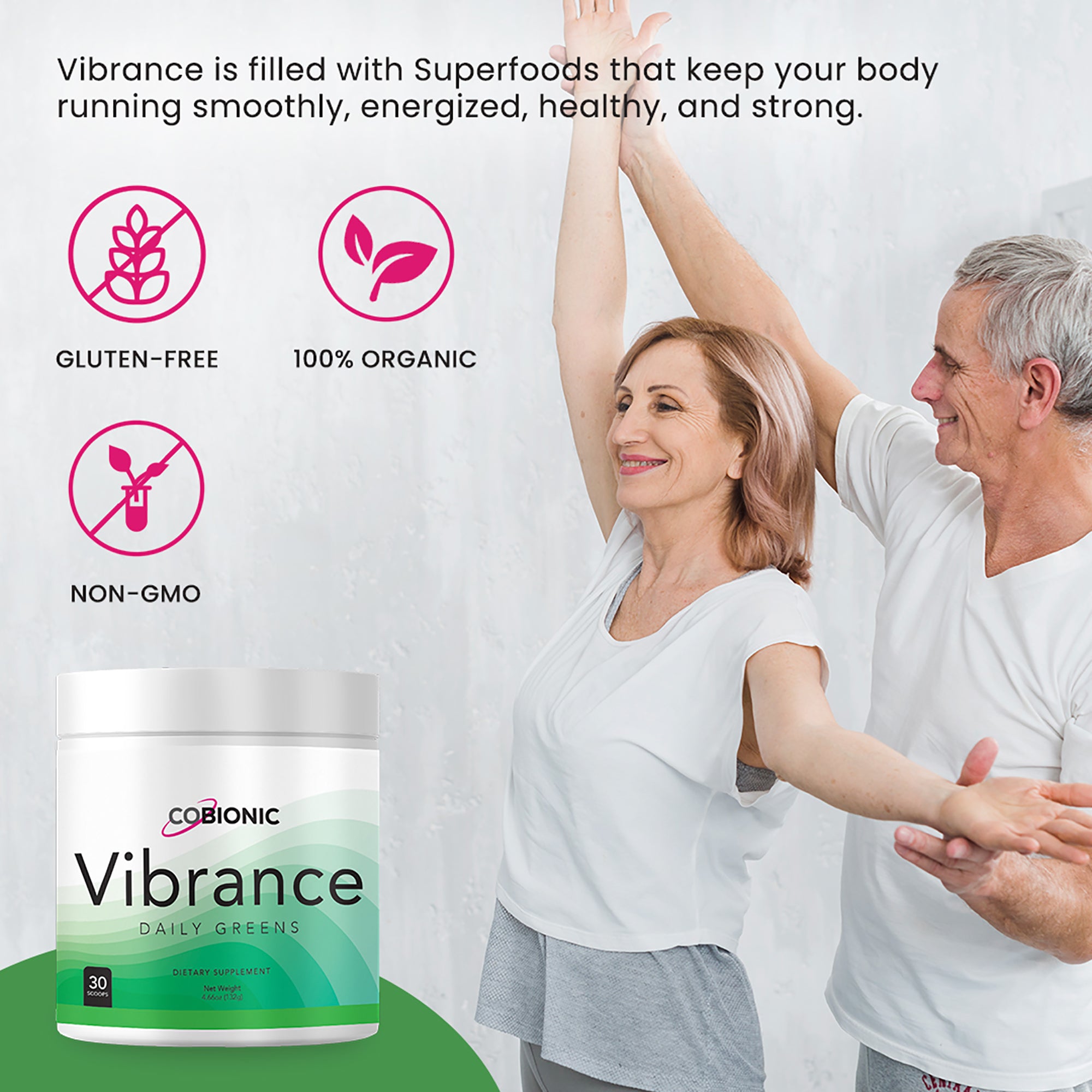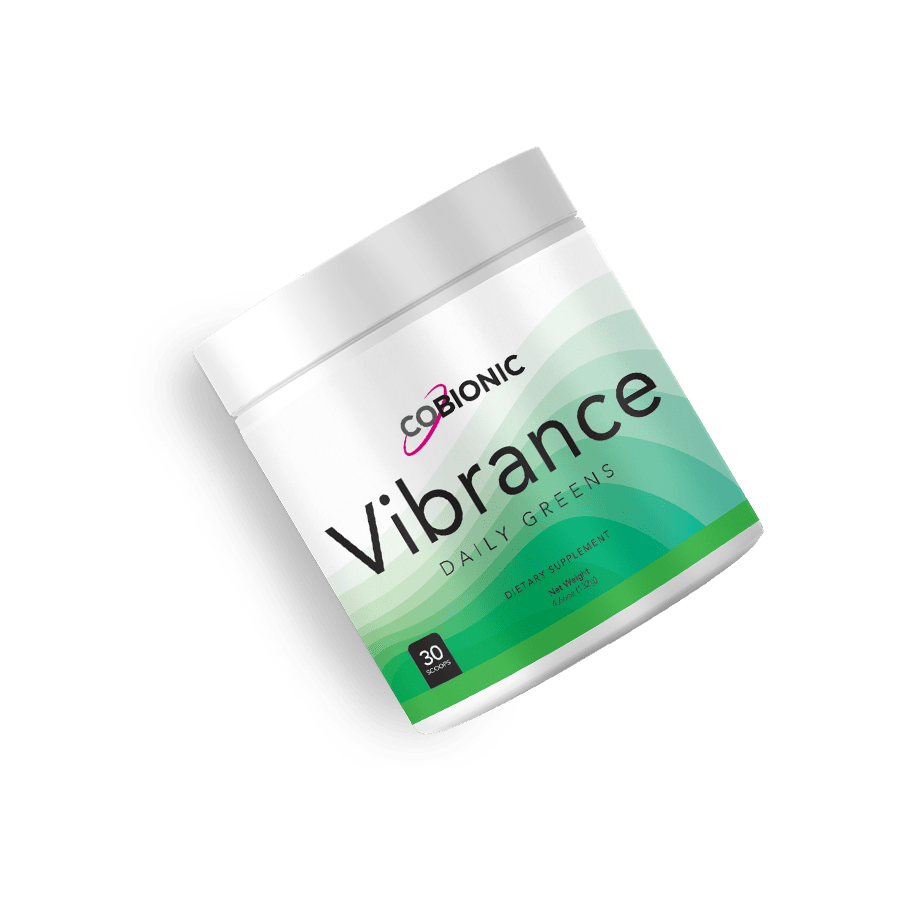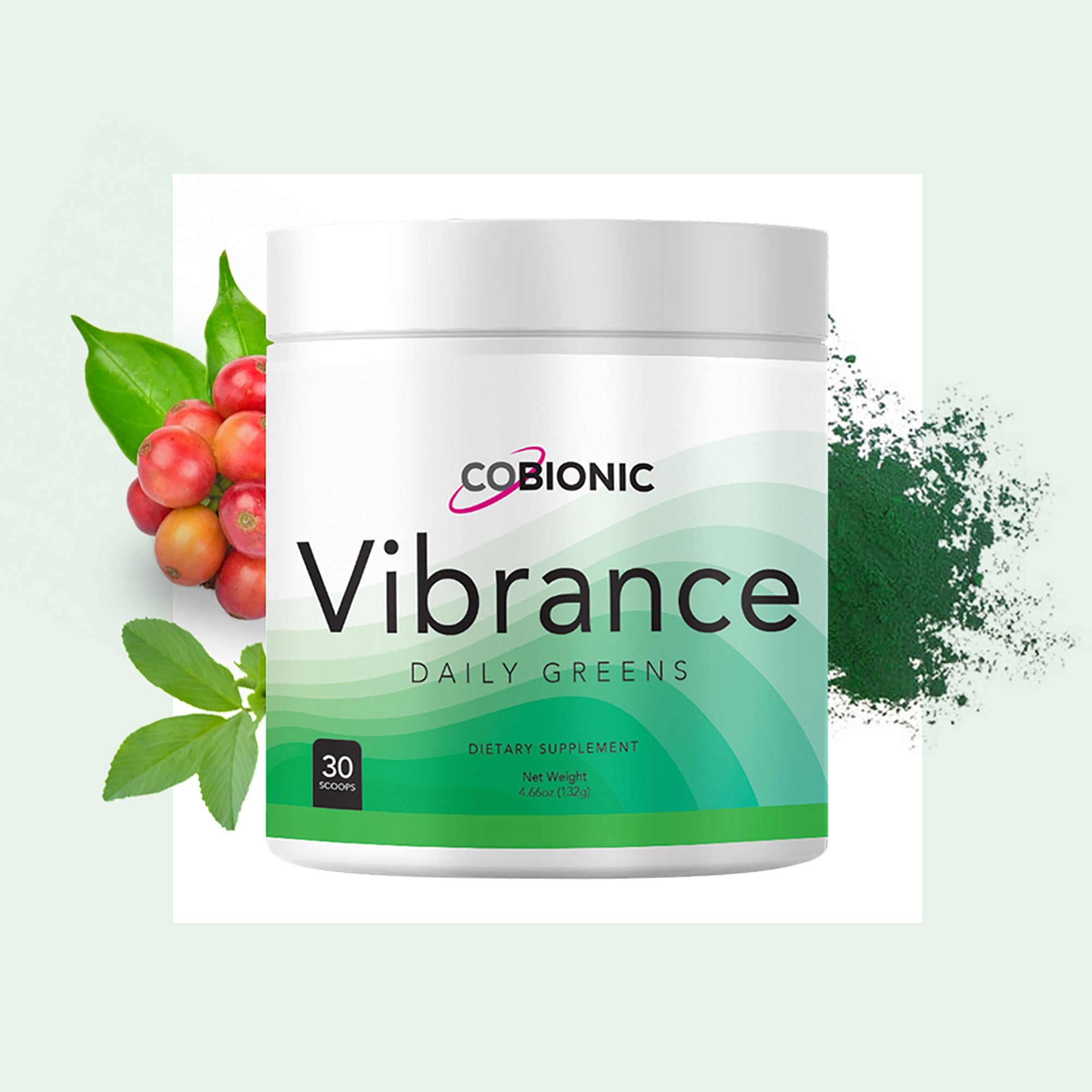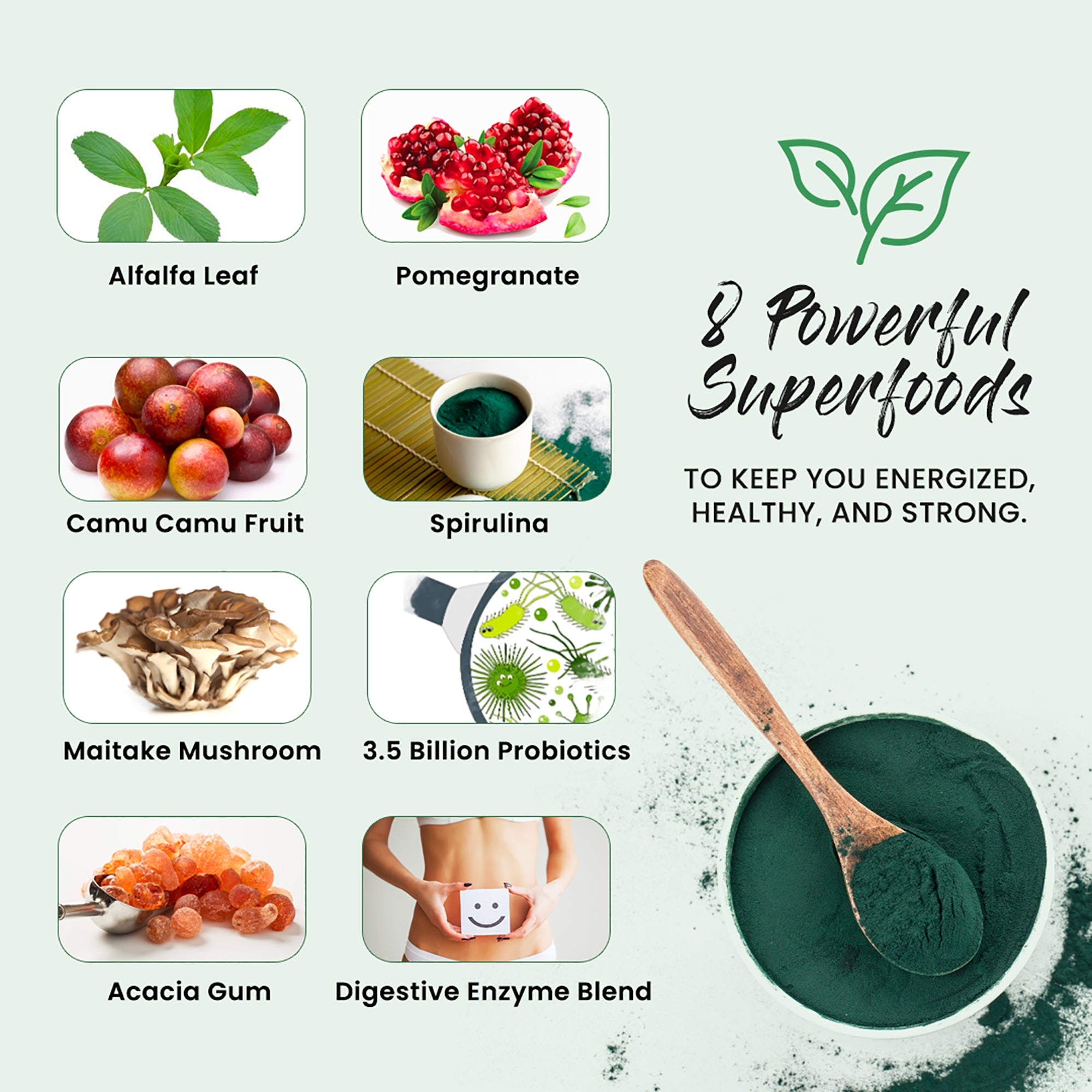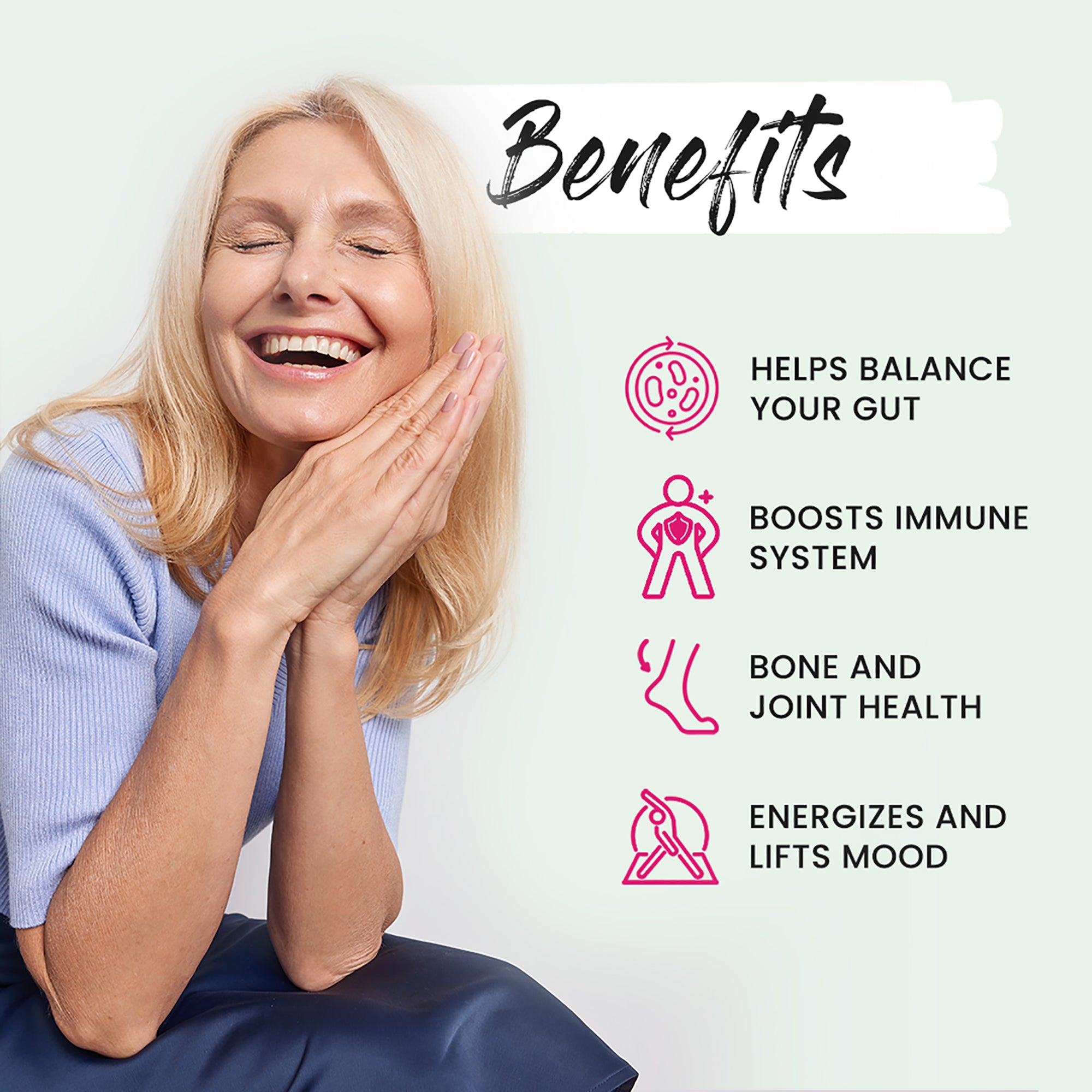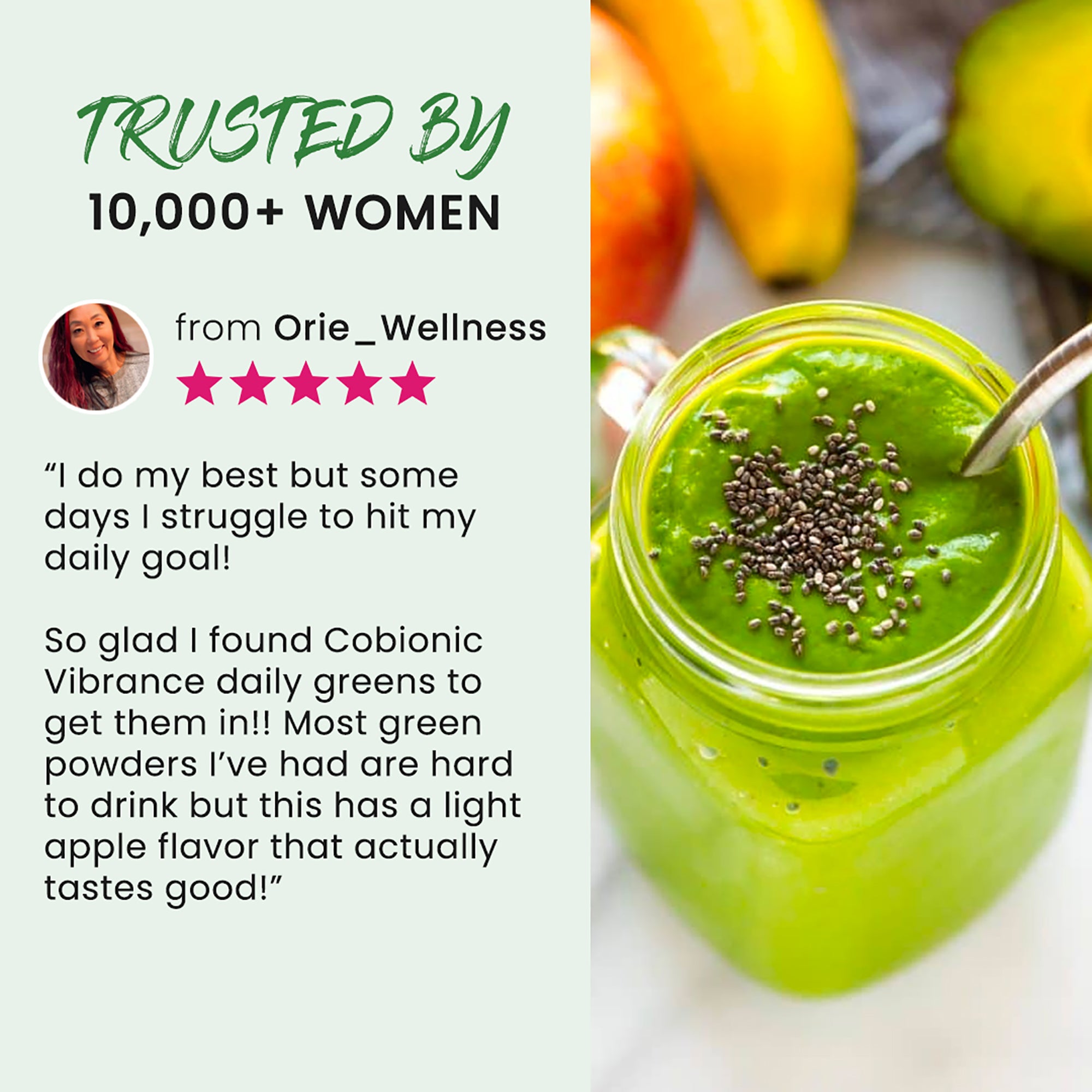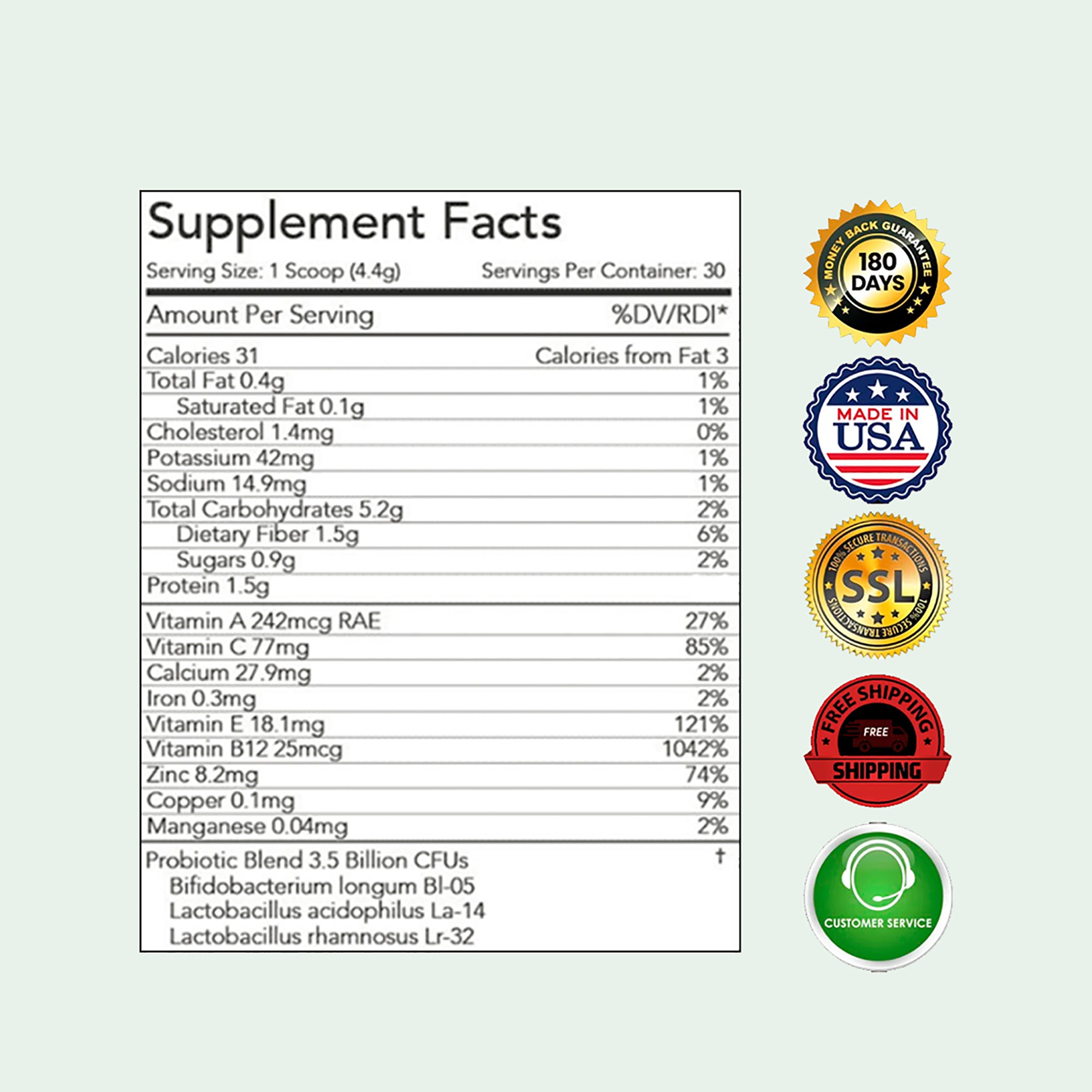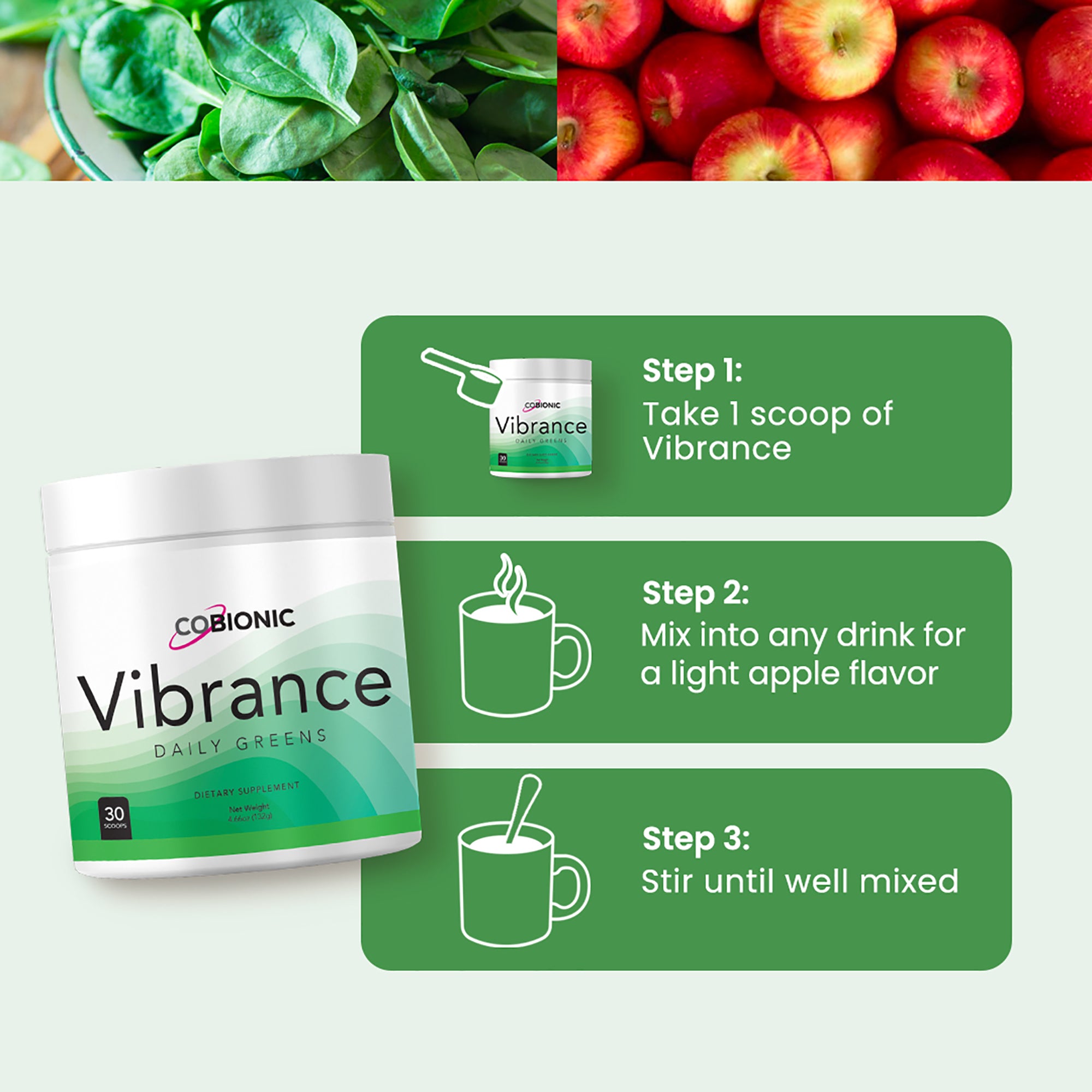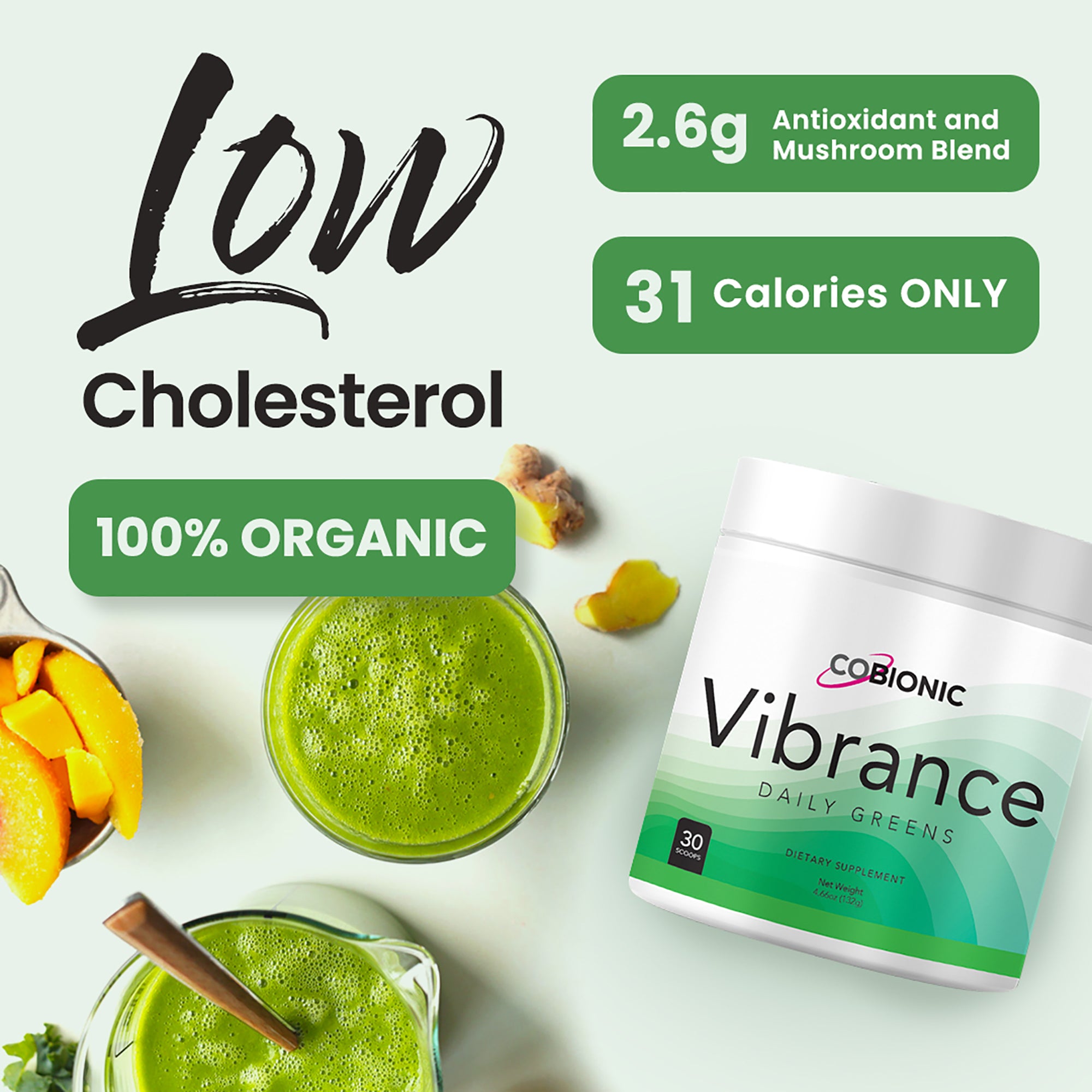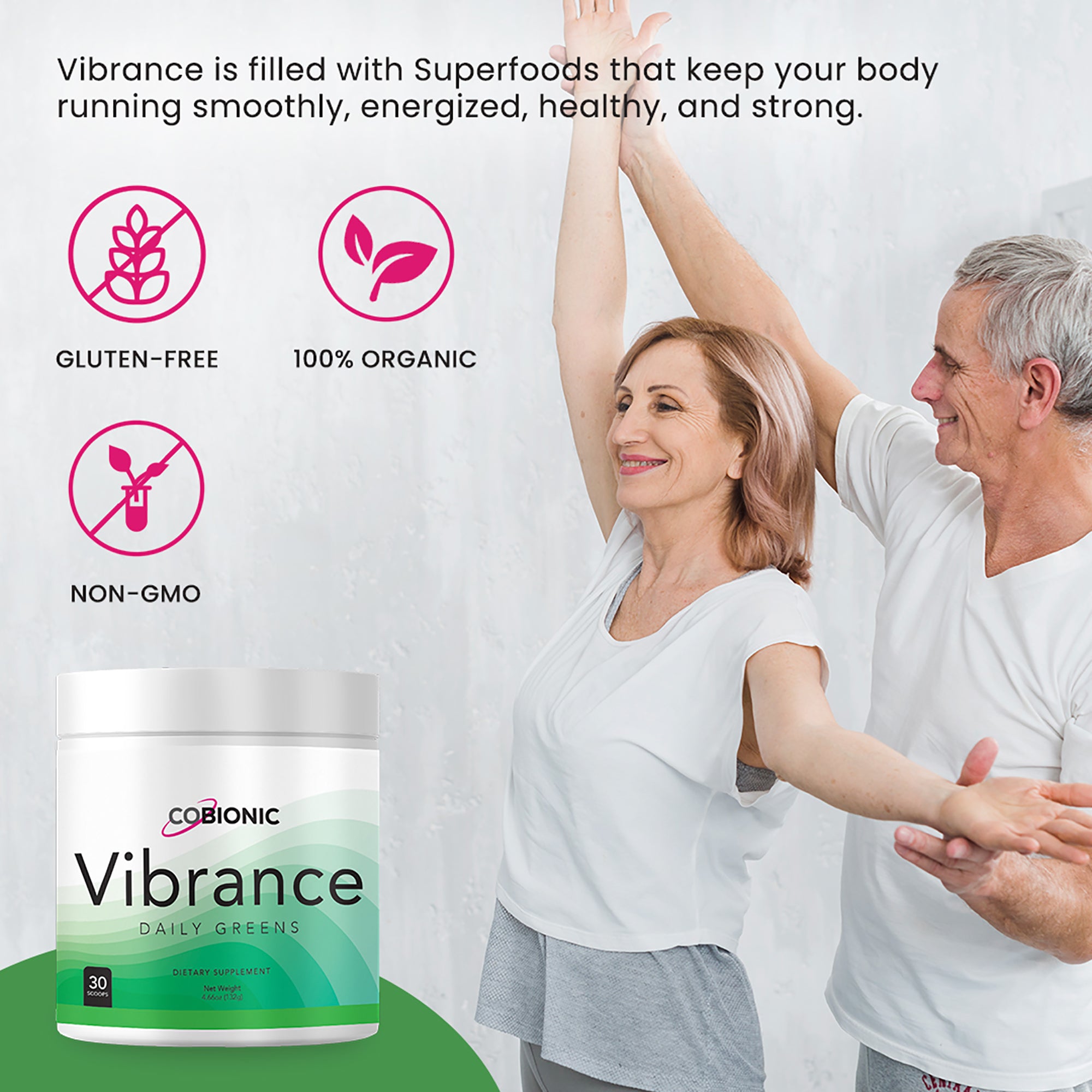 Vibrance Daily Greens
Organic, Vegan Superfood Mix of 50+ Fruits, Vegetables, Probiotics, Prebiotic Fiber, Herbs and Antioxidants. Vibrance Daily Greens is an "Insurance Policy" for Your Health.

Support bone, joint and heart health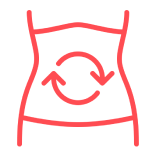 Improve digestion
Increases energy levels & lifts your mood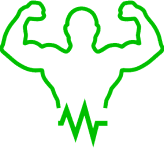 Boost & strengthen the immune system
Stay Energized, Support Your Immune System, & Fight Inflammation
50+ Superfood Veggies, Fruits, Herbs, & Antioxidants for Total Health: Vibrance is filled with Superfoods that keep your body running smoothly, so even when the rest of your life isn't perfect, Vibrance is designed to keep you energized, healthy, and strong.
Unique Probiotics, Enzymes, & Prebiotics for Increased Absorption and Better Gut Health: Vibrance is packed with over 3.5 billion probiotics, as well as enzymes and prebiotic fibers to help heal your gut, improve your digestion, and ensure that you absorb all the nutrients packed into Vibrance.
Delicious Flavor & Super-Easy To Mix: Our entire philosophy at CoBionic is to create foods and food supplements you'll LOVE, since you should enjoy getting healthy - not just bear it.Vibrance is simple to mix into any drink, and it has a light apple flavor more like a refreshing juice than a greens powder.
100% Organic, Vegan, Non-GMO, Gluten Free, Dairy Free, and Kosher: Vibrance is completely all-natural with no added fillers, chemicals, or junk. There are no inflammatory ingredients or allergens, making it ideal for anyone on a strict diet or who cares about what they're putting into their body.
Here Are Just a Few of the 50+ Superfoods You'll Find in Vibrance...
Alfalfa Leaf
Studies have confirmed that the antioxidant properties of Alfalfa Leaf can reduce cell death and DNA damage caused by free radicals.
It's also been shown to help lower blood sugar and cholesterol levels, and improving overall metabolic health.
Maitake Mushroom
This medicinal mushroom helps regulate systems of the body that have become unbalanced, making it a powerful ingredient for detoxing.
Studies also show it has strong potential for fighting tumors and high cholesterol.
Camu Camu Fruit
Native to the Amazon rainforest, many people consider Camu Camu to be a miracle fruit.
It has high levels of a compound called anthocyanins, which are powerful antioxidants as well as offering anti-inflammatory, anti-viral, and anti-tumor benefits.
Acacia Gum
Made from the sap of the acacia tree, this has been used by civilizations for thousands of years for its health benefits.
Acacia Gum is scientifically proven to help with weight loss, digestive health, and strengthening the immune system.
Spirulina
This nutrient-packed algae was popular with the ancient Aztecs for its health benefits.
High in protein and essential vitamins, Spirulina is a powerful anti-inflammatory, lowers cholesterol, and may also protect against cancer.
Pomegranate
This wonder fruit has been used for thousands of years for medicinal purposes.
With three times the antioxidant power of red wine or green tea, Pomegranate is great for detoxing, lowers inflammation, and may help fight joint pain, heart disease, and cancer.
3.5 Billion Probiotics
Vibrance is a probiotic blend with 3.5 Billion CFUs. These live microorganisms help balance your gut and boost your immune system.
Research shows probiotics can help with skin issues, digestion problems, and can also prevent traveler's diarrhea.
Digestive Enzyme Blend
The digestive enzymes in Vibrance can help if you're hoping to lose weight, or if you suffer from IBS.
Digestive enzymes help your body digest food particles better, and may help manage inflammation.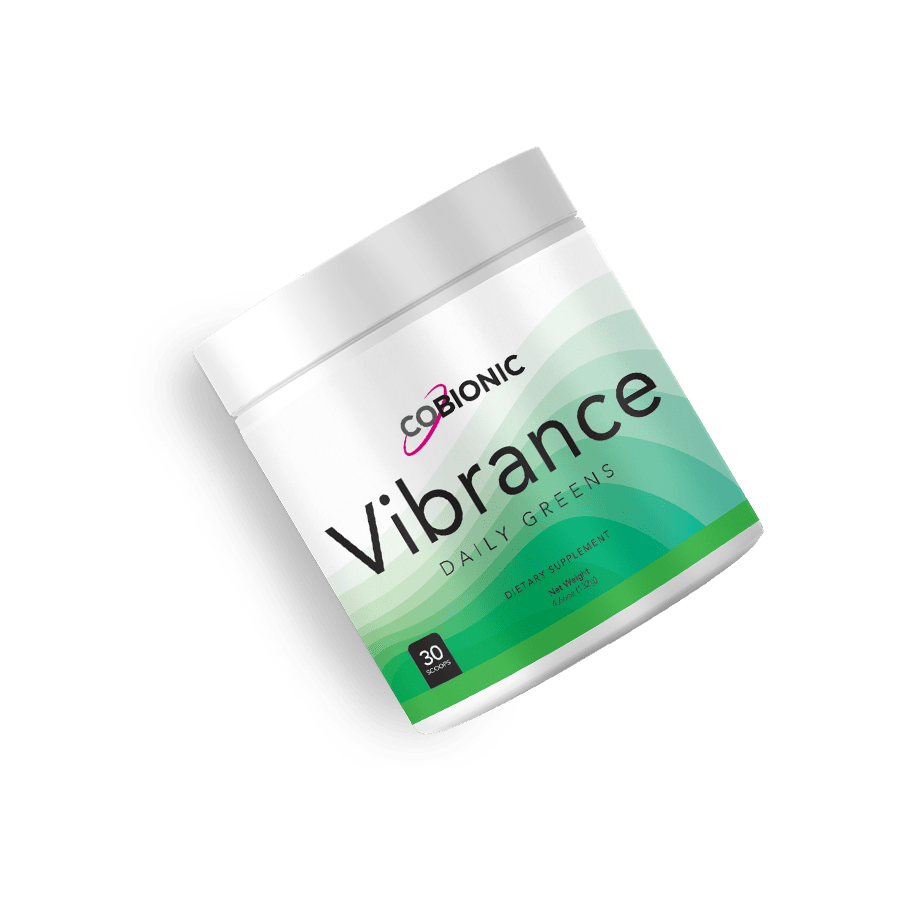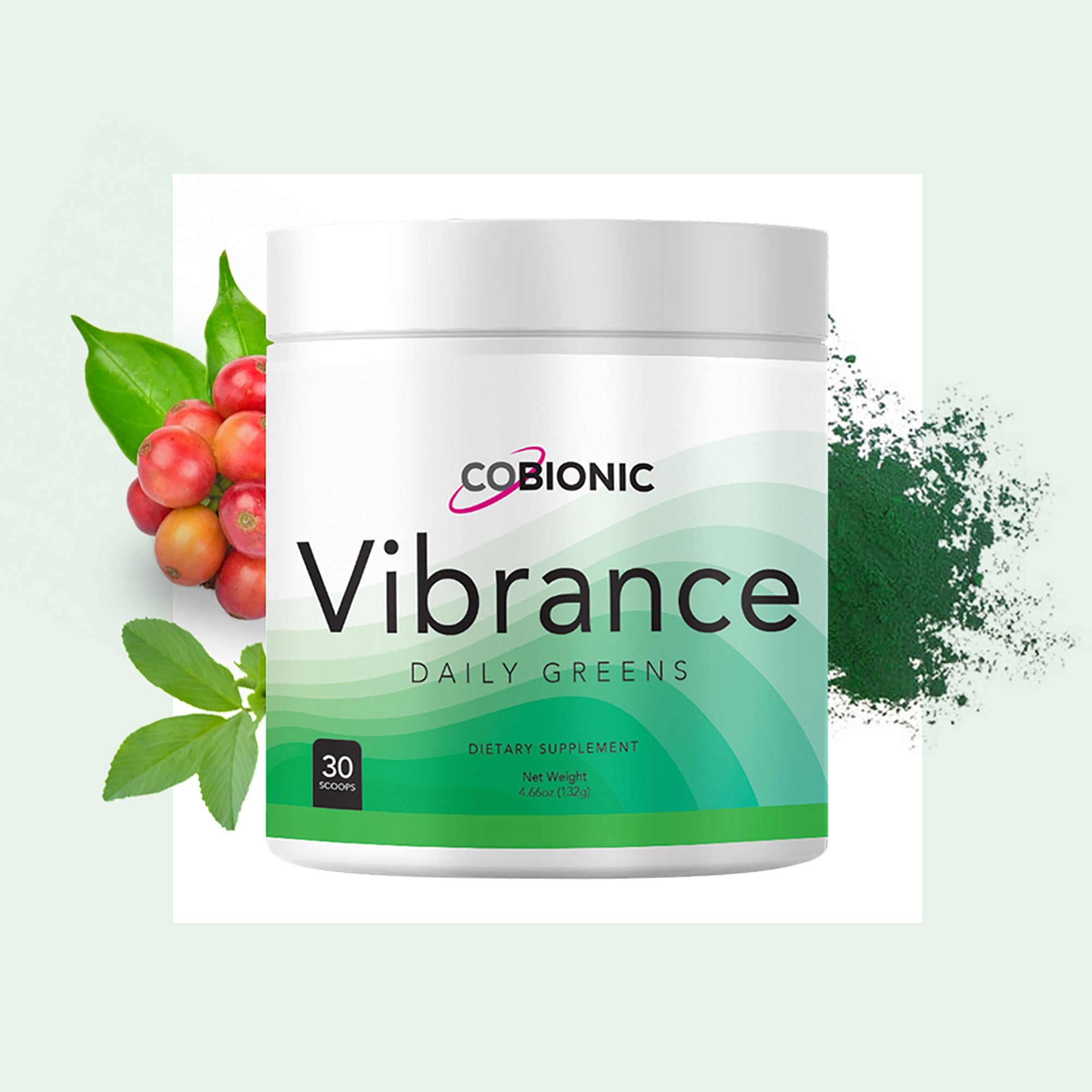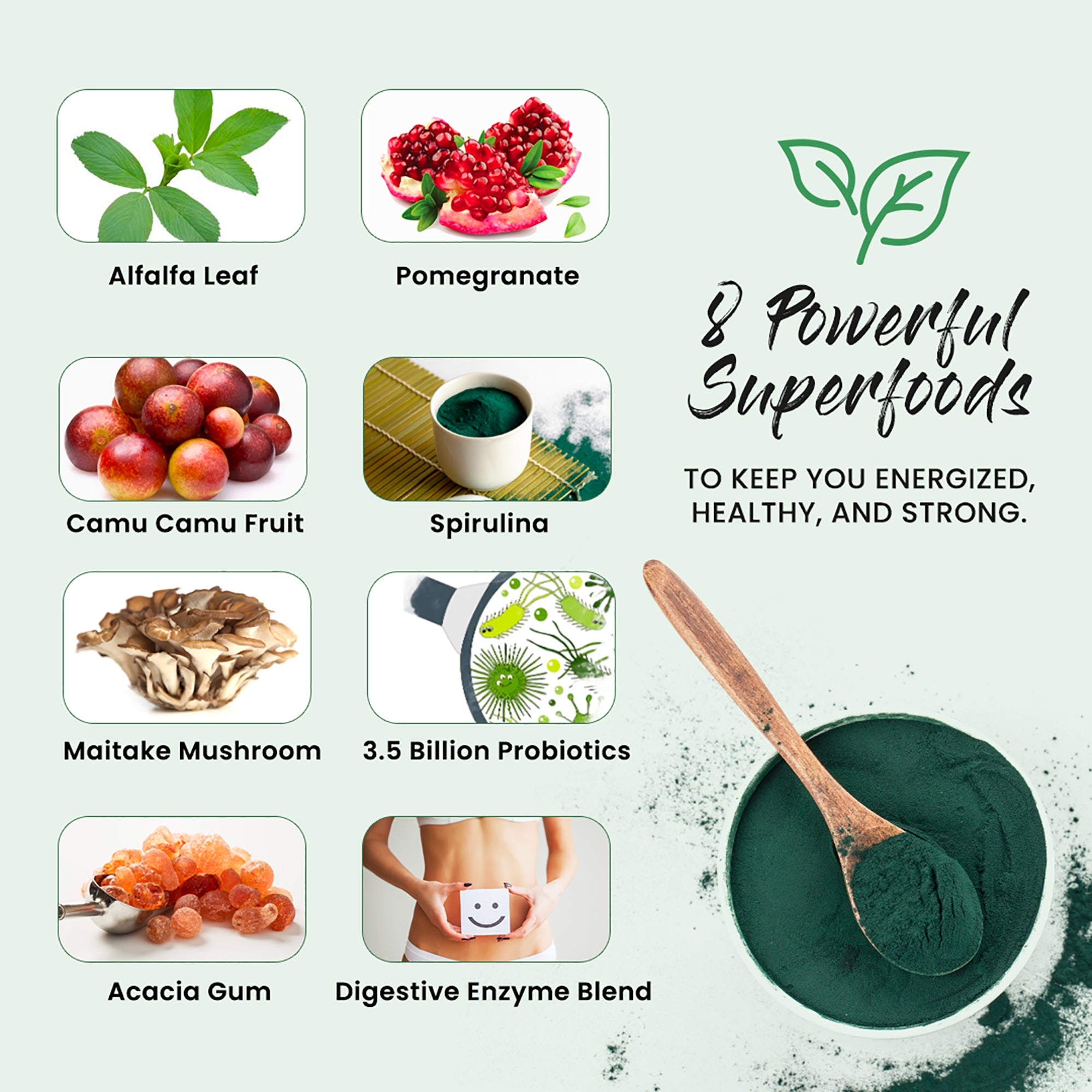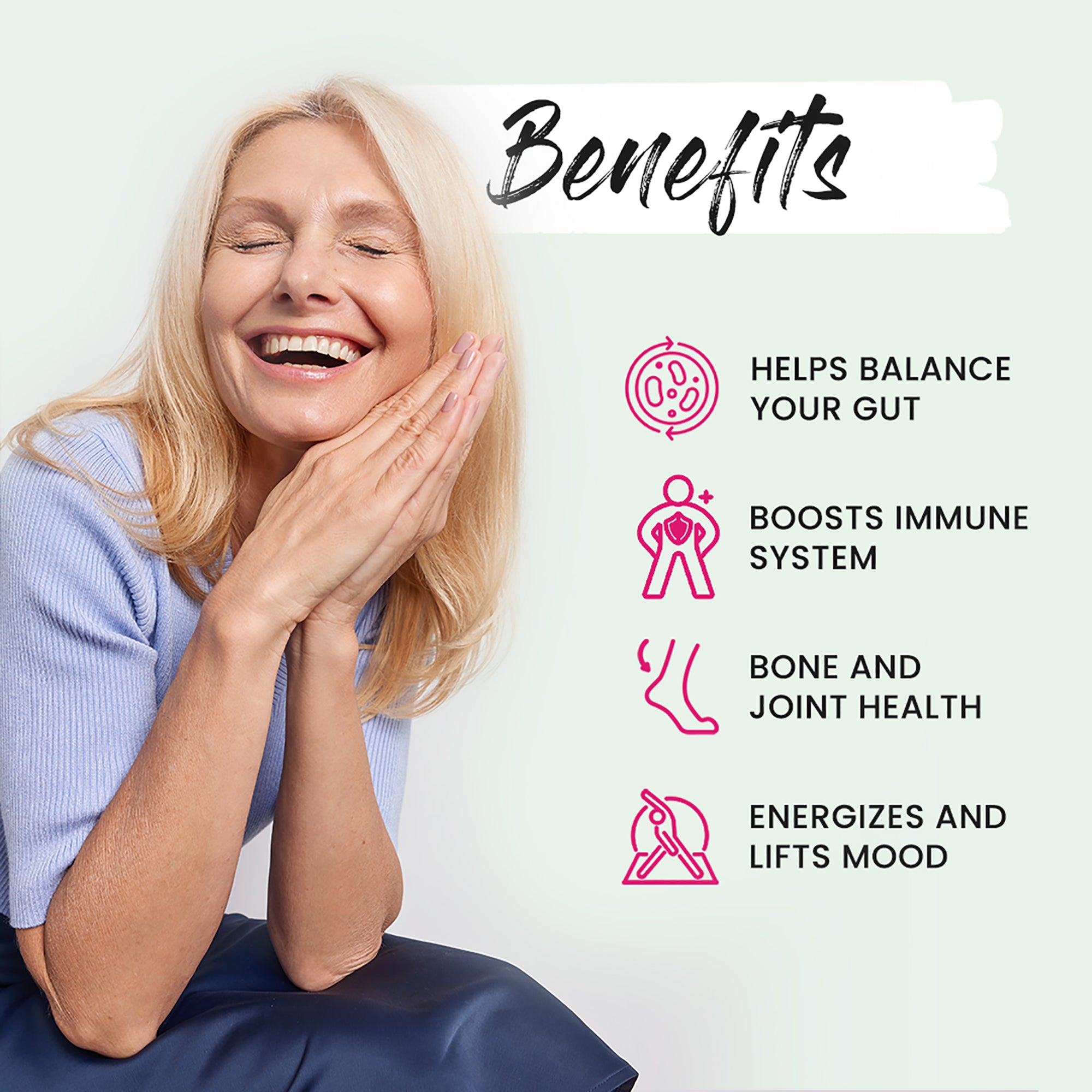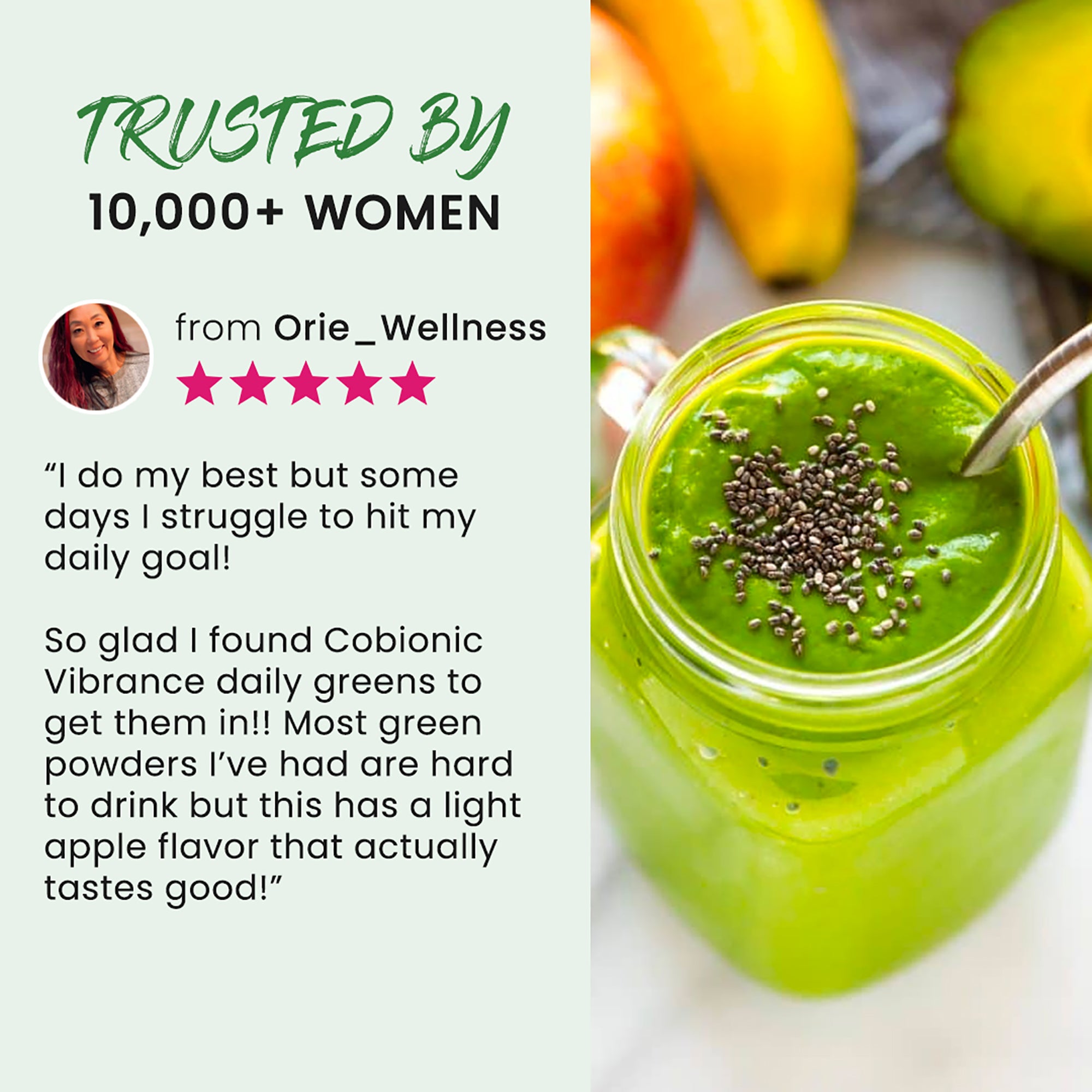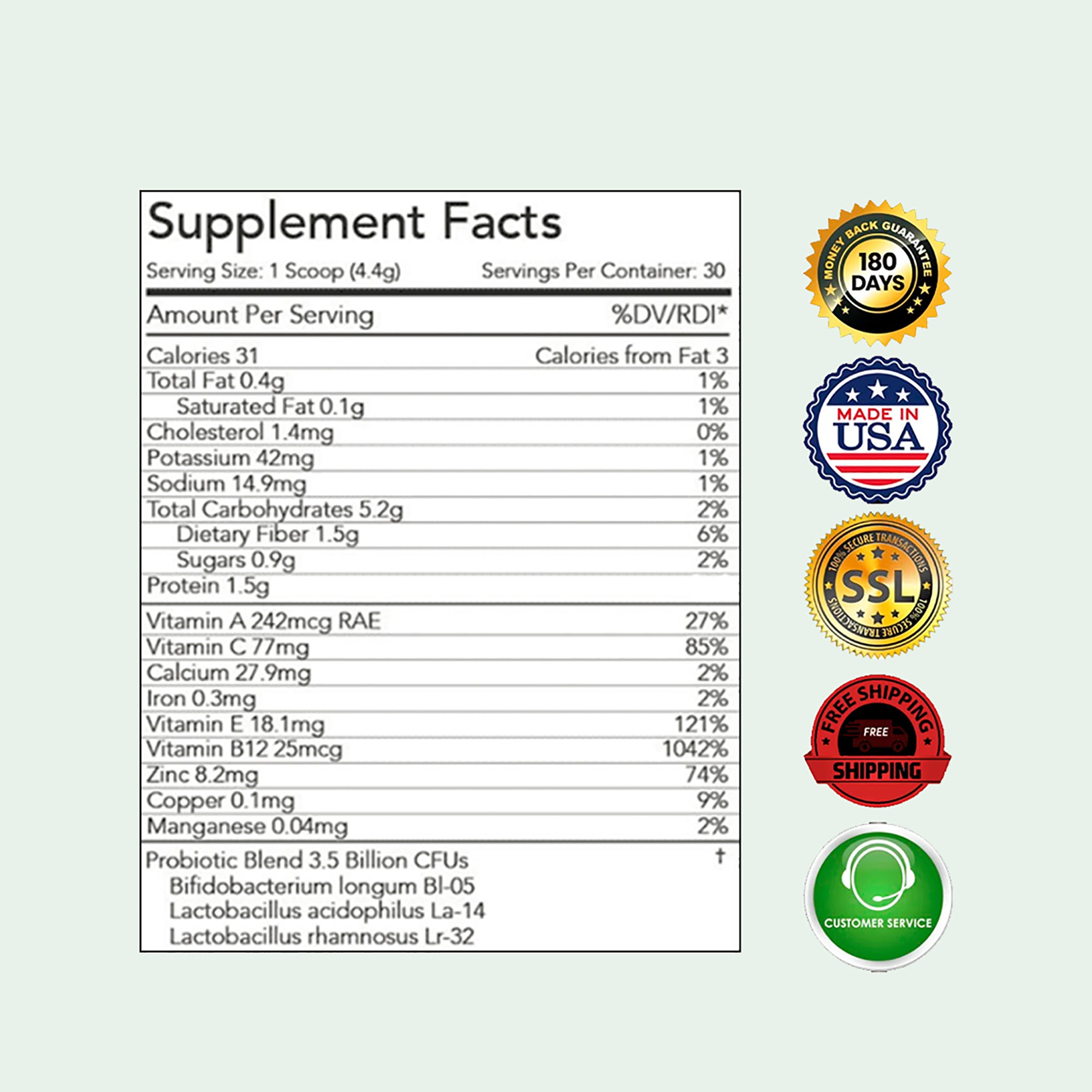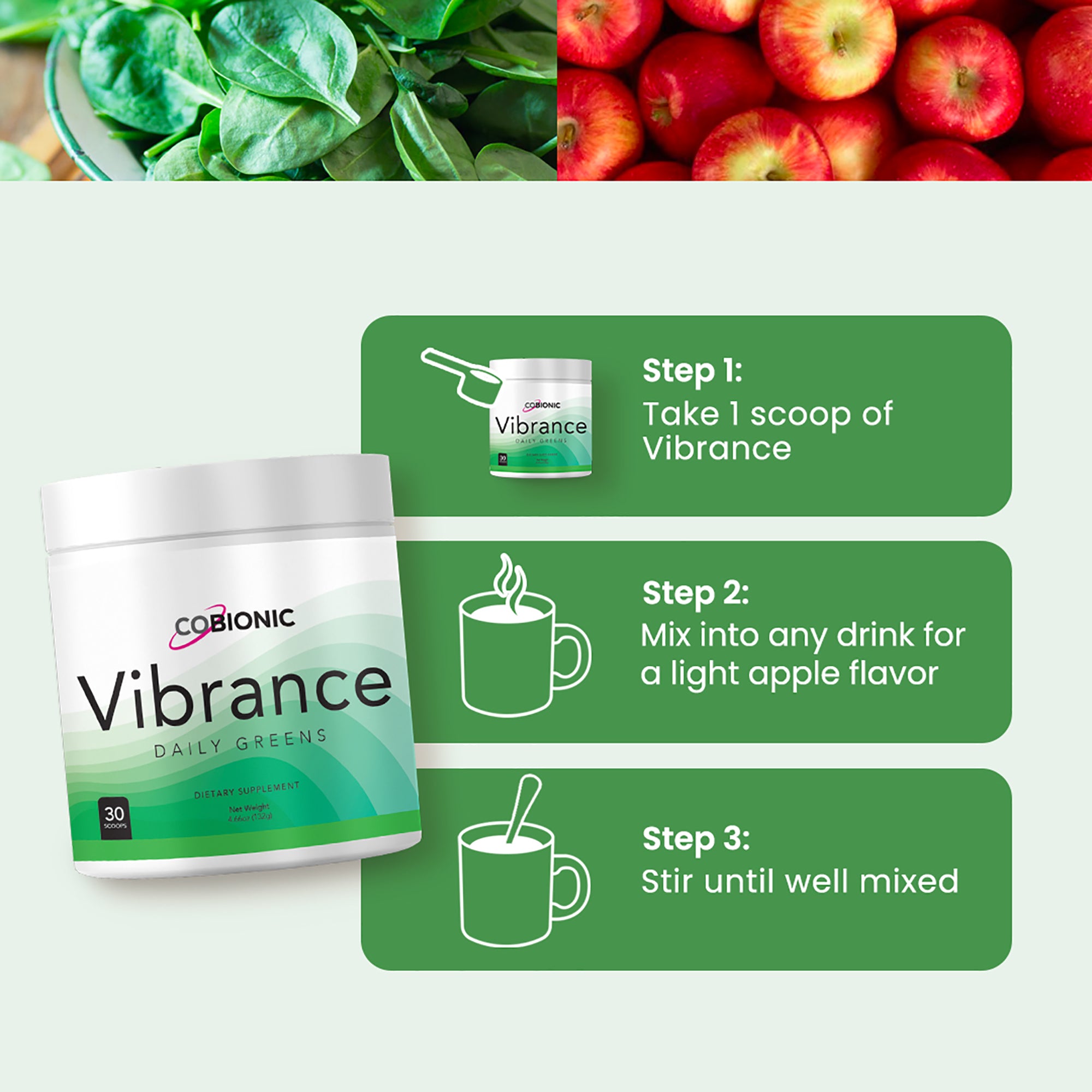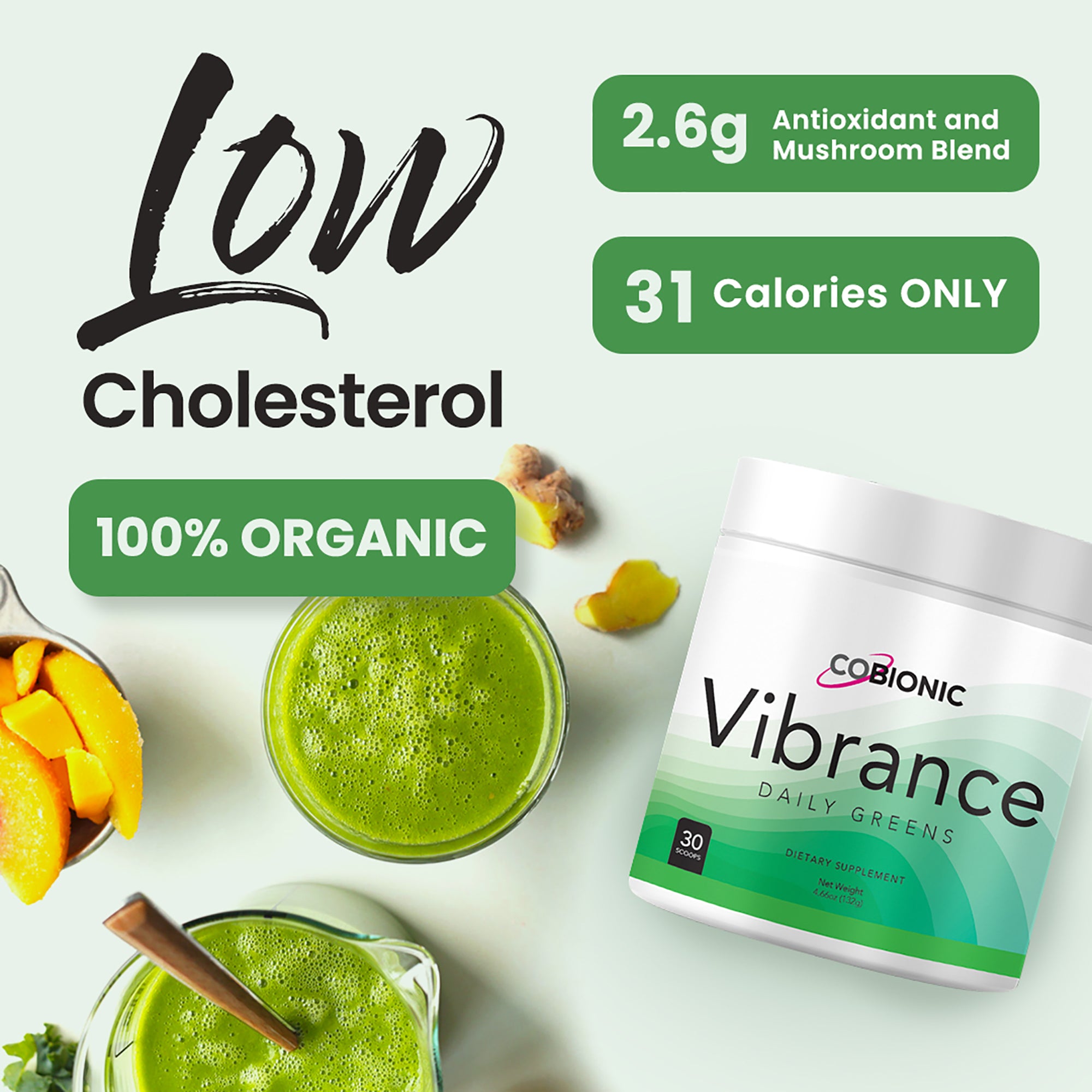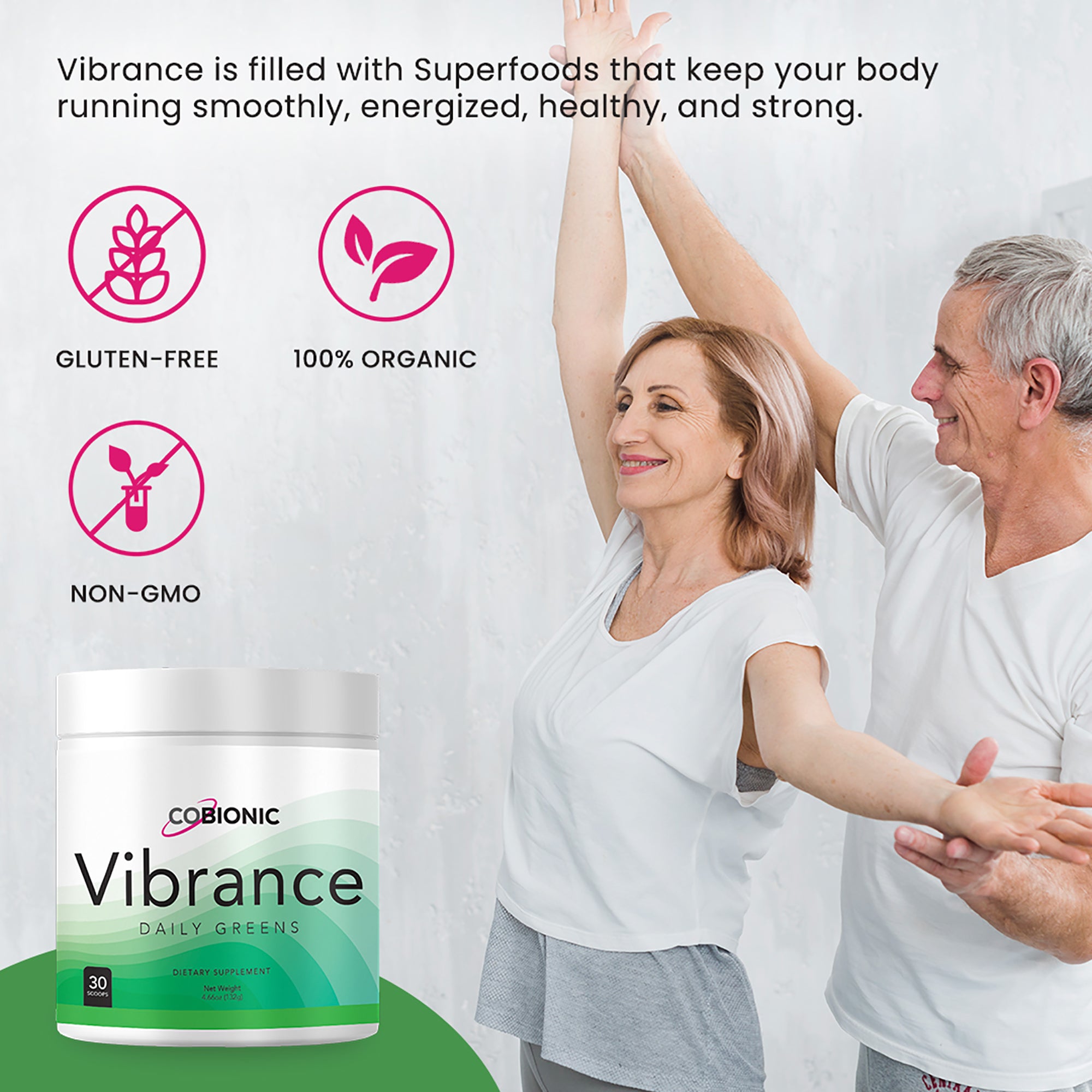 Vibrance Daily Greens
Free Shipping within the US
Organic, Vegan Superfood Mix of 50+ Fruits, Vegetables, Probiotics, Prebiotic Fiber, Herbs and Antioxidants. Vibrance Daily Greens is an "Insurance Policy" for Your Health.
Serving Size: 1 Scoop (4.4g)
Servings Per Container: 30
Common Questions
If you want a great way to detox your body and refill it with healthy natural nutrients, then you'll love Vibrance. Think of it as nature's multivitamin.

This depends on your preference. We list 30 servings (scoops) per bottle, but some people take 2-3 scoops per day.

Yes to all of the above, and it's 100% natural as well without any artificial flavorings or additives!

At CoBionic, we value 2 things.

First, we are obsessed with making products that TASTE amazing, because if you don't enjoy our products, then you'll stop using them, and they can't help you.

Second, all of our products contain only the simplest, most natural ingredients - NO JUNK - because we're very careful ourselves about what we put in our body.

Yes - all of our products are manufactured in and shipped from the USA.

Yes - our manufacturing facility thoroughly tests both ingredients and also the finished product.

This means that the product contains exactly what it says on the label and that we also test for traces of toxins like heavy metals.

Absolutely. We have a 180-day, 100% Satisfaction Guarantee.

So if you're not satisfied for ANY reason, just let us know within 180 days of ordering, and we'll refund 100% of your purchase.

We LOVE being helpful, but please understand that we can't answer medical questions. We're not doctors, and even if we were, we don't know your particular situation and history.

In general, before using any supplements, you should check with your doctor or other health professional.

Awesome. Just shoot us an email to support@cobionic.com, and we'll get back to you as quickly as possible.

Just remember - we're a small, family-run company, so it might take us 24 hours to get back to you, although we try to reply much more quickly.
3 Reasons You'll Love CoBionic
At CoBionic, there are 3 big reasons that people love our products...

Taste & Flavor. This is our #1 focus for every food and food supplement we produce. In the end, nothing else matters if you don't like something enough to keep taking it. Also, we just think life should be fun and have a little more flavor.

Simple, Quality Ingredients. Every company says that their ingredients are the best, so it can be hard to tell the difference sometimes. That's why we limit all of our products to just the simplest, most natural ingredients - things you can understand and believe in.

Family-Owned and Operated. We view you as part of our family, and we don't want you eating anything that we wouldn't put into our own bodies. So we focus on both incredible quality and incredible customer service.