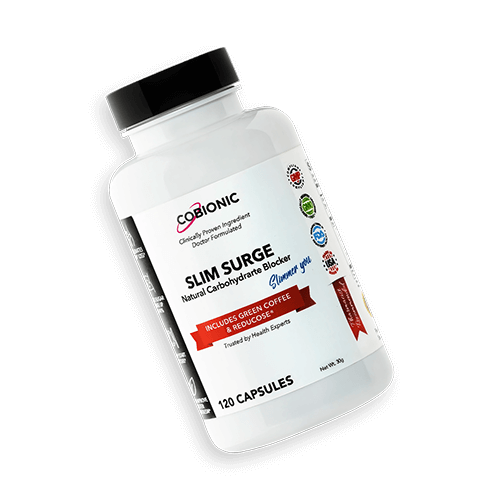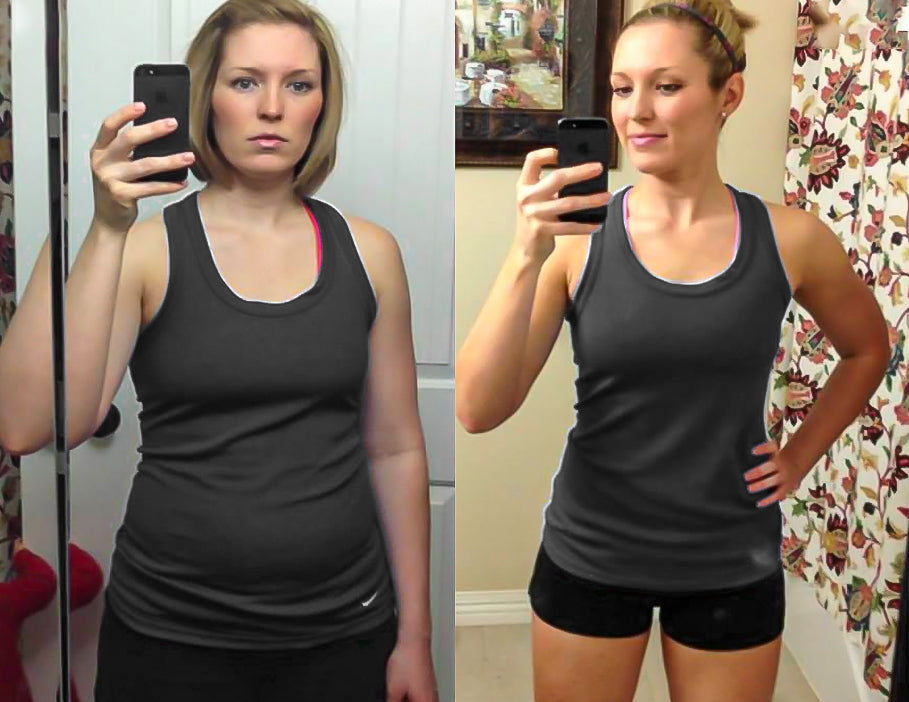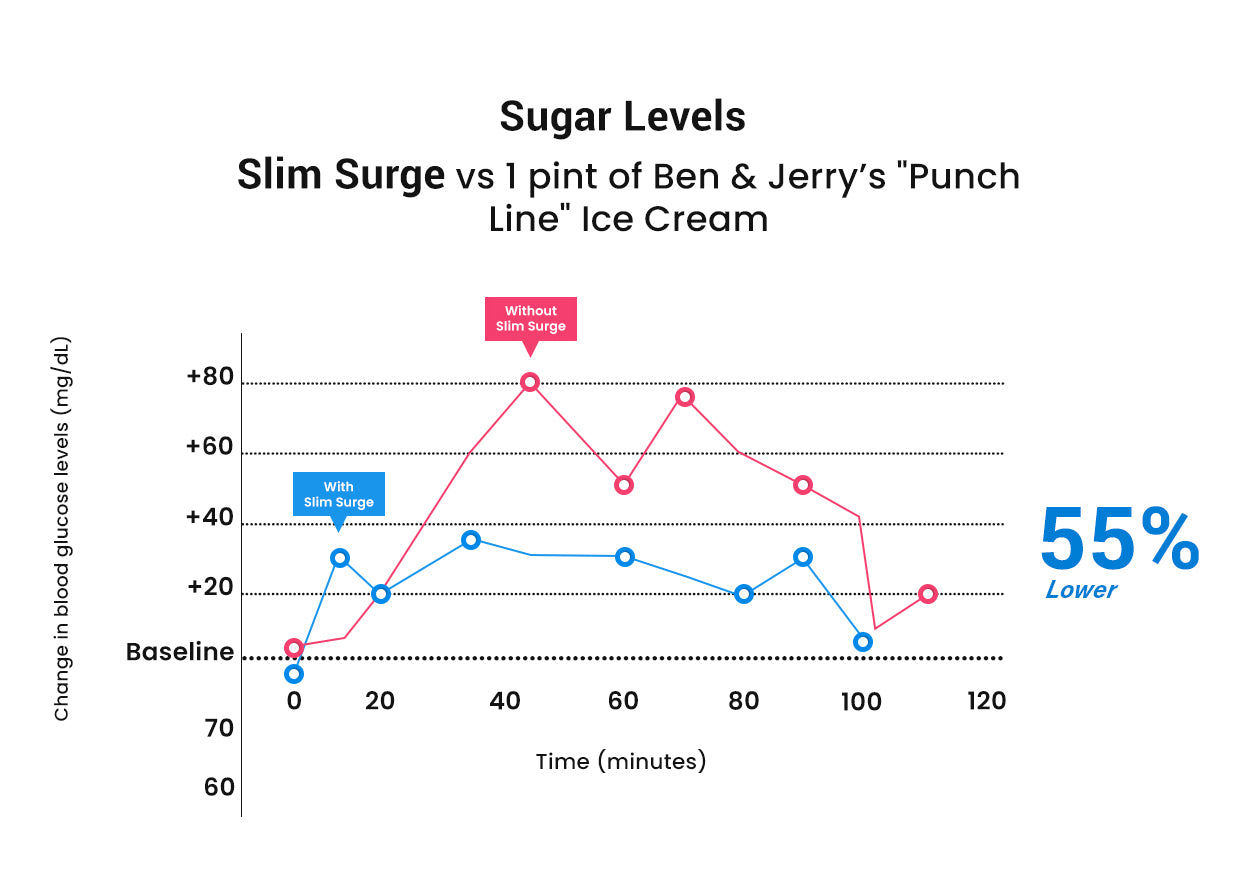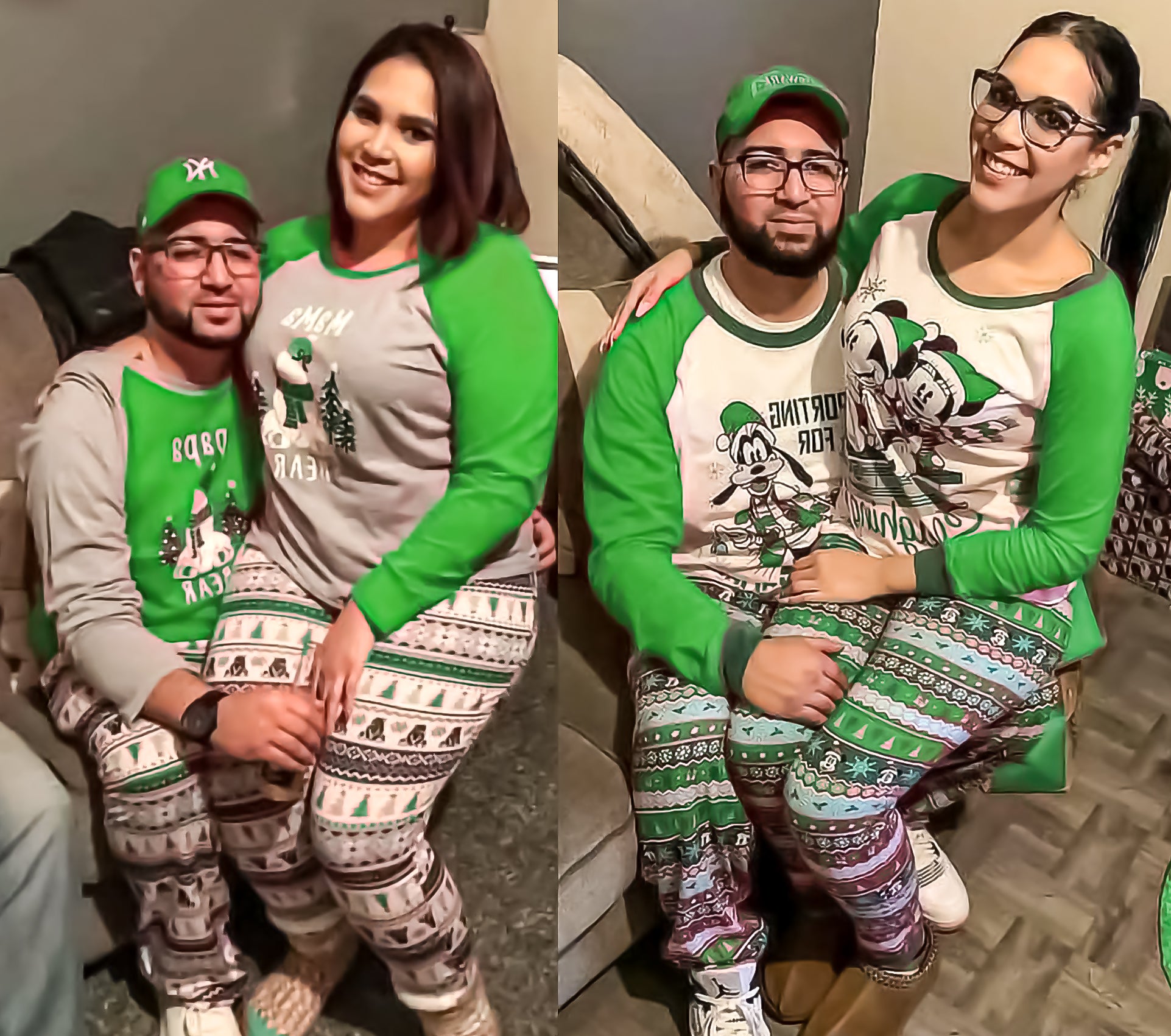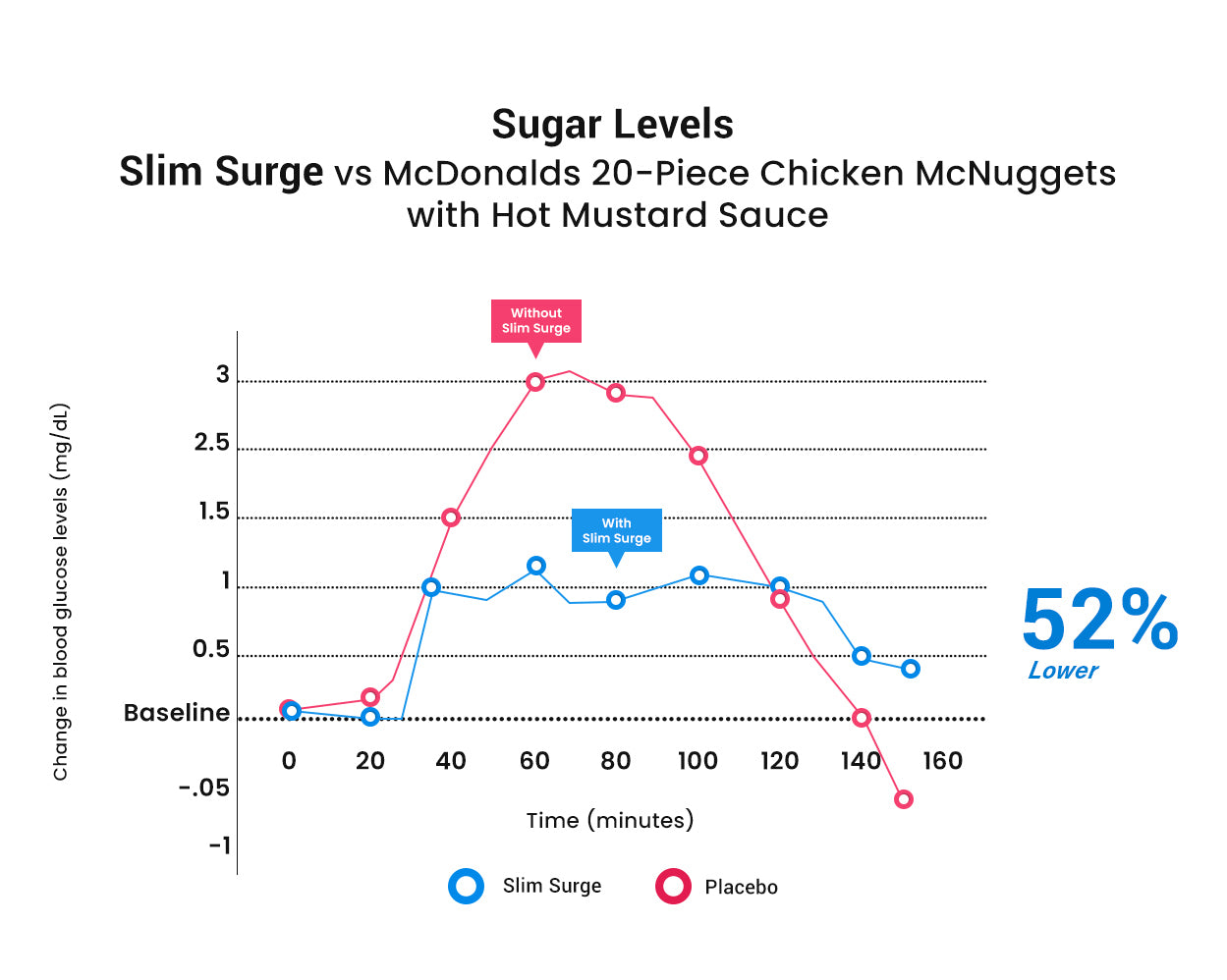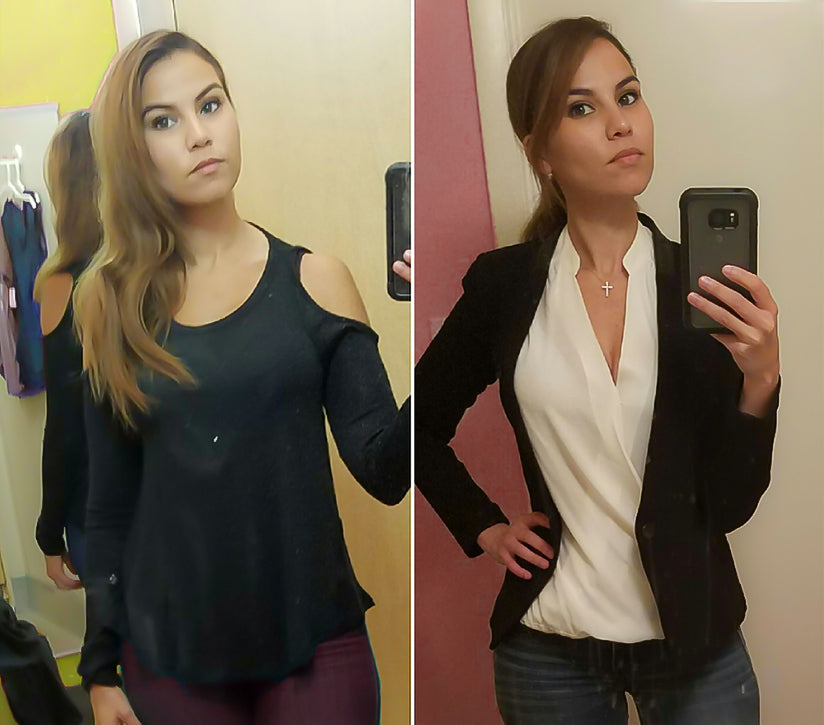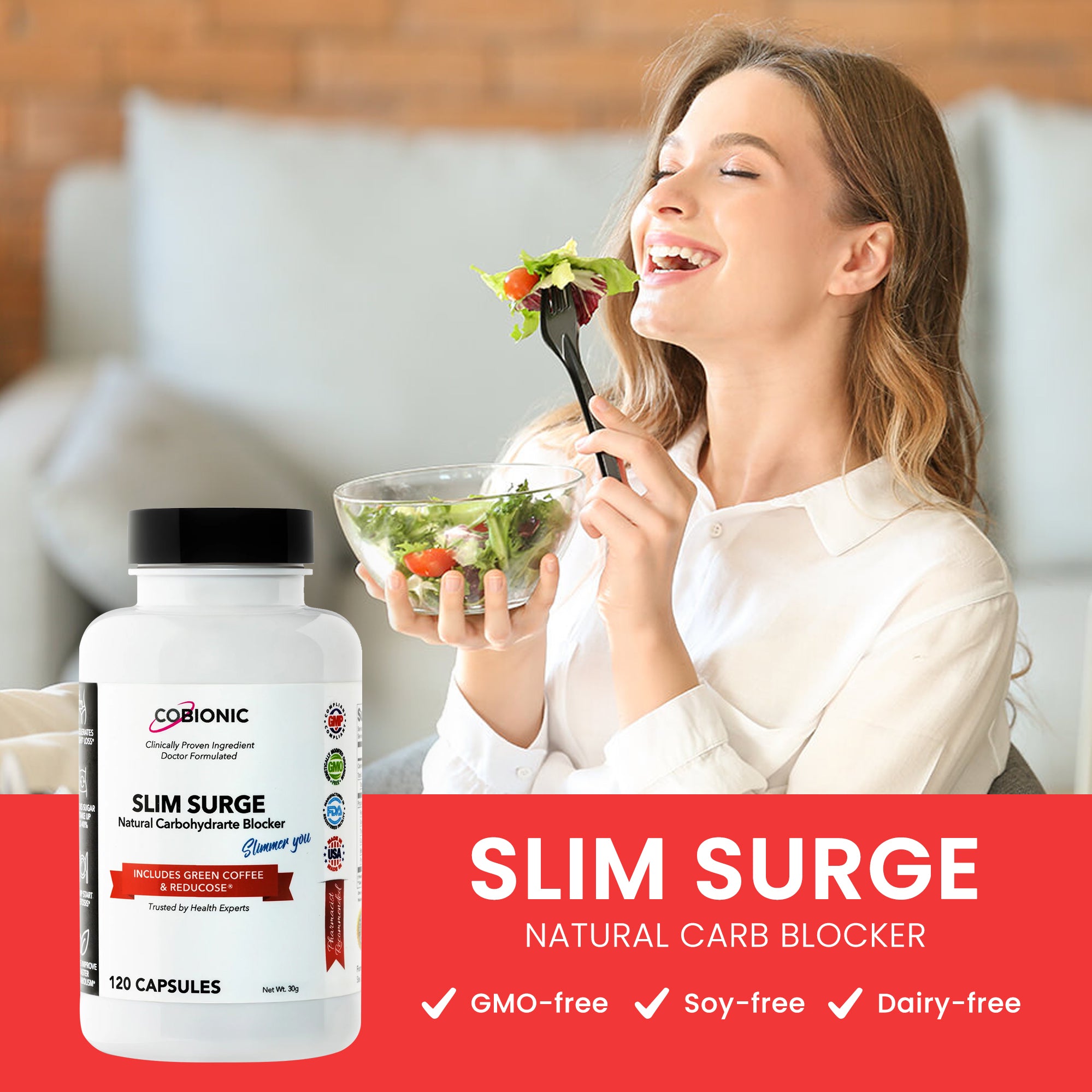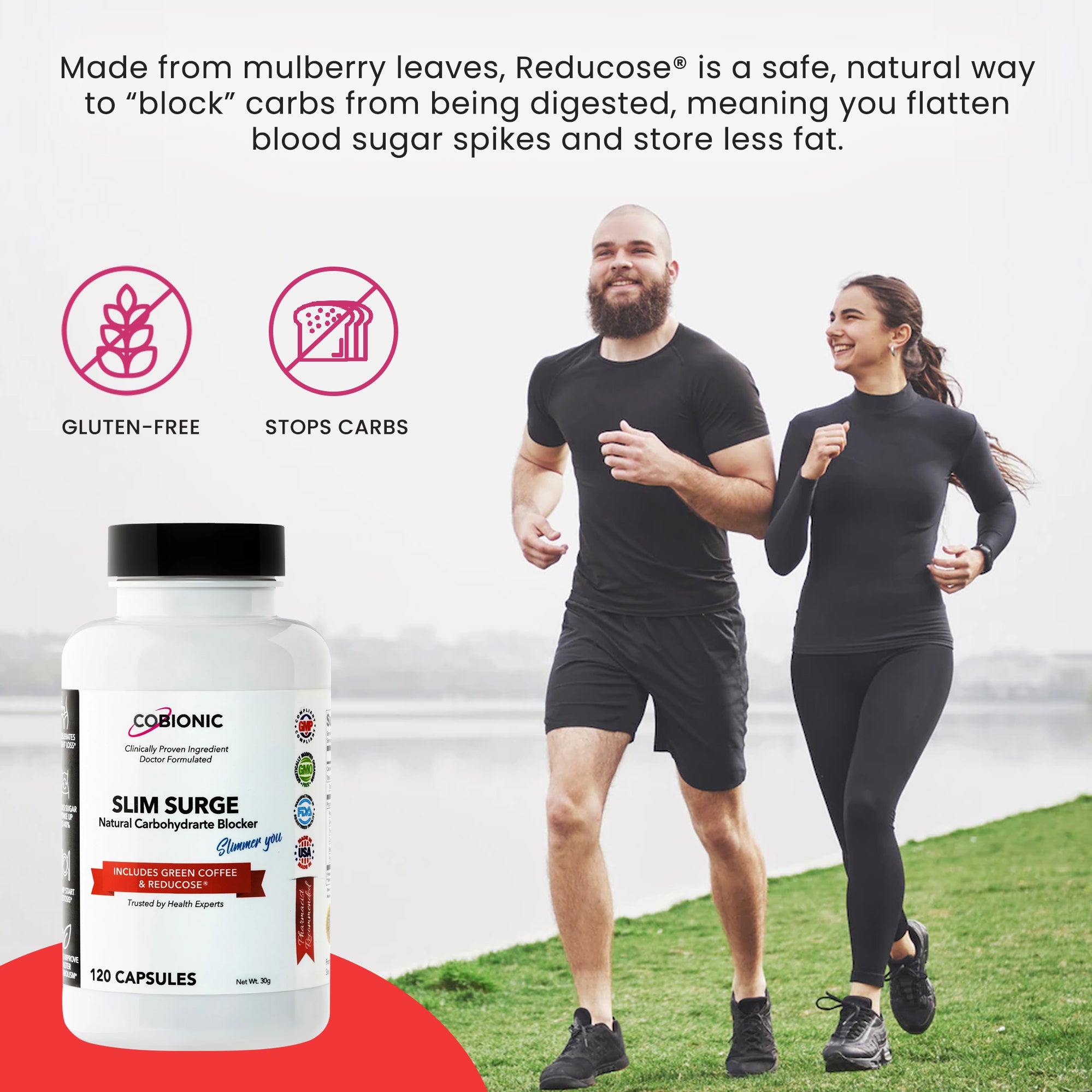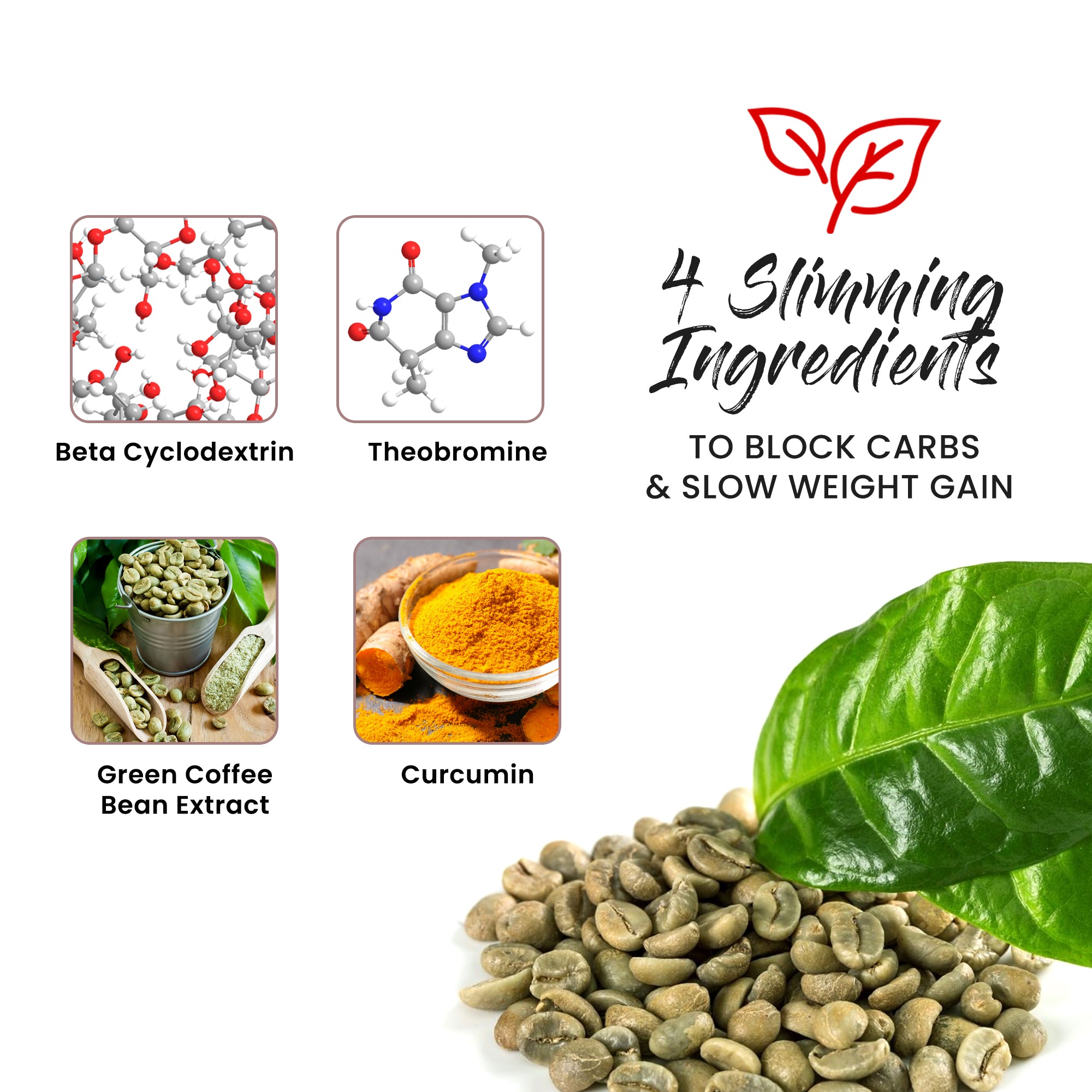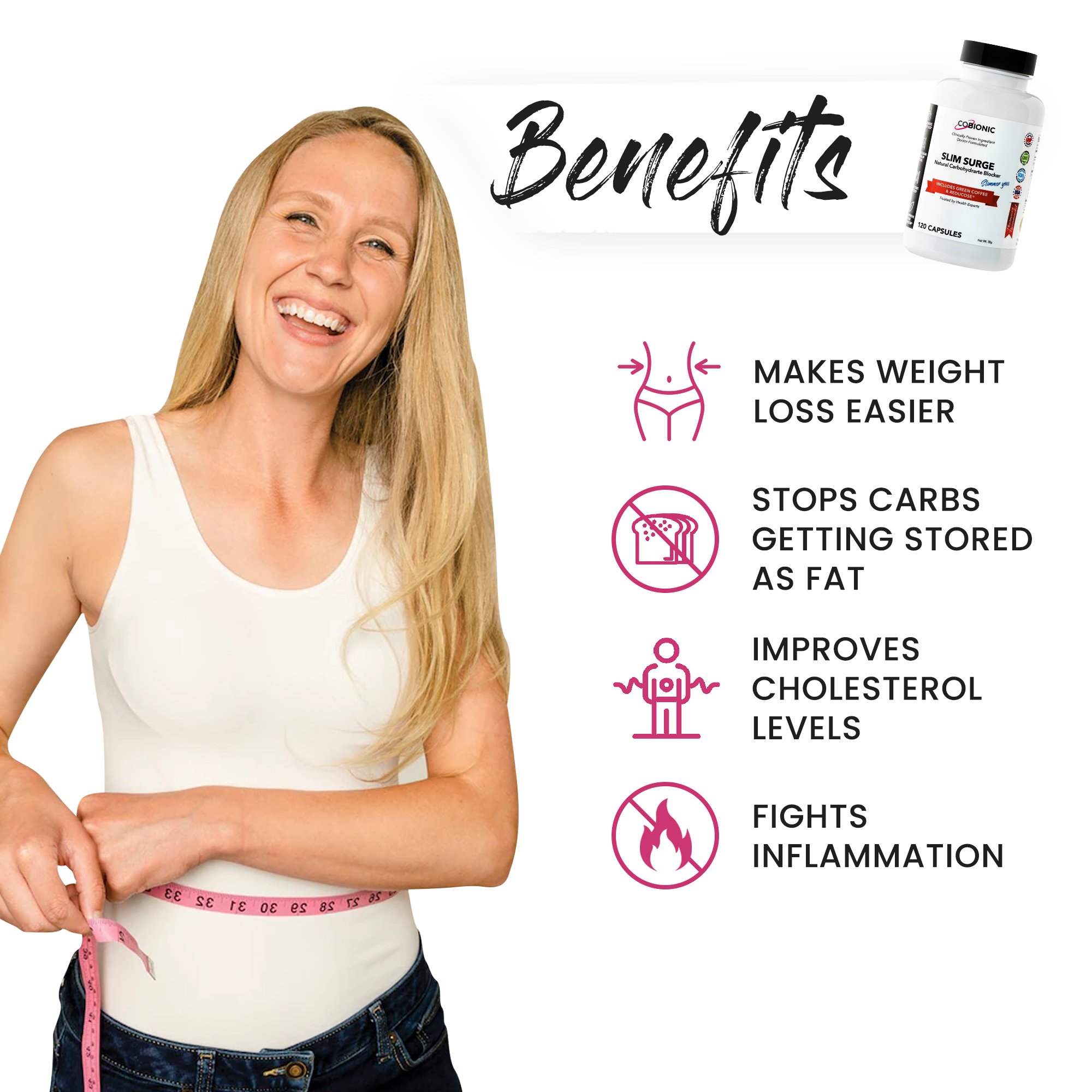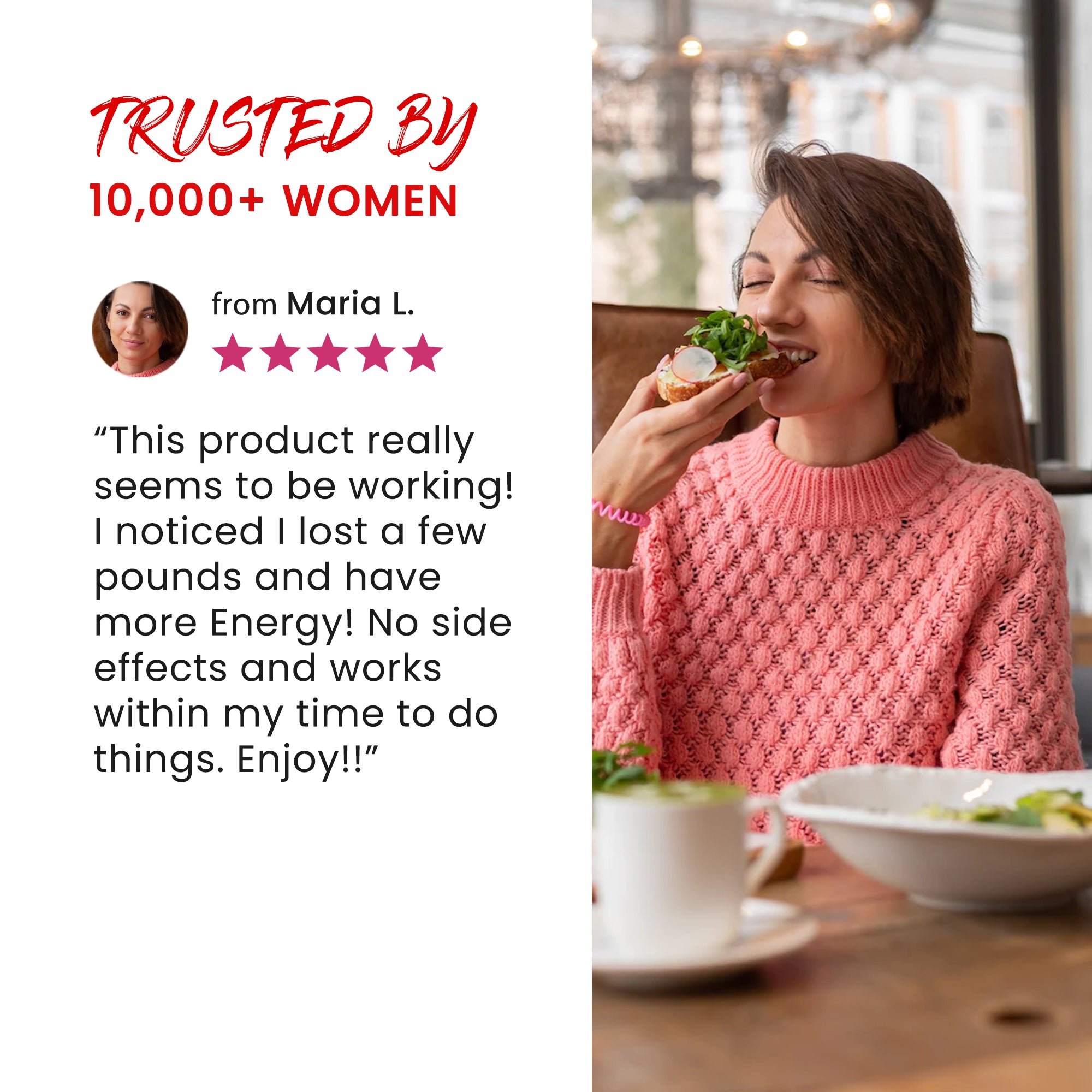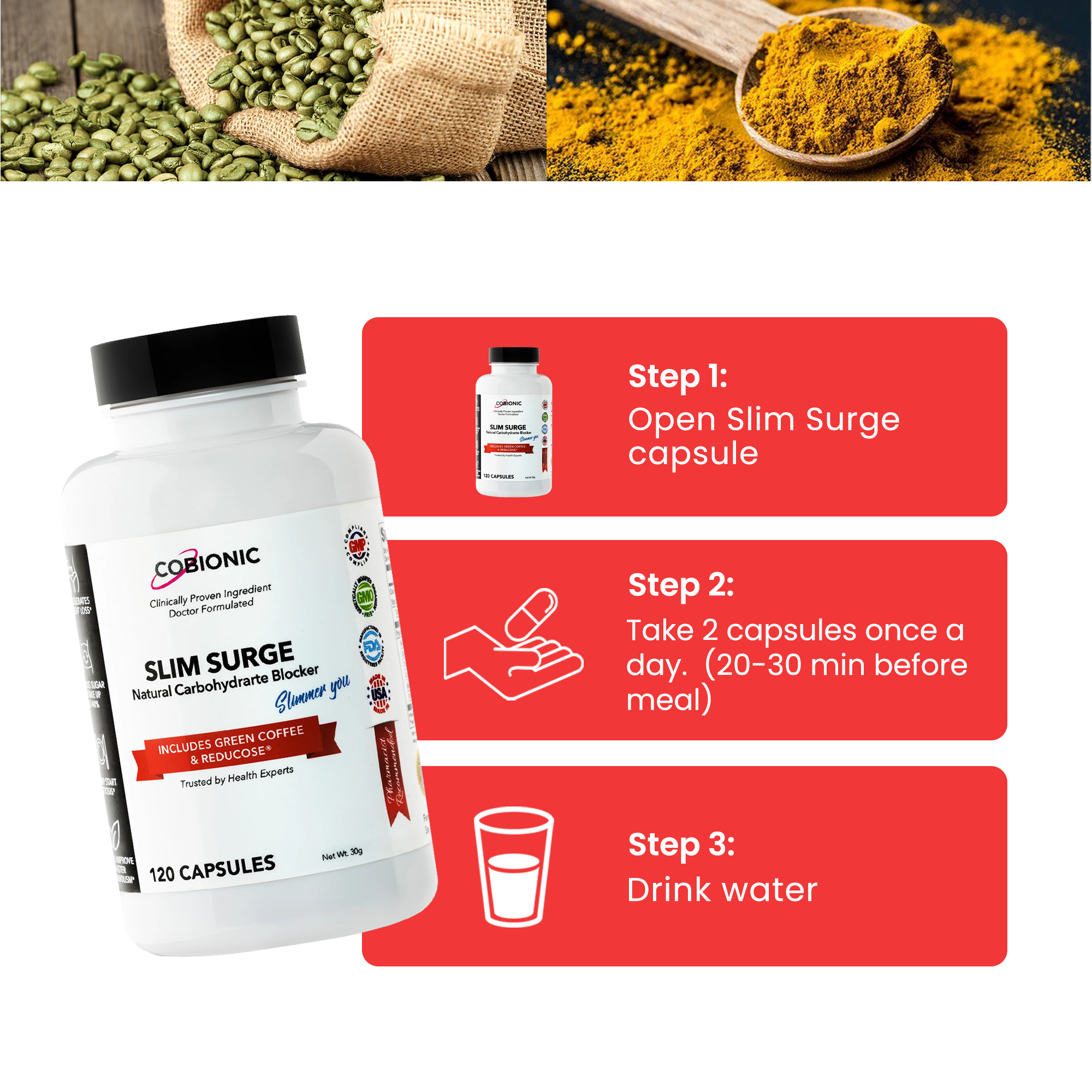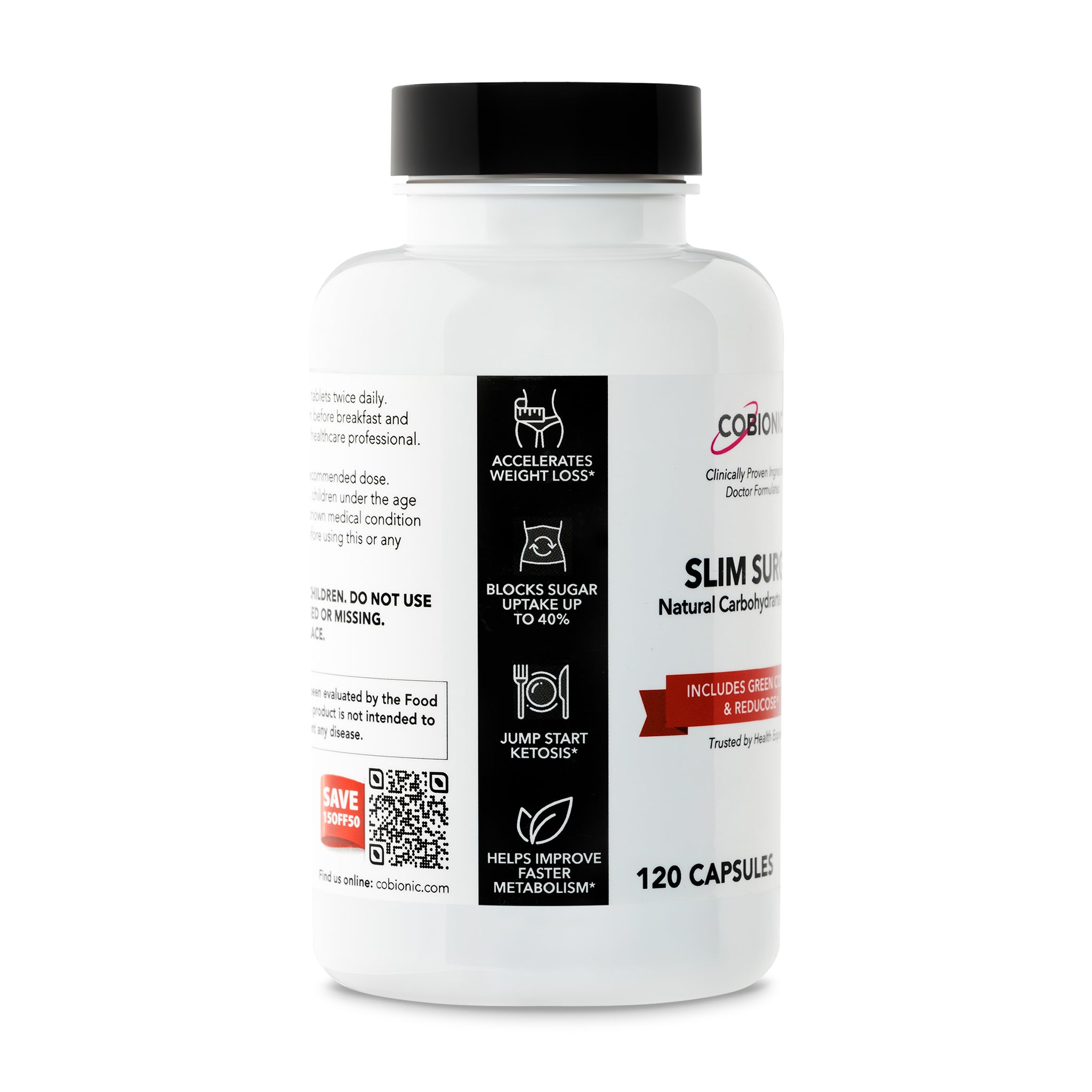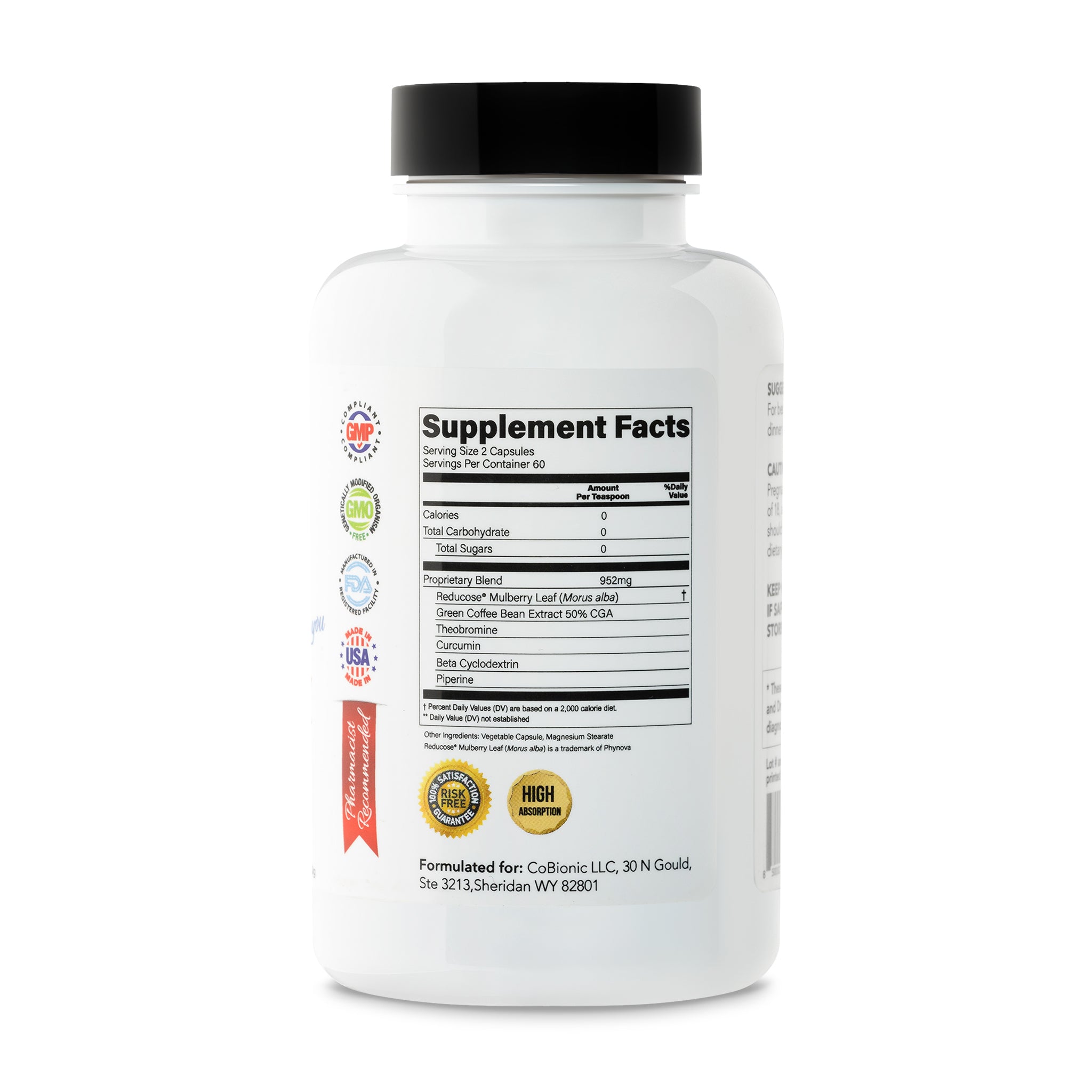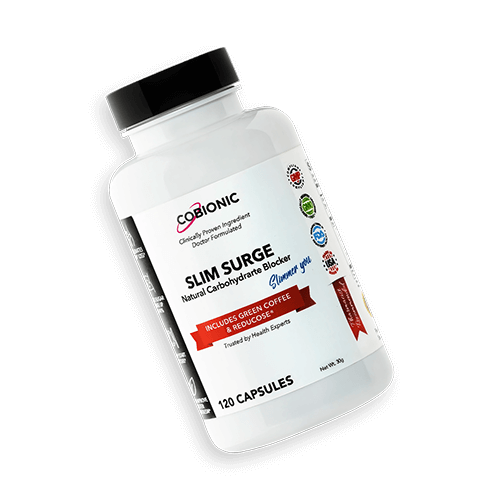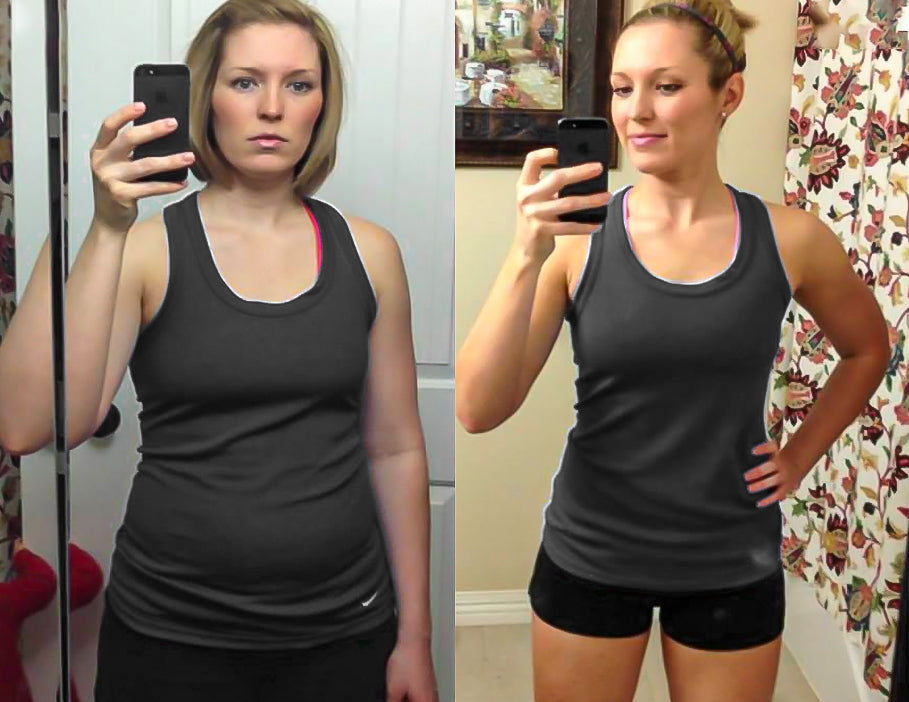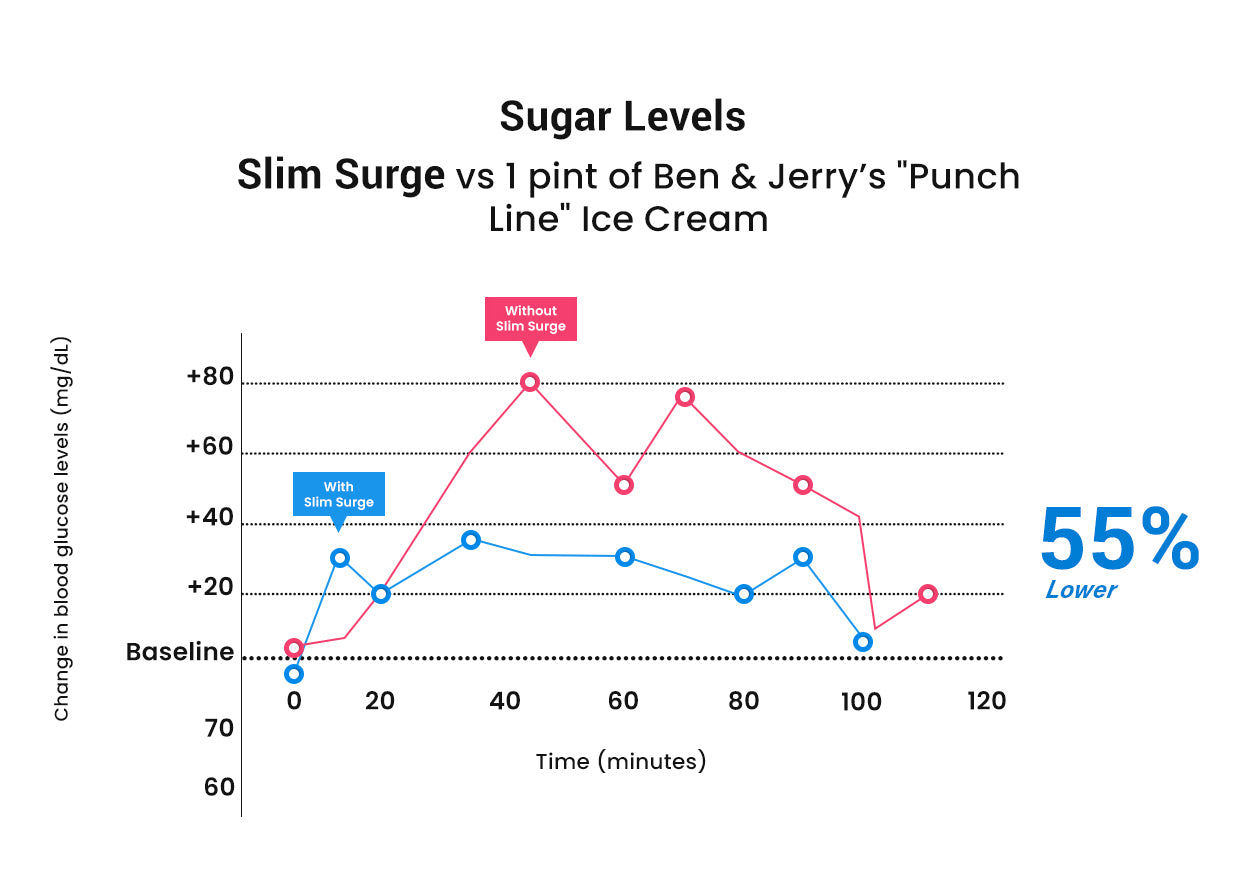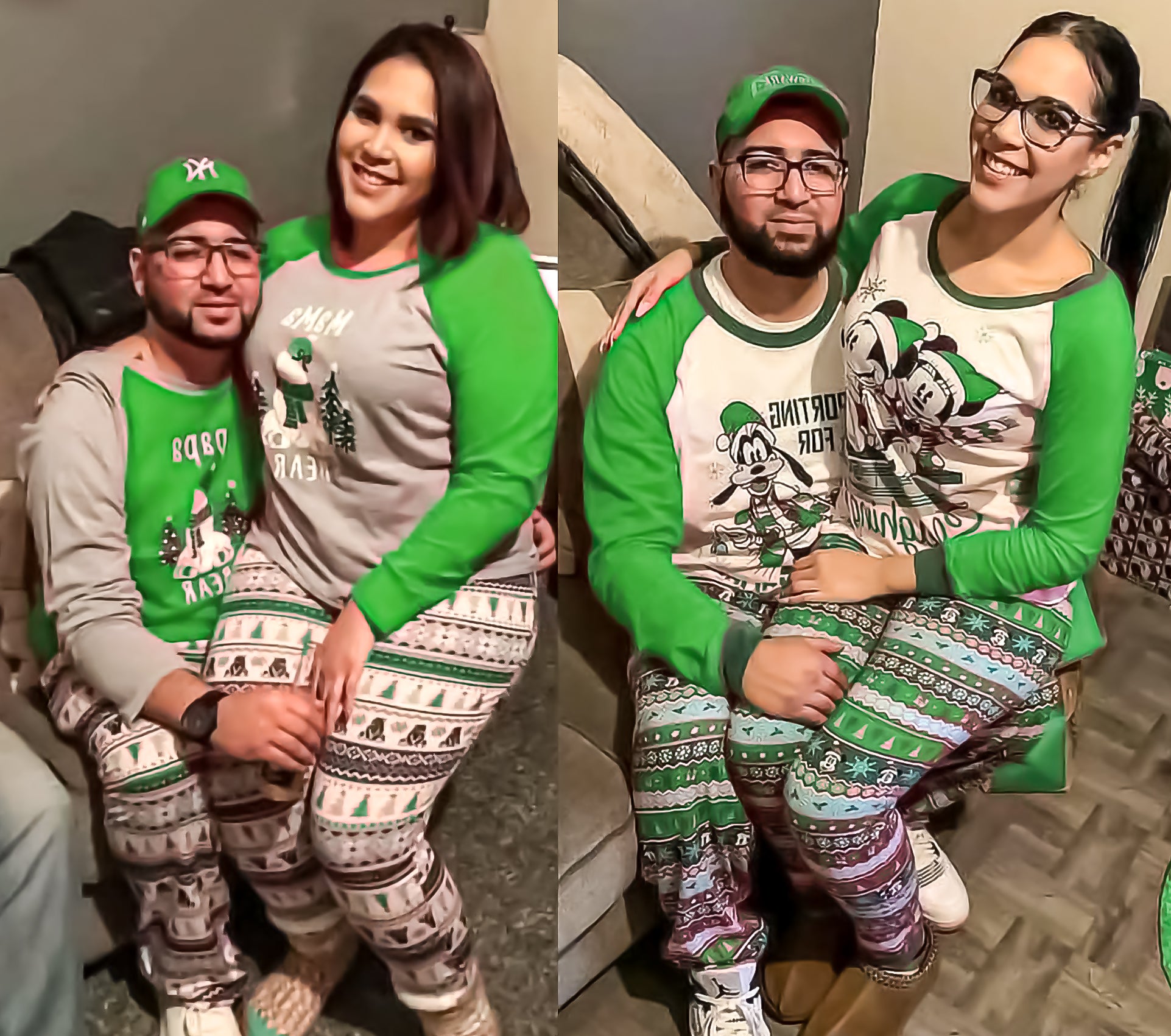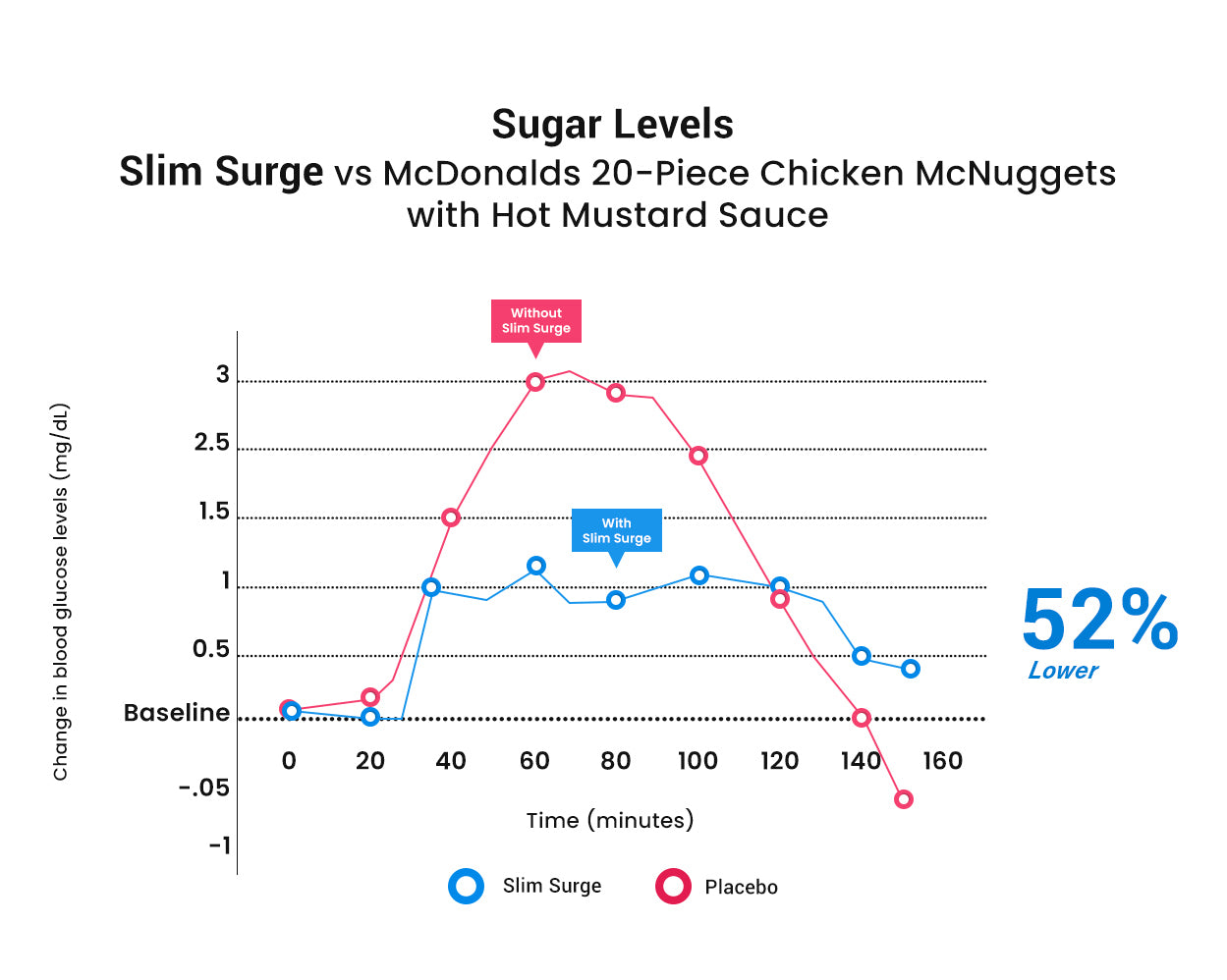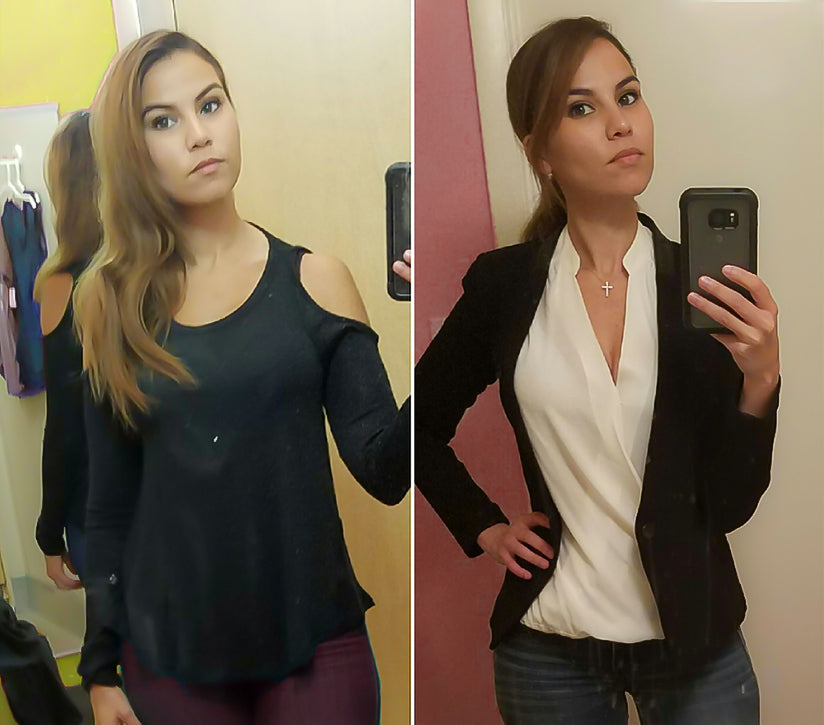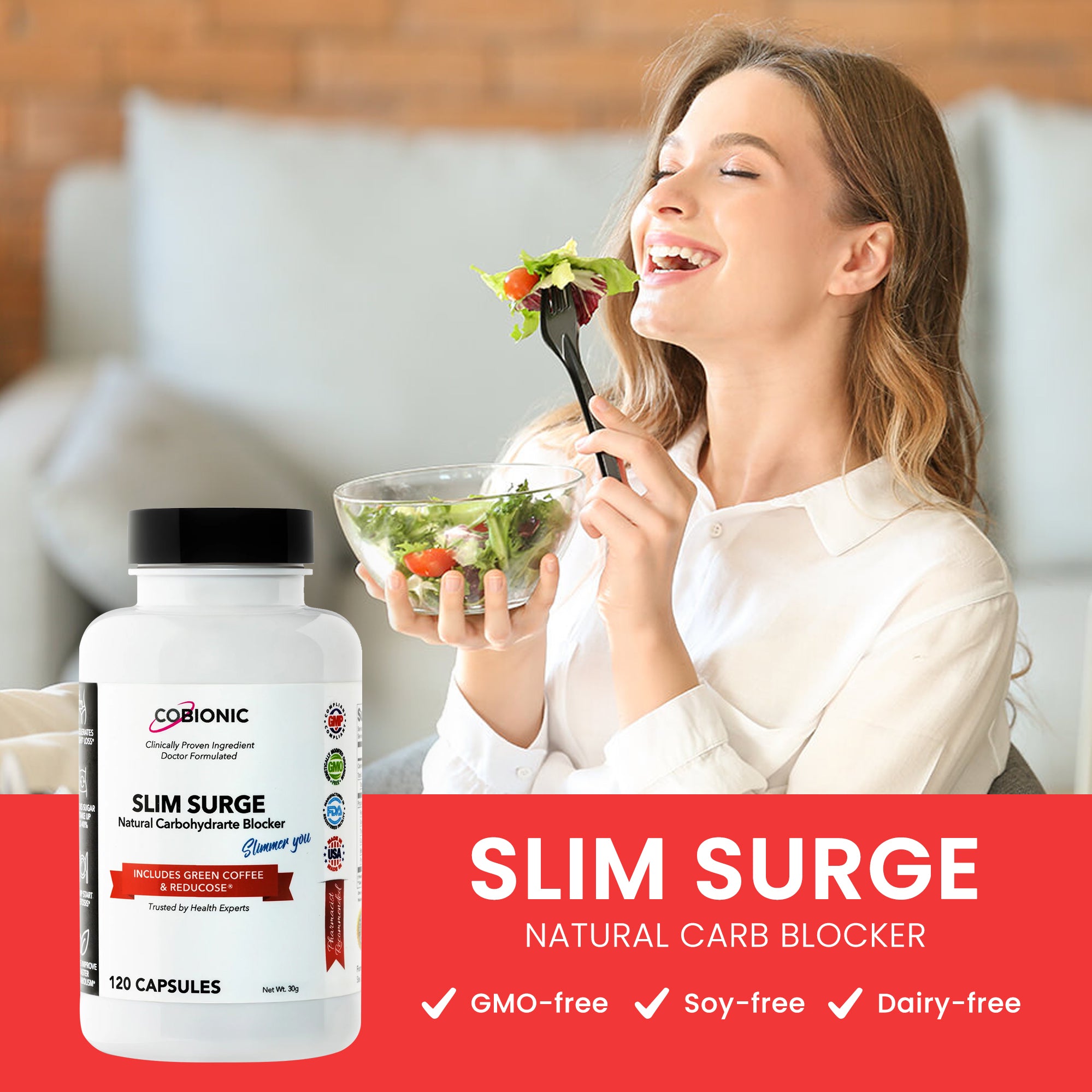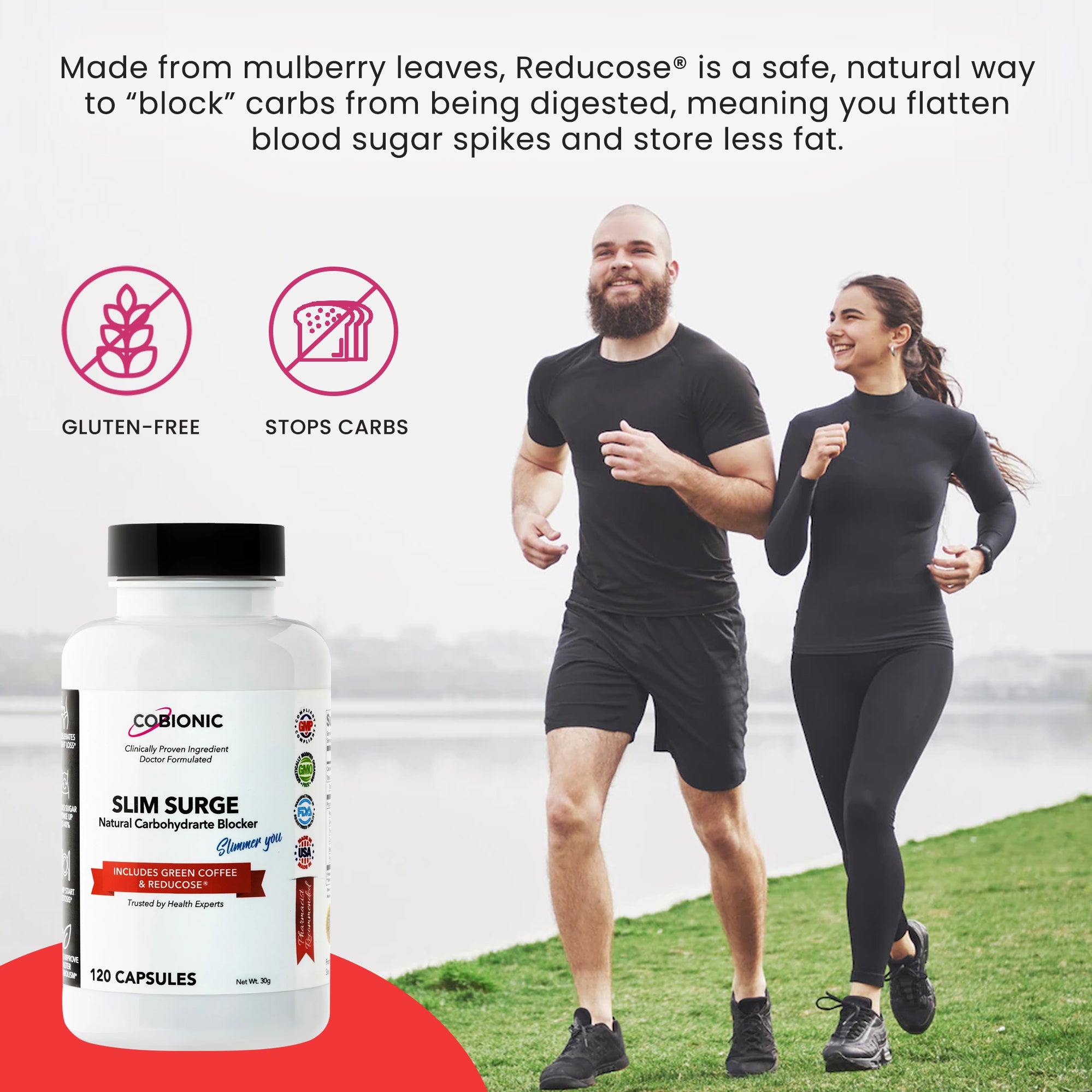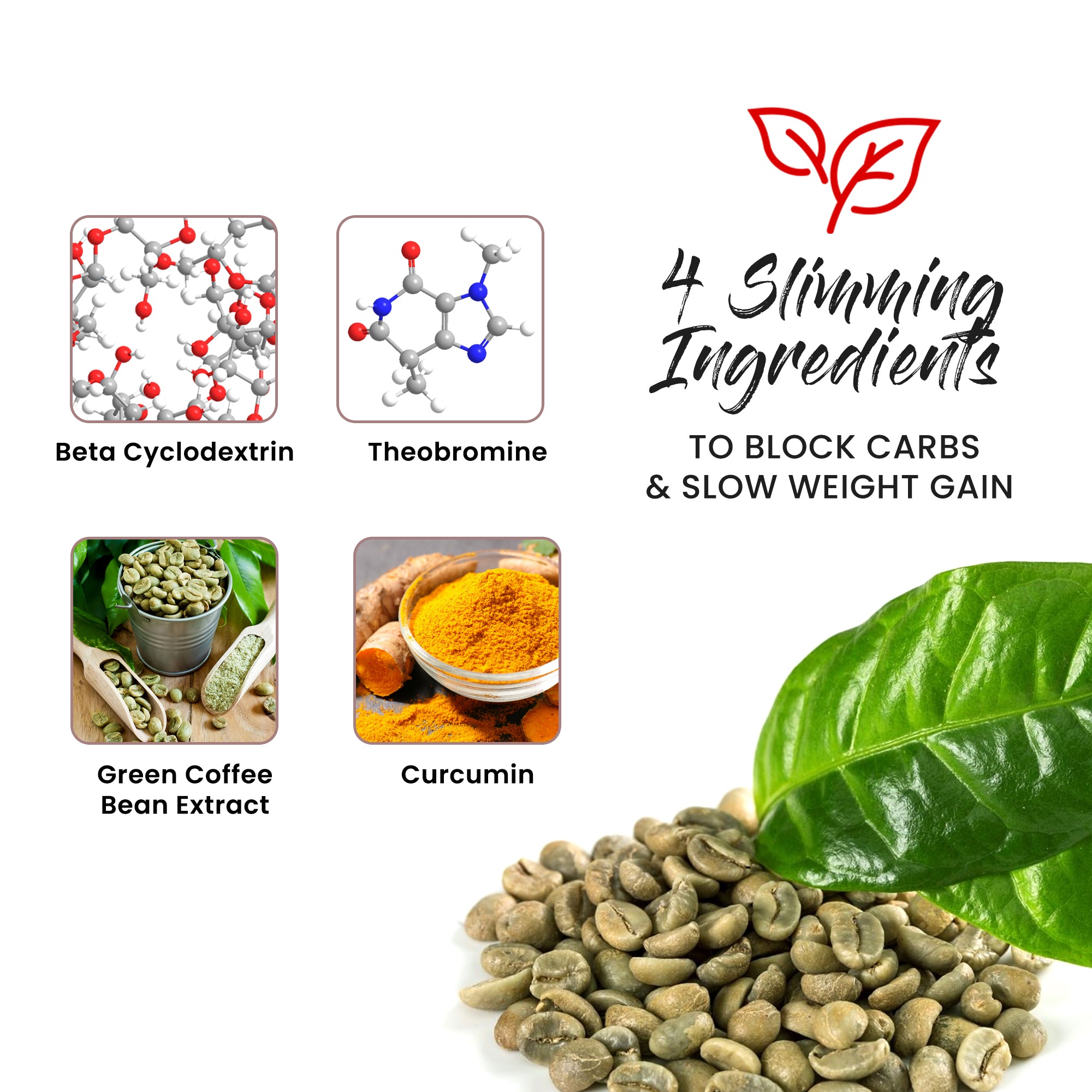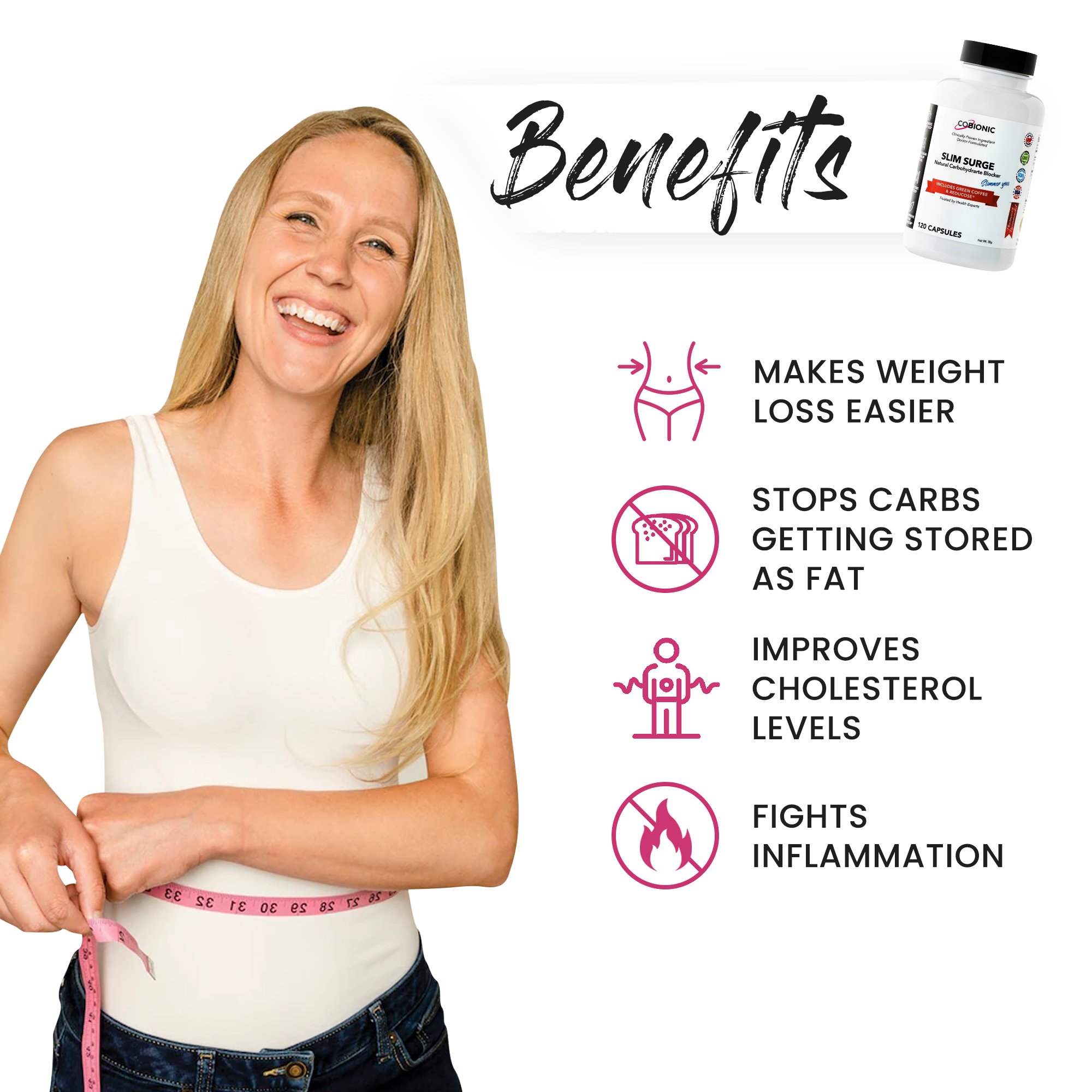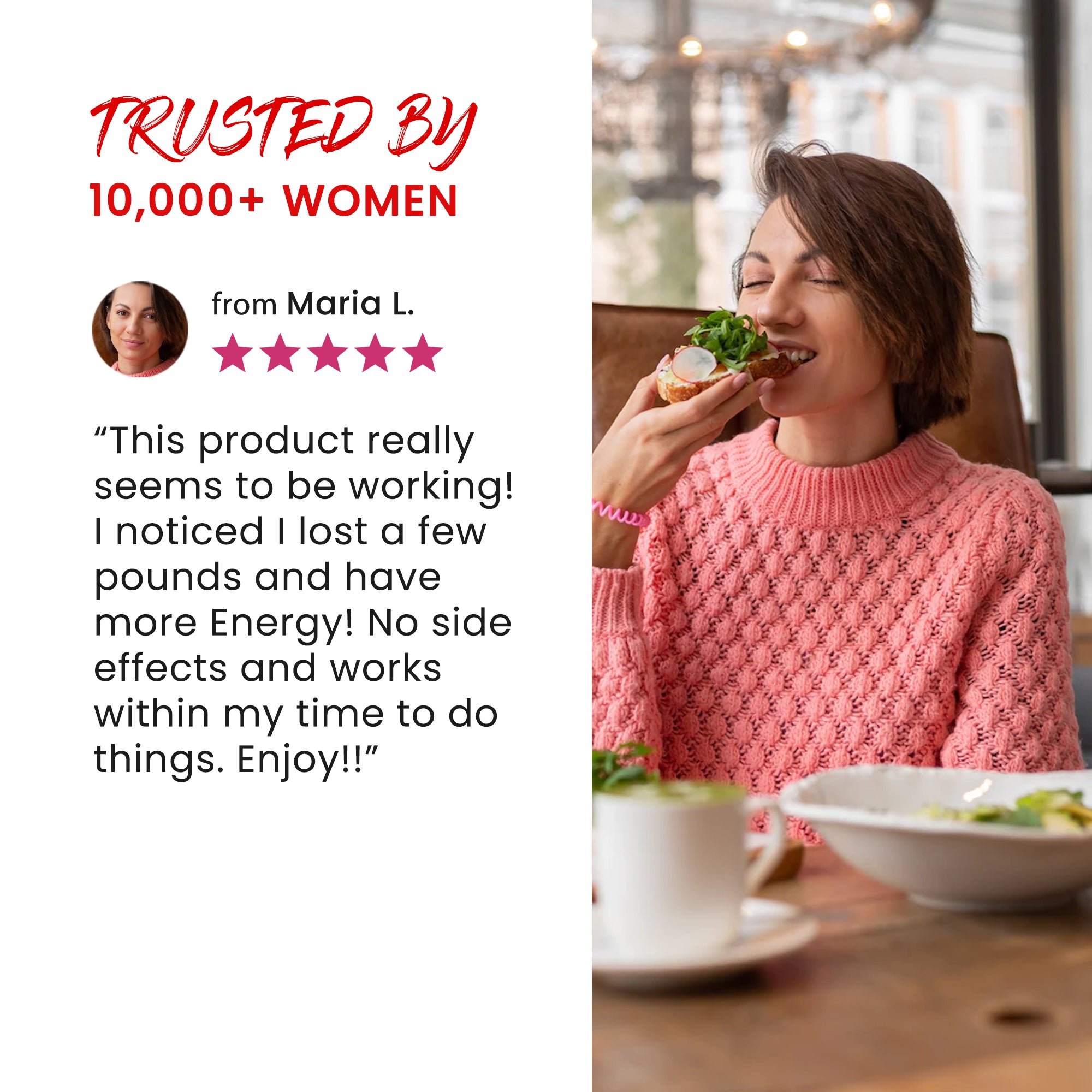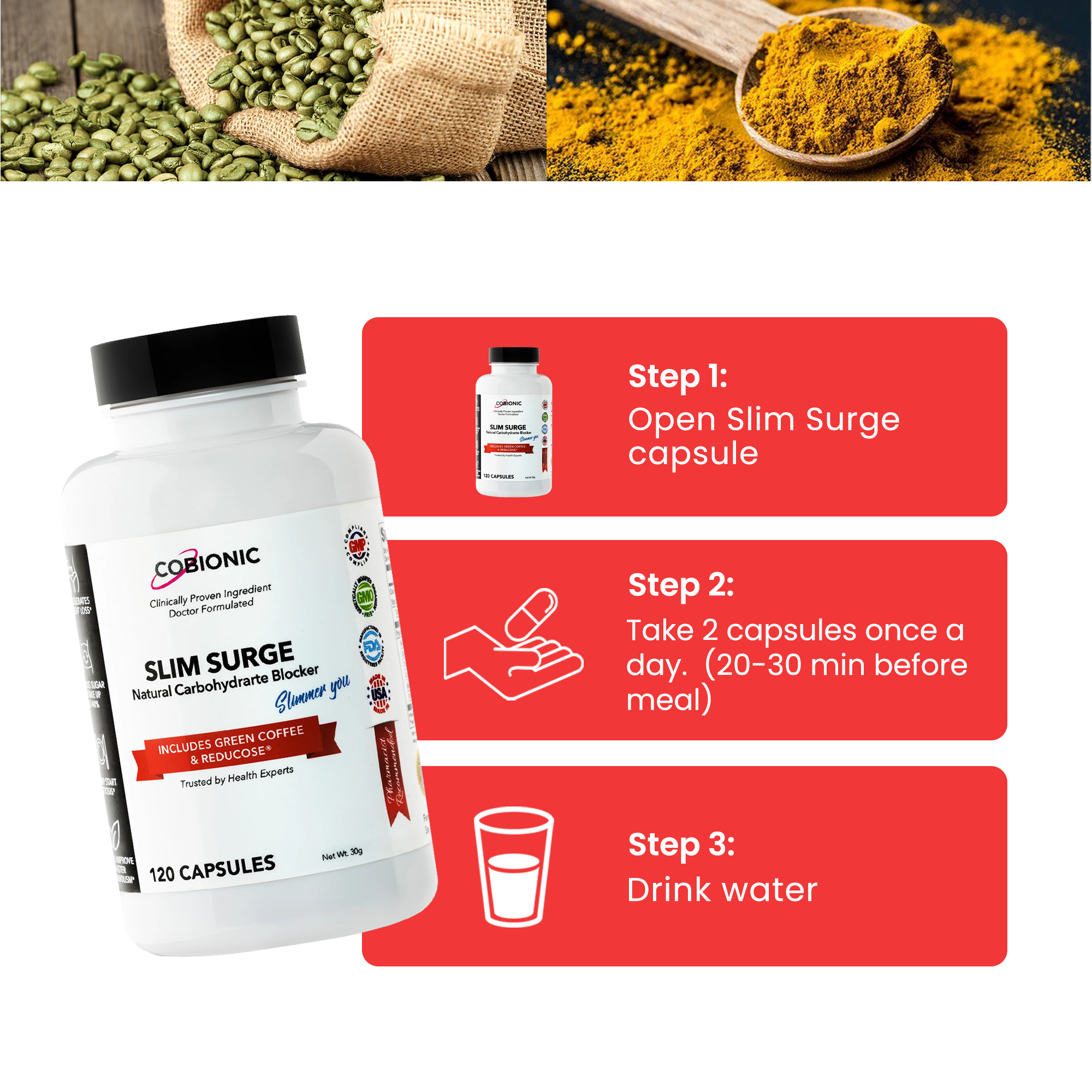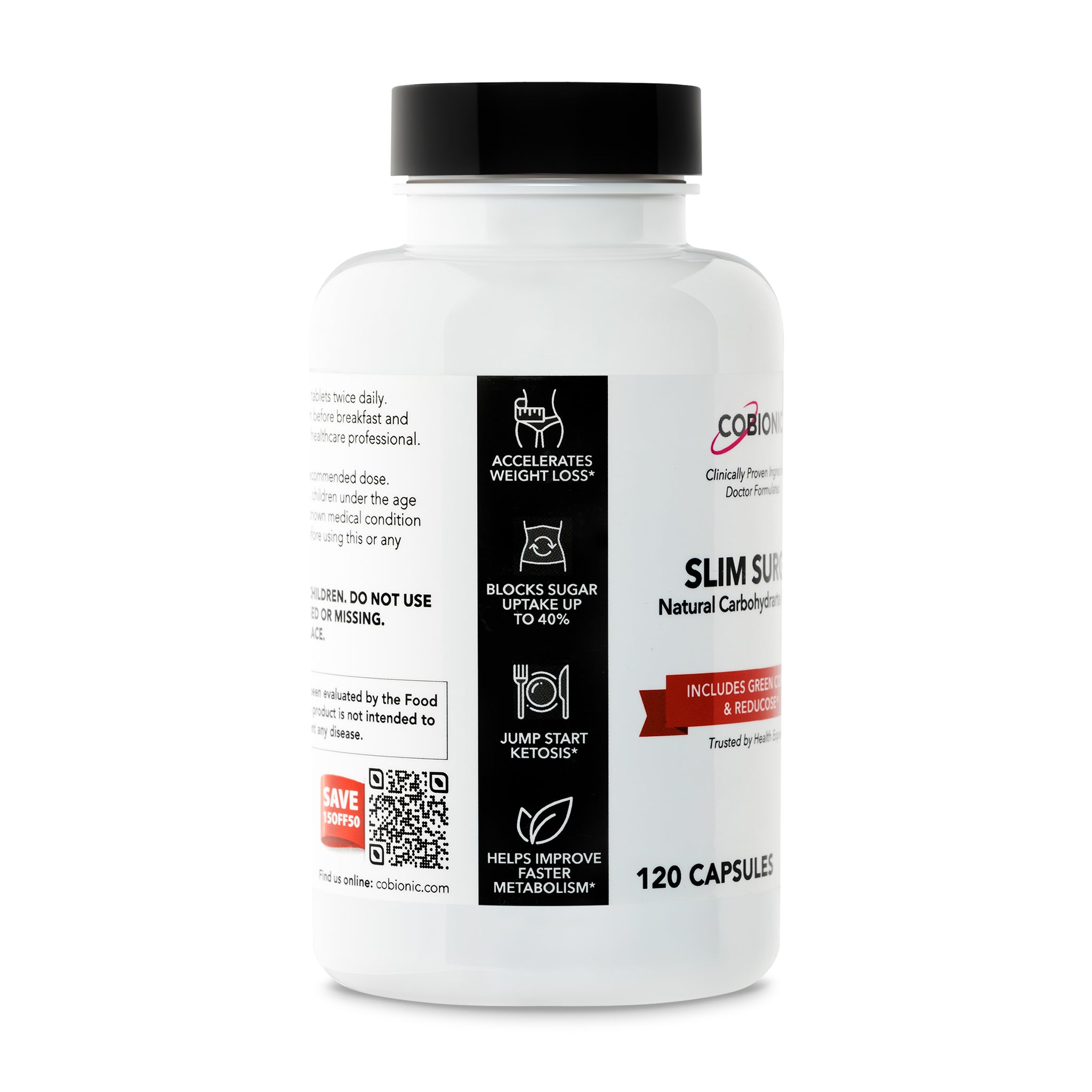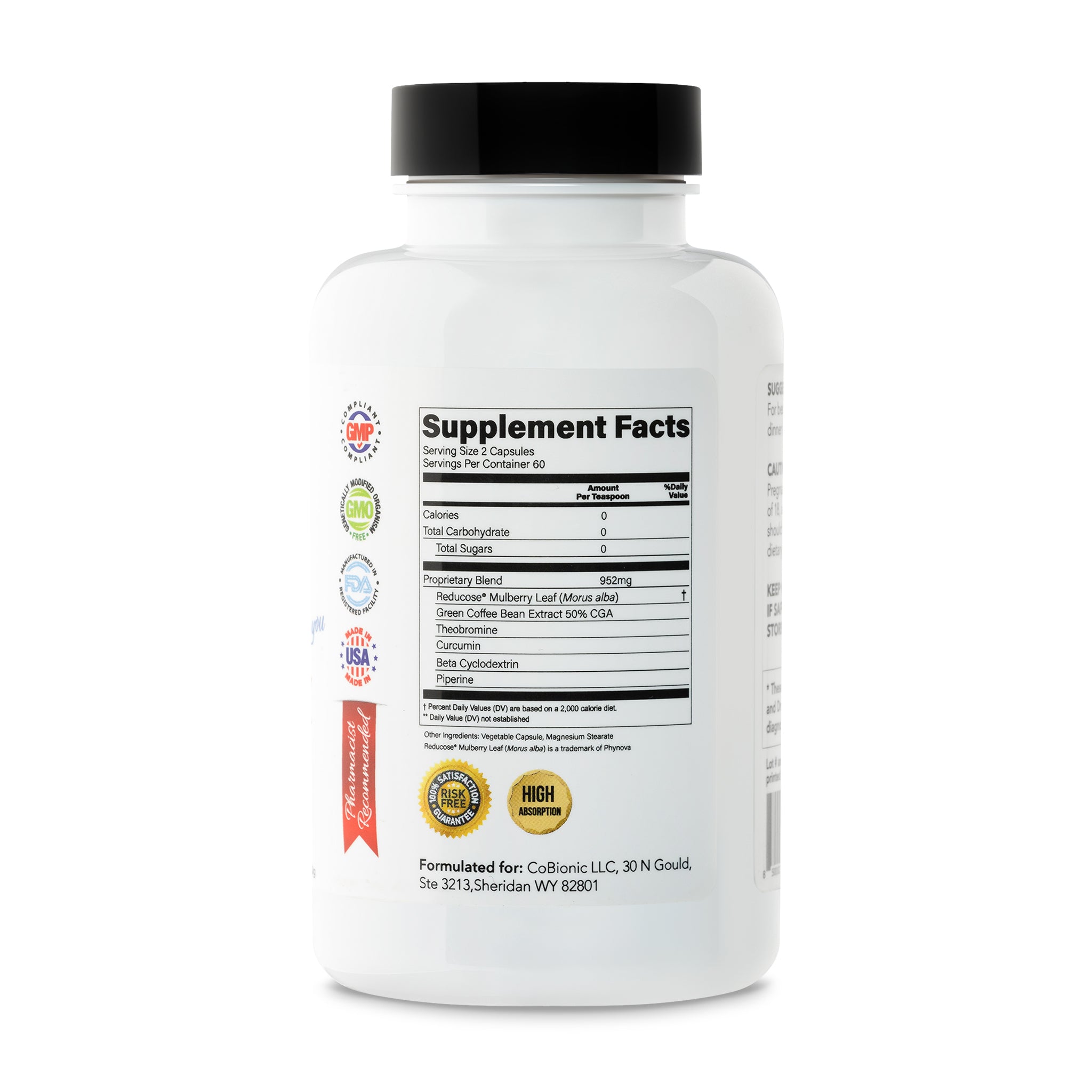 Slim Surge - Advanced Carb Blocker
Clinically tested, Plant based, Weight loss supplement demonstrating statistically significant lower blood glucose levels.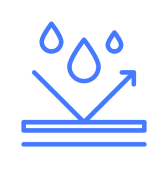 Clinically proven to block glucose absorption by 40%

Best weight loss supplement to lose weight and keep it off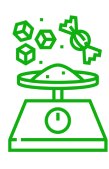 Converts high glycemic index food to low glycemic index food

Reduces insulin spike resulting in higher fat burn
Skip The Part Where Carbs
End Up On Your Belly…
Carbs are the most readily digested food for our bodies.
That's great when we need a quick source of energy to fuel exercise or other activities.
But it's not-so-great when we don't use that energy… because most of it then gets stored as fat.
Even worse, high GI foods (like sugar or french fries) can cause our blood sugar to spike. Along with storing excess energy as fat, these spikes leave us dealing with…
Energy "crashes"

Carb cravings

Serious health issues over the long-term
But what if we could eat our favorite carbs but skip the part where those carbs end up on our hips, belly, or butt?
There's a way to do exactly that.
How This Fruit's Leaves "Trick"
The Body Into Ignoring Carbs
Mulberries are a fruit that can come with different health benefits, such as lower cholesterol or decreasing oxidative stress.
But mulberry leaves have a special power. Compounds in the leaves help the body "ignore" carbs so they're not converted into glucose - a simple sugar your body uses for energy. This means insulin levels don't jump to shuttle as much energy into the liver, muscles… or fat cells.
By doing this, you avoid the "sugar rush" caused by too much glucose, which is often followed by energy crashes, cravings, and over the long-term, more serious blood sugar problems. More importantly, those carbs don't get stored as fat and pass safely.
So, we created a formula that uses a concentrated water extract from mulberry leaves to help anyone trying to lose weight to still be able to eat carbs WITHOUT all the potential health impacts.
4 Ways Slim Surge Builds Up The
Body's Natural Fat-Burning Abilities
Makes weight loss easier. Carbohydrates are an important part of our diet, but the wrong ones (or too many) can "overload" the body, leading to weight gain and blood sugar spikes that can cause cravings and over time cause long-term health problems.

Stops carbs from getting stored as fat. Taken before a meal, the Reducose® in Slim Surge lowers the amount of carbs your body processes. This means your blood sugar doesn't spike as much as it would and you don't store as many carbs as fat, so it's easier to keep weight off.

Improves cholesterol levels. Slim Surge can play a part to improve levels of "good" cholesterol (HDL) and reduce levels of "bad" cholesterol, which lowers the risk of serious conditions like coronary artery disease.

Fights inflammation. Thanks to curcumin's anti-inflammatory properties, Slim Surge can help improve symptoms such as swelling, pain, and redness… and even weight issues caused by inflammation.
Make Carbs "Safe" For The Waist
And Speeds Up Weight Loss
An All-Natural "Carb Blocker". Made from mulberry leaves, Reducose® is a safe, natural way to "block" carbs from being digested, meaning you flatten blood sugar spikes and store less fat (or converted carbs) on your waist and hips.

5 Scientifically-Proven Slimming Ingredients. Slim Surge is a carefully-developed formula of 5 ingredients in a special proprietary formula designed to accelerate weight loss, slow weight gain, and improve every-day health.

Made in the USA in an FDA-Inspected Facility. Thousands trust Cobionic because they know each product is of the highest quality possible. Slim Surge is no exception: it's made in a GMP-compliant, US facility, and every batch is lab-tested to ensure it contains exactly what the bottle says.

No Fillers, No Junk, No Inflammatory Ingredients. We watch what we put in our bodies and do the same for you too. That's why Slim Surge comes with no fillers, no additives, and no inflammatory ingredients. It's also 100% GMO-free, gluten-free, soy-free, and dairy-free.
The "Berry" Special Way Slim Surge
Stops Carbs Becoming Fat
Though it may sound like an advanced scientific ingredient, Reducose® really comes from just one place: mulberry leaves. Throughout Asia, mulberries are known for their health effects on blood sugar. Reducose® is simply a water extract of the berry's leaves, though in a concentrated form for greater effectiveness.
When you take a small amount of Reducose® just before or with a meal, it tricks digestive enzymes into thinking they're breaking down carbs. While the enzymes work on breaking down the Reducose into its harmless components, the carbs you've just eaten pass through your system without being digested or triggering the blood sugar spikes that cause insulin to rise and the energy to be stored as fat.
But there's more than 1 reason we included Reducose® in Slim Surge:
Slows or even stops weight gain. Reducose® reduces the amount of carbs converted into glucose, which means your body releases less insulin to move that glucose into muscles, liver or fat cells. And that can play a big part in losing weight or avoiding weight gain.1
Keeps blood sugar levels more stable. High GI foods can make blood levels skyrocket and lead to problems like weight gain and other health issues. Reducose® helps to "flatten" blood sugar levels after eating, reducing cravings, fatigue, and the risks that come with spiking blood sugar.2
Allows you to safely "indulge". Avoiding high GI foods isn't always possible… and sometimes, we want to treat ourselves. Reducose® and Slim Surge limits the health impacts that come from these foods so you can safely indulge every now and then.
No unwanted effects. Reducose® helps to block carbs - and that's it. It's a safe, natural extract of mulberry leaves, which have traditionally been used in Asia to handle blood sugar issues.
Clinically proven. Several trials and studies exploring Reducose have shown it's an easy, effective way to reduce the weight and health impacts that carbs can have on our bodies.
4 More "Slim Sparks" You'll Find
In Slim Surge
Slim Surge contains 4 Other Slimming Ingredients that firm up figures, keep carbs from collecting on your belly and butt, and leave you feeling healthier and looking younger than ever…
Beta Cyclodextrin
This dietary fiber also works to reduce how many carbs you digest. Plus, it helps control body weight, blood sugar, and improve microbes in your gut.3
Theobromine
You'll find theobromine in cocoa (and Slim Surge), and it can increase levels of "good" cholesterol and help clean out "bad" cholesterol from your bloodstream.4
Green Coffee Bean Extract
Otherwise known as GCE, reviews show this natural extract could help even further with weight loss.5
Curcumin
Curcumin gives turmeric its yellow color. More importantly, this anti-inflammatory also helps reduce weight, with one scientific review stating curcumin "significantly reduced body mass index".6
Try Slim Surge
For 180 Days Risk Free
CoBionic is a family-owned and operated business, so we stand 100% behind every one of our products.
We also understand that you need time to try these products so you can see the difference they make to your weight, health, and life.
That's why when you grab Slim Surge, you have 180 days to try it with absolutely no risk.
If you're not happy with the results in any way, just let us know within those 180 days and you'll get a full refund - no questions asked.
That's our Slim Surge Guarantee to you.
Common Questions
Slim Surge is a supplement that helps to "block" carbs being digested by the body. When taken just before or with a meal, digestive enzymes break down the Reducose® in Slim Surge instead of carbs, allowing a good portion of those carbs to pass undigested. This means they don't spike blood sugars to the same level, and don't get converted into energy that ends up as fat!

Plus, Slim Surge contains several other ingredients specially chosen to accelerate weight loss and get great results even faster.

The major way that Slim Surge works is to block carbs being digested, which is how many of us end up with creeping weight gain. By taking Slim Surge, you help reduce the carbs going straight to your hips, waist, or butt!

Yes! In putting this formula together, every ingredient we've sourced is natural, safe, and from some of the best sources around the world. Plus, every bottle of Slim Surge is produced in an FDA-registered facility here in the US to ensure you get the highest quality every time.

Along with Reducose® - a special water extract made from Mulberry leaves - Slim Surge also includes Green Coffee Bean Extract, Theobromine, Beta Cyclodextrin, and Curcumin. Plus, Slim Surge also includes Piperine, which is known to help the body better absorb nutrients, vitamins, and minerals.

Each bottle of Slim Surge comes with 60 servings, which are 2 capsules.

Absolutely. Slim Surge comes with a 180 day guarantee so you have plenty of time to try it for yourself. If Slim Surge doesn't work the way you wanted or you're unhappy for any reason, simply contact us at (888) 365-5099 or at support@cobionic.com to get a full refund.

It sure is. In fact, all of our products are made and shipped from the USA.

Slim Surge generally ships within 48 hours of placing an order. You should get your order within 3-5 business days if you live in the USA. Naturally, overseas orders can be difficult to predict, but please allow 2-4 weeks.

Great to hear! Shoot an email at support@cobionic.com and we'll get back to you as soon as we can.

Just remember - we're a small, family-run company, so it might take 24 hours to get back to you, although we try to reply as quickly as possible.
3 Reasons You'll Love CoBionic
At CoBionic, there are 3 big reasons that people love our products...

Taste & Flavor. This is our #1 focus for every food and food supplement we produce. In the end, nothing else matters if you don't like something enough to keep taking it. Also, we just think life should be fun and have a little more flavor.

Simple, Quality Ingredients. Every company says that their ingredients are the best, so it can be hard to tell the difference sometimes. That's why we limit all of our products to just the simplest, most natural ingredients - things you can understand and believe in.

Family-Owned and Operated. We view you as part of our family, and we don't want you eating anything that we wouldn't put into our own bodies. So we focus on both incredible quality and incredible customer service.