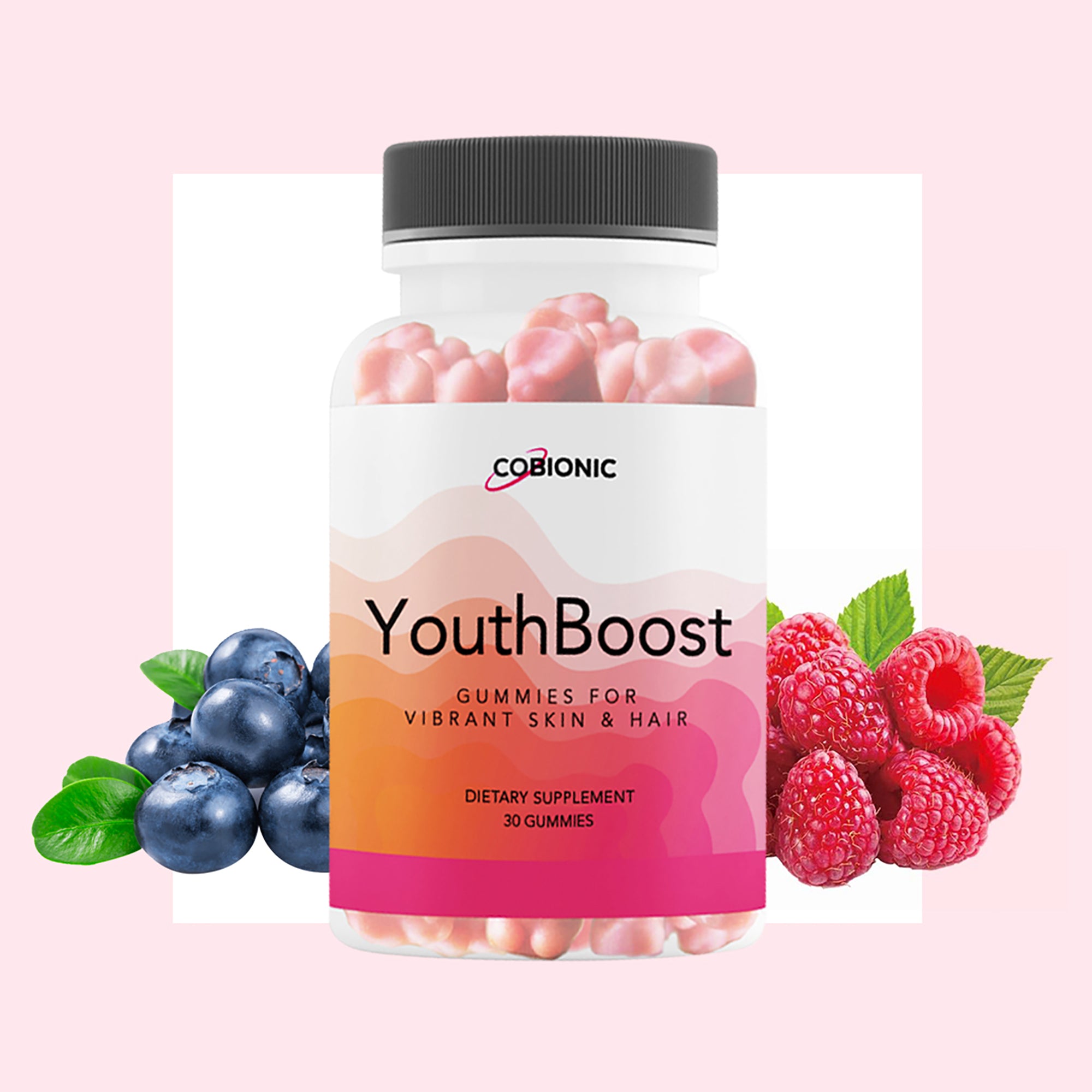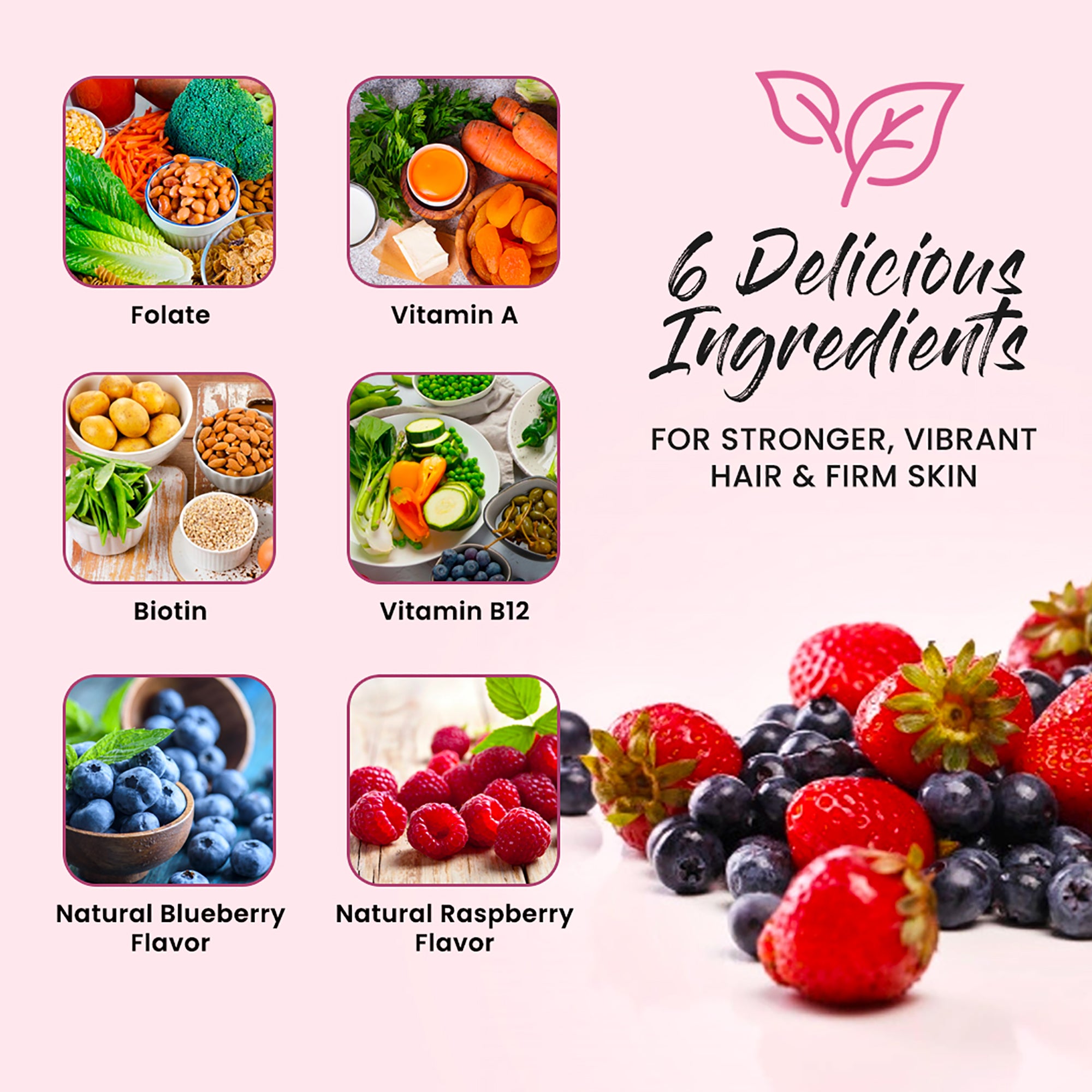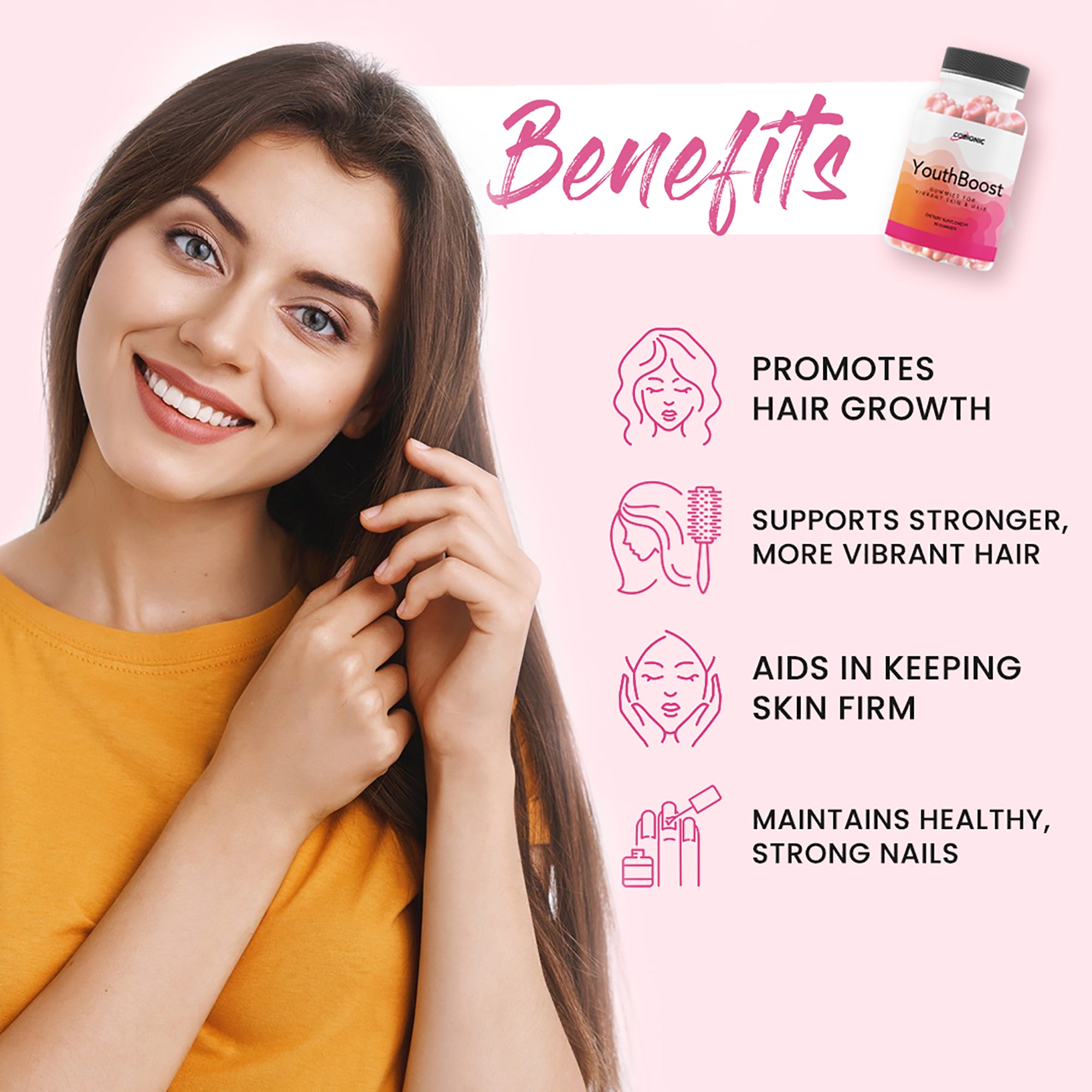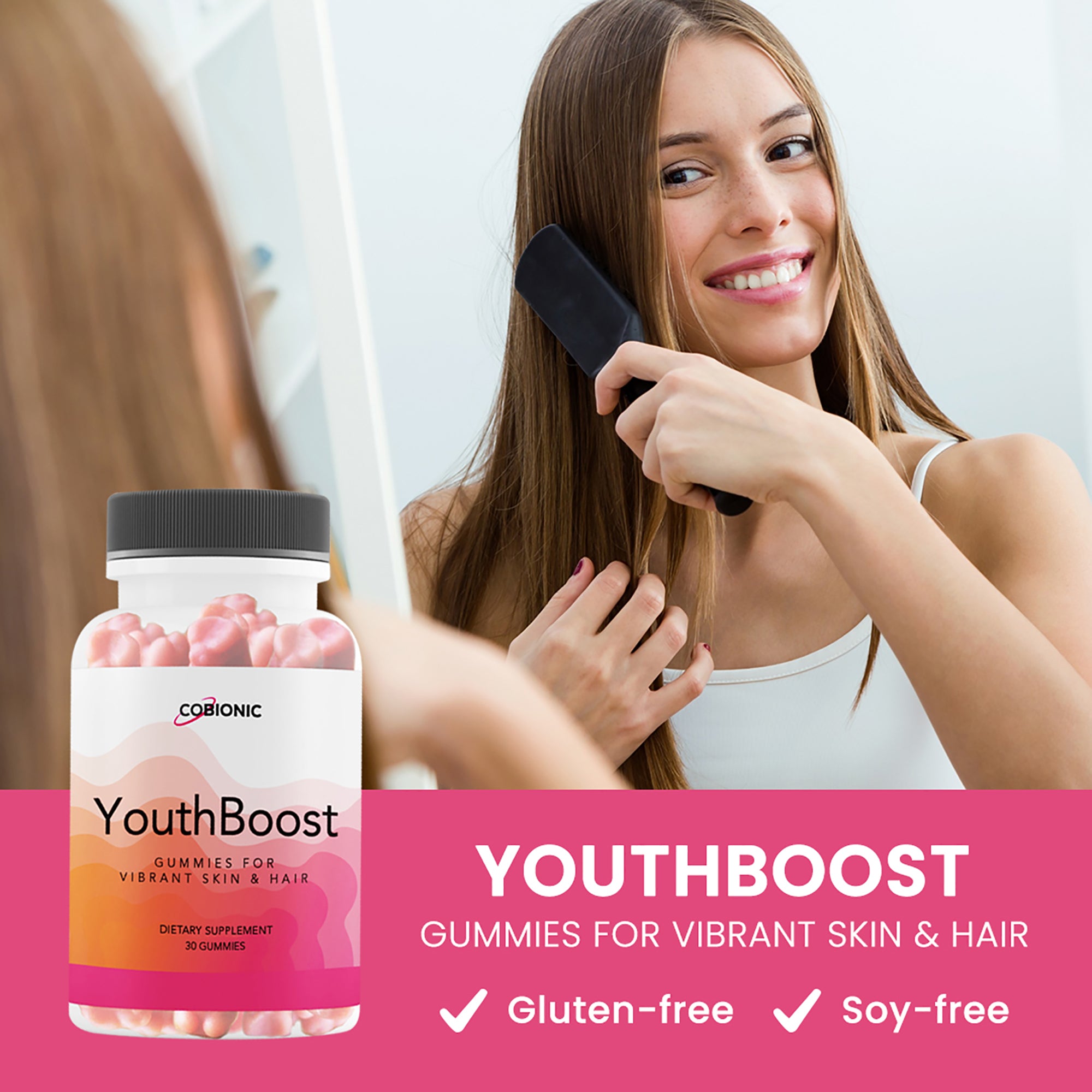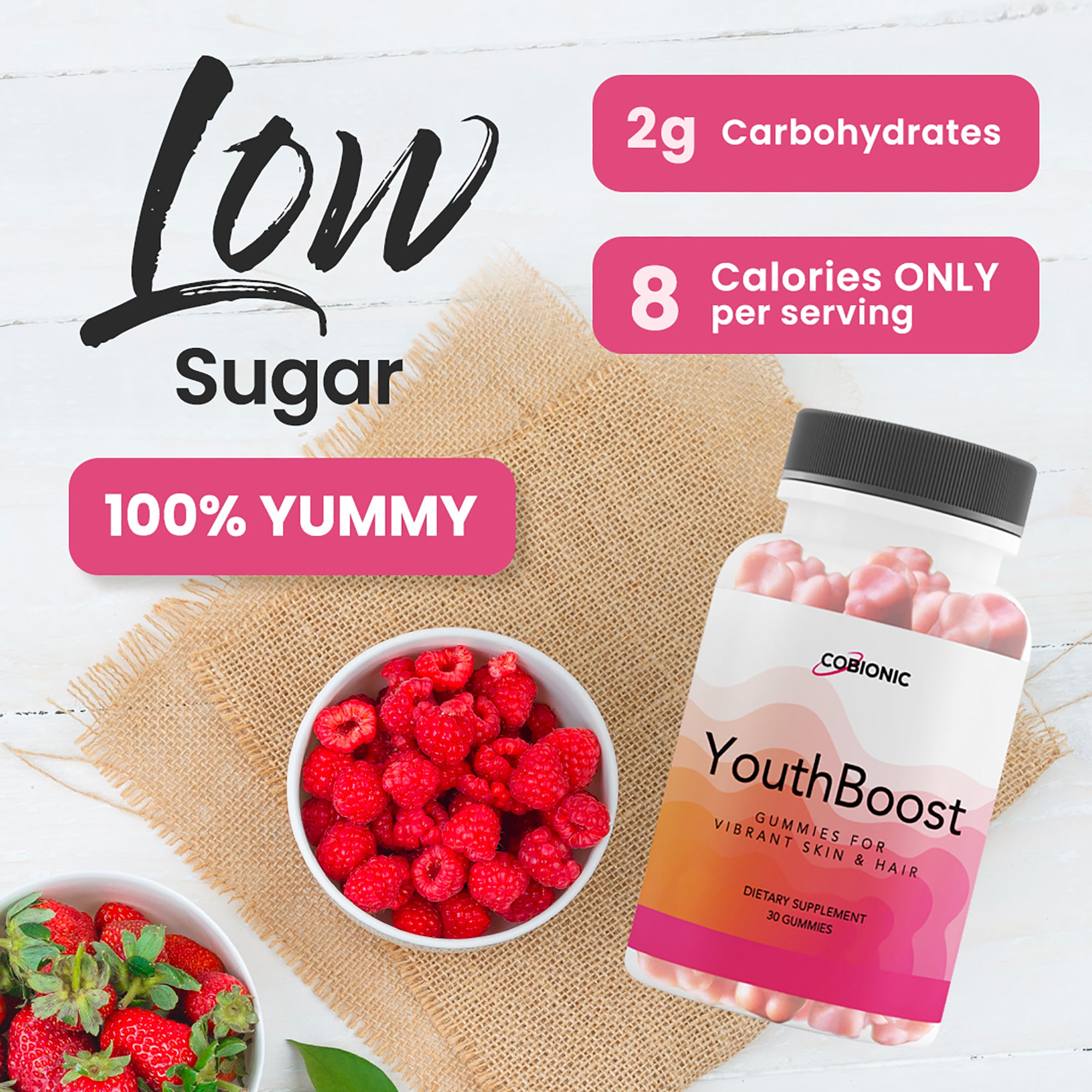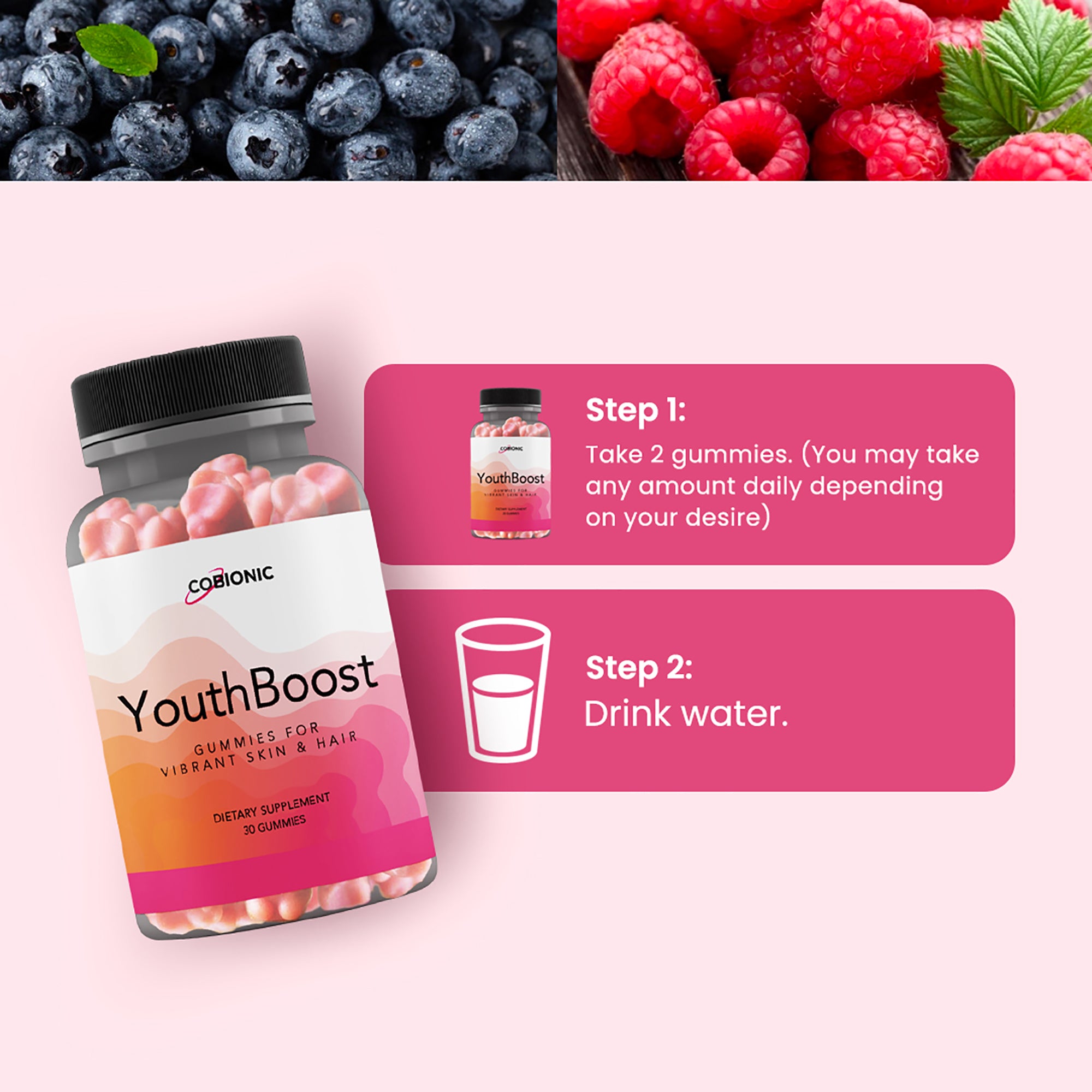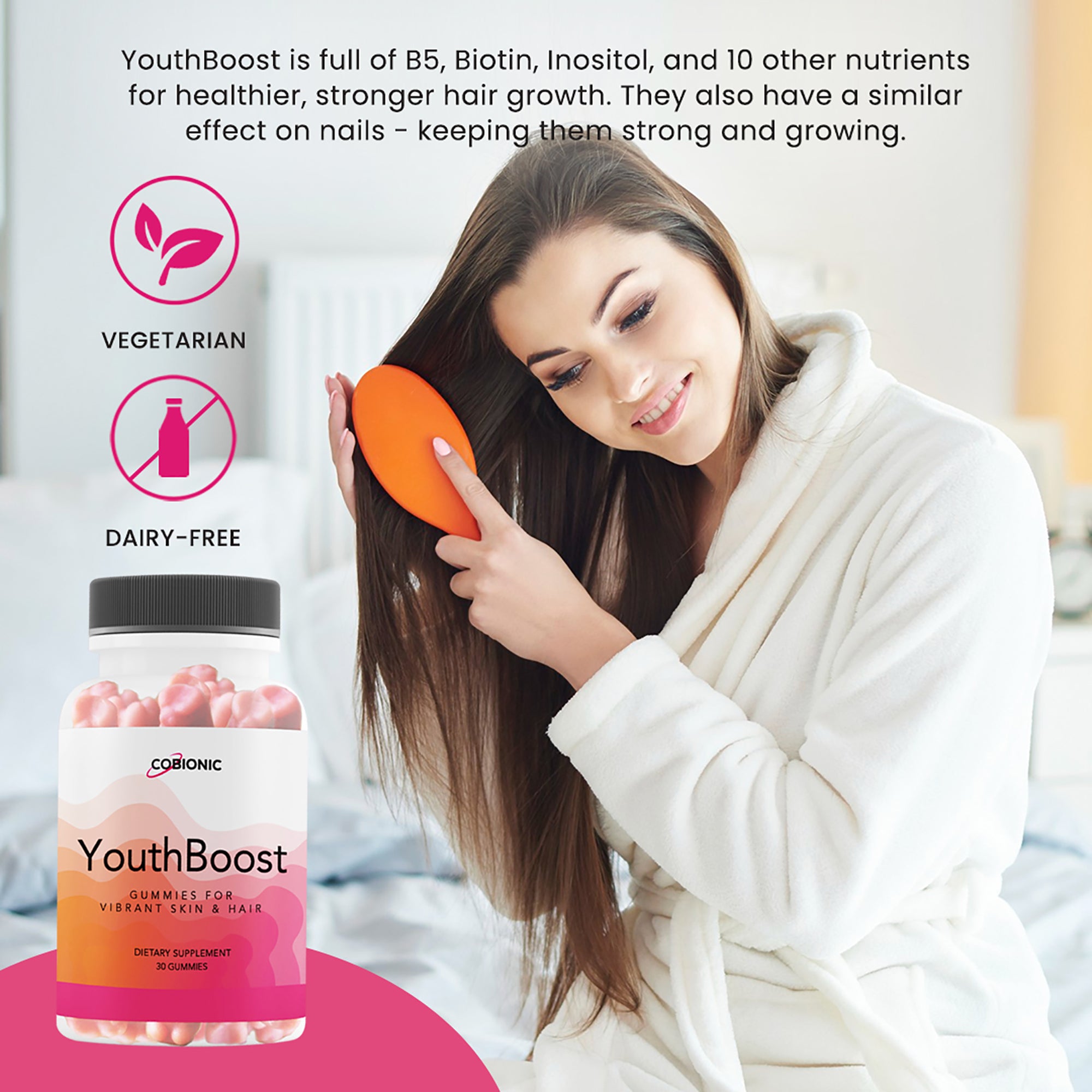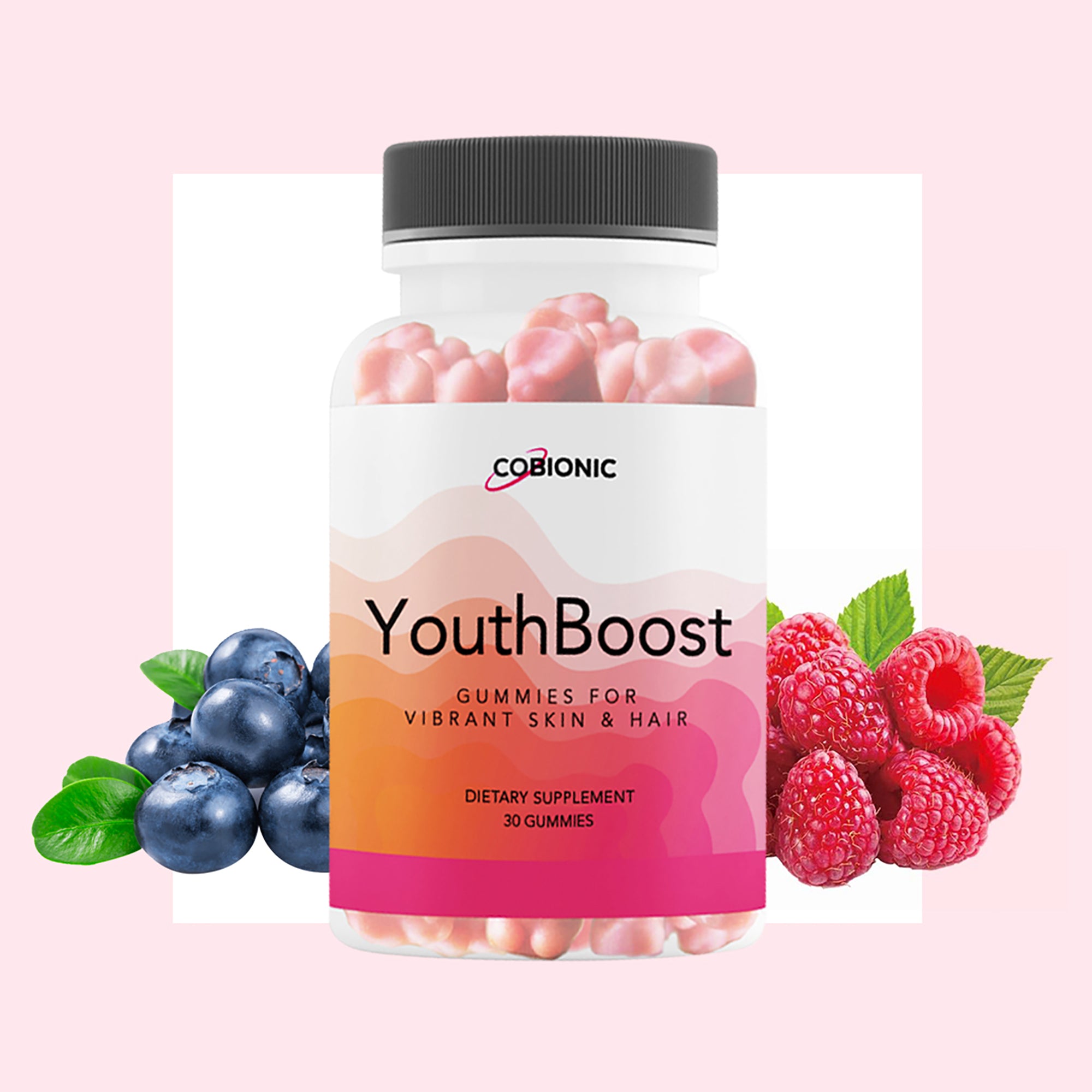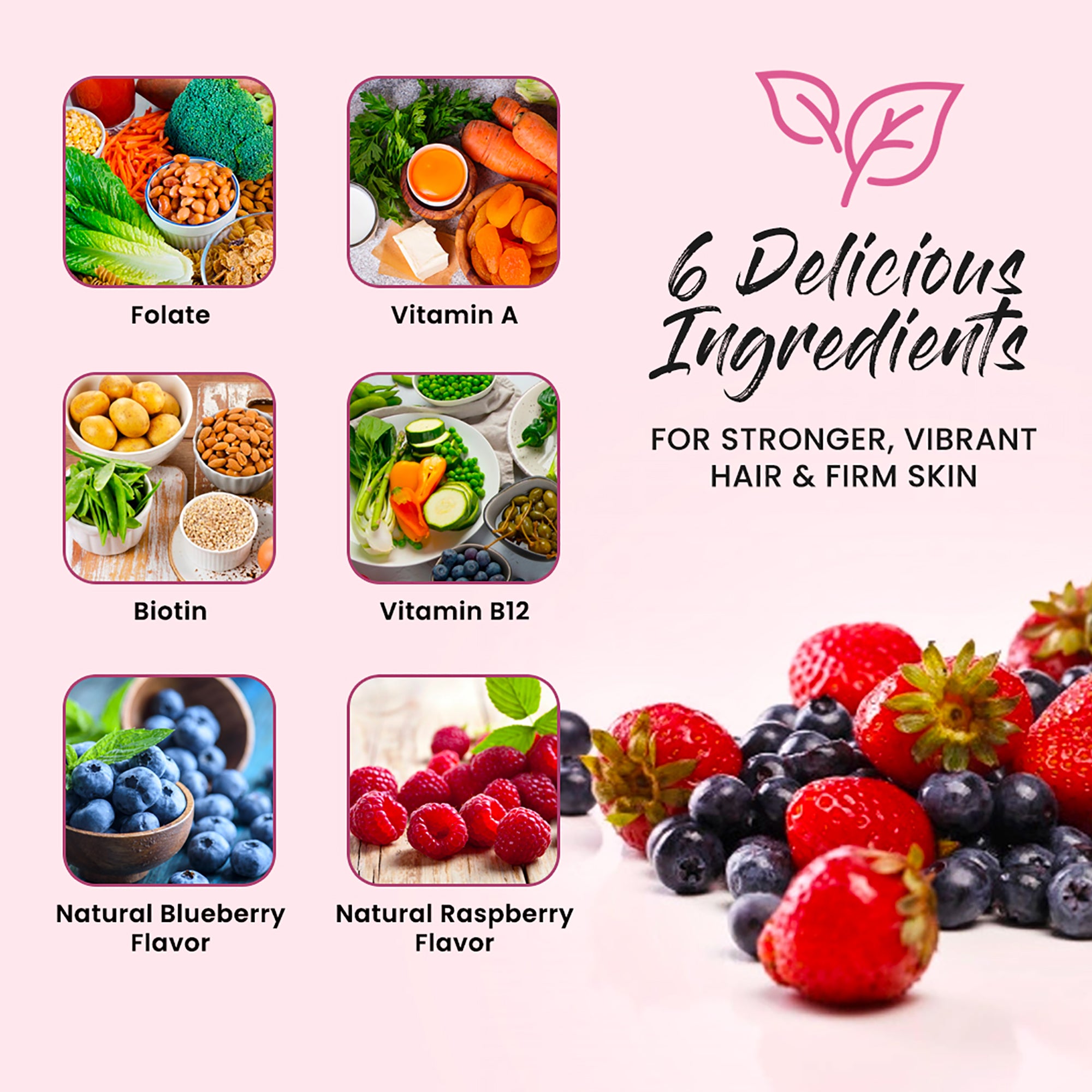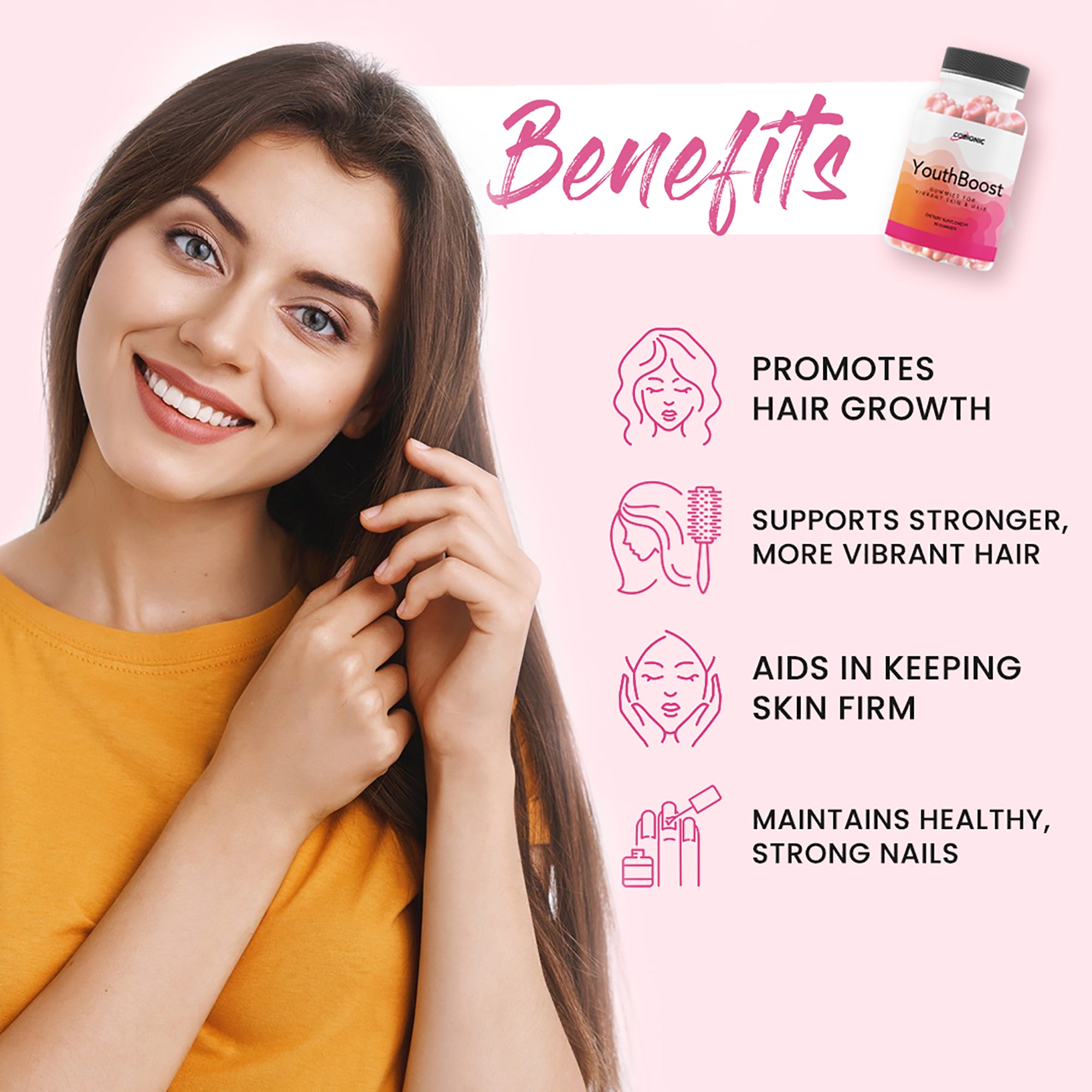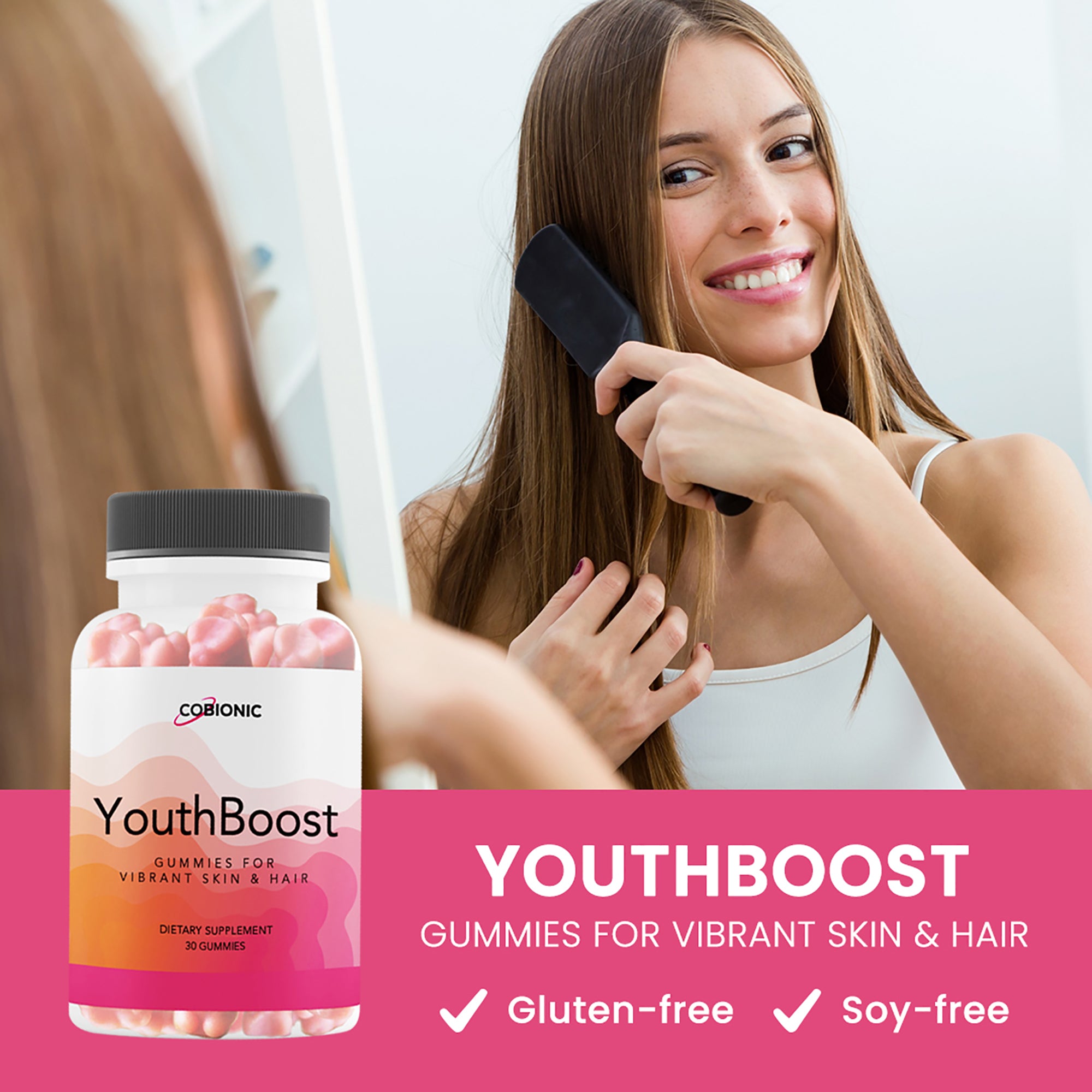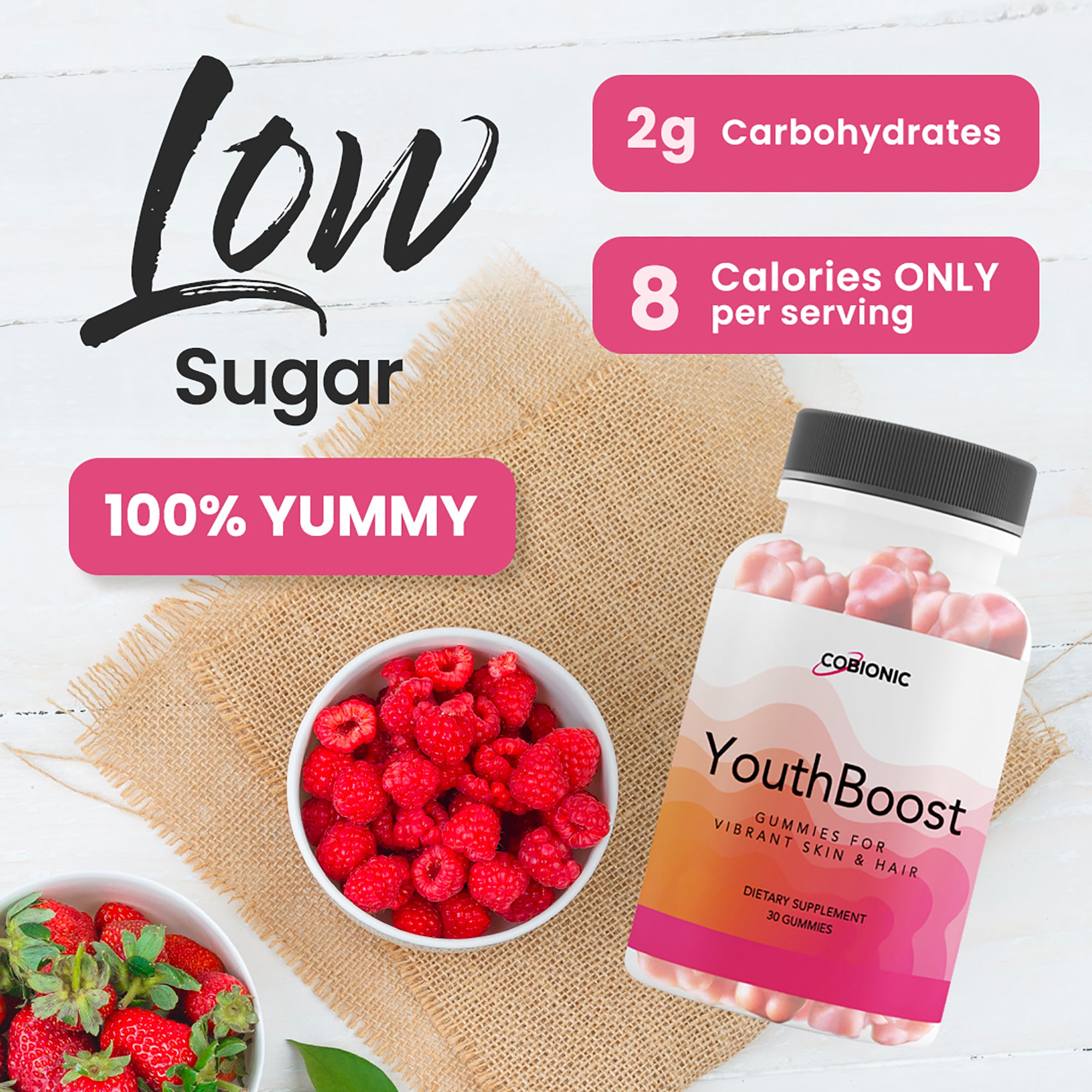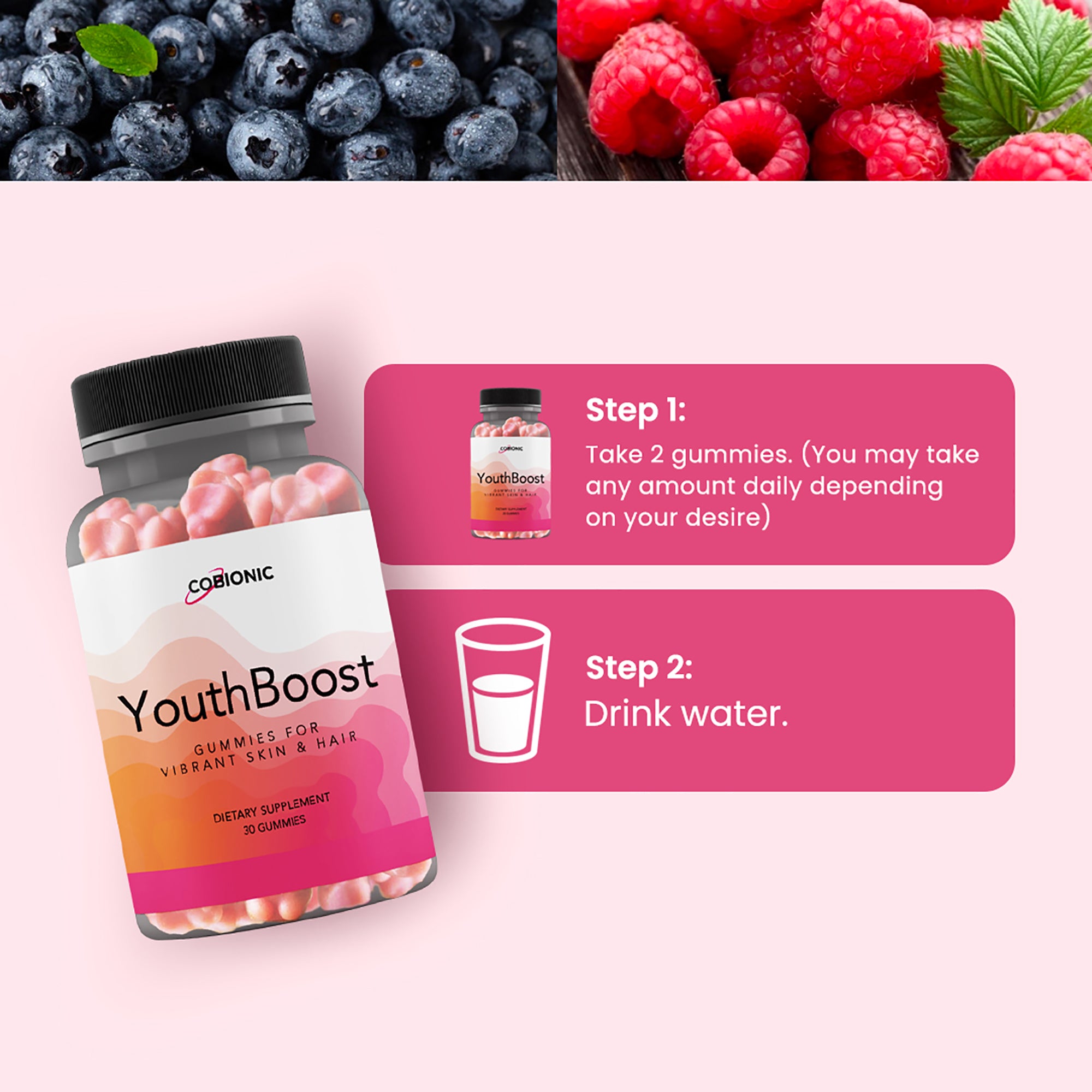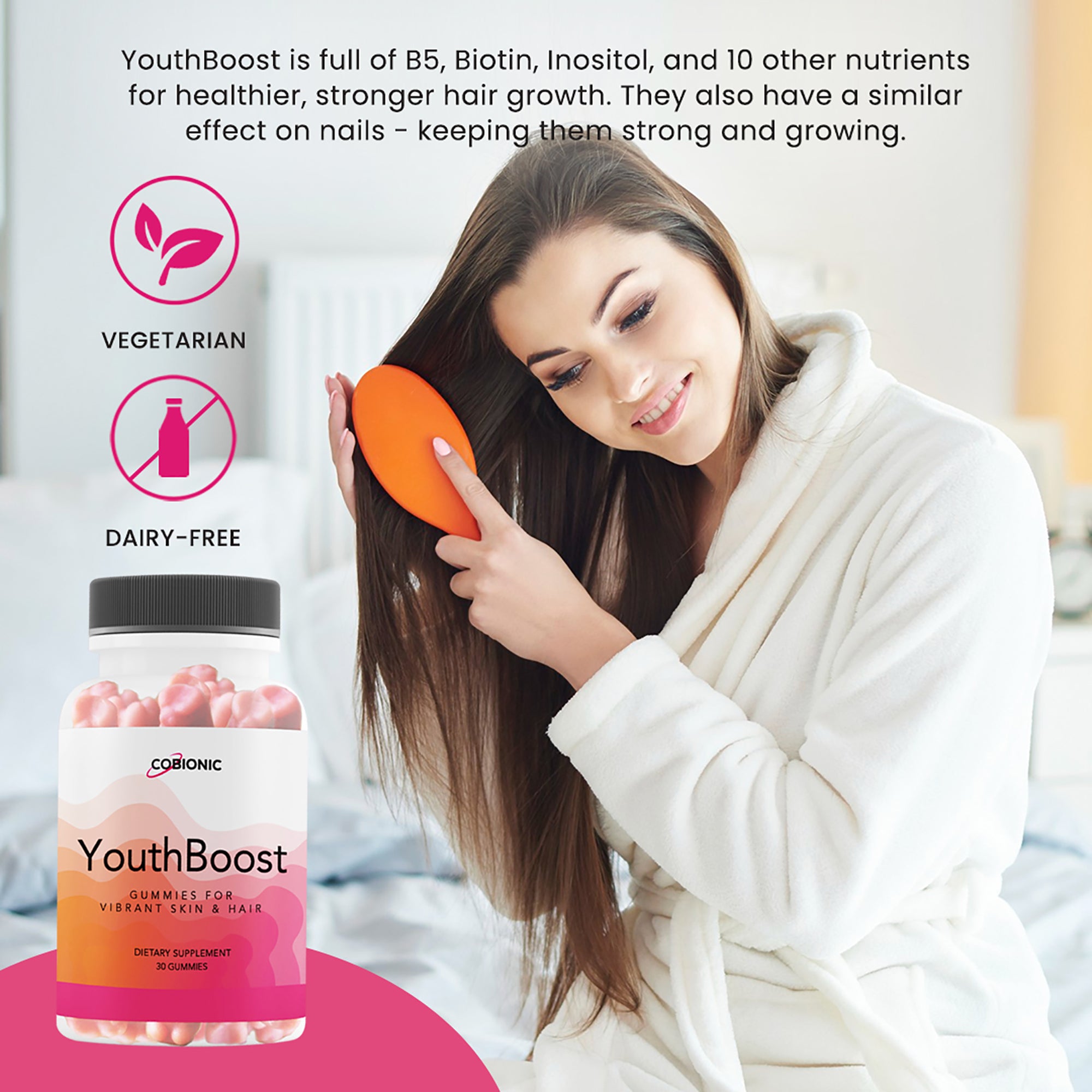 YouthBoost Hair & Skin Gummies
Support stronger, fuller hair, and firm, youthful skin - with deliciously sweet, melt-in-your-mouth gummies...
1 Bottle Contains 30 YouthBoost Gummies
Serving Size: 1 Gummy
Servings Per Container: 30

Supports stronger, longer and more vibrant hair
With vitamins that keep skin youthful and firm
With nutrients that maintain healthy, strong, growing nails
Radiant Hair & Younger Skin Have Never Been So Easy...
As a kid, your hair was probably strong and grew like "wildfire".
And as babies, our skin is firm and smooth.
But as we get older, we don't always like the changes we see in the mirror.
Luckily, those changes are NOT an inevitable result of aging.
Just like you need to eat, or else you'll feel weak, tired, and grumpy...
Quite simply, your hair and skin need the right nutrients to stay strong and healthy.
You see... every day, your body uses Biotin, B12, and other nutrients to grow and rebuild your hair and skin...
And things like stress, an imperfect diet, too little sleep, and even exercise can rob your body of these critical nutrients.
Ideally, you'd be eating a perfect diet -- which would help your body rebuild its reserves.
But who can eat a perfect diet??
And what's more, much of our soil has been over-farmed, so even most organic fruits and veggies just don't have the same vitamins that they used to.
But wait! There's some very good news for your hair and skin...
These nutrients - like Biotin and B12...
There's been a TON of great research over the last 10-15 years, so we know exactly how much and what types of nutrients your skin and hair need...
Now - let's be clear... things like diet and stress still make a big difference.
However, even if those parts of your life aren't perfect, you can still give your body the nutrients it needs to protect, strengthen, grow, and rebuild your hair and skin...
Delicious Like Candy... and Backed by Decades of Science for Healthier Hair and Skin...
Promotes Hair Growth (in the right places). YouthBoost Gummies are full of the vitamins and minerals that your body needs for growing fuller, thicker hair - on your head, not everywhere else.
Supports Stronger, More Vibrant Hair. When we look in the mirror, it's not just fuller hair we want to see, but also healthier, more beautiful hair -- exactly what YouthBoost supports.
Aids in Keeping Skin Firm. Healthy, firm skin requires many of the same nutrients as hair, which is why we made sure YouthBoost Gummies help keep skin healthy, youthful, and firm.
Maintains Healthy, Strong Nails. Did you know - nails are actually pretty similar to hair? It's true, and YouthBoost Gummies have a similar effect on nails - keeping them strong and growing.
All Hair Types. Whether hair is thick, thin, wavy, dry, or... EVEN a man's hair... YouthBoost Gummies are effective for any and all hair types..
Your Hair and Skin Deserve Only the Best...
Delicious Natural Berry Flavors. YouthBoost Gummies are low in sugar, but they taste just like a yummy, fruity treat.
Science-Based Nutrients. YouthBoost is full of B5, Biotin, Inositol, and 10 other nutrients for healthier, stronger hair growth. You'll love the taste but keep using them for the results.
Made in the USA in an FDA-Inspected Facility. We're sticklers for quality, and YouthBoost Gummies are no exception - made in a GMP-compliant, US-based facility.
Lab Tested for Quality. In addition, after every batch, YouthBoost gummies are lab-tested to ensure that they contain exactly what it says on the bottle (and also that they taste amazing).
Gluten-Free, Vegetarian, & Just Awesome.. YouthBoost Gummies are vegetarian, gluten-free, soy-free, dairy-free, and are a perfect addition to almost any diet.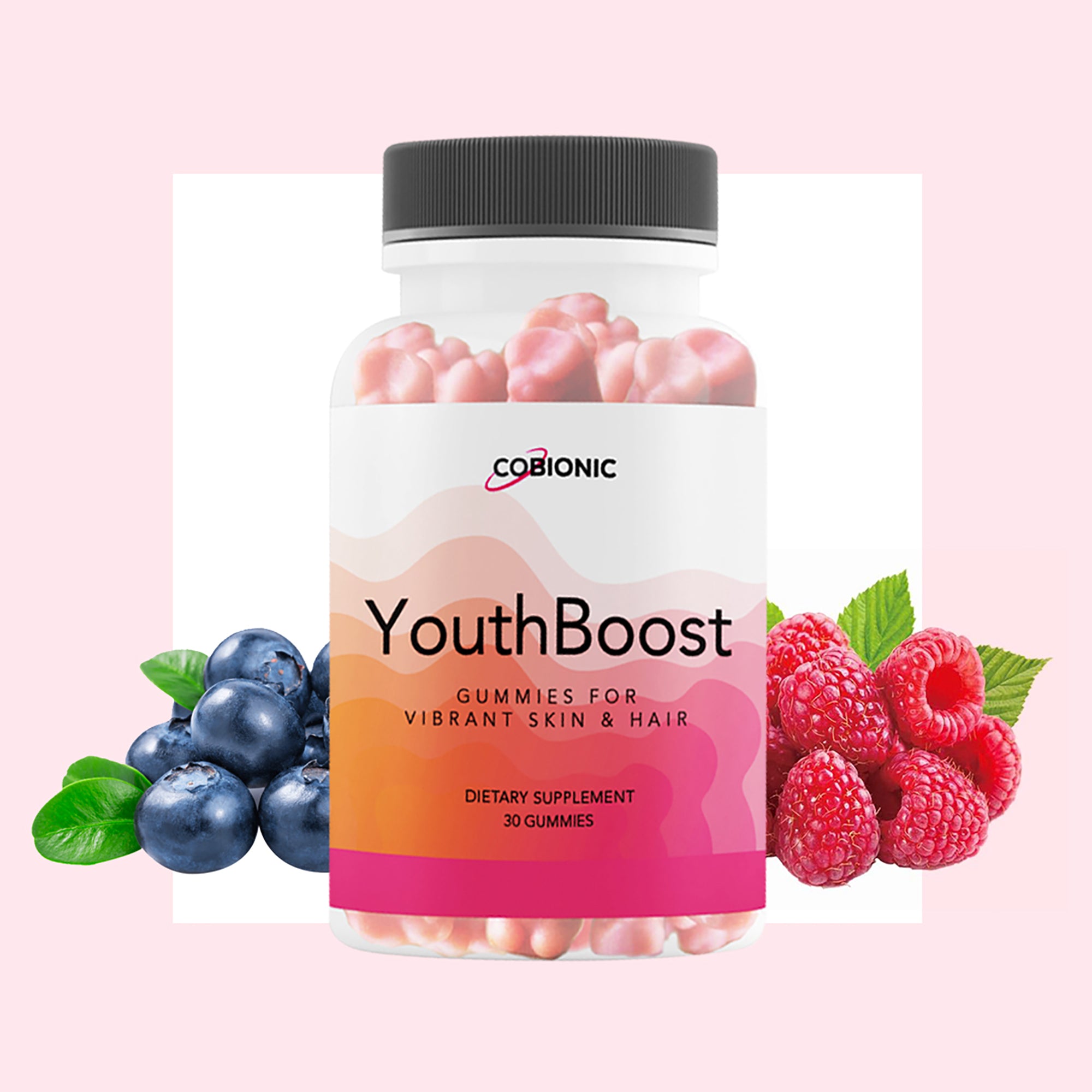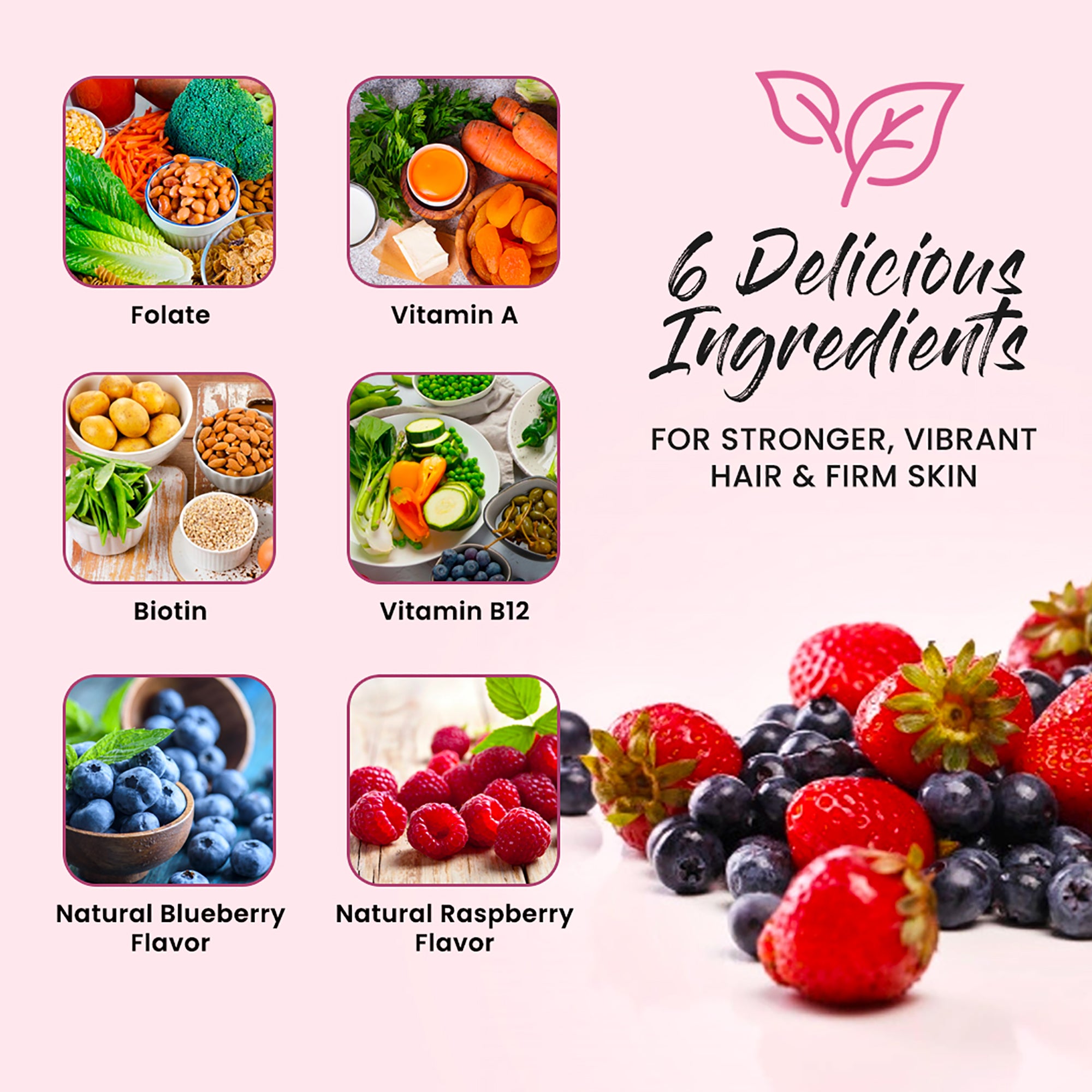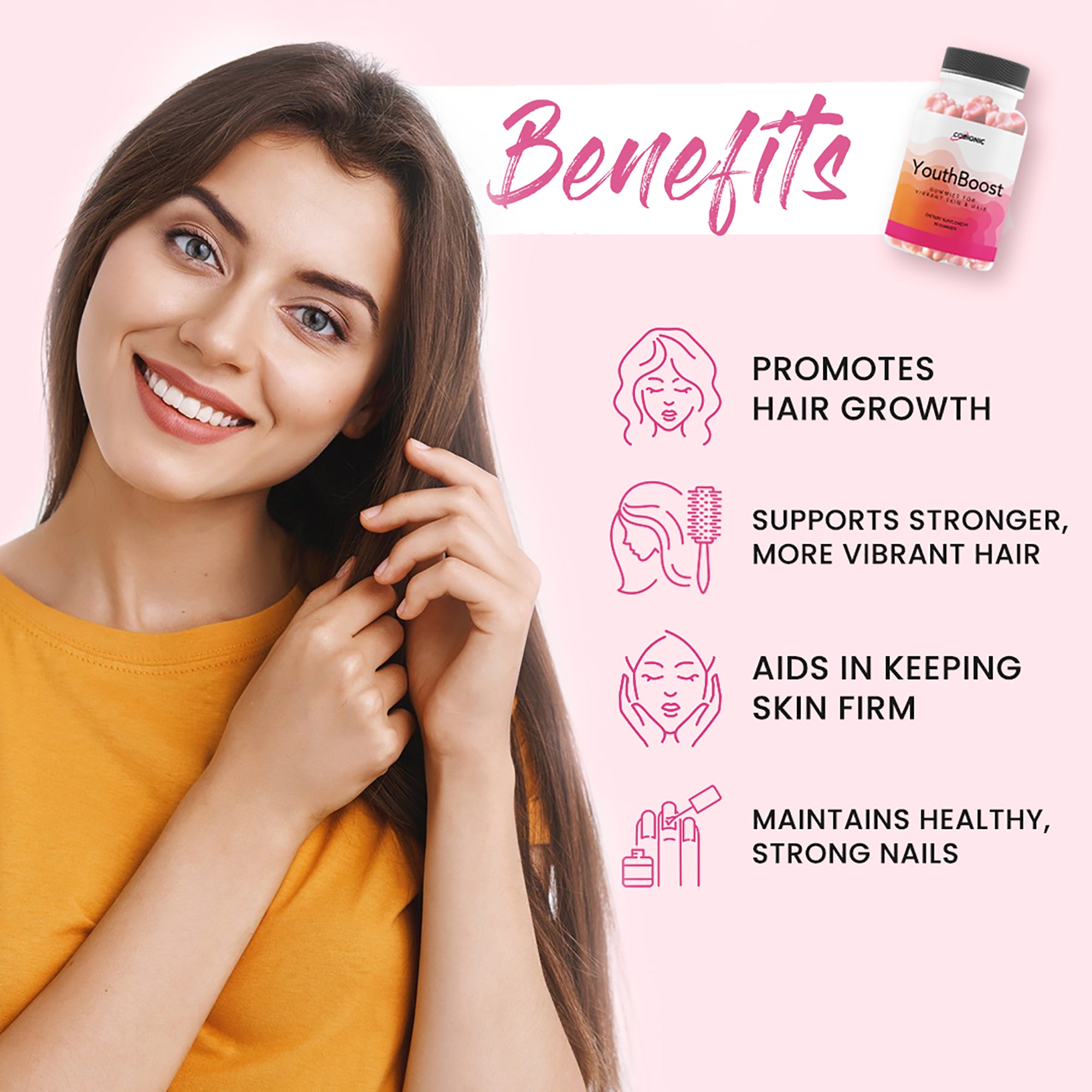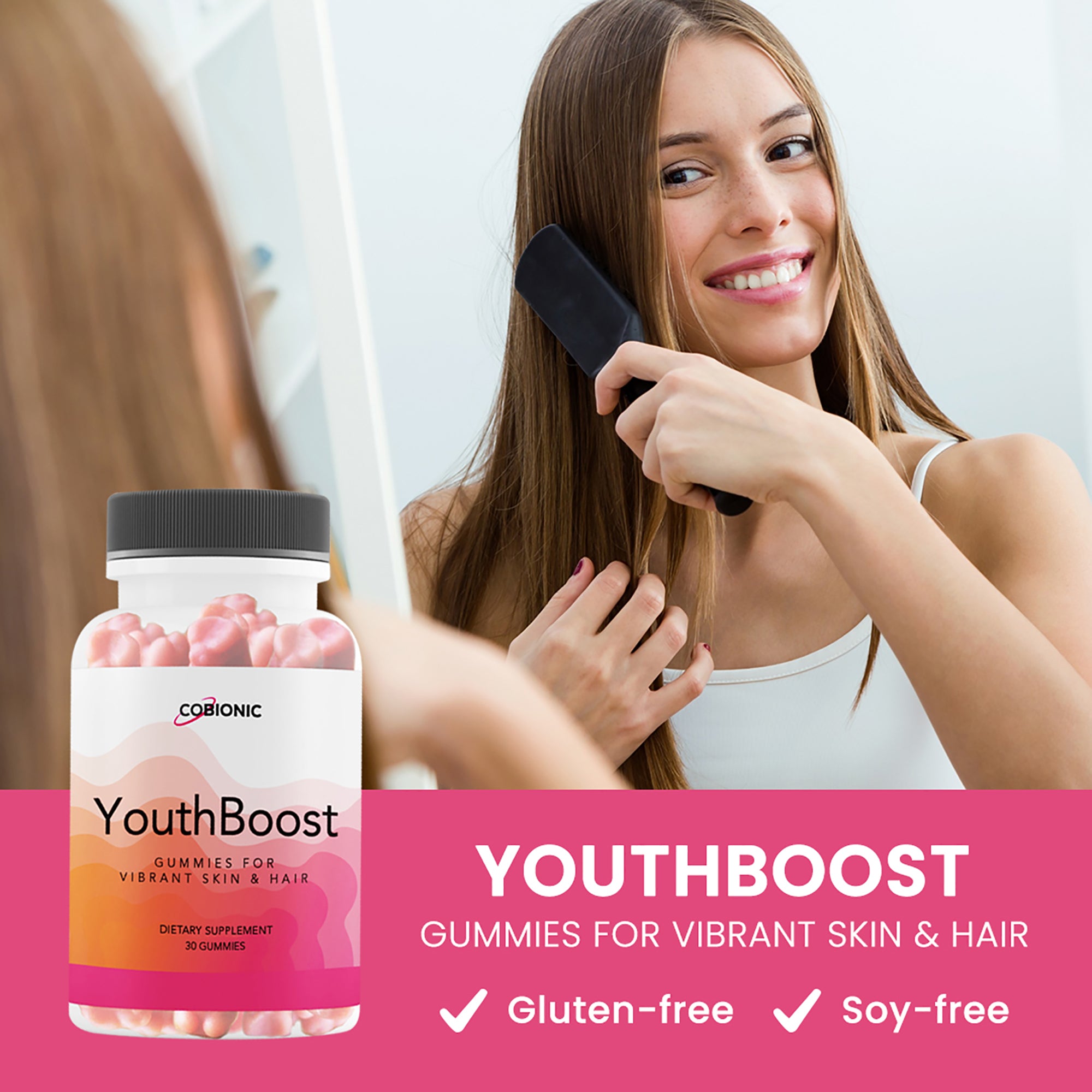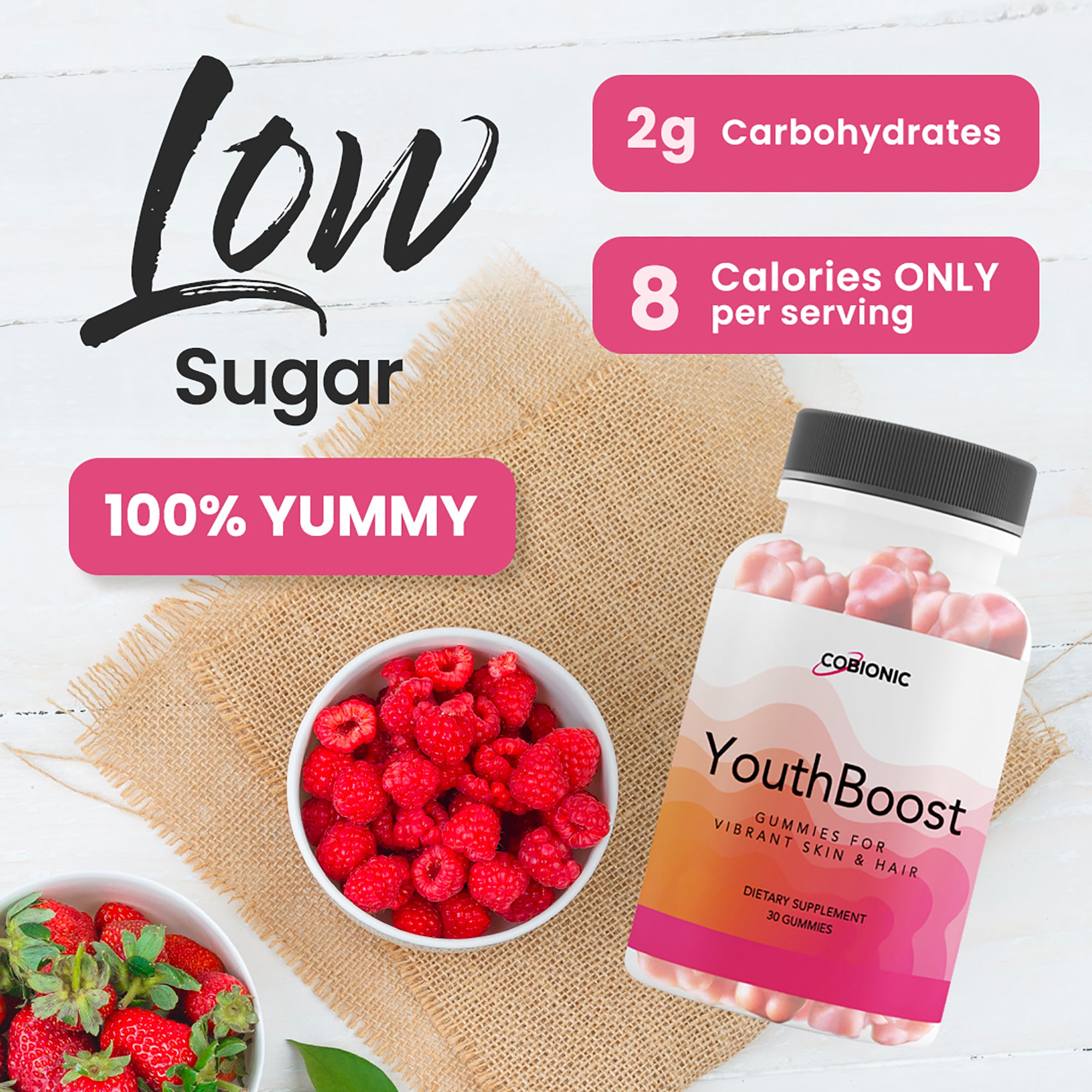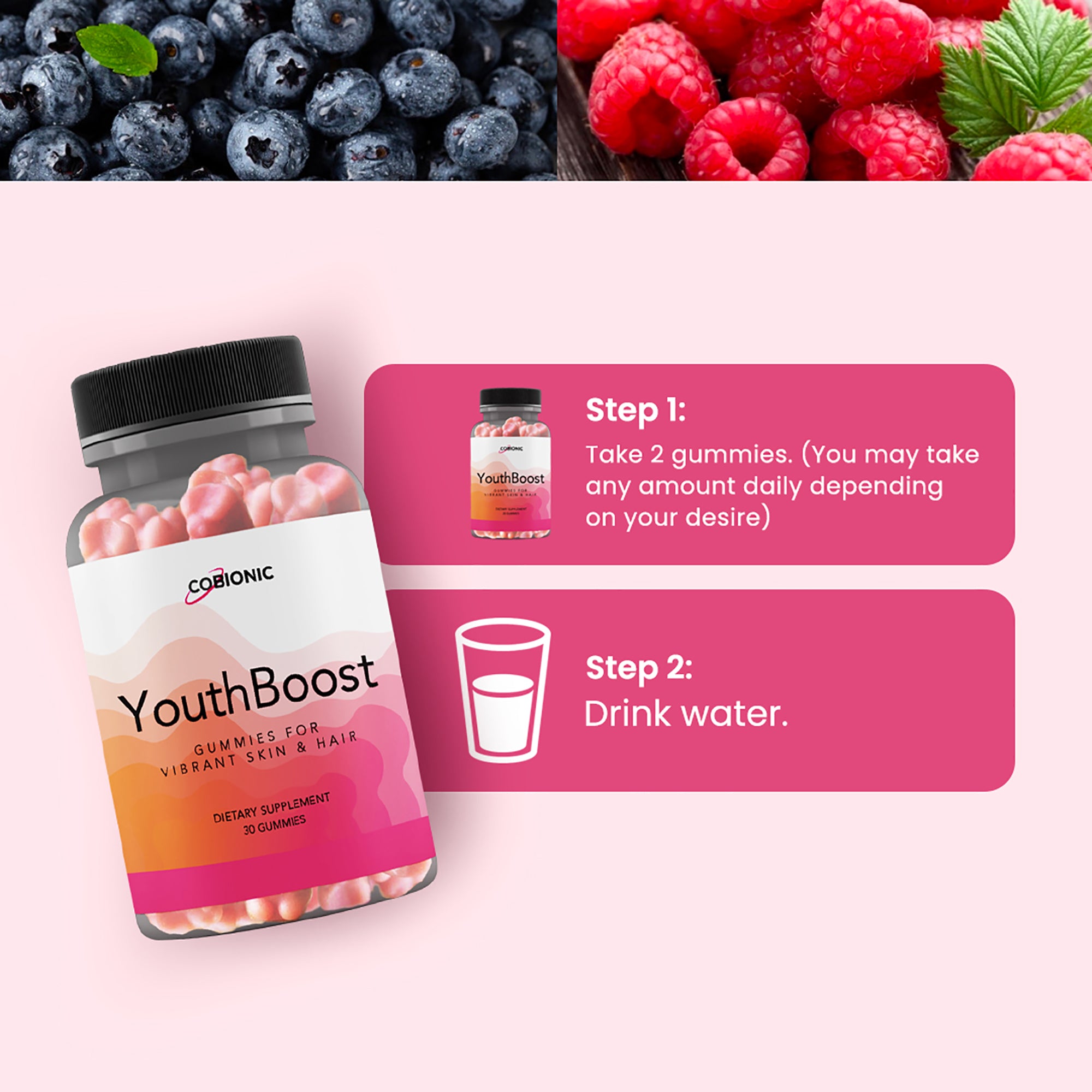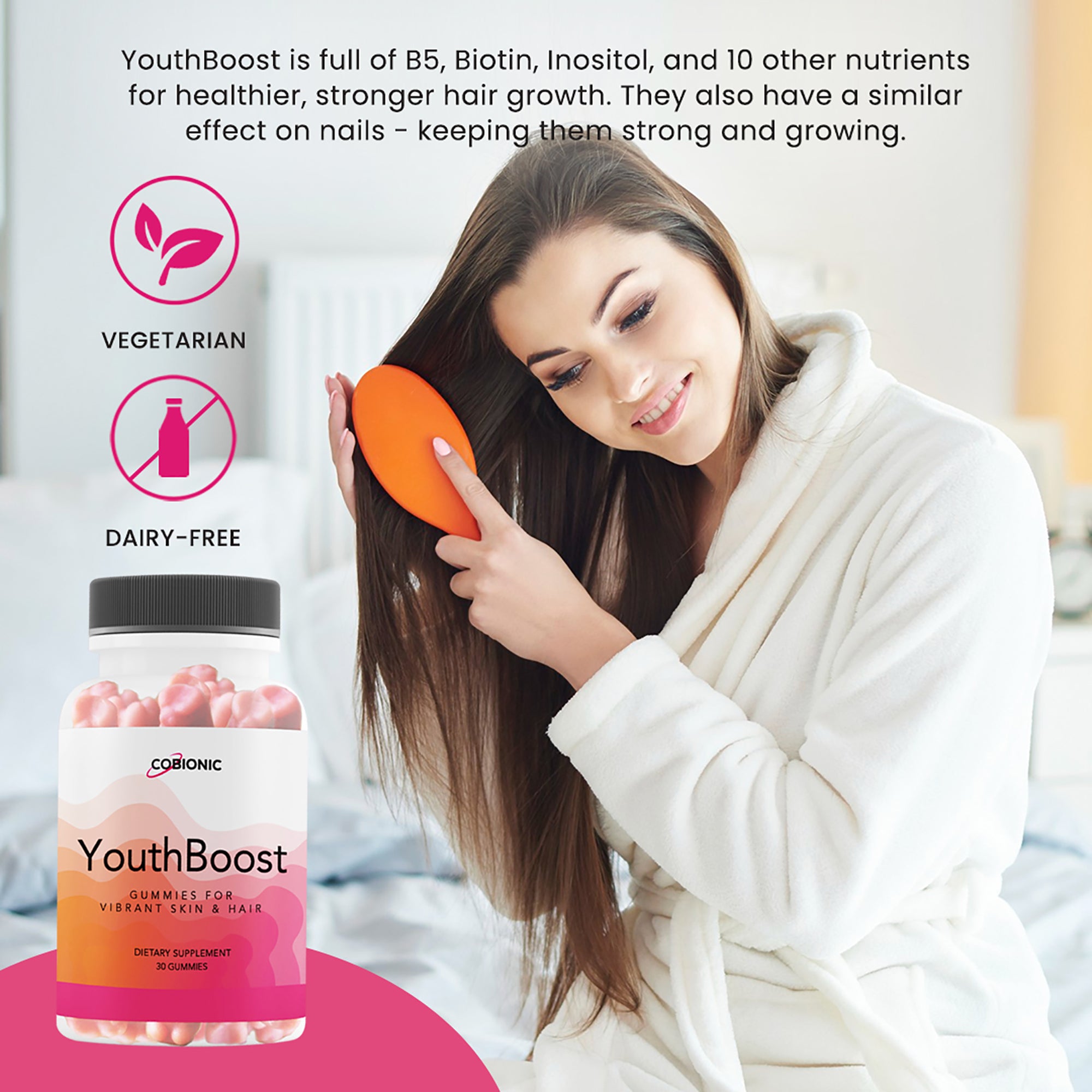 Free Shipping within the US
Fruity, sweet gummies designed specifically to deliver the vitamins and nutrients you need to support fuller, longer, more vibrant hair, as well as firmer skin and stronger nails.
1 Bottle Contains 30 YouthBoost Gummies
Serving Size: 1 Gummy
Servings Per Container: 30
Common Questions
If you want stronger, fuller, more vibrant hair -- then you'll love YouthBoost. In the form of delicious gummies, YouthBoost gives your body all the nutrients it needs to support healthier hair, as well as strong nails and firm skin.

YouthBoost is packed with the nutrients your hair needs to grow strong and healthy - Vitamin A, Vitamin C, Vitamin D, Vitamin E, Vitamin B-6, Folic Acid, Vitamin B-12, Biotin, Pantothenic Acid, Iodine, Zinc, Choline, and Inositol. Tap or Click Here for Full Nutrition Panel

You definitely can, and we're big fans of using food as your primary source of nutrients. But we also know that your body sometimes needs a little extra help, since it's really hard to eat perfectly and get enough of these nutrients.

We recommend 1 gummy per day, although we find ourselves often snacking on a few more than that. :)

Each bottle contains 30 gummies, which will last a few weeks, depending, of course, on how many you decide to eat each day.

No - The nutrients in YouthBoost are designed to help you specifically grow stronger, fuller hair on your HEAD. In addition, they'll help your skin stay a bit firmer over time and also help your nails stay stronger.

At CoBionic, we value 2 things.

First, we are obsessed with making products that TASTE amazing, because if you don't enjoy our products, then you'll stop using them, and they can't help you.

Second, all of our products contain only the simplest, most natural ingredients - NO JUNK - because we're very careful ourselves about what we put in our body.

Yes - all of our products are manufactured in and shipped from the USA.

Yes - our manufacturing facility thoroughly tests both ingredients and also the finished product.

This means that the product contains exactly what it says on the label and that we also test for traces of toxins like heavy metals.

Absolutely. We have a 180-day, 100% Satisfaction Guarantee.

So if you're not satisfied for ANY reason, just let us know within 180 days of ordering, and we'll refund 100% of your purchase.

We LOVE being helpful, but please understand that we can't answer medical questions. We're not doctors, and even if we were, we don't know your particular situation and history.

In general, before using any supplements, you should check with your doctor or other health professional.

Awesome. Just shoot us an email to support@cobionic.com, and we'll get back to you as quickly as possible.

Just remember - we're a small, family-run company, so it might take us 24 hours to get back to you, although we try to reply much more quickly.
CoBionic is a family-owned and operated business, so we stand 100% behind every one of our products.
Most of our customers are blown away when they first try any of our products...
However, if you don't absolutely love your purchase, then just let us know within 180 days, and we'll refund it -- no questions asked.
It's that simple and easy.
3 Reasons You'll Love CoBionic
At CoBionic, there are 3 big reasons that people love our products...

Taste & Flavor. This is our #1 focus for every food and food supplement we produce. In the end, nothing else matters if you don't like something enough to keep taking it. Also, we just think life should be fun and have a little more flavor.

Simple, Quality Ingredients. Every company says that their ingredients are the best, so it can be hard to tell the difference sometimes. That's why we limit all of our products to just the simplest, most natural ingredients - things you can understand and believe in.

Family-Owned and Operated. We view you as part of our family, and we don't want you eating anything that we wouldn't put into our own bodies. So we focus on both incredible quality and incredible customer service.